Picking a Puppy
How do you select a family-friendly adventure dog?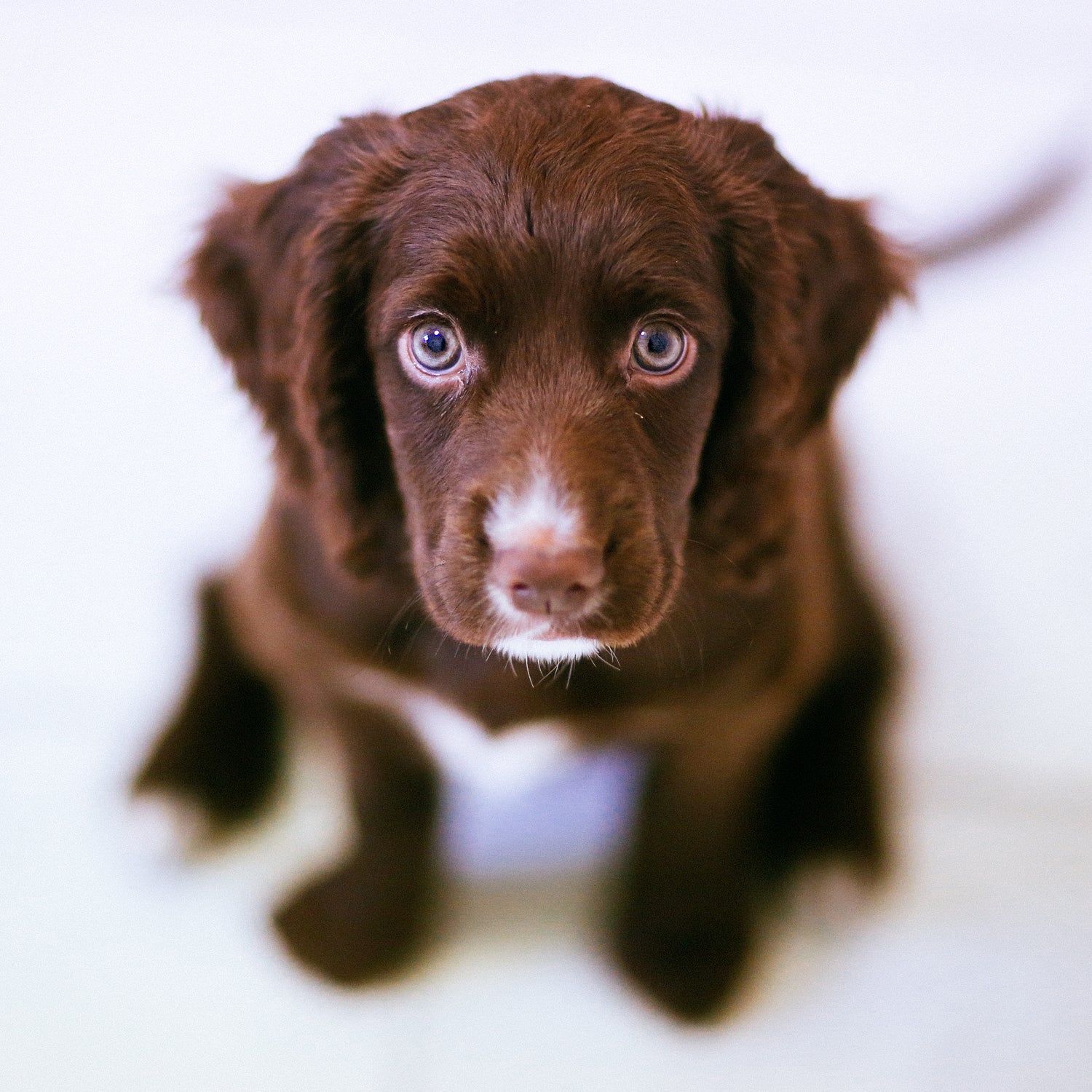 Phil Hearing(Photo)
Heading out the door? Read this article on the new Outside+ app available now on iOS devices for members! Download the app.
The old saying goes that you can choose your friends but not your relatives. But last week I selected the newest member of our clan: a black Labrador puppy.

Pete.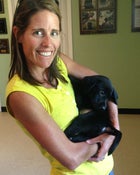 The author and puppy Pete.

Wildrose Kennels.
For months we'd wrestled over where and when to get our next dog. Gus, our chocolate Lab, died before Christmas, not long after being diagnosed with lymphoma. He'd been the quintessential family adventure dog that went everywhere with us: trails, mountains, rivers, ski slopes, road trips, car camping. No question, he would be a tough act to follow.
In the months after Gus died, I borrowed my friends' Rhodesian ridgeback for long runs in the mountains, and we debated getting one of our own as a long-distance running partner. But more than anything, we wanted a family dog—a dog that loved water and kids with equal abandon, could be a trustworthy BFF to babies and a gregarious assistant to my husband, who owns a landscaping company. When we looked after a friend's yellow Lab, Cooper, for a week last spring, I knew it was Labrador energy and affection I longed for—the way they sprawl on the floor and thump their tails when you so much as glance their way. 
I became obsessed with the hunt. It's amazing how much time you can waste gawking at pictures of tiny fuzzy puppies online. I saw yellow Lab puppies and black fur balls, stocky English show Labs and rangy American Labs with sharp noses and swooping tails. Gus had been athletic and doggy-calendar handsome, but he was big—90 pounds at his heaviest. This time around, we were hoping for a slightly lighter, more portable version of Gus from a breeder that was vigilant about health screenings. Cancer in dogs is like cancer in people—largely random, hard to predict—but a conscientious breeder, I figured, would give us peace of mind, if not improve our odds.
We didn't need a hunting dog, but we did want a Lab that would be athletic and smart enough to keep up with us outside, yet calm enough to live in a house with two active young girls.
I zeroed in on a few promising breeders and drove to Colorado to meet the parents. Their websites gave the impression of elaborate operations, but, I'd wind up at a ranchette on the wind-scraped prairie in the middle of nowhere. There were trampolines in the front yard, horses in the back, and whelping boxes in the kitchen.
At one house, the mama dog stood in her whelping box with plaintive, caramel eyes while her wriggly babies hung off her, too many to count, nursing. Her tolerant gaze reminded me of Gus. The breeder kept meticulous records going back three generations of old-fashioned, moderate Labradors, and her puppies would have been perfect, except for one problem. I wasn't ready.
During all those months of online puppy stalking, I thought I was looking for our next dog, but really I was looking for Gus. Of course I wouldn't find him, I realized, not in the patient-eyed mama's litter in Bennett or in the box of fat black babies in Elizabeth. Gus was gone. We'd buried him in a snowstorm six months ago, but I was only beginning to grieve for him.
When I got home, I vowed to put the puppy search on hold. My resolve lasted a week, maybe two. I called my friend Grayson and volunteered to take Cooper for a run. Maybe he'd like the outing, I offered. Really I wanted to test drive him on the trails. Sure, Grayson said, and if I wanted to, I could keep Cooper for a few more days while he went tornado chasing in Saskatchewan.
At 60 pounds, Cooper was small enough to ride shotgun in my Subaru, and he could trot for ten miles without flagging. He never strayed from my side. At home, he was tolerant of, if not wildly enthusiastic about, our three- and five-year-old daughters. After three days, I was supposed to relinquish Cooper to another dog-sitter, but I couldn't bear to give him up. By the time I finally surrendered him after a week, I'd put down a deposit for a puppy from Wildrose Kennels in Mississippi, where Cooper was born. 
Wildrose specializes in breeding dual-purpose British and Irish field Labradors that excel at hunting and are calm enough to be "parlor" dogs after a day with birds. Wildrose dogs have high drive and intelligence, which are maximized through a specialized training program called the "Wildrose Way."
We didn't need a hunting dog, but we did want a Lab that would be athletic and smart enough to keep up with us outside, yet calm enough to live in a house with two active young girls.
While we waited for our pup to be born, I fretted about everything. Would a hunting dog be too hyper? Would we get one as handsome as Gus? Would it be too hard to train him with two children underfoot? "You sound like you're pregnant!" a friend emailed. That's exactly how I felt. Getting a puppy seemed like such a good idea in theory, but now that it was about to become reality, I was completely neurotic.
When our boy arrived—one of six males and four females in his litter—puppy picking was scheduled for early October at Wildrose's 143-acre farm, about 20 minutes southeast of Oxford, Mississippi.
From its training fields to its kennels and ponds, everything about Wildrose is orderly and bucolic. Two litters were going home that day, and a group of 20 of us from all over the country gathered expectantly on the lawn. We toured the kennels, where we met our puppy's daddy, a fine-looking Scottish import named Murphy. Then we dutifully took notes while owner Mike Stewart and his staff lectured us on puppy do's (brush your dog's teeth once a week) and don'ts (no chew toys, ever).
Finally, it was puppy time. We entered a room with a small obstacle course of plastic ramps and tunnels. In one corner, a Wildrose trainers held piles of seven-week-old puppies in their arms. When set loose, the puppies bumbled along, tripping over their own feet and each other, while we oohed over their silly antics. One tried to go through a tunnel and got his head stuck. They were obscenely cute, but if something essential about their personalities was being relayed, I missed it. The puppy circus was over all too quickly, and then my name was called. My turn to pick.
I didn't know where to begin. Behind me, I could feel the eyes of 20 people boring into me. I mistakenly thought I'd be alone with the pups when it came time to choose, and now I had terrible stage fright. I picked up dogs one by one and put them down, suddenly unsure of what I was looking for.
Off to one corner, a little boy lay flat on his tummy with his legs stretched behind him like a taxidermy rug. As I reached to pick him up, he wagged his tail—just a little flick of a greeting. He was indistinguishable from his brothers—maybe five pounds, with perky ears and eyes the color of navy ink. I placed him back on the floor; he wagged some more and then ambled off to lie down. 
I turned to glance at the crowd of onlookers behind me, then reached again for the wagging boy. "I'll take this one," I said, clutching him to my chest as I stepped out of the pen. I hoped I sounded more certain that I felt.
As we drove away, Pete whimpered in his puppy carrier until we got to the end of the driveway. Then he zonked out for the three-hour drive to Birmingham, just as he would for the five-hour flight to Albuquerque the next morning.
We spent the night in an airport motel, and I must have carried him out to pee in the grass half a dozen times before daybreak. "Don't worry, Pete," I whispered to him in the fluorescent glare of the hallway, "You are going to have a good life full of lots of adventures. I promise you we don't live in a Best Western."
The last time I raised a puppy I was 28, unmarried, without kids. I didn't know it then, but life with a puppy is a lot like life with a newborn baby. You have to watch them constantly, and they can only stay awake for an hour or so before needing to take a nap. I'm a new mama all over again: infatuated, sleep deprived, a nervous wreck.
Pete is now eight weeks old, and already I'm noticing changes: He sleeps through the night and is learning to sit, walk on a leash, and go to his bed. So far I haven't given him a squeaky chew toy, but I desperately, desperately want to.
It will be weeks before Pete will be ready to join me on the trails, months before his first real expedition, and nearly two years before he's old enough to run. I didn't know for sure if Pete was the "right" pup for us when I chose him, but he's the right boy today because he's ours now. Maybe you don't choose an adventure dog, you raise one. We'll find out as we go. It's an adventure, after all.
Lead Photo: Phil Hearing
Trending on Outside Online