Powder Struggle
Snow days make everyone happy—unless you're the one staying home with the kids.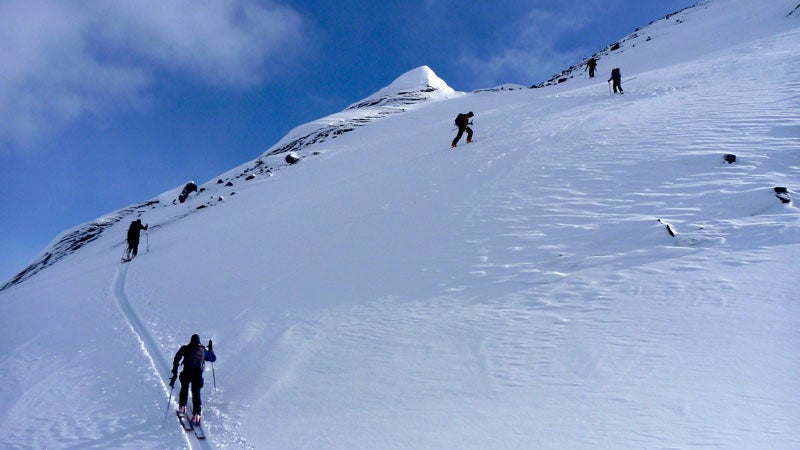 Heading out the door? Read this article on the new Outside+ app available now on iOS devices for members! Download the app.
Adventure parenting means trading off on outdoor time, taking turns, making deals. But only in winter are outdoor activities so dependent on weather. This adds a layer of excitement—and, let's be real, stress—to the equation. In our house, when it dumps, somebody goes skiing. The question is: Who? 
In our house, when it dumps, somebody goes skiing. The question is: Who?
My husband, Steve, is a powder junkie. He loves to ski almost more than anything. He owns a local landscaping business that slows down in the winter, and this gives him the freedom to ski—a lot. I love to run the way Steve loves to ski, but I also love the freedom of exercising with the seasons, which means that when it snows, I ski.
The powder dynamic sets up in our house as early as August. It might be 85 degrees and broiling outside, but that's when season ski passes go on sale and when the weather forecasters start making their predictions. At this point, Steve and I are still a unified force, both hoping for a cold, wet winter in the Southwest, for knee-deep powder days and record accumulations.
In late October, when the first fall storms begin tracking, Steve starts watching the weather in earnest using NOAA's radar app. Actually, as a horticulturalist and a small-business owner, he always watches the weather, but in late fall, once he's turned off all the irrigation systems and his gardens have gone into hibernation, he turns into a full-blown meteorology geek. His concerns become more personal. Is there powder headed our way?
On grey mornings, frying eggs at the stove, he will casually say things like, "Something's setting up over southern California." But I can read between the lines. "It's raining in Flagstaff" really means "It's going to be dumping here by tomorrow."
Once Taos and Santa Fe and the other resorts in the southern Rockies have opened for the season, the tone and urgency of our powder negotiations change—this is when the serious jockeying begins.
"So, sweetie…?"  Steve will say, after we've put the girls to bed and the house is finally quiet. Maybe we've had some wine. "A bunch of guys have got this hut reserved in British Columbia in March…," trailing off to let me figure out what he's trying to say. Or I'll hear through my friends that he and their husbands are plotting a long weekend powder pilgrimages to Silverton Mountain. The upside, of course, is that the more Steve goes skiing, the more I get to go skiing. At least in theory. I know it's a major relationship no-no, but when it comes to powder days, it's almost impossible not to keep score.
I'd rather go to the beach or run in the desert than travel far to ski, but when it does dump here in the Sangre de Cristos, I go after it like a rabid wolverine. I will get up before dawn to skin up the local ski hill with my friends. I will push school pickup to the last possible minute so I can glide in silence up a powdery forest road on my backcountry skis. I will beg and steal and shame my own dearest husband just to get fresh tracks after a big storm.
Fortunately I married the kindest man on the planet. Steve takes almost as much pleasure in seeing me ski as he does in skiing himself. Almost. On Santa Fe powder days, we take turns; I'll get the morning, he'll go in the afternoon. Or, if by some small miracle, the storm aligns on a Tuesday when the babysitter minds the children all afternoon, we'll skin up or ride the chairs together.
When we're solo, though, there's an unspoken etiquette for skiing when your spouse is at home with the kids: Don't ever admit how good it really is. Steve will come home from a huge powder morning with a wild look in his eyes, and say, "It was pretty good." It was actually crazy, ridiculously good, but he's too nice to rub it in.
This past Sunday, he dragged himself out of the house at 4:30 a.m. for the three-and-a-half hour drive to Wolf Creek in Colorado. Throughout the day, my phone buzzed with thoughtful, if cryptic, messages. "Pretty decent snow up here," he wrote, which could have been code for "It's knee deep and epic!!!!"
"Have fun!" I texted back, mostly meaning it.
Slowly, though, I'm learning to be gracious. I'm finally realizing that if skiing makes Steve happy, it makes the whole family happy. As luck would have it, there's a storm bearing down on northern Arizona right now.
"The models … all align on a storm for Arizona," an amateur stormtracker named Stu posted on his blog. "Timing and amounts vary considerably. If it is real, it will be HUGE!"
Here's hoping the rest of the season will be, too. For all of us.