These Kids Just Camped for the First Time Ever
The author tagged along on a trip to Joshua Tree with a group of kids from Southern California who had never slept in a tent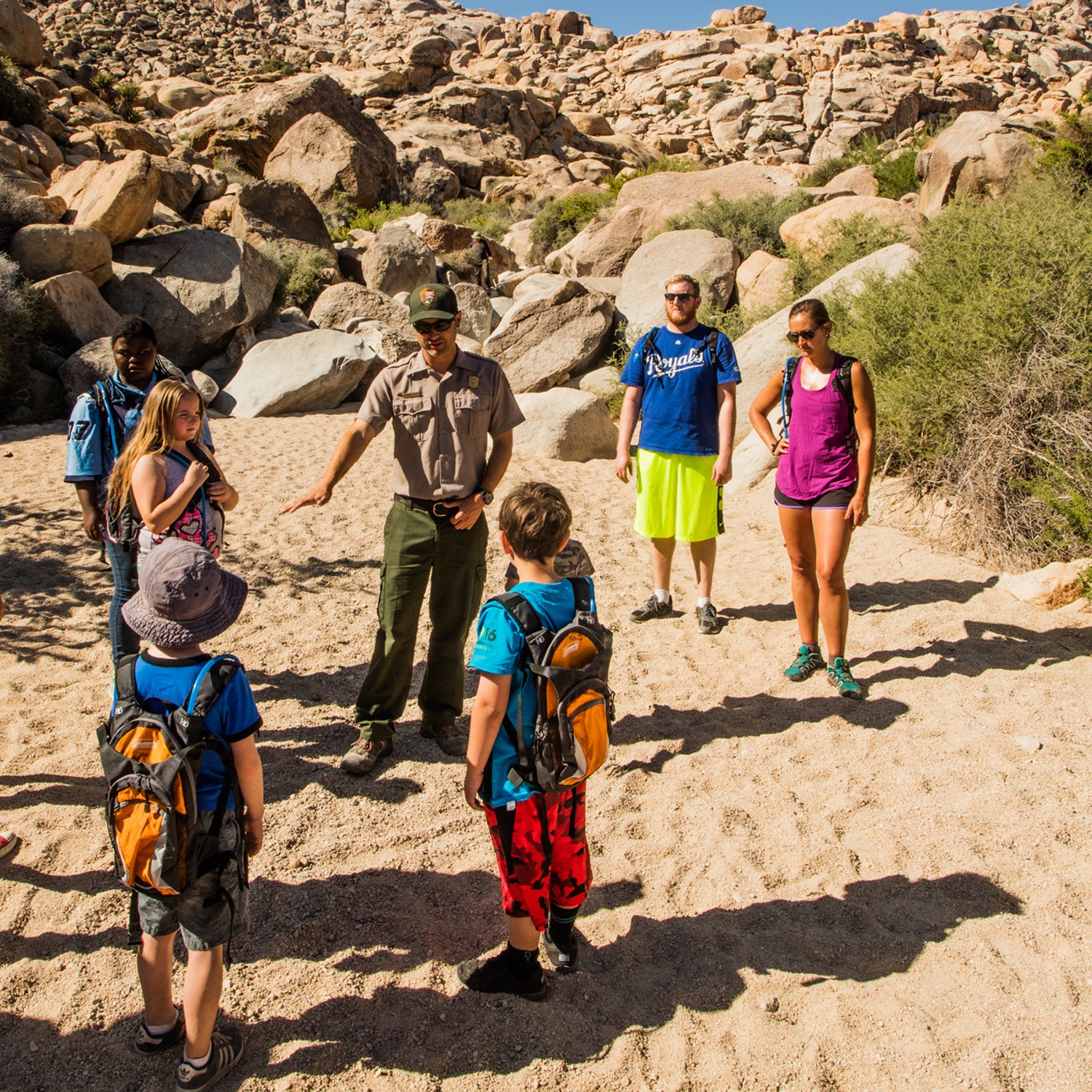 Courtesy of Coleman(Photo)
Heading out the door? Read this article on the new Outside+ app available now on iOS devices for members! Download the app.
On a recent Saturday in mid-May, a caravan of reporters arrived at Indian Creek Campground in Joshua Tree National Park looking for a campsite. Usually when my husband, Steve, and I take our daughters car camping, the site hunt is fraught with tension and expectation: Will the reality of camping live up to our fantasy? Steve and I almost always bicker over the best spot to pitch our tent. It's your classic power struggle. Steve wants shade and privacy. I want views. He wants to snag the first decent one we see. I want to drive the loop a few times, sussing out the best option—I'll know it when I see it.
This time, though, finding our spot was simple. The two-story, inflatable Coleman lantern rising from the base of a jumble of granite boulders gave it away. "Look at that!" screeched my five-year-old, Maisy, pointing to the plastic behemoth swaying like a giant green beacon in late afternoon breeze. I'd brought Maisy and seven-year-old sister, Pippa, to the SoCal desert for a campout with 50 kids from the Boys and Girls Club in nearby Yucca Valley. For many of them, this would be their first time sleeping in a tent.
The event was hosted by Coleman and the National Park Service as a kickoff to the Park Service's centennial celebration and as part of an ongoing federal initiative to make public lands and wild places more accessible to kids who might not otherwise have the opportunity. Last September, President Obama unveiled Every Kid in a Park, a program that provides every fourth grader in the U.S. and their families free entry to the national parks and public lands and waters. In March, Secretary of the Interior Sally Jewell signed a Secretarial Order to make backcountry permits more accessible and affordable for underserved youth groups.
The jumbo lantern was the centerpiece of a sprawling tent village at Indian Creek, with tents of every size, shape, and color staked into the desert scrub. At nearly 5 p.m., and it was 90 degrees and the sun was still high in the sky. On three rock faces that formed a kind of natural amphitheater enclosing the tents, climbing instructors were top-roping kids up a series of beginner climbs, encouraging them through the tough moves and high-fiving them when they rappelled back down. 
An 11-year-old boy from nearby Yucca Valley who'd never been climbing looked relieved to back on solid ground. "I thought I was going to die!" he said. A nine-year-old named Rayanne scampered up to the base of the crag for her second route of the day. It was her first time rock climbing, but not to Joshua Tree. "I'm a desert child," she exclaimed proudly. "I was born here."
Jeff Reinbold, the National Park Service's assistant director for philanthropic stewardship and civic engagement, had flown out from Washington, D.C., to welcome the Yucca Valley kids to Joshua Tree. "Our goal is to reintroduce people to wild places," he said, "and to help inspire the next generation of stewards."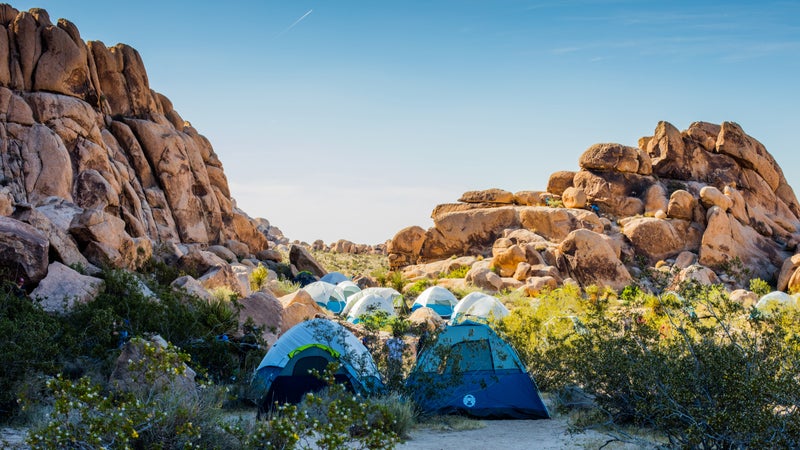 After dinner, kids clamored for a few last climbs before dark—Devon, a fired-up kindergartener with a squeaky voice was the last one off the wall—then everyone migrated to the campfire. Each child was given their own metal marshmallow skewer and many proceeded to ignite their marshmallows into the obligatory balls of flame. Pre-teen girls clustered around Canadian country singer Dani Strong, who sat on hay bale with her guitar belting out verses of Katy Perry's "Firework."
"It's my first time in a tent," said a 12-year-old boy named Jeremiah. "I thought it might be better to sleep in a camper van, but then I realized this was more peaceful. I think I'm going to love being under the stars." Nearby a park ranger aimed a telescope into the sky, where Jupiter hung just off the crescent moon. Jupiter's own moons looked like tiny moles of light freckling the sky, impossibly small and impossibly bright at the same time. 
After breakfast the next morning, Joshua Tree ranger Christian Delich led a group of kids and parents on a hike through Rattlesnake Canyon, a sandy wash not far from camp. When a few kids squealed in anticipation of encountering the wash's namesake reptiles, he reassured us by saying, "The rattlesnakes in our park are very docile. We haven't had a snakebite in years."
On the walk up the arroyo, Delich fielded questions from the boys and girls about mountain lions and lizards and getting lost (no one did), and posed plenty his own: "How did the rocks get here?" He asked as we clustered in the shade of a small granite overhang." What makes this wash a river?"
All too soon, it was time for us to leave for the airport. I wished we could spend the day scrambling around the boulders and through the twists and turns of Rattlesnake Canyon. Mostly though I wished the kids from Yucca Valley could, too. One night is a fine introduction to camping—it's one night more than many kids ever have—but there's no question that the longer the exposure to wildness, the more powerful and formative the experience, the more the trip sticks. 
At a talk earlier this winter in Santa Fe, Richard Louv, bestselling author of Last Child in the Woods and Vitamin N, recounted the story of his colleague Juan Martinez. As a failing high school student in south central L.A., Martinez was given a choice by his science teacher: flunk the class or join the school's Eco club. He joined the club and later won a two-week scholarship to Wyoming's Teton Science School. That trip changed his life. In addition to running the Children & Nature Network's Natural Leader program, he also helps coordinate youth leaders for the Sierra Club. 
Before we left Rattlesnake Canyon, we caught up with Jeremiah, hopping through a narrow cleft in the rocks. "So how did you like camping last night?" Pippa asked. 
He smiled broadly. "I loved it! I loved waking up in the morning and hearing the birds chirping," he said. "I definitely want to come and do it again!"
I thought then about the moons of Jupiter: how small they seemed through the telescope, but also how brilliant, unforgettable. 
Lead Photo: Courtesy of Coleman
Trending on Outside Online