Ticla is Bringing the Hip to Car Camping
The founder of a SoCal startup is gearing up to give us equipment for car camping that's right for the job and looks hot. Please, let it be so.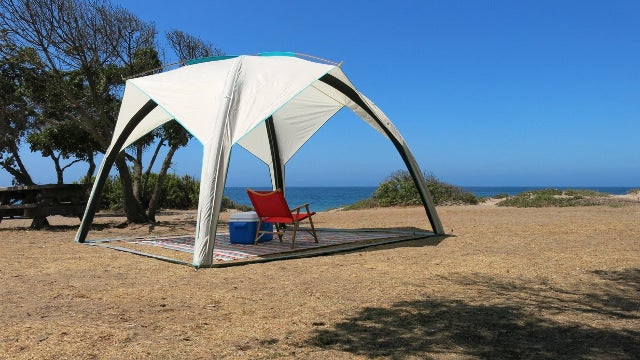 Heading out the door? Read this article on the new Outside+ app available now on iOS devices for members! Download the app.
"Back in the day, we considered ourselves hard-asses, then we got married and had kids and the outdoor industry wasn't doing anything for us."
So says Rich Hill, who has worked in vineyards of upmarket outdoorsiness, like Patagonia and Prana, since he dropped out of college to sell sleeping bags. He refers to a great and baffling failure to make stuff for car camping that appeals to gear connoisseurs who buy from specialty stores.
Hill means to remedy the industry failure, fill the gap between Wal-Mart and the mountain shop, with his Ventura-based startup called Ticla, making a line of quality, high-style, car-purposed camping equipment.  Ticla steps out at this summer's Outdoor Retailer show, with consumer sales scheduled to launch next March.
As a guy who loved crunchy wilderness camping but now has offspring, I celebrate the ideas and spirit embodied in Ticla. Consider Inflato Shado ($325), a 10-foot square shelter that stands when you blow it up with a hand pump, instead of the usual fiddling around with socketed metal pole sections. The thing has a leggy grace and could be nice anywhere you want to get out of the sun or drizzle.
But it also functions in a greater design scheme. Make camp, you make a place to live. You need common living space, which such a shelter creates. And, as Hill points out, "when you build a house, you don't make your bedroom the biggest room."
Thus Ticla's tents (three designs, 2-4 people, $275-$450) are modest in size. They're also especially airy, with views all-around even with flies on. "We think getting a breeze through your tent is great, even when it's raining."
Gear culture, Hill observes, has roots in the Pacific Northwest where people obsess about keeping dry because they have to. But most places don't have that kind of constant precipitation. Nor do they typically get cold in the summertime when families camp. "Studies show that people are most worried about being hot," Hill observes. Ticla's warm weather bags (rated 30/45 degrees) will have a thinner side that's like a light summer blanket.
The big news for time-crunched parents is how this stuff is designed for ease of use and, especially, to fit all together in your car. Tents and shelters go into handled totes that Hill likens to beach bags. Everything each camper sleeps on or with—bag, pad, pillow, headlamp, book—fits into a single storage sack, rather than two or three smaller sacks that have to be stuffed, cinched, and sorted out. Ticla will sell bags, pads, and sacks in a kit. ($180-$210).
Nothing here will be super lightweight, tiny and stuff-able, and it won't do a lot for you on Ama Dablam. But in this realm, who the hell cares? Ticla's system, dubbed G.O.O.D. ('Get Out Of Dodge'), is all about ease of use, comfort, and packability to avoid the catastrophic mess that Hill, quoting one of his partners, calls the "shit show."
Some of Ticla's goods are eye candy, like, say, the chevron-printed bag linings – inspired, says Hill, by bed linens in high-end but really hip hotels. Check out Ticla's cool-camping site for more.