Sponsor Content: Visit Costa Rica
The Ultimate Adventure Guide to Costa Rica
From remote peak bagging to offshore shark diving, here's how to explore off the beaten path in Central America's most adventurous destination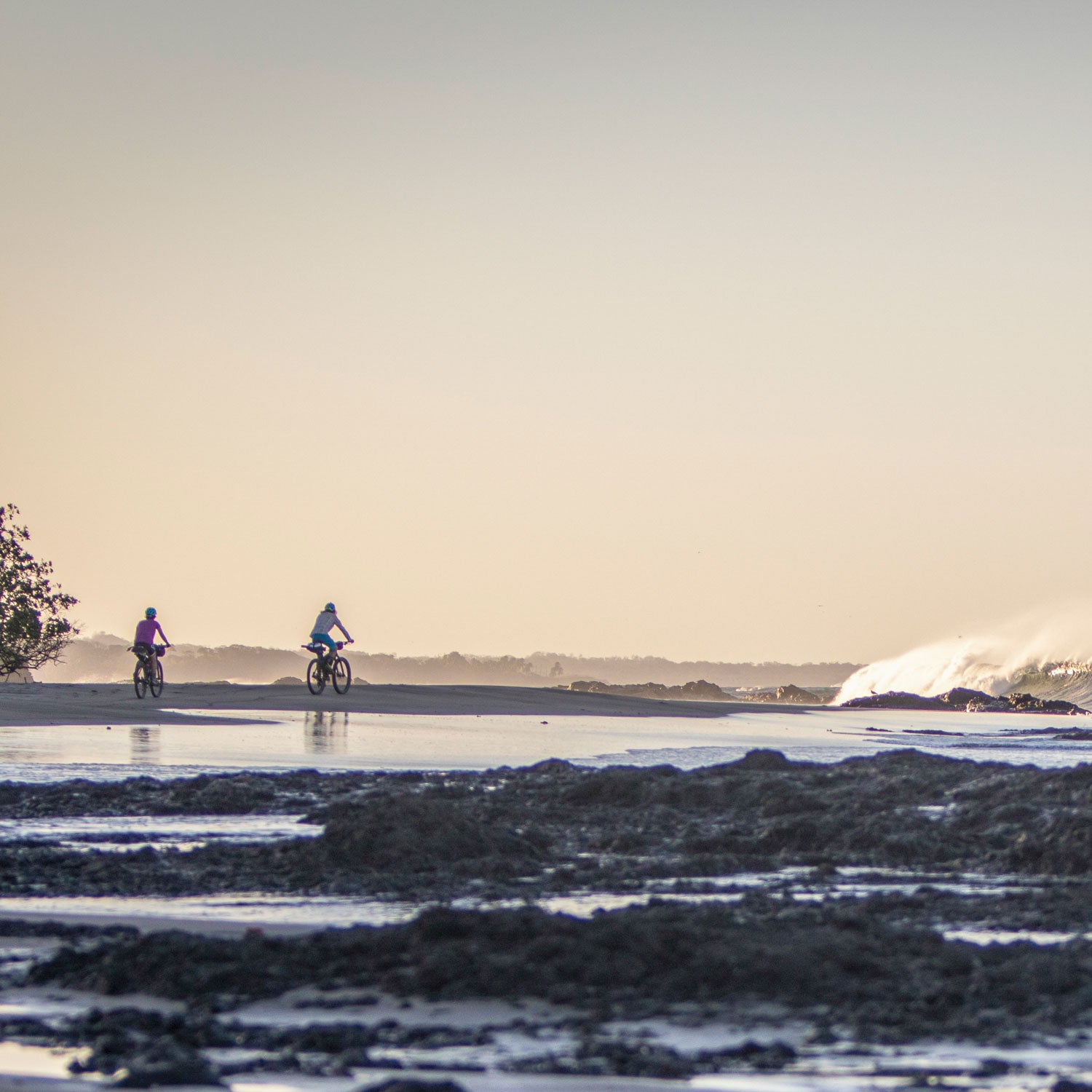 In terms of sheer natural beauty and variety, Costa Rica is a white unicorn of sorts. The country has everything from dense rainforests and high volcanic peaks to dry tundra and gushing rivers, all of it sandwiched between two distinct coastlines blessed with epic surf and secluded beaches. "Costa Rica is like several countries in one," says Pablo Rodriguez, a local runner who designs multi-day trail-running adventures all over the world. "It's full of different terrain, and different cultures. It's full of possibilities."
 
Given all that, it's no surprise that Costa Rica is a bull's-eye on the international tourism map. But it's not all tour buses, cargo shorts, and tube-socks-under-sandals—not even close. Thanks to the country's environmentally progressive land conservation policies (more than a quarter of its land is protected as national parks or refuges), there's a surplus of off-the-beaten-path adventures waiting to be had. Want to explore Costa Rica's wild side? Here are some of the best adventures to get you started.
Bikepack the Nicoya Peninsula
You will pass through a couple of tourist towns, including Tamarindo, on this century-long off-road ride, but most of your time will be spent pedaling rugged dirt roads and desolate beaches on the Nicoya Peninsula, which sticks out into the Pacific on Costa Rica's west coast. Regardless of where you choose to start and end your ride, small villages and a variety of beaches that are open to camping make logistics easy: you're never far from a hot meal or a stellar place to camp. Take your time, swimming in the ocean at the end of each day or renting surfboards along the way. Just watch out for sea turtle nests when you're pedaling through the sand and setting up camp.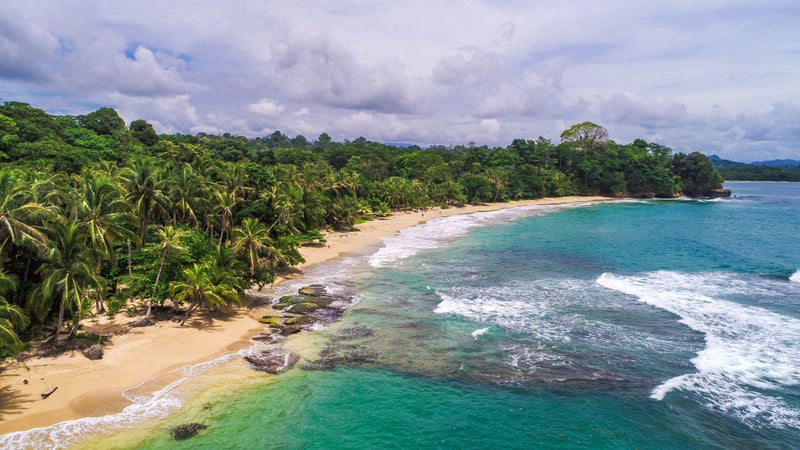 Beach-Hop Through Gandoca-Manzanillo Wildlife Refuge
The Gandoca-Manzanillo Wildlife Refuge protects 25,000 acres of jungle and coastline full of mango trees and hidden beaches on the Caribbean coast south of Puerto Viejo. The area gets few visitors, because it's accessible only by boat, horse, or foot. One great way to get a taste of the area's secluded wilderness is to hike the seven-mile jungle trail to Punta Mona. Keep a lookout for side trails along the way—many lead to small, unnamed beaches along the crystal-clear Caribbean Sea. The snorkeling is solid, and there are waves to catch, too. Just be mindful of the tides—some of the beaches disappear almost completely at high tide. Regardless of which water activity you choose, you're almost guaranteed to find a patch of sand all to yourself.
Surf at Playa Camaronal
"There's tons of excellent surf up and down both coasts," says Tim Marsh, who's been surfing in Costa Rica for two decades. "If you want to jump in a car and explore, it's easy to get lucky with an empty lineup." Playa Camaronal, a secluded beach break within the Camaronal Wildlife Refuge, on the Nicoya Peninsula, is one such spot—the remote cove is accessible only by 4×4 and is free of commercial outfits running camps or lessons. More experienced surfers will appreciate Camaronal's consistently powerful waves, produced when reliable south and southwest Pacific swells jack up onto shallow river-mouth sandbars.
Trek Across La Amistad International Park
La Amistad International Park is the largest protected area in Costa Rica, with the most virgin forest in the country. It covers the southern end of the Talamanca mountain range, stretching into the republic of Panama, and protects one of the most biodiverse regions in Central America—its ecosystems range from tropical rainforest to cloudforest to alpine tundra. The ultimate adventure is a seven-day through-trek of the park from the Caribbean coast to the Pacific, hitting elevations of 10,000 feet along the way. Looking for something a little less epic? Hike the nine-mile Valle de Silencio trail from Altamira entrance station, which is full of oak and avocado trees teeming with monkeys. Or hike the remote Cerro Kamuk trail, which climbs the second-tallest mountain in Costa Rica.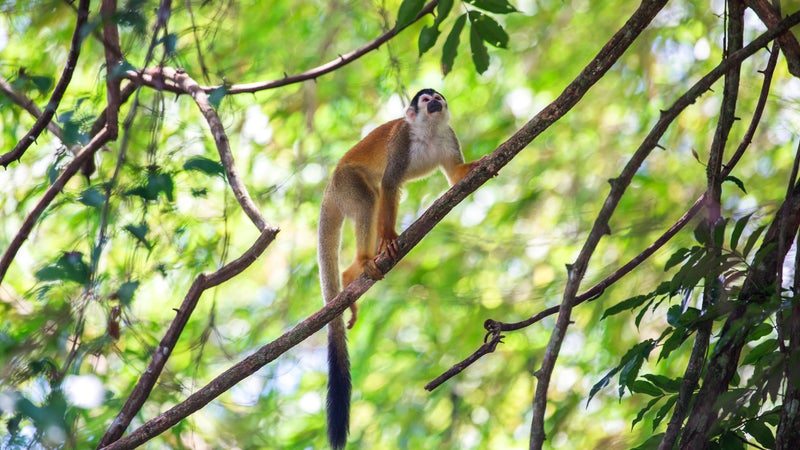 Paddle Piedras Blancas National Park
You can reach the entrance gate of Piedras Blancas National Park via car, but after that, the only way you're getting around this coastal rainforest that protects 35,000 acres along the Golfo Dulce is by boot or boat. Your best bet is to paddle a kayak up the Esquinas River into the mangroves that are home to five different species of jungle cats, including the rare jaguar. They're nocturnal and elusive, so your odds of seeing them are slim, but keep your eyes peeled for two-toed sloths, spider monkeys, and anteaters. The park is also packed with waterfalls (the area gets more than 200 inches of rain a year) and small beaches that serve as gateways to pristine coral reefs just offshore.
Go Tree Climbing in Providencia
Providencia is a valley in the middle of the Talamanca range that's becoming renowned for its rock climbing. (It's home to hundreds of bouldering problems and some multi-pitch and top-rope routes.) But the area is also home to towering strangler fig trees whose hollow trunks, composed of roots and limbs, are perfect for an utterly unique climbing experience. Think of it as a living jungle gym where you can pick your route up the outside of the tree or climb straight up through the hollow inside. The trees, which can reach more than 100 feet tall, achieve their uncanny shape by attaching to a host tree, growing roots downward while simultaneously growing branches skyward, and eventually killing off the host tree. Bring your harness, ropes, and slings.
Raft the Upper Naranjo River
The Naranjo is a fast-flowing 50-mile river that forms the southern boundary of Manuel Antonio National Park. Certain sections are popular with families and tourists, offering easy Class II–III whitewater, but the Upper Naranjo, known as El Chorro ("the Jet"), is a different animal altogether. The Upper Naranjo carves through a slot canyon of bedrock for three miles, offering almost nonstop Class IV whitewater between narrow rock walls. This isn't a casual paddle—you need to know how to handle yourself in a boat—but it's the best half day of whitewater in the entire country.
---
Nestled between Nicaragua and Panama, Costa Rica offers visitors an abundance of unique wildlife, landscapes, and climates—meaning a trip to this Central American country is anything but run-of-the-mill. The country proudly shelters approximately six percent of the known biodiversity in the world and has become a global leader in sustainable practices. Visitors to Costa Rica enjoy a highly organized tourism infrastructure offering a broad terrain of activities and accommodations across large chains and boutique hotels. www.VisitCostaRica.com