The Ultimate Family Adventure Van
Why you should hit the road in a Volkswagen pop-top.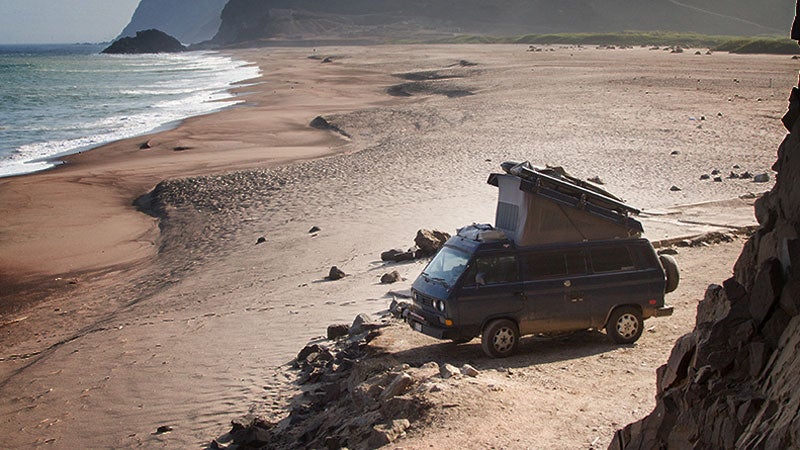 Adam Harteau(Photo)
Heading out the door? Read this article on the new Outside+ app available now on iOS devices for members! Download the app.
Ever since we sold our 1960-something vintage Airstream on Craigslist last spring, I've been lusting after a new family camping conveyance. Well, not new—definitely not new—but new to us. The object of my obsession? A Volkswagen pop-top camper.

On the road in Chile.
I know, I know. Me and the rest of the world.
Hailed as the ultimate ski bum's hangout, surfari vehicle, and nomadic base camp, VW's iconic pop-top is having a Moment. Images of tricked-out Volkswagens have been popping up in travel, sports, and lifestyle magazines. And just last week, The New York Times ran a story about a young California family that spent the bulk of last year driving to South America in a 1990 Westfalia, which the author dubbed the "Swiss Army" knife of campers. 
The Times article featured Adam and Emily Harteau, both in their 30s, and their two-year-old daughter, Colette. The trio road-tripped to 11 countries in eight months. "When we departed, we planned on traveling for a year," explains Emily via email from Cusco, Peru. "Now we're on the road of life, without a return date."
The couple has largely funded their expedition through a Kickstarter social media campaign and by selling handcrafts made by local artisans through their website, Our Open Road. They currently have more than 60,000 followers on Instagram, where they post photos and videos of their adventures. 
Volkswagen has been making campers since it launched the Transporter in the 1950s. There were pop-top mini buses and backless microbuses that looked like lopped-off pickup trucks. The VW microbus evolved into the Westfalia, Vanagon, Kombi, Synchro, and Eurovan. Some had cheerful curtains, others propane stoves and fold-out tables and all-wheel-drive, but they all embodied a sense of wanderlust and freedom. The chronology's a little fuzzy—this was, after all, the counterculture's most celebrated fetish item—but the universal appeal of a VW camper van, by any name, is obvious. It's a compact way to bring the basic comforts of home on the road with you. It's the ultimate family adventure vehicle. 
The Harteaus bought their Westfalia ten years ago after an exhaustive, cross-country search, and drove it throughout California, to Baja for surf adventures, and on a 14,000-mile road trip around the U.S. and parts of Canada. By the time they left for South America last year, with a quiver of surfboards on the roof, it had more than 350,000 miles on it. In addition to replacing the engine, they upgraded the shocks and suspension, installed a vinyl rollout awning, and tricked it out with what Emily describes as "badass steel bumpers." Ten months into their trip, Adam built interior cabinets. "They were the single best improvement we made on the road," Emily says. "We no longer live out of suitcases!"
In the late seventies, my father owned a dark green VW Bus. During the summers, we'd road trip from Virginia to Maine, sprawling out in the multiple rows, our camping gear loaded in the back, my father's hands spinning the thin, but oversized, steering wheel. It had an AM radio but no pop-top, and its top speed was well south of 60.
Decades later, I still covet a camper bus for stateside adventures, to take us farther and longer into nature than we might otherwise venture in our Subaru. Our family loves to sleep in a tent, or under the night sky, but come shoulder season—or actual winter—when nights are frosty and long, sleeping on the ground with young children can be a tough sell.
Unlike pop-up camping trailers, which are towed, camper vans are driven—almost like glorified minivans. (Our short, dubious stint as Airstream owners taught us that pulling a rickety, 21-foot trailer might be adventerous but is definitely not relaxing.) Pop-ups are roomier than two-person teardrop trailers or old-school pocket trailers and not nearly as monstrous as RVs. And when you're not camping, the Eurovan doubles as a seven-seater carpool machine around town. My dad even used his to commute to and from Washington, D.C., back in the seventies.
Among peripatetic hippie wanderers and 21st century hipster nomads, the VW has never gone out of style—and likely won't anytime soon. That's because you can no longer buy a new one anywhere in the world. Volkwagen stopped selling camper vans in the United States in 2003, when it pulled the Eurovan from production. Two months ago the last one rolled off the assembly line in Brazil, due to safety regulations. The VW camper van is officially a relic.
So now I cruise Craigslist for used Eurovans (because they're so rare, they hold their value remarkably well, despite their reputation as high-maintenance gas guzzlers). I stalk mothers at my daughter's school who drive them, do double takes when I see one parked in the neighborhood, and conduct highly unscientific market research. "Do you like yours?" I ask total strangers. "Is it reliable?" (The answers are usually "yes" and "sort of," in that order).
I daydream about taking our family to New Zealand, buying a camper for cheap, and driving the country for a couple of weeks or a month. Or maybe just renting one for Thanksgiving and driving to Joshua Tree. 
I've always been a wanderer. But being a parent has made me appreciate the deep calm that can come from being home and, more importantly, being at home wherever you are. As Emily puts it: "It's definitely a balance. We are at home in our van, but what's outside each morning is a new and beautiful world. We are very much in awe of this beautiful planet!"
Five Tips for Traveling in a Camper Van
Try before you buy.
VW  Surfari, in southern California, rents camper buses from the 1970s and '80s, starting at $100 per day. In San Francisco, California Campers has a fleet of Westfalias for sojourns along the coast to San Luis Obispo and Big Sur or inland to Joshua Tree or Death Valley ($100 per day and up). In Washington State, PacificNorthWesty will set you up with a manual transmission Westfalia starting at $150 a day.
Once you're serious about buying, check out Go Westy for ready-to-roll adventuremobiles. 
Trick your kitchen.
"A pressure cooker is an invaluable asset," Emily says. Not only does it save cooking fuel and water, but it cuts your cooking time into a fraction of what it is otherwise. "After a long day on the road, a proper hot meal that you can enjoy in 20 minutes makes all the difference for a happy family."
Sleep well.
Bring your own fitted sheets for the top and bottom beds. "It makes life on the road feel like home," Emily says.
Love the Ones You're With
"Make sure you really like your travel partner," Emily says. "You will be seeing a lot of each other."
Help children feel comfortable.
"Young children are highly adaptable," Emily says. "Colette is with both her parents nearly 24/7, which gives her the security and comfort to explore the world on her own terms."
One way to make children feel at home on the road is to print out pictures of all your close friends and family and make a portable photo book. "Colette affectionately refers to it as her 'Love Book;' people are always with us even if we can't see or Skype them."
Lead Photo: Adam Harteau