When Cold Feet Start to Freeze
How do you judge a child's pain threshold?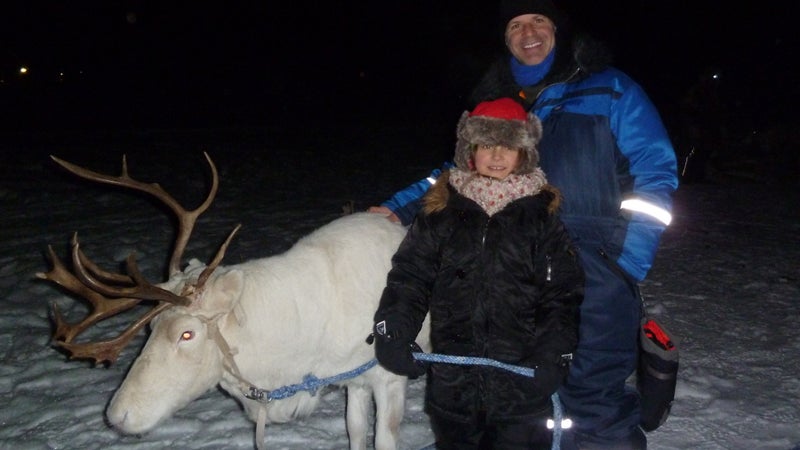 Heading out the door? Read this article on the new Outside+ app available now on iOS devices for members! Download the app.
"Who is going dog sledding?" asked the guide. Half the hands on the bus went up.
We can judge our own thresholds—pain, heat, cold, exhaustion—but we can't be sure how well or badly our kids are doing.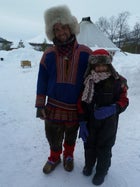 Bella and Roar, the Sami guide.
"Who is going snowmobiling?" It seemed the other half of the hands went up. 
And then, more quietly and incredulously, he asked: "Who is going reindeer sledding?"
My wife, our nine year-old daughter, and I sheepishly raised our hands. Doubt crept into our heads. Were we crazy be to taking our daughter, Bella, to a frozen lake in a remote region of the Norwegian Arctic to climb on a sled pulled by a reindeer? Worry began to set in.
When the bus arrived at Camp Tamok, near the town of Oteren, in the Norwegian Lapland, we asked our Sami guides if our cold-weather gear was appropriate. They laughed at our military-grade jackets, mittens, hats, and boots, which we had purchased stateside, and instructed us to throw on additional Arctic suits and boots. The frozen lake, they said, was several degrees colder than the surrounding area.
As we stood amidst a small herd of reindeer, we looked forward to what we imagined would be a Dr. Zhivago-like ride across the valley. We'd drape warm blankets over us and sip hot cocoa from a thermos. But then our guide pointed to three small sleds—one for him, one for me, and one for my wife and Bella—and said, "Let's go." Besides our Arctic gear, our only protection against the elements was a single reindeer pelt.
And so we set off in minus-ten-degree weather to see the Northern Lights. The valley was stunning, for both it's beauty and tranquility. But it was cold. Arctic cold. About 20 minutes into the ride, Bella began to cry; she said her feet were freezing.  Worry turned to fear, and fear turned to panic. I became concerned about frostbite and lost toes and wondered if we'd made a huge mistake coming here.
I called out to our guide and asked for the fastest way back to camp. He said walking or sledding would take the same amount of time, so we decided to travel on foot, hoping to get Bella's circulation going.
Half an hour later, we were back in the camp's big lavvu (tent), and Bella was in better spirits. We'll never know how serious it was. That's one of the challenges of getting your kids outdoors. We can judge our own thresholds—pain, heat, cold, exhaustion—but we can't be sure how well or badly our kids are doing. They might say they're doing fine when there is something wrong, and they might just be suffering "cold feet" rather than "freezing feet." But when you're out in the dark in Arctic conditions and your nine year-old daughter says her feet are freezing, the stakes are pretty high.
We sat around the fire, drinking the hot cocoa we'd originally imagined, and eating reindeer stew. Bella was now laughing and chatting happily with other visitors. When the guide came by after dinner to ask if we'd like to stay in a cabin rather than the lavvu, given the cold, it was Bella who shouted, "Tent!" before either Natalie or I could say a word. With near-disaster averted, our daughter seemed hooked on the Arctic experience.
I am always looking to excite Bella about the outdoors. Sometimes it's odysseys like our two-week family trip to Scandinavia, and other times it's a simple as an outing to Riverside Park in New York City where we see red-tailed hawks riding updrafts above the neighborhood's tall buildings. Sometimes it's just taking the dog for a walk. Some days she jumps at the chance, and other days I feel as though I have to dynamite her out of the apartment to blast her away from her art, her book, the iPad, or her simple desire to be at home.
It raises lots of questions. When to push and when to let her stay put? What are acceptable conditions for a young girl? How far is too far? All parents ask themselves these questions. 
That night reindeer sledding is one we will never forget, both for the moment of fear when her feet began to freeze, and for how happy she was with the reindeer, our wonderful guide, the camaraderie, and the warm, delicious food served round the fire.
After a night spent in the lavvu, stoking the wood stove every couple of hours to stay warm, we went dog sledding the next day. Bella will tell you that was one of the best experiences of her life. Mine and Natalie's, too.