Why You Should Hike with Your Baby (And How to Do It)
How the upstart parenting meet-up Hike it Baby has quietly gone national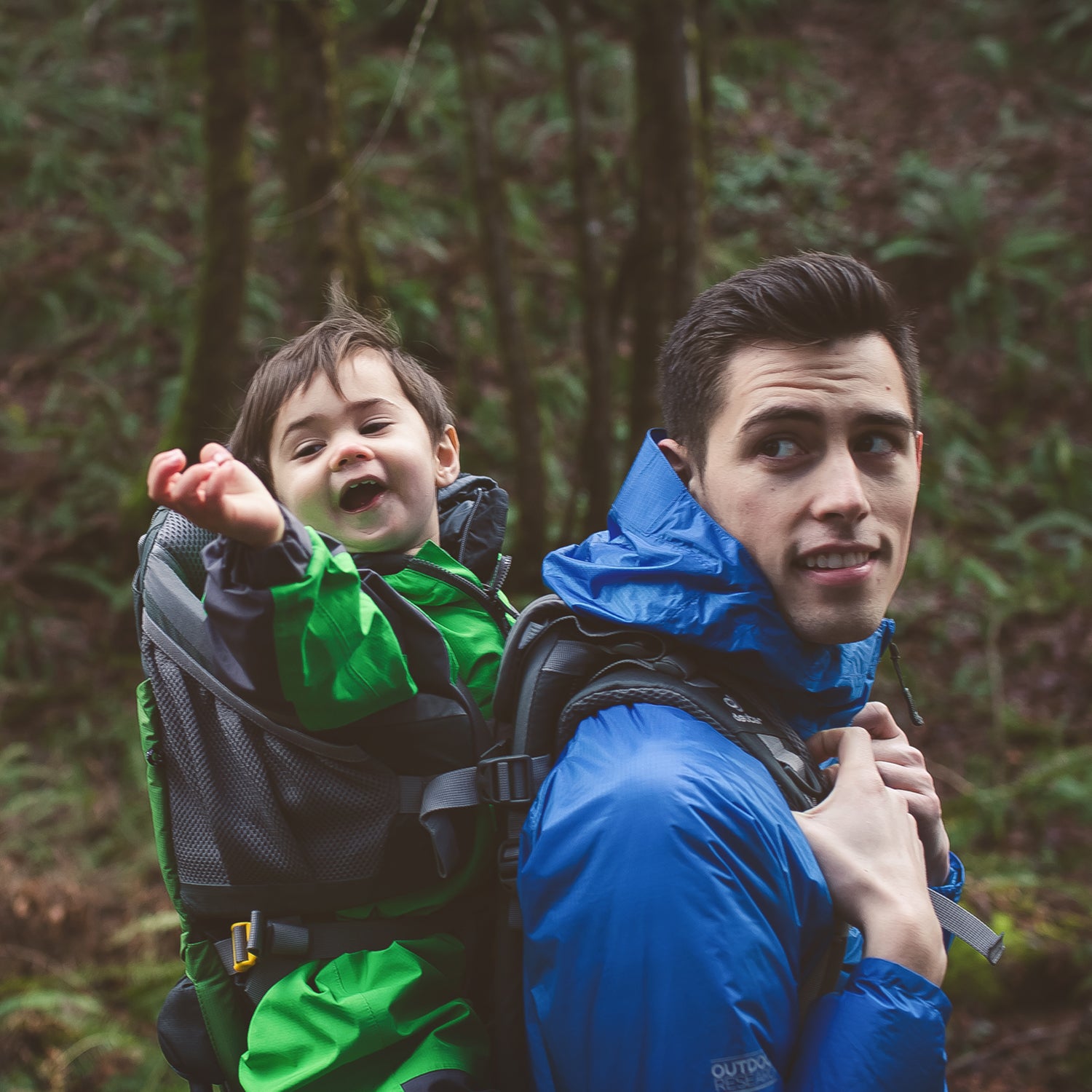 Ashley Scheider(Photo)
Heading out the door? Read this article on the new Outside+ app available now on iOS devices for members! Download the app.
Shanti Hodges never meant to start a movement. It was 2013, in Portland, Oregon, and she was just a lonely new mother with a bad case of cabin fever. "I was 41 years old and having a kid, I'd just moved to a new city, and I looked around and suddenly realized I had no friends anymore." Hodges, a journalist who covered paragliding records in the Andes and Red Bull stunts in Europe and had hiked up until the day her son, Mason, was born, went to parenting meet-ups but hated being cooped up inside. 
On a whim, when Mason was three weeks old, Hodges invited three new friends to join her for a walk on a trail at a local park. The trail was short and bumpy, and she didn't know how to use her baby carrier so she pushed him in his stroller. After a quarter mile, the dirt trail became too rough, and the other women helped her put Mason in his carrier on her chest. The next week, and then the next, the parents got together and did it again. By the end of the month, the informal meet-ups were drawing 15 to 20 new parents with infants.
"It just stuck immediately," says Hodges. "I felt like something…was driving me—the responsibility of bringing someone into our planet. I wanted to commit time to helping get other parents get onto the trails together, and I knew it needed cohesion. I'd seen these meet-ups that last for six months and then fall apart." Hodges dubbed the group Hike it Baby and, with her personal credit card and a $6,000 check from an uncle she'd never met, created a newsletter to get the word out about Portland hikes. By 2014, HiB had spawned offshoots in Racine, Wisconsin, and Corvallis, Oregon.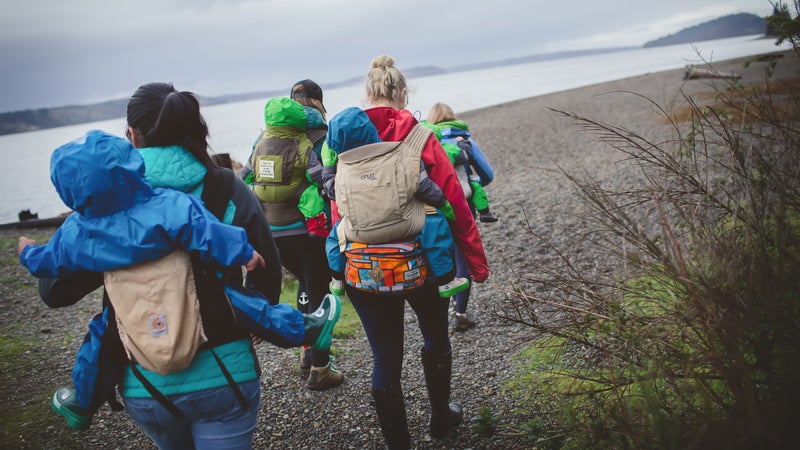 Three years later, Hodge's impromptu local posse has blown up into a worldwide tribe of nature walkers. Hike it Baby has more than 125,000 families in 277 cities in the U.S. alone, with 3,600 free nature walks every month. In some cities, like Portland, there might be as many as 12 HiB hikes to choose from every day. But Hodges is quick to point out that HiB isn't a guide service or a fitness class. "These are community gatherings. If you want to be sure to get your workout in, there are other ways to do that. Nor do we want you to come thinking you're going to learn to hike. We are a community builder, where you find your people."
For Hodges, the benefits of walking in nature with her baby are deeply personal and universal. According to the Mayo Clinic, 80 percent of new mothers experience short-term, hormone-induced baby blues; the Center for Disease Control cites that 15 percent suffer from moderate postpartum depression or anxiety. "I went through a period of depression when I was 38 and I assumed I'd be a wreck postpartum," Hodges says. "But the release of endorphins from hiking was like therapy for me. Even if I was exhausted, I would feel so energized afterwards." Nature forges strong friendships, too. "On the trail, if your baby has a blow-out and there's poop all over you, someone you've just met will come up and offer you wipes," she says. "In a mall, people will say 'Oh, gross,' and walk away."
Time outside is good for babies, too. A 2014 study in the European Journal of Social Sciences Education and Research found that fresh air promotes early language development and healthy sleep. Plus it just feels good. Early on, I noticed how Mason watched the sun and trees. He made it really clear that outside was better for him than inside." HiB has expanded to include toddler hikes and family hikes for children up to age five, all of which are typically five miles or less. In mountain towns in the Rockies, this might mean climbing backcountry trails; in the Midwest, strolling around a lake. Says Hodges, "We are redefining what it means to hike. We are moms, and dads. We are overweight, under worked out. We are not hardcore adventure athletes. We are just excited to connect with nature."
But as with kids, rapid development inevitably leads to growing pains. In some cities, 50-plus parents and kids routinely show up for HiB outings. Hodges and her cadre of volunteer hike leaders create smaller groups of ten to lessen the impact on the trail, other users, and wildlife. "Nature itself is disrupted when we go into it," she acknowledges. In Charleston recently, 250 people came out. "That's not a hike. That's a parade."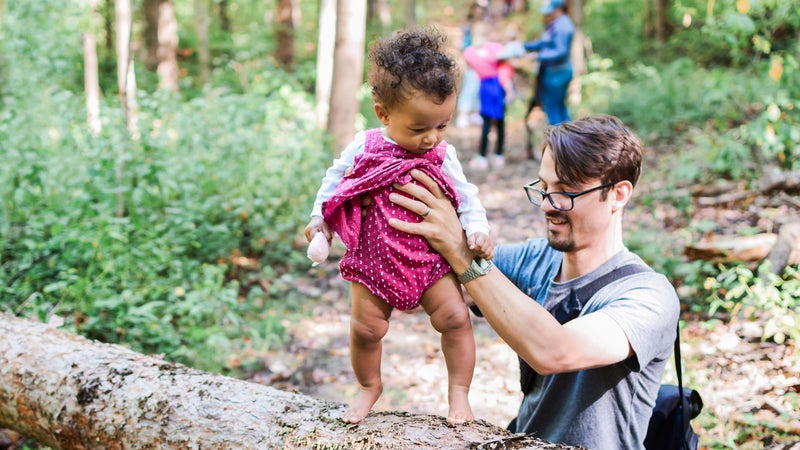 There's also been internal strife. Early on, a group of about 80 parents splintered off from HiB. "They thought I was going to capitalize and make a million dollars on hiking," Hodges says. "But I wasn't trying to commercialize it. I just didn't want it to die. In order to create legacy you need to have systems; you need to have a plan." HiB has grown so fast that there are now lawyers and bookkeepers, a recently revamped website, plans for an annual family festival, and a 30-day challenge in which parents commit to hiking 30 or more miles in a month. For Hodges, this adds up to a lot of time spent not hiking. The irony isn't lost on her. "Everyday that I sit at my computer, I think about how I'm sticking my kid in daycare so I can work for no money."
For now, at least, she's taking the long view. Earlier this year, she began the process of transforming HiB from a private corporation into a non-profit, with greater access to much-needed grant money. Hodges dreams of creating a national database of child-friendly, "Hike it Baby–approved" trails. And she's trying to figure out a way to offset costs and generate funds to pay her longtime volunteers, and provide viable income to stay-at-home parents. Including herself. 
"It's tough to get people to pay attention to babies," Hodges laments. "Kids under three don't have voices, don't have a presence, don't have money. Sometimes I feel like a toddler: running around screaming 'look at me, look at me!'" 
Hodges' Top 3 Tips for Hiking with an Infant
1.    Modify your hike. Understand that you have a baby, and don't go so hard. Smart small and then build up and go further if you can. 
2.    Arm yourself with snacks, bubbles, tiny toys, rattles—"something to keep the little ones happy when you need to shift the energy."
3.    Hike with friends in the beginning. "This is for your safety, your baby's sanity and healthy. If your baby gets stung by a bee, you're going to freak out. I have never had a bad HiB hike ever. No matter what happens I'm outside, with my baby, and it's awesome."
Lead Photo: Ashley Scheider