10 Real People on the Cost of Living in a Mountain Town
The places you'll never be able to afford and the ones so welcoming, you can move in tomorrow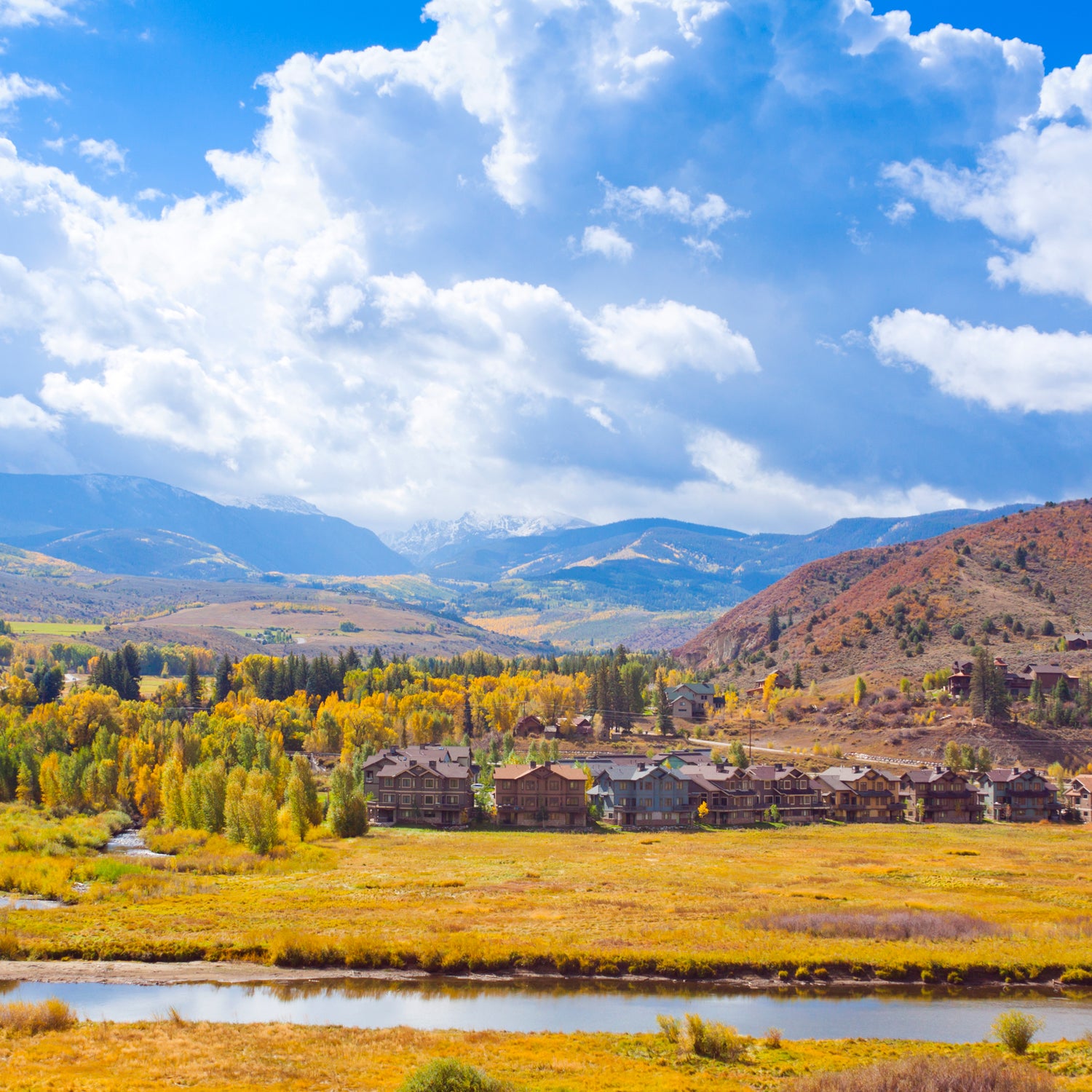 Maciej Maksymowicz/iStock(Photo)
Heading out the door? Read this article on the new Outside+ app available now on iOS devices for members! Download the app.
Living in a mountain town comes with serious perks: backyard trail access, midweek powder days, and a community of adventurous spirits. But it also comes at a price. The cost of living in resort towns across the country continues to rise, while the high demand for housing means availability is just as scarce as affordability. Still ready to make the plunge? Here are our picks for the least and most livable mountain towns. 
Least Livable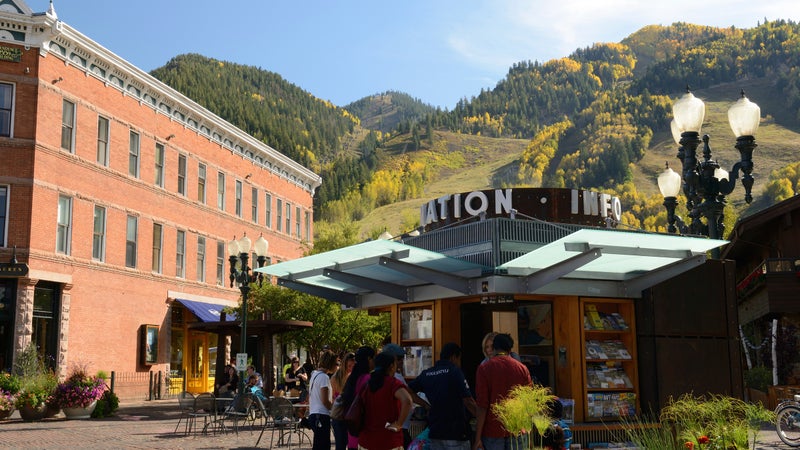 Aspen, Colorado
One of the most expensive ski towns in the country, Aspen is the go-to vacation spot for the superrich and ultra-famous, which makes it a tough place to live year-round if you're John, the snowcat driver. Over 50 percent of the area's employees commute from down valley because housing in town is out-of-this-world pricey and rental units are nearly non-existent. Your best chance? Apply for the affordable housing lottery—the longer you're on the list, the better your chances of scoring a place to live.
Population: 6,680
Median age: 37
Median home sale price: $2.6 million
Median household income: $72,336
Average rental price: $1,400 
Vacancy of rental market: Less than 1 percent
Local's take: "For a while, I was switching houses every six months," says Will Cardamone, a skier, fly fishing guide, and Aspen native. "I lived in a trailer park for the summer. I feel like I can always find a spot by putting out feelers, but you never know what kind of situation it's going to be. It's doable to find housing, but there's no way you're saving any money."
---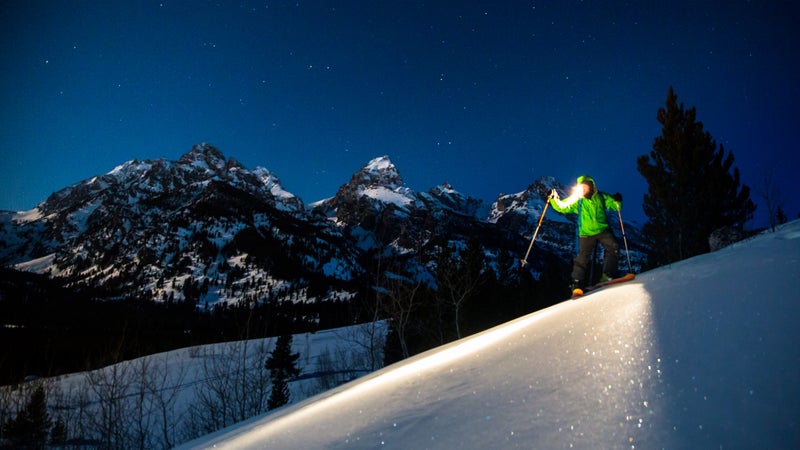 Jackson, Wyoming
Living in Jackson, Wyoming, means you'll be treated to epic climbing and skiing at Jackson Hole Mountain Resort and within Grand Teton National Park. But the cost of living is higher here than the rest of Wyoming, and a lack of housing inventory means rent prices have skyrocketed. Although elected officials recently voted to send more tax money to affordable housing projects, less than 2 percent of the land in the area can be developed, so finding solutions to the area's housing crunch has been challenging. 
Population: 10,523
Median age: 32
Median home sale price: $1.025 million
Median household income: $64,345
Average rental price: $1,500 
Local's take: "I have lived in nine rentals during my 10 years in Jackson," says Louise Sanseau, owner of Jackson's Inversion Yoga. "My rent is $1,900 a month. My roof does not have insulation and the people before me had a chimney fire, so I am not allowed to use the wood-burning stove. While it seems crazy to pay so much for an uninsulated wooden shack, I love my place and I hope to live there as long as I can. In Jackson, we are all moving, all the time. This seems to simply be the nature of living in a desirous mountain town."
---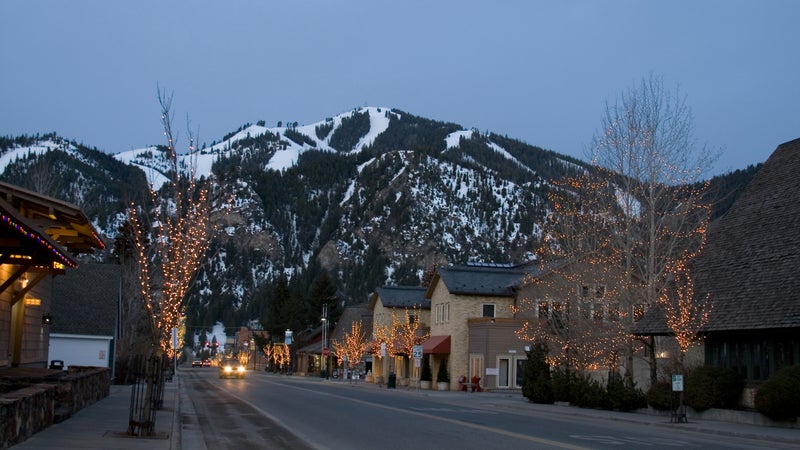 Ketchum, Idaho
Dubbed "America's first destination ski resort," Sun Valley was founded in 1936 by the chairman of Union Pacific Railroad and it remains an upscale resort today. Sun Valley and the town of Ketchum, Idaho, offer empty mountain slopes and a charmingly historic town, but you may have to live outside of town or in a teepee in the woods to make it work. Once a hub for ski industry brands like Smith Optics and Scott Sports, both of those companies have fled town in recent years, putting a dent in the local workforce. 
Population: 2,689
Median age: 44
Median home sale price: $945,000
Median household income: $63,750
Average rental price: $1,800 
Local's take: "Sure, there are some limits here—there aren't a ton of jobs or housing, it's a small town. But you can make it work," says Banks Gilberti, a pro skier who grew up in Ketchum and moved back a few years ago. "If you're wealthy, you go to Vail; if you're a super celebrity and you don't want to deal with other humans, you come to Sun Valley. Things are expensive—sometimes you've got to pay to play. But this place is like nowhere else on Earth. That's what makes it worth it."
---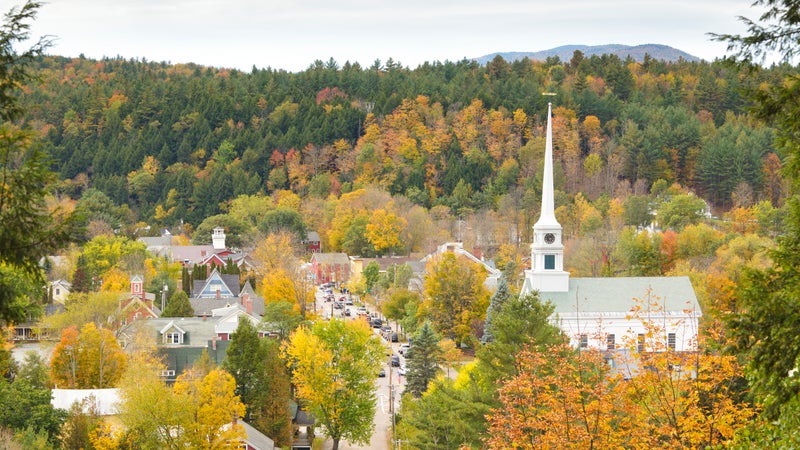 Stowe, Vermont
A quaint village near the base of Stowe Mountain Resort, Stowe, Vermont, has all the charm of a New England paradise, like lush fall foliage, white-picket fences, and farm-to-table restaurants. By ski town standards, Stowe is still a relatively affordable place to call home—you can buy a house here for under half a million bucks. But compared to elsewhere in Vermont, it's on the pricier end. A good chunk of the market is driven by second home owners, but for the year-round residents of Stowe, the higher cost of living is well worth it. 
Population: 4,886
Seasonal population: 8,000
Median age: 44
Median home sale price: $427,500
Median household income: $67,138
Average rental price: $1,194
Cost of living: 34.2 percent higher than U.S. average
Local's take: "It's a resort town and it's hard to get full time work here. It was cheaper when I first moved here 37 years ago—the price of land and homes has gone up," says Douglas Proulx, assistant manager at Stowe's Pinnacle Ski & Sports and a longtime carpenter. "But it's a very outdoorsy town, with great access to skiing, biking, hiking. Everybody knows everybody—there simply aren't that many full-time residents—and we help each other in lots of different ways."
---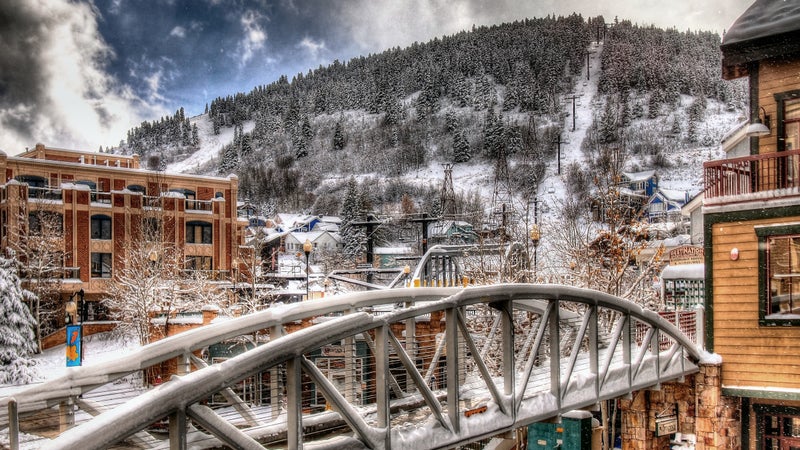 Park City, Utah
People flock to Park City, Utah, to escape the smog and summer heat in the valley of nearby Salt Lake City and to gain access to skiing and biking out the door and a picturesque main street studded with fancy restaurants and the annual Sundance Film Festival. But it also means spending $500,000 on a tiny house in need of updates or for the guys bumping chairs at Park City Mountain Resort, cramming six or more people into a rental home meant for two. 
Population: 8,085
Median age: 40
Median home sale price: $716,654
Median household income: $82,864
Average rental price: $1,375
Local's take: "When we bought our house here six years ago, there was good inventory and pricing was at a low," says Sandra Salvas, a Park City-based freelance photographer. "Now, you'll be hard pressed to find a rental under $1,000, and if you're looking to buy, get yourself psyched up for a bidding war. But we wanted to bike and ski out our front door, have a yard the dogs could enjoy, and not worry about locking our doors at night. It's quiet here, it smells like pine, and we are close to everything. It's worth it to us because those are our priorities."
---
Most Liveable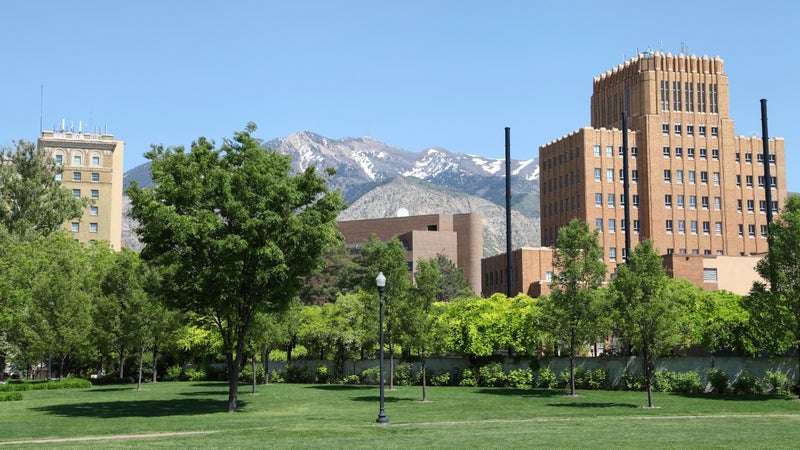 Ogden, Utah
A decade ago, Ogden was barely on the map of dreamy mountain towns. But thanks to ample affordable housing and an influx of outdoor industry brands—like Salomon, Atomic, Scott Sports, Enve, and others—more people are moving to Ogden, which is 38 miles from Salt Lake City and near Snowbasin and Powder Mountain ski resorts. From free summer concerts to the youthful vibe from Ogden's Weber State University to the 9,500-foot peaks shooting up nearby, this town is on the rise. 
Population: 84,316
Median age: 29
Median home sale price: $122,800
Median household income: $71,500
Average rental price: $758
Cost of living: 12.8 percent lower than U.S. average
Local's take: "As far as mountain towns go, there's nothing that compares to the cost of living in Ogden. We don't get the reality-bending bubble effect of other quaint and homogeneous towns," says Chris McKearin, Salomon's alpine commercial manager and an Ogden resident since 2007. "Before work today I rode two hours of singletrack from my front door. My commute to work is 1.5 miles, so I am biking most of the week. The city is doing a great job of building new neighborhoods on vacant or blight-declared lots and the single family home market seems to be competitive."
---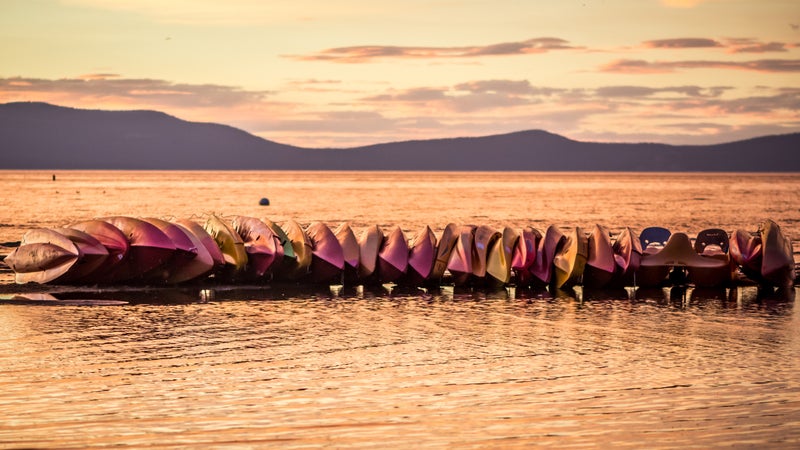 South Lake Tahoe, California
Once the third largest gambling city in the country, South Lake Tahoe, which straddles the California and Nevada border, is now in the midst of a renaissance, with major redevelopment of dilapidated downtown buildings, costly investments from Vail Resorts, which owns Heavenly ski resort in town, and a surge in outdoor recreationalists. Compared to elsewhere in Tahoe, the south end of the lake is downright affordable. 
Population: 21,529
Median age: 39
Median home sale price: $313,929
Median household income: $36,311
Average rental price: $841
Local's take: "By mountain standards, living in South Lake Tahoe is super easy, especially compared to North Lake Tahoe, where I could afford to rent but I couldn't own without winning the lottery," says Wes Berkshire, a high school English teacher and three-year South Lake Tahoe resident. "In South Lake, it's much more affordable and the options are plentiful. I'm a teacher and I own my own house in Tahoe. Seriously. What do I love best? The lake, the weather, the skiing, the access to the rest of California; it's hard to beat."
---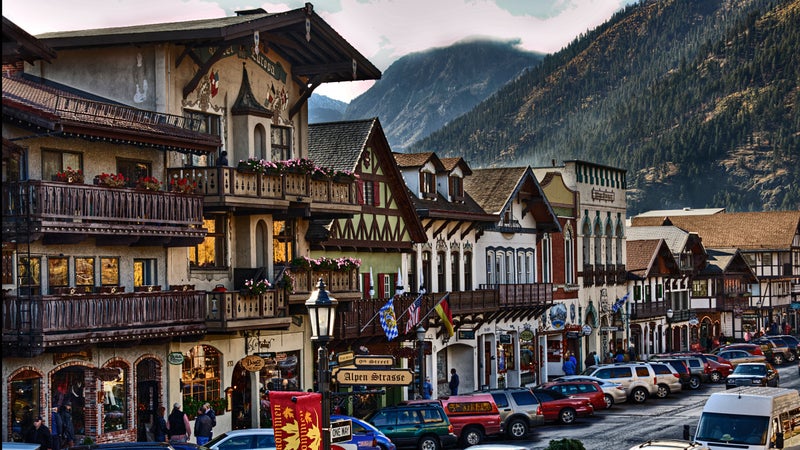 Leavenworth, Washington
In the Bavarian-themed mountain town of Leavenworth, in Washington's eastern Cascade Mountains, you're 35 miles from Stevens Pass ski resort and a two-plus-hour drive from Seattle. The town is known for its legendary Oktoberfest and holiday festivals, but locals love it for its affordability and access to endless backcountry skiing and climbing, paddling on the Wenatchee River, and over 700 miles of trails. 
Population: 1,979
Median age: 45
Median home sale price: $251,838
Median household income: $33,913
Average rental price: $892
Local's take: "If you compare Leavenworth to other resort towns, it's very affordable. However, like most places that have tourism and access to endless outdoor recreation, it's becoming more of a destination and prices are going up," says Joel Martinez, general manager at Leavenworth's Icicle Brewing Company and a Leavenworth resident since 2000. "The community in Leavenworth is very tight. People say hi walking down the street and my kids can ride their bikes wherever they need to go in town. The things I love most about living here are the people, the community, location, and access to everything that we want in the outdoors."
---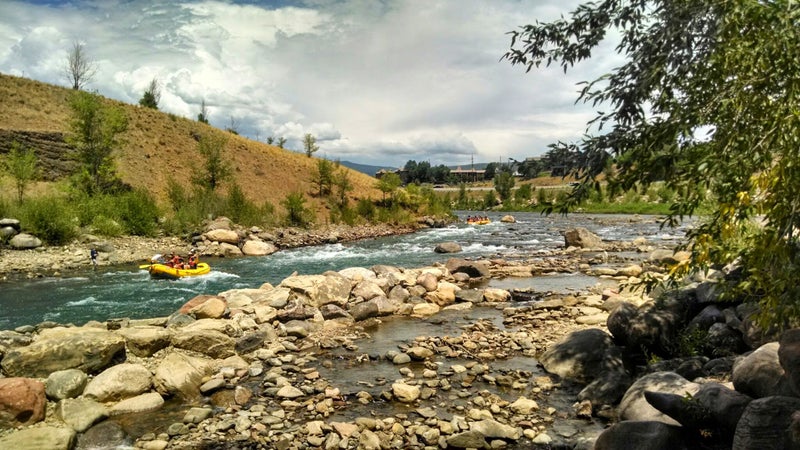 Durango, Colorado
Compared to some of Colorado's pricier mountain towns (we're looking at you Aspen, Vail, and Telluride), the college town of Durango, on the banks of the Animas River and in the heart of the San Juan Mountains, is considerably more liveable. You can rent a room for $400 or buy a fixer-upper for $300,000, plus jobs in tourism, oil and gas, and at Fort Lewis College are plentiful. This southwestern town has ample bike paths, river tubing, mountain biking, and skiing at nearby Durango Mountain Resort. 
Population: 17,834
Median age: 33
Median home sale price: $368,590 
Median household income:  $55,014
Average rental price: $1,068
Local's take: "Quality of life is really important here and people prioritize health and well-being over working their tails off," says Kate Siber, a freelance writer who's lived in Durango for 11 years. "Part of what makes this place affordable is the culture. It's rare that I meet friends out at a bar or restaurant. We go for rides, hikes, and riverside happy hours instead. I frequently think to myself when I'm riding to work, 'I live in paradise. It's so safe and green and easy. How lucky am I?'"
---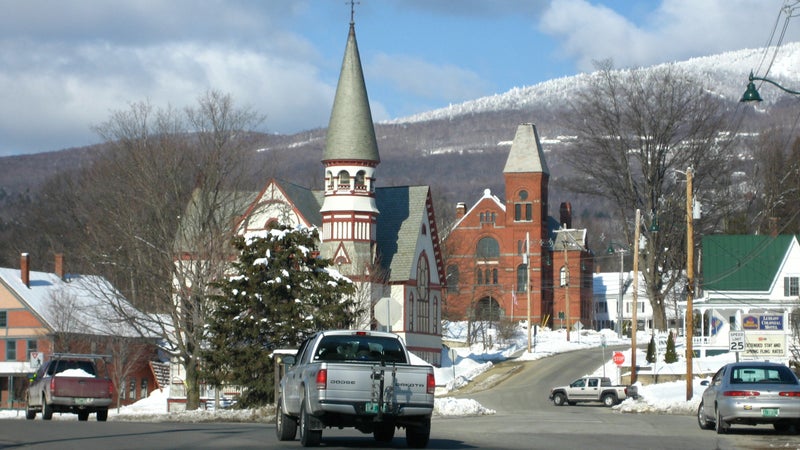 Ludlow, Vermont
Ludlow, Vermont, balloons each winter with visitors to Okemo Mountain Resort, but the rest of the year, the former mill town at the junction of Vermont's Route 100 and 103 feels pretty sleepy, with a small yet passionate year-round population of multi-generational Vermonters. You'll find ample four-season outdoor recreation here—the summer hiking trails are not to be missed—plus zucchini festivals, craft shows, and a pedestrian village to remind you of small-town America at its finest. 
Population: 795
Median age: 48
Median home sale price: $211,352
Median household income: $35,780
Average rental price: $683
Local's take: "What sealed the deal on opening our business in Ludlow was the great deal that we got on the building we bought for the hostel. We knew we couldn't beat the price for a Main Street location in any other ski town," says Eliza Greene, co-owner of Ludlow's Homestyle Hostel who grew up near Ludlow and moved back in 2014 after 10 years away. "As compared to other southern Vermont ski towns, Ludlow has the largest pool of available rental homes and apartments at affordable rates. Plus, we love the small-town feel in Ludlow where we get so much support from our community."
Lead Photo: Maciej Maksymowicz/iStock
Trending on Outside Online