7 Questions with Donovan Hohn
Heading out the door? Read this article on the new Outside+ app available now on iOS devices for members! Download the app.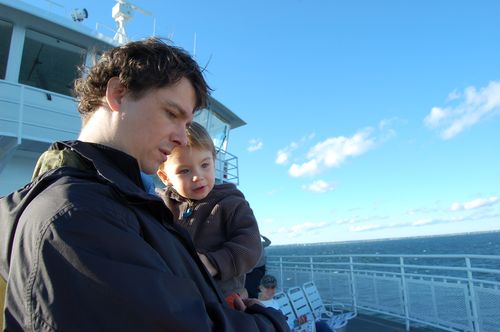 Donovan Hohn discusses his book Moby Duck, the science behind ocean currents, and how Sesame Street saved our childhoods. To listen to the extended interview click here, or subscribe to our iTunes podcasts.
—Stayton Bonner
What's up with the bath toys?
Bath toys became popular in the middle of the 20th century, partly due to a government ad campaign for little boys to play with toys in the tub as opposed to playing with themselves. But I think their current popularity can mainly be traced back to Ernie and his tub. They're an iconic symbol of childhood innocence.
Why'd you follow the duckies?
I read about 7,200 hollow plastic ducks, beavers, turtles, and frogs going overboard from a container ship in the Pacific. The iconic bath toy—this symbol of childhood—out there on the ocean, the most sublime wilderness on earth, was an interesting incongruity. Imagine you're walking on a beach in Maine—one of the tantalizing reports was that someone thought they saw one there—and see this old faded battered duck atop the seaweed. You ask yourself, "Where did this thing come from?" The book tries to answer that in an oceanographic way—their travel along the currents.
How little do we still know about the ocean?
Very little. There are underwater storms in the ocean. Only a small fraction has been explored. Looking at a globe with little arrows, you might think we understand ocean currents, but that's only a cartoon of them. In reality, the ocean's movements are chaotic and often unpredictable. I quickly followed these toys into the mysteries of climate science.
Mysteries?          
Most scientists will tell you we need to better map the ocean if we're going to refine our predictions of climate to come. Drones are capturing the necessary intelligence for us to bring it into better focus. But even so they can't go into parts of the Arctic. There are depths they can't reach. I'm inclined to agree with Rachel Carson that the last and darkest mysteries of the sea may never be entirely solved.
What's the Great Pacific Garbage Patch?          
Currents converge and encircle these calms, trapping man's floating detritus. I imagined it as something solid, like you'd have to poke things out of the way as you kayaked through it. In fact, it's spread across millions of miles of ocean and moves seasonally with the currents. They've pulled 50-year-old Mickey Mouse watches from the northern Pacific.
If you were reincarnated as a rubber bath toy, what would you be?          
I learned there was a fifth floatee discontinued as a potential choking hazard shortly before the spill. It was the purple whale.
Call me Ishmael.
Yeah, Melville was a touchstone for thinking about my journey. While the mythic beast in his 19th century tale was a godlike white sperm whale and the hunt a primal undertaking/investigation of the nature of the cosmos, it seemed appropriate for me in the 21st century to chase after a hollow plastic duck.