7 Questions with Susan Casey
Heading out the door? Read this article on the new Outside+ app available now on iOS devices for members! Download the app.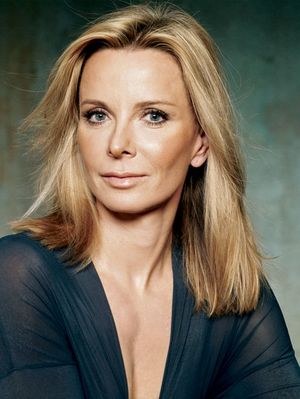 Susan Casey (Photo by Ruven Afanador)
Bestselling author Susan Casey discusses her new book The Wave, swimming with a tiger shark, and how—as newly appointed editor-in-chief of O Magazine—she's showing her new boss how to catch a break.
–Stayton Bonner 
How'd you make the leap from Outside creative director to bestselling author?
I went to the University of Arizona on a swimming scholarship and graduated with a degree in French literature and philosophy, which basically qualifies you to run the cappuccino machine at Starbucks. I was depressed, bartending, and didn't have a work visa. So I went back to Toronto, where I really really didn't want to be. But it turned out to be a good thing. In a small pond, I was able to quickly do some significant work in magazines. You did everything. During my first two weeks, they were like, "Hey, you want to interview Hunter S. Thompson?"
What was it like with Hunter?
I saw him do a lot of drugs.
How did Laird Hamilton and other big-wave surfers receive you during research for The Wave, your book on the science of 100-foot-plus waves and those who ride them?
They did a little hazing but my background as a swimmer helped. I did some four-mile swims with them. They were willing to take me into some pretty extreme situations because they knew I had a pretty good chance of surviving a fall out there.
And you surfed a 50-foot wave?
I went down the face of a 50-foot wave—Jaws—with Laird. I was on the back of a jet-ski, riding with Laird as he was towing another surfer. We felt the G-forces. It was so steep I thought we were going to flip over. It's like a ski hill moving through the water at you. A lot of sensory stuff happens when it breaks. There's spray, noise, and force. You can actually feel the mass of the water pressing at you.
Did you nearly squeeze Laird to death?
You don't want to hold onto the person driving because you can screw them up. So I held onto a little piece of vinyl on the seat. The next day I woke up and my thighs were bruised form squeezing the jet-ski so tightly.
Intense.
I also had an unplanned encounter with a very large tiger shark more than a mile off the coast of Maui while swimming. I was with two other people when we came across it feeding. The shark circled us for five minutes. It was really thinking about what it was going to do. It wasn't very far away. I watched its eye. We were right on the surface of the water. Its dorsal fin was just below the surface.
How do you—as newly appointed editor-in-chief of O Magazine—go from sharks to 10-minute makeover tips?
I think you should keep an eye on the magazine. 
Extended interview? Download 7 Questions with Susan Casey podcast
Trending on Outside Online