The Adventure Film Industry's Women Problem
Women athletes around the country are tired of being underrepresented on film and behind the camera, so they're taking matters into their own hands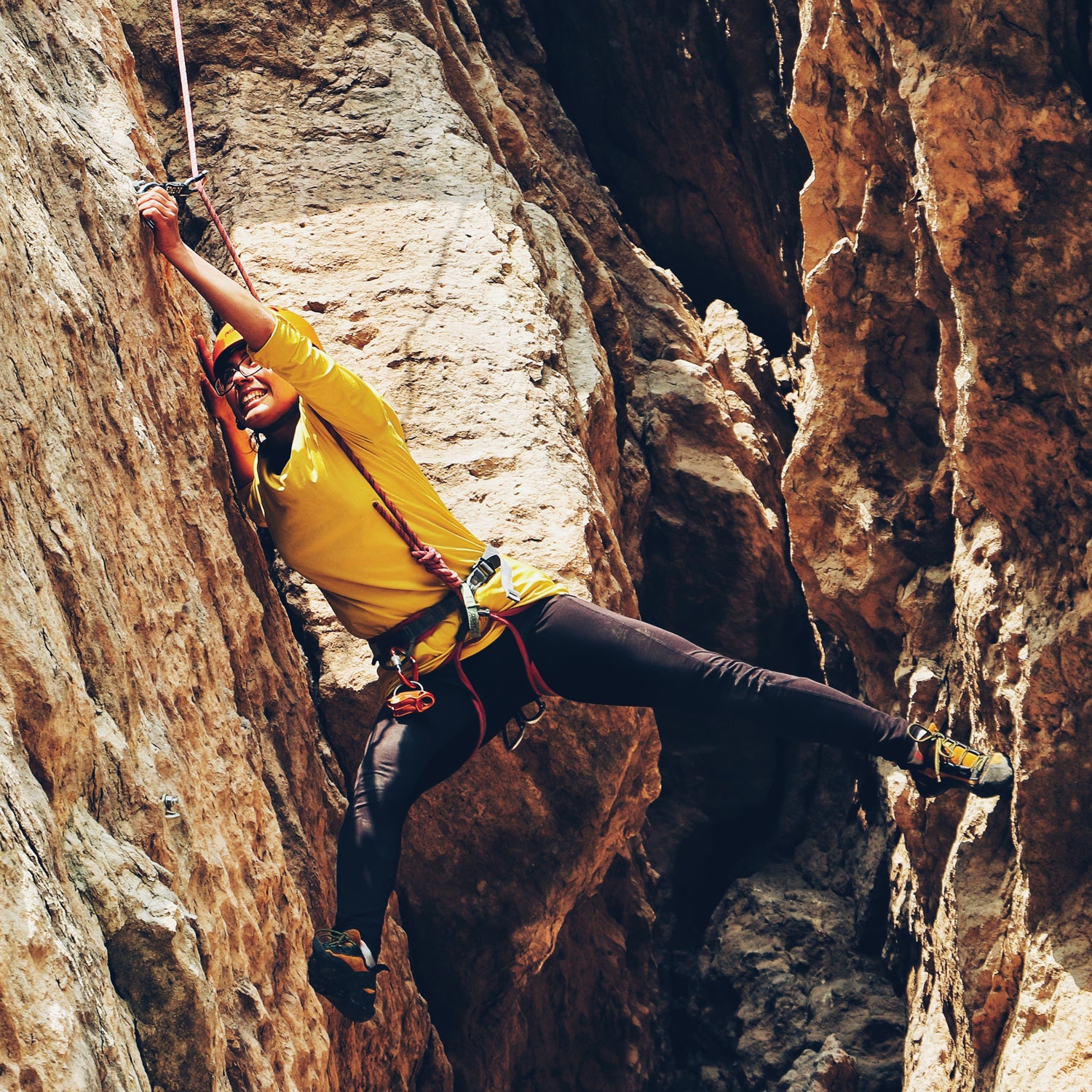 Heading out the door? Read this article on the new Outside+ app available now on iOS devices for members! Download the app.
Aisha Weinhold was on nighttime bow watch while sailing in the Pacific Ocean when inspiration struck: she would start a woman-centric adventure film festival. And it would be called No Man's Land.
Weinhold, 25, is a former competitive skier and raft guide and an avid mountain biker and runner. While growing up in Carbondale, Colorado, she frequented her hometown's 5Point Adventure Film Festival, but she has always been troubled by the lack of women on screen. No Man's Land, which is funded through donations, recently wrapped up its third season, showing 42 films by and about women this year.
The festival is part of a small but growing effort of women who want to increase the media coverage women's sports receive and change how women are talked about as athletes. Women constituted 46 percent of outdoor recreationists in 2016 in the United States. They make up 40 percent of U.S. athletes and 43 percent of college scholarship athletes—yet men's sports receive a whopping 96 percent of traditional media coverage. Women are also underrepresented in the film industry: Of the 100 top-grossing films in 2016, only 4 percent were directed by women, according to a yearly study from the University of Southern California.
It's not much better in the adventure-sports world. Organizers of the Banff Mountain Film Festival, for example, have acknowledged that women are underrepresented in their films. In 2010, they received a flood of comments asking: where are all the women? "The short answer is that the underrepresentation of women in our tour films is a reflection of the adventure filmmaking industry, and of the films submitted to our competition, not of our selection criteria," organizers wrote in a Facebook note that year. Banff has improved since the 2010 tour, when just one film out of 30 was about a woman athlete: During the 2016–2017 tour, about 13 out of 30 films included women, and women played leading roles in about eight.
This disparity feeds the false impression that "women aren't as interested in sports or as good at sports as men," says Mary Jo Kane, director of the Tucker Center for Research on Girls and Women in Sport at the University of Minnesota. "It becomes a self-fulfilling prophecy and reinforces the notion that the standard by which we think 'athlete' is male."
One way to shift the narrative? Invest in women's adventure films, big-time. It's only in the past few years that any such thing has existed.
In addition to No Man's Land, there's also the two-year-old Women's Sports Film Festival (WSFF) in Oakland, California. Susan Sullivan and Jennifer Matt launched the festival last year, operating under the adage "if she can see it, she can be it." Now in their second year, the duo have raised more than $27,000 in a Kickstarter campaign for the three-day festival that will show seven feature-length sports films and 16 shorts, all starring women.
Sullivan and Matt, who are business and life partners, frequent other sports film festivals to scout for women-focused films. "We usually only have to go to like three of the movies that are shown out of hundreds," says Matt. "Such a small percentage of films have a woman in the lead."
It's not just the amount of coverage but also how women athletes are portrayed that Weinhold, Sullivan, and Matt want to change. You don't have to dig deep to find examples of sexism in outdoor media. In a recent unsubtle example, surfing apparel company Billabong sparked outrage when it ran side-by-side advertisements for its men's and women's clothing lines. The men's ad featured an airborne male surfer shredding waves, while the women's ad featured a woman laying on the sand in a bikini, back arched, head thrown back.
The way we talk about women athletes has gotten better in the past quarter century, but not much. A study published in September found that coverage of women's sports has shifted from predominantly "overtly denigrating" to "ostensibly respectful but lackluster." Cheryl Cooky, an associate professor of American studies at Purdue University, is part of the research team behind the study that has been surveying Los Angeles–based TV sports coverage since 1989. "The sexualization of women athletes was highly prevalent" during the first ten years of the study, Cooky says. Now, she says, while commentators are rarely as sexual in their description, clips from women's sporting events are of lower production value and discussed in terms that her team coined "gender-bland sexism." Commentators describe women's sports in a monotone delivery style, a sharp contrast to the fast-paced action-laden language used to described men's sports, she says.
Weinhold points out another problem: even when films do feature women athletes, the storyline often revolves around the woman overcoming a major obstacle. "It's always I was bullied as a kid and then I found running," Weinhold says. "There's no inherent I belong here."
The films at No Man's Land and WSFF don't stick to just one narrative. They show women getting dirty, goofing off, owning their talents, aging, and going hard in lucha libre wrestling matches. We could use a lot more of this female power and joy and grit, even if it's just in sport and adventure films. Ultimately, how we treat women athletes reflects how we treat women. "When you see women athletes participating and being successful at the highest level of competition," says Kane, "that has an enormous impact on not only how we see women athletes, but how we see women in general."
Lead Photo: Soroush Karimi