Adventure Town Bookstores Worth Traveling For
Stop by and find the book or local hiking guide that will change your whole perception of a new place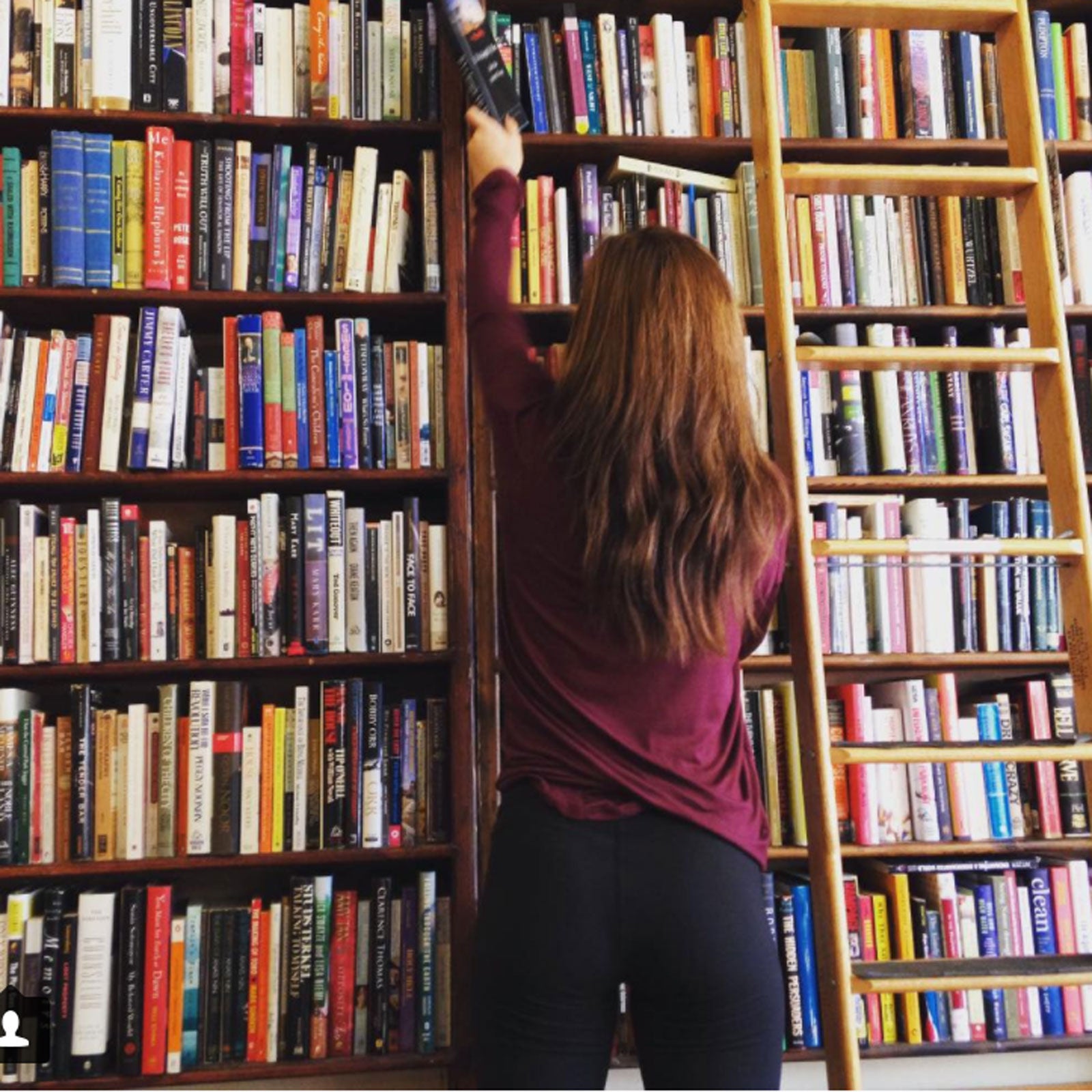 Nicolette Roberts(Photo)
Heading out the door? Read this article on the new Outside+ app available now on iOS devices for members! Download the app.
Maybe you're less nerdy than I am, but one of my abiding joys while traveling is finding the best bookstore in any given town. I go there to find novels set in empty desert towns, local history books, those weird homegrown hiking guides with sketchy hand-drawn maps—anything to give me a more personal look at the place I'm visiting. You can't get that kind of context on Amazon.
And adventure towns, somewhat miraculously, are still home to some of the best independent bookstores in the country. Keep these standouts in mind as you plan your next road trip.
Back of Beyond
Moab, Utah
Tucked between T-shirt shops on Moab's main drag, Back of Beyond, a legendary hub of backcountry literature, is jammed with new books and rare old titles about the Colorado Plateau, conveniently organized around dirtbag-friendly categories. Environmental nonfiction features prominently and is next to the shelf full of river books, which is across from the adventure narratives. There's a whole Terry Tempest Williams section, who's been known to stop in.
What to Read? You're in Edward Abbey territory, and Back of Beyond (named after Seldom Seen Smith's hideout) has a deep catalog of his books, along with other titles that tread the line of monkeywrenching, like Amy Irvine's Trespass and David Gessner's All the Wild That Remains. River runners can nab Tom Martin's hard-to-find hard-to-find guides to the Green and Colorado Rivers, along with every Belknap guide imaginable.
Country Bookshelf
Bozeman, Montana
The greater Bozeman area has always been home to writers who cue in to the relationships between people and empty, wild places: Jim Harrison, Tom McGuane, David Quammen, Doug Peacock, Tim Cahill, and many others. One of the first things you see when you walk into the airy, bright Country Bookshelf is a wall full of those names. The biggest independent bookstore in the state is making sure Montana's literary traditions stay alive. It hosts readings and events almost every night of the week (Quammen has come by twice in the past month alone).
What to Read? Callan Wink's 2016 short-story collection, Dog Run Moon, continues the Paradise Valley tradition of gracefully written stories about men searching for clarity and a sense of place.
Malaprop's
Asheville, North Carolina
Asheville is plenty popular, but it still feels like one of those sleeper multisport towns where everything is high quality and easy to access: beer, paddling, trail running, books. Malaprop's, which Publishers Weekly has called the best bookstore in the country, makes Asheville even more compelling than comparable places like Bend or Boulder (no offense, Trident). Owner Emöke B'Rácz, a political exile from Hungary who opened the shop in 1982, wanted to highlight writers who might be pushed to the margins elsewhere, and Malaprop's wide-ranging selection does that in spades.
What to Read? Justin Souther, Malaprop's senior buyer and bookstore manager, says that Elizabeth Catte's What You Are Getting Wrong About Appalachia has been one of the shop's bestsellers since it came out earlier this year. "It's a succinct, readable history of our region that highlights the diversity of beliefs and people who live in these mountains," he says. "It's essential for anyone who wants to truly understand Appalachia, something that we, as a Southern Appalachia bookstore, find very important."
Book Nook
Buena Vista, Colorado
Get yourself to the Arkansas River Valley in October, when the Book Nook is celebrating its tenth birthday. The shop will be serving fresh-baked apple pie all month from apples that grow in the backyard. Buena Vista has changed a lot in the decade that the Book Nook has been open. It's gone from being a pass-through paddling (and prison) town to a full-blown tourist destination with a distillery and a food truck pod (unrelated to books: go to the Buena Viking), but the ramshackle house off the main drag still feels like an underground secret. Each room (and the shed out back) is stacked with a different genre of new and used books. If you can't make it in October, owner Owen Lentz makes cookies every single weekend.
What to Read? If you want to dig into local history, owner Kathy Lentz says she really likes My Life as a Whore by Tracy Beach. It's a biography of Madam Laura Evens, who lived in the valley in the early 1900s and sheltered battered women and children in her brothels.
Key West Island Books
Key West, Florida
Key West is a literary city—it's reportedly home to more writers per capita than anywhere else in the United States, and the Key West Literary Seminar, helmed by Judy Blume, pulls in writers like Margaret Atwood and Jamaica Kincaid. Also, Hemingway lived here. You can visit his house—and his cat's descendants, if you're into that. Homey Key West Island Books is a hub for the local writing and reading scene.
What to Read? Peter Matthiessen gets a lot of outdoor attention for The Snow Leopard, but his series of Florida novels based on murderous real-life sugar planter Edgar Watson, starting with Killing Mister Watson, get into the grit and lawlessness of frontier Florida in wonderfully creepy ways. For more unsettling state reads, Karen Russell's Swamplandia!, Sarah Gerard's Sunshine State, and Lauren Groff's Florida are all weird in a very good way.
Point Reyes Books
Point Reyes, California
When Stephen Sparks and his wife, Molly Parent, bought Point Reyes Books in January 2017, they decided they wanted to branch out from the kind of guidebooks the shop had been known for in the almost 50 years it's been around. They brought in more poetry and literary fiction to pull in locals along with tourists passing through on the way to the park.
What to Read? Sparks loves a lot of local books, including Nick Pyenson's Spying on Whales. "Elizabeth Rush's Rising: Dispatches from the New American Shore is a thoughtful and lyrical meditation on rising sea levels and what it means for the future of the American coast," he says. "And Summer Brennan's The Oyster War, which details a clash between agriculture and the national park, provides a good history of the birth and development of the park."
Night Heron and Second Story Books
Laramie, Wyoming
There's a block of Laramie that might give you the biggest bookstore bang for your buck in the country. Night Heron, a used bookstore and café with floor-to-ceiling shelves is a great place to drink coffee, read, and dream about beautiful local places like Vedauwoo in a place that feels straight out of Beauty and the Beast. If you want more curation or organization, head next door and up the stairs to The Second Story. A former brothel, the shop's tiny rooms are organized by genre. The travel room is particularly good, as are the owner's recommendations for new fiction.
What to Read: Navigating the shelves of Night Heron can be its own adventure, but you're likely to find some hardscrabble Wyoming stories, like Mark Spragg's Where Rivers Change Direction.
Lead Photo: Nicolette Roberts