4 Adventurers on Their All-Time Favorite Books
We asked our favorite athletes and explorers what books have stuck with them. Then we dug up some new picks that hit the same notes of adventure and awe.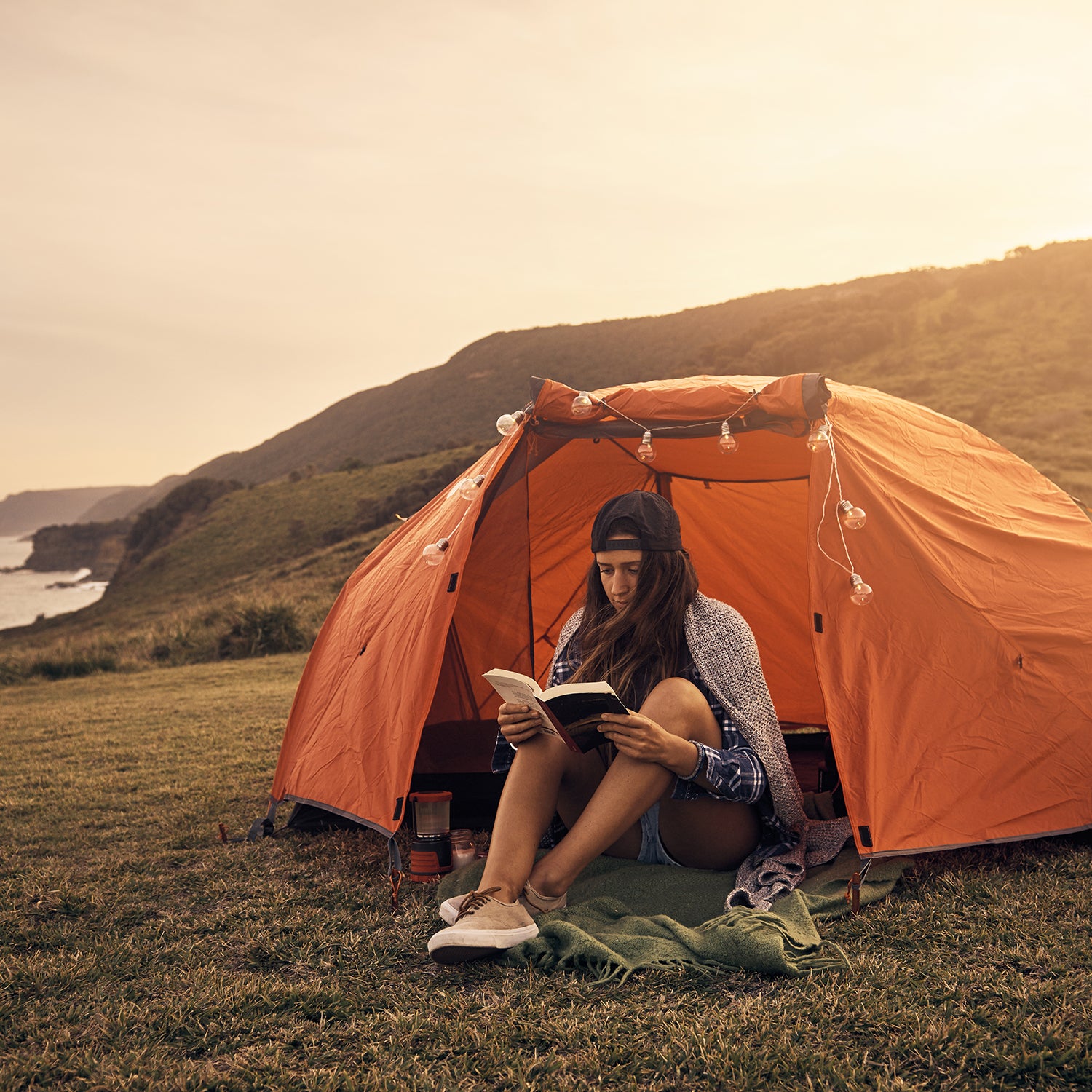 Heading out the door? Read this article on the new Outside+ app available now on iOS devices for members! Download the app.
Your favorite athletes, explorers, and environmentalists—they're just like you! At least in the sense that they can be nerdy about books. We asked them to share which titles have stuck with them, and in the spirit of a good old-fashioned book club, we dug up some new picks that hit the same notes of adventure, awe, and "how the hell did they do that" that inspired them in the first place.
Clare Gallagher
Ultrarunner and environmental advocate Clare Gallagher likes to read adventure stories about sports other than her own. Todd Balf's The Last River: The Tragic Race for Shangri-la, which chronicles an attempted first descent, in 1998, down Tibet's Tsangpo River, scratches all her literary itches. It's a river narrative and a deep portrait of place that touches on the workings of extreme expeditions and relationships. Gallagher first read it in high school and says it influenced her decision to study ecology in college. But more than that, the paddlers' hard-nosed drive for exploration has shaped how she approaches epics. "I continually think back to this book as it reminds me of the fragility of life while inspiring me to charge after my dreams," Gallagher says. "The passion of the team was palpable. They planned this trip for years. They trained like maniacs, pored over maps, and packed for months. It inspires me to dream big, plan big, and execute big."
New Recommendation: Holly Fitzgerald's honeymoon story sounds made up. Partway through their yearlong trip, she and her new husband are in a plane crash in the remote Peruvian jungle. Their only way out is by river on a small, disintegrating raft. It's all true, and her book about the trip, Ruthless River, touches on the themes Gallagher loves: adventure, relationships in tough situations, and being stronger and more capable than you think.
Jess Phoenix
Phoenix, a volcanologist and California congressional candidate who cofounded the ecosystem-cataloging nonprofit Blueprint Earth, read Jules Verne's Around the World in 80 Days as a kid growing up on the East Coast. At the time, her scope of the world was pretty small, but reading Verne opened her up to the possibility of much bigger things. "That has stuck with me as I've led scientific expeditions on four continents and done work on six," Phoenix says. "Because of Around the World in 80 Days, I internalized early on that the journey really can be as interesting as the destination. I have been able to take Verne's words with me on every expedition I've made." She quotes Verne: "The chance which now seems lost may present itself at the last moment."
New Recommendation: Phoenix loves Verne's story for its combination of high-stakes adventure, travel, and far-off places. If you're looking for a more contemporary journey that touches on all those themes, try Hernan Diaz's new novel, In the Distance. It follows Swede Hakan Söderström as he tries to track down his missing brother, Linus, in the American frontier after the two ended up on different ships heading for the United States. It's a western, sort of, but Diaz, who is also an academic, subverts the frontier narrative and makes the West a strange, alien land for Hakan to navigate.
Rachael Burks
Skier Rachael Burks cried the first time she finished Don DeLillo's Underworld. She'd become so attached to the characters that she didn't want to let them go. DeLillo's novel is hard to encapsulate; it weaves together multiple storylines and touches on pop culture, politics, and personal history. As he threads through those stories over the course of 50 years, DeLillo creates a portrait of living in nuclear America. "It has complex storylines with deep character development, and it's so deeply American," Burks says. "I mean, it revolves around a baseball."
New Recommendation: In the same way that Underworld joins disparate storylines to show a broader narrative, Tommy Orange's book There, There pieces together history and culture to tell a different kind of American story. Orange, an enrolled member of the Cheyenne and Arapaho Tribes of Oklahoma who grew up in Oakland, writes about 12 different people who show up at the big Oakland Powwow. By showing how their experiences intersect, Orange drills into what it means to be an urban Native American and how people get trapped by history and assumptions.
Steve House
House, the climber whose book Training for the New Alpinism has changed the way lots of mountaineers push themselves, says he likes the speed at which Aldo Leopold's mind works: patient and deeply observational. A Sand County Almanac, Leopold's deep dive into the landscape around him and the ways people interact with the land is one of the first environmental essay books House ever read and one of the few that he returns to. Leopold's essays range from a seasonal study of wildlife on his property to an interrogation of what and who wilderness is for, clearly articulating the importance of an interconnected ecosystem and providing a call to action for conservation that still holds up years later.
New Recommendation: Leopold probed his own connections to place to show the values of nature. In his new collection of essays, Coast Range, Nick Neely does the same. Neely grew up in coastal California, and like Leopold he treads the lines of personal narrative and natural history to tell stories about the coastlands of the Pacific Northwest and beyond. In another Leopold-like vein, Neely is a graceful, subtle writer with a sharp eye for the easily missed details of his surroundings.
Lead Photo: pixdeluxe/iStock