The Most Creative 'Alone' Contestants of All Time
Every season, the survival reality TV show features a few bushcraft specialists who approach wilderness living with an artistic flair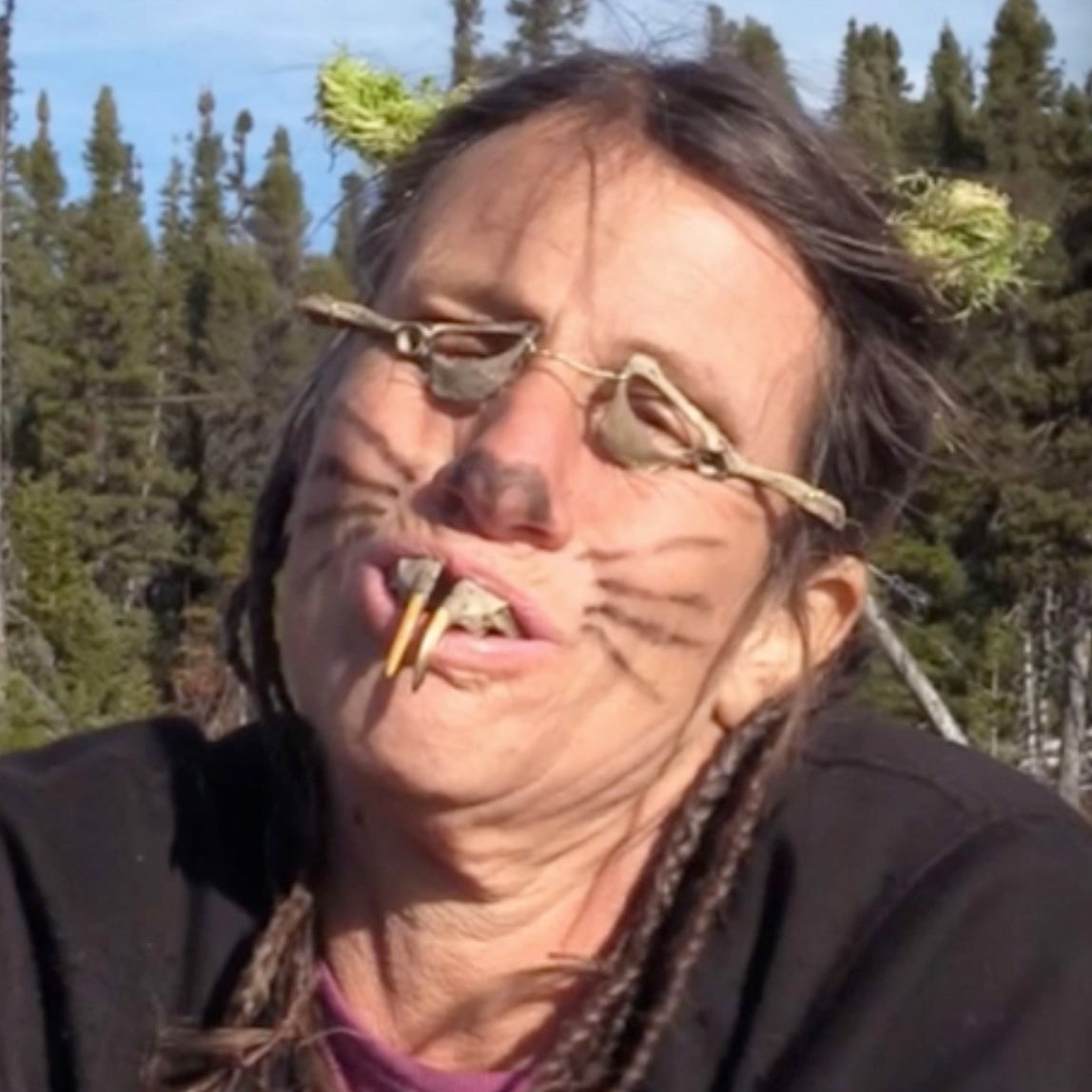 Heading out the door? Read this article on the new Outside+ app available now on iOS devices for members! Download the app.
Let's pour one out for the crafty and creative contestants on Alone. 
(Spoilers ahead.) On Friday's eighth episode, the show bid adieu to two of my favorite cast members from season nine: Tom Garstang and Jessie Krebs. Having wasted away to a skeletal waif, Garstang wisely called for a rescue after slipping on a downed tree and injuring himself. Krebs, meanwhile, was plucked from the wilderness by Alone doctors after she caught a debilitating stomach illness and spent two nights vomiting into her campfire.
Neither Garstang nor Krebs were the most skilled hunters or the best at trapping critters—my affinity for each was rooted in their mutual imperfections. Most Alone contestants pursue an efficient and calorie-conserving strategy to live in the wild, but not these two. Krebs, a 49-year-old survival instructor from Pagosa Springs, Colorado, became obsessed with constructing a massive outdoor shelter that seemed to rival the Great Pyramid of Giza in terms of square footage. She called her soaring hut "Hodgepodge Lodge," and her decision to work day and night on the building, instead of hunting or fishing, likely drained her stamina too quickly.
And then there was Garstang, a 35-year-old regenerative agriculturalist from Virginia, who revealed himself early on to be ingeniously creative. Garstang arrived in Labrador having dyed his hair Toxic Avenger green. In an early scene, he snipped the emerald locks from his head, and then used the hair to tie a fly fishing fly. Garstang's unorthodox lure actually landed him a few meals. Later in the season, Garstang made his girlfriend a pair of earrings by using a piece of rabbit bone and grouse feathers.
Every season, Alone producers try to find at least one contestant like Garstang—an imaginative and artistic bushcraft expert. Alone's creator-survivalists may not shoot moose or hook dozens of fish, but they often come up with ingenious—if sometimes superfluous—wilderness projects to keep themselves (and TV viewers) occupied amid the months of isolation. "It's not so much that we're looking for a fan-favorite, we're looking for creative ones," Ryan Pender, the show's executive producer, told me. "You have some folks who are well-versed in hunting, and others who may not be, but they're really good with creative problem-solving using bushcraft."
I have enjoyed Alone's ninth season for multiple reasons, and one is because several cast members are the artsy and creative type. In Friday's episode, contestants Karie Lee Knoke and Adam Riley fashioned Halloween costumes out of the remnants of animals they had killed for food. Riley even performed a trick-or-treat skit while wearing his costume—a bird mask made from grouse feathers.
The patient zero for this Alone archetype was Lucas Miller, a yoga instructor and wilderness therapy guide, who participated in the show's first season, which was held on Vancouver Island. While other contestants agonized over the bad weather and paltry hunting, Miller built creature comforts like a wooden ukulele and a drum. He used a plastic tarp to construct a boat, and used it to float around a brackish inlet. He built a yurt to live in, as well as wooden shelving to store his few personal belongings.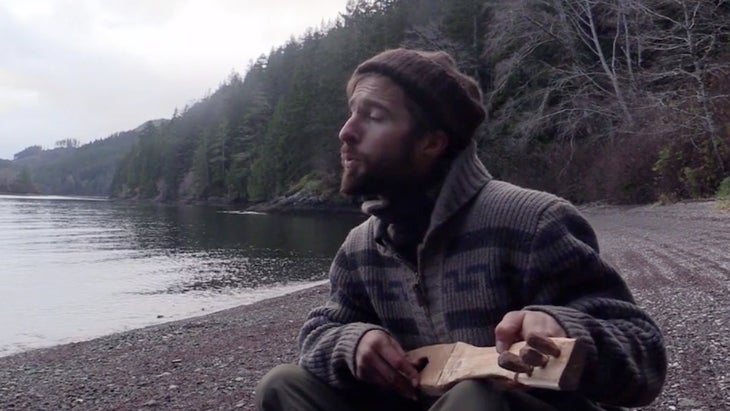 In one episode, Miller even performed a song, strumming along with his makeshift ukulele as he sang. Miller eventually dropped out, and perhaps his various side projects burned up valuable calories that could have helped him survive longer in the wild. But he was unquestionably my favorite contestant from Alone's debut.
I recently reached out to Miller to understand the mindset he brought into the season. Through his background in wilderness therapy, Miller told me he knew that crafts and building projects would help him overcome the isolation and boredom he was likely to endure in the forest. While other cast members from his season spent the weeks leading up to their departure learning to hunt and fish, Miller came up with ways to entertain himself. "I had a hunch about the mental and emotional exertion we were going to go through out there, and I had a whole bag of tricks to help me stay positive," Miller told me. "Just sitting around doing nothing is hard on your mental health."
Prior to shipping out, Miller watched YouTube videos showing how to carve a guitar from wood, and how to build a tarp boat. He told me that winning the $500,000 prize was never his motivation. He wanted to see if he could comfortably live in the wild with only his mind and body to keep him entertained. "I don't think people want to see us just sitting around starving," Miller says. "I didn't want to go on the show and have this mindset that I was just going to reserve calories just to win, because that's not how I live life. So what if I lose?"
Miller says he's only watched Alone sporadically since his season aired, but he has recognized a similar mindset in several contestants in later seasons. In his opinion, survival shows can get boring and repetitive—he'd rather see survivalists come up with creative ways to endure the outdoors rather than simply hunkering down and enduring the daily tasks of building a fire, catching food, and hauling water. Thriving in a survival scenario, he says, comes down to a person's attitude. "There are two types of people who go on these shows: those who have a strong idea and a hard vision of what they're going to do out there, like 'I'm going to kill the bear,'" Miller says. "And then there are the people who know how to feel it out, as opposed to getting stuck on an idea of how the experience is going to be."
I asked Miller to help me compile a highly unofficial list of Alone's most creative and artistic survivalists, and you can see our picks below:
Jose Martinez Amoedo (Season 2)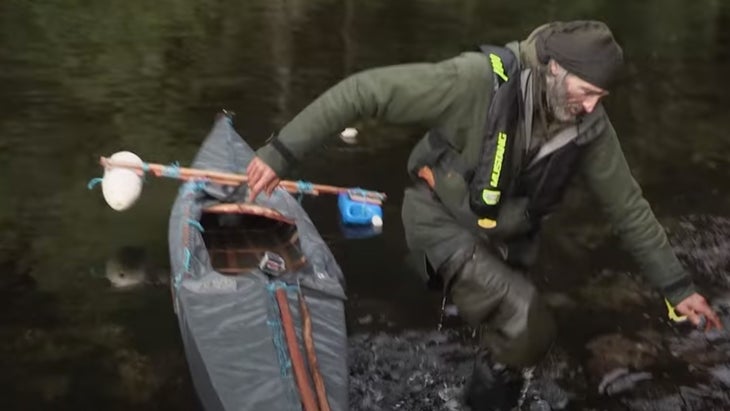 The soft-spoken Amoedo, a Spaniard living in Canada's Yukon Territories, spent weeks building a delicate kayak frame from timbers and bent wood. His final boat looked good enough to sell in an outdoor shop. He hoped the craft would allow him to catch fish father offshore, but on his maiden voyage, it capsized and sent Amoedo into the freezing water. He had to tap out, and rescuers found him unable to move in waist-deep water and on the verge of hypothermia. Still, Amoedo's kayak was really cool.
Mike Lowe (Season 2)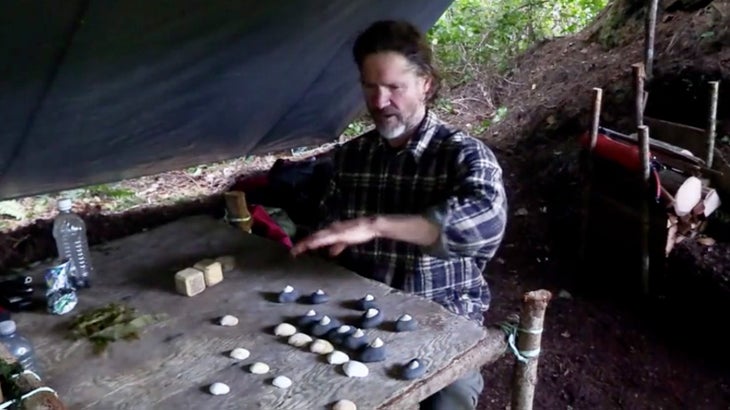 Lowe is often overlooked as a fan-favorite on Alone because he quit after just 21 days in the bush. In those three weeks, however, Lowe built a dizzying array of gadgets and knickknacks that would have made the doctor from Gilligan's Island proud. Lowe's shelter looked like the set for Swiss Family Robinson—he had a sink with running water, a table, and a fancy fireplace. He built a football board game that utilized rolling dice he carved from wood. He transformed a plastic tank into a boat, and even constructed a bowling alley on the beach out of a wayward buoy. In the end, Lowe tapped out because he got bored.
Callie North (Season 3)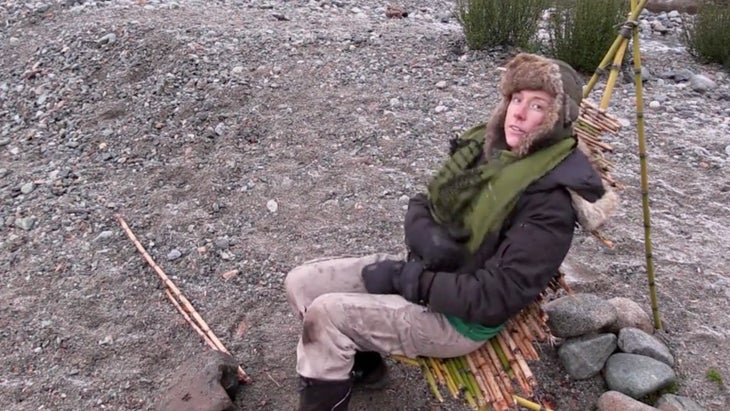 You knew early on in season three—held in Patagonia, Argentina—that Callie North of Washington State had the creative gene. One of her first projects was to construct a reclining chair out of bamboo that would look at home in a Williams-Sonoma catalogue. North spent several weeks building a shelter that still ranks as one of the best in the show's nine seasons, with a rock hearth, bamboo walls, and plenty of accoutrements. When her motivation began to wane, North built a sauna to warm herself, complete with a cushy walkway to and from her shelter made from soft moss.
Woniya Thibeault (Season 6)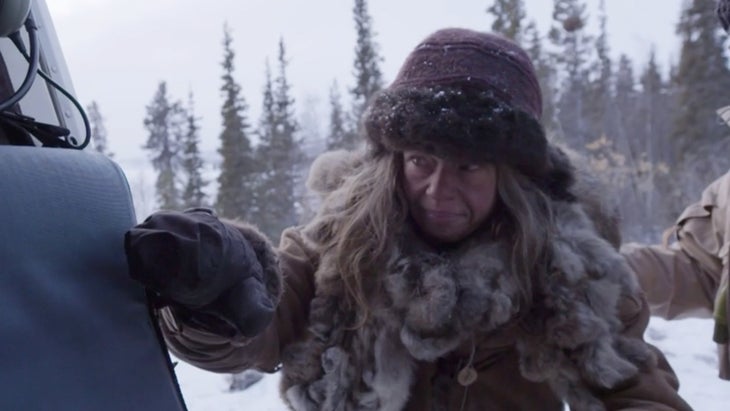 One of the tenets of Alone is that contestants get to choose a limited amount of protective clothing to bring with them into the field: warm hats, jackets, boots, etc. While most cast members choose the latest and greatest outdoor wear, Californian Woniya Thibeault made her own outerwear from buckskin. In fact, she told me she was still finishing sewing together her buckskin boots in the days leading up to her deployment. Woniya was the runner-up on season six, and one reason she lasted so long was her ability to use every part of the rabbits she caught. She ate the meat and also wove together a warm scarf from the hides.
Callie Russell (Season 7)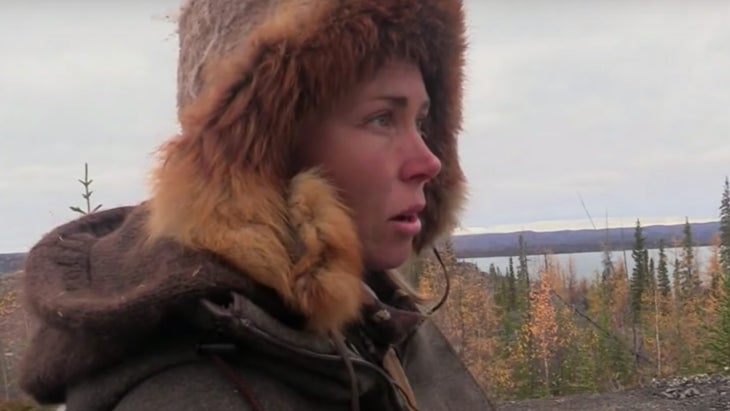 Like many of the other people on this list, Montana native Callie Russell had the ability to maintain a positive attitude despite cold, hunger, and other trying conditions. She first showed her creative hand when she discovered clay in the soil near her shelter, and then built and fired her own pots to use as containers. Then, in the season's final episode, Russell sewed together a warm vest made of rabbit pelts, which she modeled for the cameras while doing her best runway walk at an imaginary fashion show.