Heading out the door? Read this article on the new Outside+ app available now on iOS devices for members! Download the app.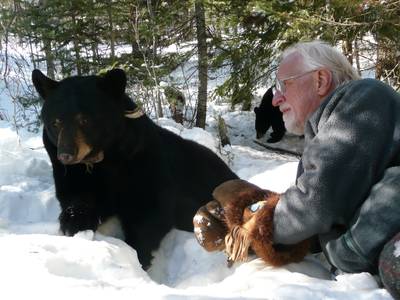 Dr. Lynn Rogers, known as the "Bear Walker," stars in Wild Kingdom's "Bearwalker of the Northwoods" episode this Sunday, April 4, on Animal Planet. He's made it his life mission to study black bears and try to change their relationship with humans. Outside Online caught up with the doc on the eve of his broadcast debut.
–Aileen Torres
Why do this show?
Over my 43 years of research, I realized that the biggest problem bears face around the world is people's attitudes. There are so many misconceptions. Bears have generally been demonized by hunting magazines, taxidermy, the media, and agencies that feel they must warn people about bears to avoid liability problems. There is a need to simply tell the truth about bears. The more people know, the more willing they are to coexist with them. "Bearwalker of the Northwoods" is one of the most honest bear programs ever filmed. It shows how black bears really live. It lets viewers learn directly from the bears themselves.
What do you want viewers to come away with?
A broader view of black bears. I want them to realize that black bears are not the ferocious animals they are usually portrayed to be.
What's the most common misconception about black bears?
One of the biggest misconceptions is "never get between a mother and her cubs." That's more a grizzly bear thing. About 70 percent of the killings by grizzly bears are by mothers defending cubs, but I have never heard of anyone being killed by a black bear defending cubs. Of the 64 killings by black bears across North America since 1900, only three have been by females that even had cubs. For each killing by a black bear, there are about two by grizzlies, 13 by snakes, 45 by dogs, 120 by bees and hornets, 250 by lightning, and 60,000 homicides. To say it another way, in North America, about one black bear out of a million kills someone, one grizzly out of 50,000 kills someone, and one human out of 18,000 kills someone.
What's the most surprising thing that happened while filming?
We documented the first death of a black bear from sarcocystosis, caused by a deer parasite. We also wanted to follow [a bear] June [and her] cubs Cal, Bud, and Lily–of Den Cam fame–through the process of family breakup at 1.5 years of age and June being courted and mating with a male to produce her next litter, showing the changes in relationships between the family members. The trusting relationships we have with June, her family, and the other bears in the area let us observe all of that.
Any scary moments?
The only scary moments were during hunting season when we were in the line of fire along with the bears.  The bears did nothing to scare us. In my 43 years of working very closely with black bears, I have never had one come after me and hurt me–that includes catching cubs in front of their mothers in the old days when we were not basing our research on trust. With cubs screaming in my hands, I'd expect mothers to bluff charge. They sometimes came close, but not one has ever touched me. In the old days, we based our research on bait, traps, and tranquilizers. Now we base it on trust and a few treats, and we are learning so much more this way. It is kind and gentler research that opens the door to their hidden world. We found that we could learn only so much by measuring tranquillized bears and putting telemetry dots on maps. After many years of that kind of research, we realized we had to get closer to really learn how bears live.