Born to Run: Caballo Blanco at Jemez
Heading out the door? Read this article on the new Outside+ app available now on iOS devices for members! Download the app.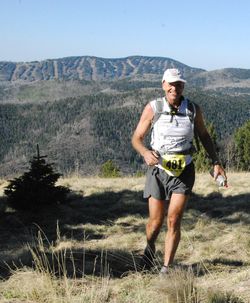 Micah True, a.k.a. Caballo Blanco, was a special guest at the Jemez Mountain Trail Runs this past weekend in Los Alamos, New Mexico. The star of Christopher McDougall's Born to Run, came to run in the 50-miler. It was a hard trail, he says, but he saw it as an opportunity to take in the beauty of his surroundings.
For a free spirit, Caballo Blanco is a busy man, going to and fro between Mexico's Copper Canyons–home of the legendary Tarahumara/Raramuri Indians–and various states in the U.S. to participate in races and raise awareness and funds for the Raramuri. Seems he never really stops running. Outside caught up with the White Horse after Jemez to talk about the race and the running life.
You were the "guest horse," as you call it, at Jemez. When and how did you receive the invitation, and what made you decide to go?
An organizer and runner, David Coblentz–el Castor, "Beaver"–came to run with us in the CCUM [Copper Canyon Ultramarathon]. Like everybody, he and his family left the canyons inspired. He invited me to run the Jemez Mountain Run 50-miler. They also had a 50 km and half-marathon. The invitation came in late April or early May. He and his family also sponsored me for a presentation the following day after the race to speak and show slides to benefit the Tarahumara people through our nonprofit, Friends of the Running People, norawas.org.
I left the canyons in mid-April to do taxes, camp/run in the Gila wilderness of southern New Mexico, and flew out to New York to do a "Talking Horse show" to benefit Raramuri through Norawas as well.
How was the terrain?
Jemez was beautiful and hard, Mostly single-track trail–some wider, a lot of cross country up the 10,000-foot peaks with no switchbacks, and ditto back down. A good day at the office!
What was the best moment of the race for you?
Several, commuting with the spirit of Caballo Mountain and Sierra Grande.
You say on Facebook that the Jemez folks designed the Hardrock 100. Have you ever done the Hardrock? What's the farthest you've run in a single stretch?
No, have never done Hardrock. The Hardrockers like gnarly! I think Jemez and San Juan Solstice are right up there with the hardest 50-milers. [That's] debatable. I have done about 118 in one shot–Leadville in the mid '80s, when one could still get lost…of course, I did. You would really have to try to get lost there these days!
What goes through your mind when you're running a race, or just plain running?
What doesn't?
How many miles do you typically run every day?
Since the CCUM in March, I had not run more than about 15–usually about 11. I like 50-milers. Ya can still go home, drink a beer, have a good dinner, and get to sleep. Hundreds are "out there" all night!
Did you train for Jemez?
No, am using a few races to run myself back into shape.
What did you think of Los Alamos, compared with the Copper Canyons?
The course was softer, less rocky than most of the canyon terrain, and harder overall than the CCUM–12,000-plus climb compared to 9,000-plus.
What footwear did you race in? Any incidents, or was it fairly smooth-going in your shoes?
Somebody gave me some Mizuno Wave Ascend 4. They worked fine. It was good to get them off afterwards.
Did any Raramuri come with you? How are the great runners doing back home, by the way?
No, the Raramuri are home en la Sierra Madre. I have no plans to, but, if I ever did bring them up, it would have to be to a run with a similar feeling to that of Jemez. I cannot speak for them; however, I know that they are overall 100,000 pounds of corn and materially wealthier. Hopefully, spirits are good also.
What are you up to next?
Hopefully, seed delivery to the Raramuri in the Copper Canyons. Possibly another ultra in July with Raramuri in the canyons, after delivering seeds. [As for racing,] next up is Dirty Thirty in the Golden Gate Park near Nederland, Colorado, Mohican 50 in Ohio–and another "Talking Horse show" out there to benefit the Raramuri–another 50-miler or something in July, Deadville [Leadville] Burro race on August 8, and Deadville [Leadville] 100 later in August.
–Aileen Torres