Access to All Things Christopher McCandless
Heading out the door? Read this article on the new Outside+ app available now on iOS devices for members! Download the app.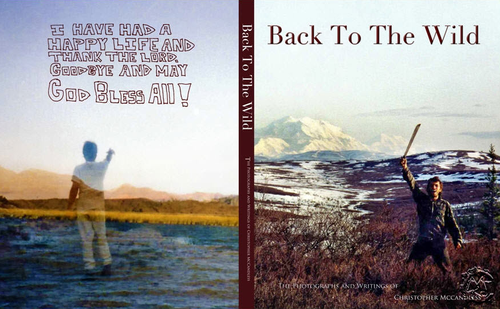 Photo from backtothewildbook.org
Fans of Jon Krakauer's 1993 story Death of an Innocent—and the resulting book and movie, Into the Wild—can now have access to everything Christopher McCandless. Billie and Walt McCandless, Chris's parents, have decided to publish a book and DVD packed with his journal entries and photos. Both will be titled Back to the Wild and will be available sometime in late spring or early summer. The book was put together by a team of volunteers, with profits from sales set to go to the Christopher Johnson McCandless Foundation, which helps children in need worldwide.
The couple has already published the introduction to the book on their site, backtothewildbook.org.
"Back to the Wild" tells this story through Chris' original photographs and writings until his journey came to an end in Alaska. As it turned out, however, it was only the physical aspect of his journey that ended. Although we could not have imagined it during the grief-stricken weeks and months that followed Chris' death, in the ensuing years his story has reached beyond life and past death to touch millions of readers.
The open road was his canvas, the camera was his brush, and life's breathe was his driving force.
We can only speculate why a young man, right after graduating from college, would set out on the open road. Why did he choose to sever communication with his family and all of his friends? For what purpose did he record his journey with photographic evidence supported by his logs, letters, postcards, and the well-known biographical belt he so carefully hand-crafted? What is recognized is this story has reached beyond life, through death and stirs deep seeded emotions within each of us. (Read the full introduction.)

To celebrate the book's launch, the couple traveled back to the bus with many of the people who helped their son during his rambling life.
"It's a long way out there from nowhere," Wayne Westerberg of Carthage, South Dakota told keloland.com. "To imagine him back then to have died in there, it's always going to be eerie for me."
Though the bus is falling apart, many fans of the book have made the long pilgrimage to see where McCandless lived and died. In August of 2010, a 29-year-old Swiss woman died while trying to cross a river en route to the bus. Such treks have led to controversy in Alaska about whether people should be venturing out to the iconic site.
"What's curious is time's change now because by the time we got out there, I had a couple messages that actually had come in on my cell phone during the trip, so it isn't like it was 20 years ago," Westerberg told keloland.com. "Within a few years you'll probably be able to sit at the bus and be on Facebook."
Via: keloland.com, newsminer.com
–Joe Spring
@joespring
Trending on Outside Online