A DIY Tour of "Breaking Bad"
One car, one infinite urban sprawl, and one long list of the places where the legendary show was filmed. Mapping out a self-guided auto route seemed doable—but was it survivable?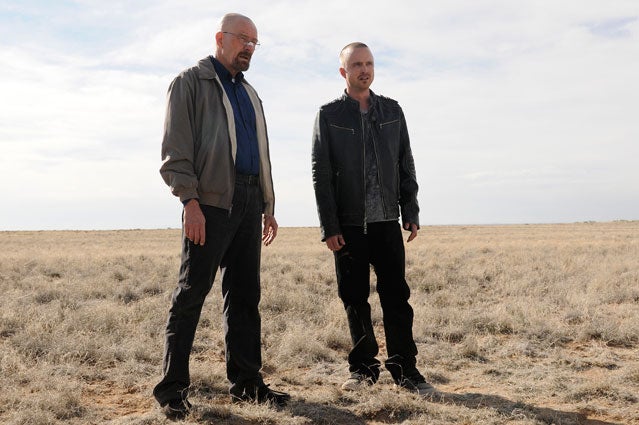 Heading out the door? Read this article on the new Outside+ app available now on iOS devices for members! Download the app.
People brag about such-and-such city having "the worst drivers," but I'm going to reverse field here and compliment the many, many motorists of Albuquerque, New Mexico, who are actually pretty good drivers. They have to be. Otherwise, given the amount of traffic and the speed at which it's moving, you'd see 100-car pileups every hour or so.

Where Marie and Walt's wife, Skyler, handed out fliers when Walt briefly went "missing" during Season 2.

The Walter White home (3828 Piermont Drive NE).

The doomed love shack of Jesse Pinkman and Jane Margolis (corner of Terrace Street and Lead SE).
The Duke City is an offbeat metropolis that seems like it was laid out by a drag racer on blue meth. Experientially, much of the city is defined by a vast grid of wide, high-speed boulevards, each of which is lined on both sides with shopping centers and old-school strip malls. It's hard to describe how many shopping places there are in Albuquerque. It's hard even to imagine it, not unlike contemplating the distance between galaxies in an expanding universe.
One of ABQ's defining racetracks—Montgomery Boulevard, which runs east-west in the city's spiffy-scruffy northeast quadrant—is roughly six miles long, with stores jamming both sides. So that's 12 miles of pure commercial overload right there. From east to west and from north to south, there are many more boulevards just like it, roaring zoomways with evocative names like Menaul, Candelaria, San Mateo, Juan Tabo, Eubank, and Lomas. I have no idea what the total length would be if you placed all these storefronts side by side in a line, but I'm convinced it would extend for hundreds of miles, perhaps enough to span the entire width of New Mexico.
Where are the houses? In the big checkerboard spaces between the boulevards. Walter White's modest casa is tucked away inside one of these squares, and I was surprised to learn that the White family lived just a few blocks from a big Marshall's on Montgomery Boulevard (where I've made some of my most important white-socks purchases over the years) and A Taste of Italy (a pizza slice-and-sandwich place on Juan Tabo that is my go-to favorite for meatball subs). Walter easily could have walked to either establishment. He threw that away for a life of crime?
But I'm getting ahead of myself. Like many fans of Breaking Bad, I wanted to see, in person, some of the iconic locations used in the series, so I decided to create my own driving tour. There are of course professional outfits that will take you around to look at Breaking Bad sites for a price, but where's the adventure in that? I know Albuquerque very well: my wife, Susan, and I love its homely strangeness and friendly people and have been there dozens of times to shop, eat, and goof around. There are various fan hubs online (like this one) that can help you figure out for yourself where to find the best Breaking Bad locations. I know how to use a map and a turn signal and how to stomp frantically on my brakes and make semi-legal U-turns while screaming with frustration inside my car. Miles of bad road beckoned. And so, the day before the season finale, on an achingly bright autumn Saturday, away we went.
NORTHEAST CLUSTER
I arranged our tour to take us in a northeast-to-southwest meander that included most of the urban spots important to any fan. (I plan to put together a separate Desert Tour later.) Some of the bleakest black comedy in Breaking Bad happens in northeast Albuquerque, an area north of Interstate 40 and east of I-25 that sprawls upwards into the foothills of the Sandia Mountains, the rocky bulwark that rises dramatically on the city's eastern edge. The homes of Walter White and his DEA agent brother-in-law, Hank Schrader, are here, as are the offices of supershyster lawyer Saul "Better Call Saul" Goodman.
Susan and I started at Saul's office, which sits in the un-aptly named Paradise Square shopping center at 9800 Montgomery. Because Albuquerque has an oversupply of commercial property, a lot of it winds up either empty or in a state of existential despair, which is what happened here. Saul's old digs are now home to a skeezy booze-and-rock venue called Hooligan's Tavern. ("Warning," warns their website. "Not for the Faint-hearted. Please consult your doctor before entering Hooligans!")
Also "on tap" in the square: a tattoo parlor and more bars, one of which is called The Dirty Bourbon. On the plus side: May Hong Vietnamese restaurant (first seen in Season 2 of Breaking Bad) is still in business. And on a huge billboard across the street, there's an ad seeking victims of "Motorcycle Bicycle & Truck accidents." It reads: "Hurt? Call Bert. 322-Bert." I like to think Bert did this in the Spirit of Saul.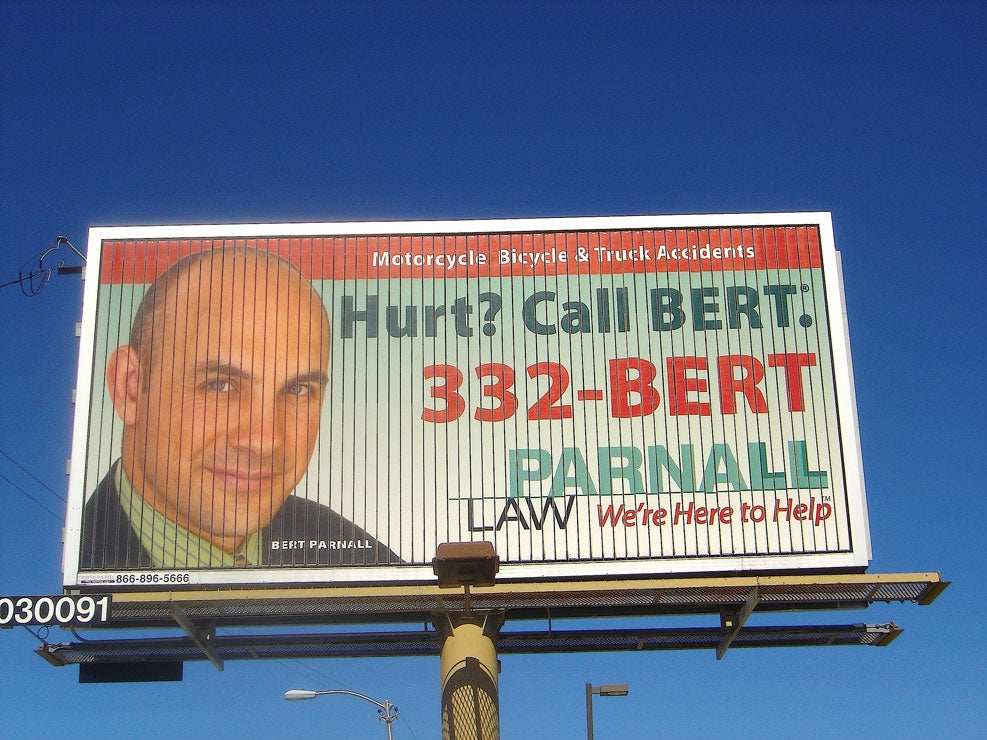 Next stop was the home of Hank and Marie Schrader, who tried to do right but were thwarted by wrong. At least I think it was their home, because something went awry here. The Schraders lived in a fancy-pants neighborhood in the Sandia foothills called Glenwood Hills, an area that (rare for Albuquerque) exists Outside the Grid. After you pass the intersection of Montgomery and Tramway, you see a sign informing you that you're entering a finer realm, and just like that things go from being all asphalt-and-storefront to being all curvy streets, scenic views, and well-landscaped homes.
From the moment we entered the hills, I was tailed by a helmeted man on a buzzing little motorbike. Was he a private security guard hired to swat away fans like us? No. He was a friendly local named Gavin who takes friends on informal Breaking Bad tours, riding his bike and leading them and their cars around to locations. Today he was "improving his route" while shooting selfies in front of key spots.
The address I found online for Hank's house (4915 Cumbre Del Sur Court NE) turned out to be wrong, but Gavin pointed me to what he was sure was the correct house. And yet … I think I must have heard him wrong, because the snapshot I took does not match the Hank house that I've seen so many times on the show. I'll get that problem sorted out eventually, but this much I can assure you: I was on the right street, and wherever the correct house is, it's big, its exterior is brown, and Hank once made Schraderbrau in its garage.
Nothing went wrong in our search for the Walter White home (3828 Piermont Drive NE), which was thrilling to see, even without a gravity-aided pizza sliding down its sloping garage roof.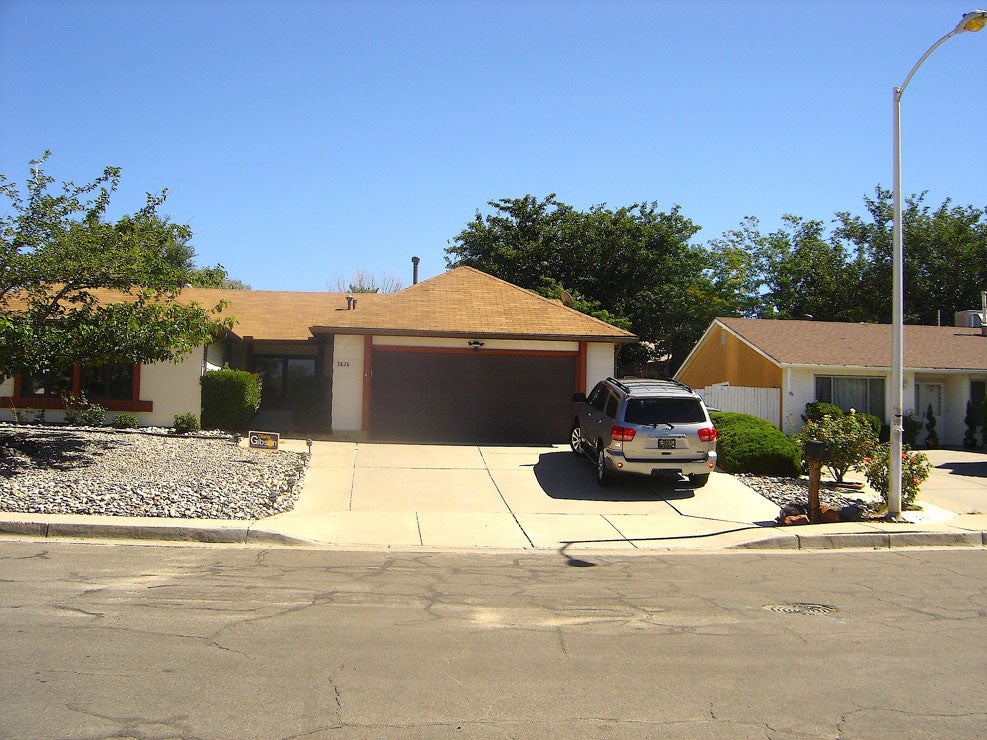 Right after I parked and got out, Gavin buzzed into view again, never removing his helmet as he spoke to me, sharing insider lore about his experiences guiding the route. The White home is occupied by real-life non-actor people, he said, and the woman of the house is understanding about the fact that fans are constantly driving by and taking snapshots—on occasion, she has even come out and spoken to Gavin. Gavin figures that interest in the house will last long after the show stops airing. I agree—several vehicles rolled by while we talked—but I also have to wonder about something. No offense to the house, but it's the kind of place you might raze simply to stop the fan hassles. If that happens, I hope it can be reassembled at the Smithsonian, like Julia Child's kitchen.
Other key spots in this part of the city are the auto-and-money-laundering A1A Car Wash (which is an Octopus car wash at 9516 Snow Heights Circle NE) and Taco Sal (9621 Menaul NE), where Marie and Walt's wife, Skyler, handed out fliers when Walt briefly went "missing" during Season 2. The car wash was everything I hoped it would be—it's huge, and it sits on a big, bleak savannah of pavement, just like in the show—while Taco Sal was … well, the sign out front is great, a classic Route 66-style invitation to come in and chow down. But the tacos I ate were bland, a far cry from the spicy, rage-flavored carne burritos made by Tuco-the-psychotic-drug-dealer in Episode 9.
For me, the finest experience in the Northeast Cluster was the John B. Robert Dam (Juan Tabo and Osuna), the concrete structure where fugitive characters go to get picked up by Ed the Disappearer, the vacuum-cleaner repairmen who, for a price, helps criminals start a new life. As seen in Breaking Bad, it's hard to tell what the dam really is—it looks like a defensive installation built for the Maginot Line. But, up close, it's obviously part of Albuquerque's flood-control system: on the back side of the structure, you see a wide arroyo coming down from the Sandias. The dam is spooky; its upright concrete slabs suggest a graveyard. On one of the slabs, some imaginative citizen-artist has mounted an old, broken vacuum cleaner, a symbol of Ed's inability to cannister-vac Walter into a happier place.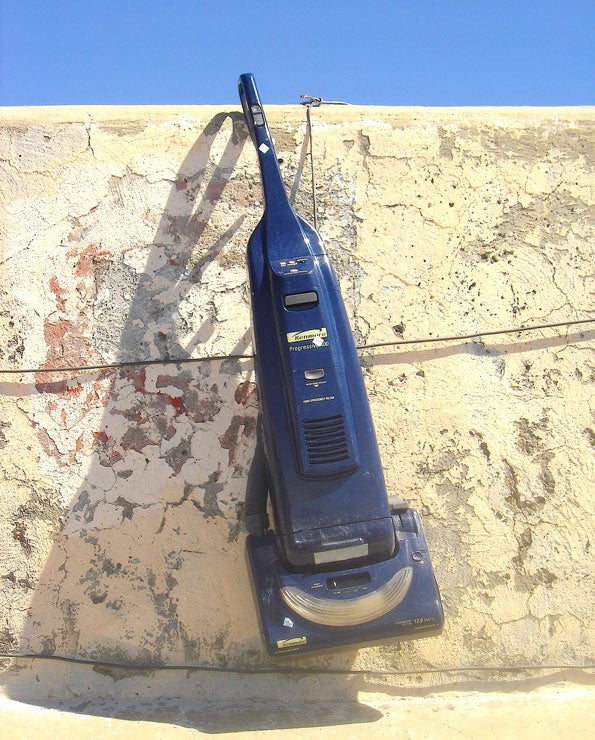 CENTRAL & SOUTHWEST CLUSTERS
In Albuquerque, Central Avenue = Route 66, and it's worth any tourist's time to creep down its many blocks at a stop-and-go pace. There are some excellent dumpy hotels on Central, along with the country's most depressing state fairgrounds. Near Nob Hill and the University of New Mexico campus, you'll find a shopping strip with good restaurants and a lot of fun, funky stores. You'll also find several notable Breaking Bad sites, including the Denny's where Walt eats breakfast on his mysterious 52nd birthday.
But I wanted to spend as much time as possible at the doomed love shack of Jesse Pinkman and Jane Margolis (corner of Terrace Street and Lead SE).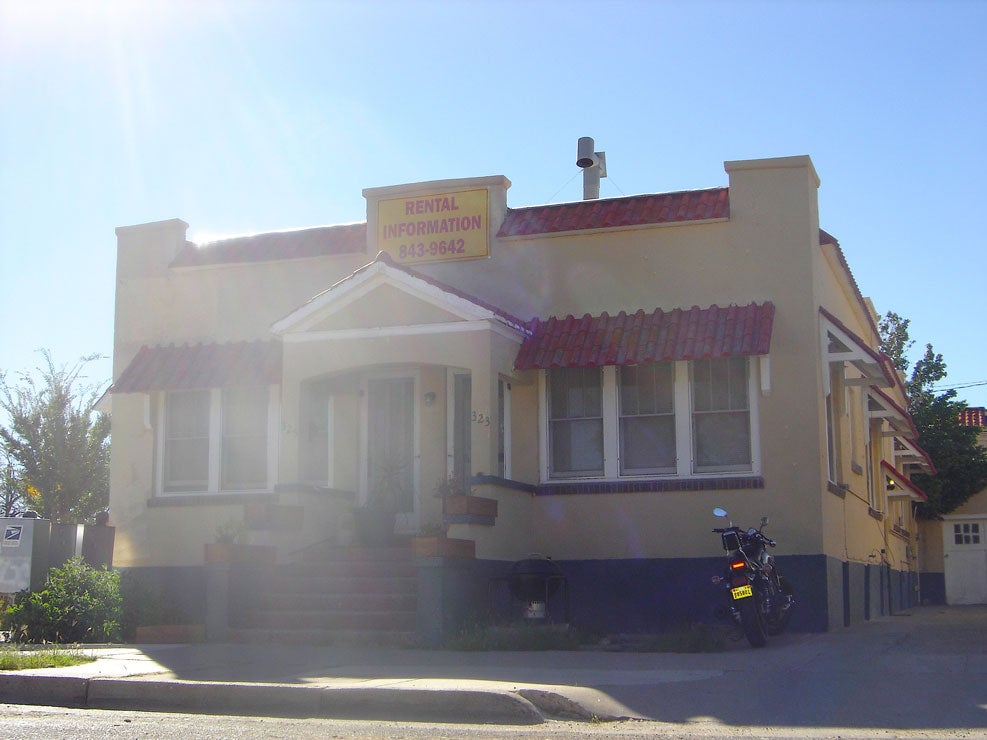 The real building is much dingier-looking than what you see in the show, which depicts the place after it's undergone a full renovation, overseen by Jane's helicopter-parent of a dad. My photo of this spot is not so great—the sun got in my eyes!—but to me this was the second-most-resonant stop on the tour. To paraphrase The Onion: Jesse and Jane worked very hard to turn this meth house into a meth home, but it was not meant to be.
Next stop was the creepy Crossroads Motel (1001 Central Avenue SE), where so many awful things happened: Jesse's marathon of alibi sex with Wendy the Meth Whore; Uncle Hank forcing Wendy to display her receding gums to Walt Jr. as an object lesson in Where Drugs Can Lead. Definitely worth a stop. A warning, though: the parking lot is smaller than it looks on TV, and there was a woman in the lobby who seemed unhappy that I and other non-paying tourists were crowding it. I'm worried that, soon, the only way to tour this place will be to pay for a room.
On this trip, pressed for time, we had to skip Twisters (4257 Isleta Boulevard SW), the stand-in for Los Pollos Hermanos, the fast-food chicken franchise that defines many episodes of Breaking Bad. But the Southwest quadrant featured plenty of other riches. At 1st, 2nd, and Atlantic Streets SW, you'll find Combo's Corner, where a member of Jesse Pinkman's meth-selling posse was gunned down by a kid on a bike.
The scary Tuco HQ is found at 906 Park Avenue SW; and the Dog House, where Jesse had a miserable solo meal, is just up the road at 1216 Central SW. The Grove Cafe and Market, where nervous Lydia Rodarte-Quayle conducted some of her Stevia meetings, is at 600 Central SE.
We wrapped up a fulfilling day with stops at the home of Jesse's parents (11th and Roma NW) and Jesse's aunt's house (16th and Los Alamos SW), where so, so, so many grisly things happened. You'd never know it by looking at this place. The house is beautiful, and it sits in the middle of a high-end, out-of-the-way Albuquerque neighborhood called Huning Castle. Jesse's house looks a lot better than it does in Breaking Bad, so there's no chance it will ever get knocked down. We were there in late afternoon, but I think the best time to see it would be early morning—when you have a better chance of seeing old ladies power walking by, sprinklers running, or a dazed guy named Krazy 8 staggering down the middle of the street.
Lead Photo: ASSOCIATED PRESS