Heading out the door? Read this article on the new Outside+ app available now on iOS devices for members! Download the app.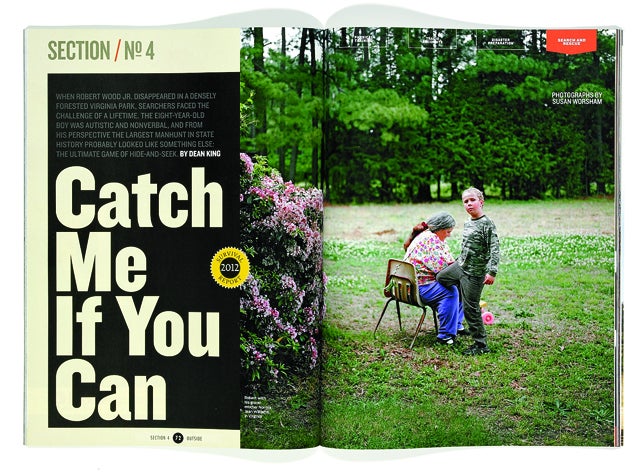 LITTLE BOY LOST
Many of the search-and-rescue responders who spent countless hours combing the Virginia forests for autistic eight-year-old Robbie Wood Jr. ("Catch Me If You Can," August) also felt compelled to write in about the story. "Being one of the volunteers involved in this search was a very gratifying experienced," commented KarlH. "I am still brought to tears with the realization of how lucky Robbie was that week." The story also hit home for parents of special-needs children. "As a mother of a 14-year-old with Arperger's, I have experienced 'runner' episodes many times," wrote KBrennan. "Kudos to [search-and-rescue expert] Robert Koester for realizing that they needed to handle Robbie differently. It's obvious that Koester's expertise, combined with an array of dedicated volunteers and one amazing man, all combined to bring this young boy home safely."
CLEANING IT UP
In September we covered the U.S. Anti-Doping Agency's efforts to test at the amateur level ("Extreme Measures"). As the issue went to press, two cyclists tested positive for the blood booster EPO at the 110-mile Gran Fondo in New York. Surprisingly, one of the riders—David Anthony, who had won the men's 45-to-49 age group—admitted to it. "There is no easy way to say this, I was using ways to improve my performance that were cheating," he said in a statement posted on NYVelo-City.com. His teammate Dan Schmalz responded by saying simply, "We think less of him." The positive tests also stirred up debate about the amateur-doping controls highlighted in our story. "If you need to dope to stand on top of the age-group podium," wrote Jayson Repko on Facebook, "you've got some issues." One critic of the intrusive testing wrote: "I am a severe asthmatic and can't compete without Albuterol, which is banned. If a USADA rep pulls me aside to be tested, I will cordially invite him to go have intercourse with himself."
ANTISOCIAL SECURITY
"I have trouble seeing how these new preppers are any different from doomsday survivalists from a decade ago," wrote Mike Walker in response to Emily Matchar's article profiling the modern-day survivalist movement ("Boom Times," August). "If you're concerned about society breaking down and sending us back to the 18th century, then I think you would want to load up on 18th-century technology," wrote Robert Dockrell, "not diesel generators, wood-chip-fueled pickup trucks, and freeze-dried meals." Other readers criticized the preppers for not getting involved in helping the situation. "I would rather die knowing I tried to make a difference than eating canned corn in my basement," wrote on Facebook commenter.
BEAR SPRAY
As expected, September's cover story on TV star Bear Grylls ("Gone With the Wind") divided readers. One detractor said that while Grylls is "sovereign in the realm of brand extension, the truth kind of survival is still Les Stroud (Survivorman)." Another put it more succinctly: "Bear Grylls isn't qualified to wipe Les Stroud's ass." His admirers were equally passionate. "@beargrylls, you are simply the best," wrote Hugo Sanchez Chousa on Twitter. "Great cover, but Bear should have had his shirt off," tweeted Caroline Evans. Rebecca Ocken and Kevin Kilduff, of Portland, Oregon, put the entire issue to practical use:
We got into a bit of trouble while hiking the Round-the-Mountain Trail on Mount Adams in Washington last weekend. Luckily, we didn't have to leap from cliffs, swing from vines, or drink our own pee. But we were able to start a fire using the cover [below]. Thanks for being there for us, Bear.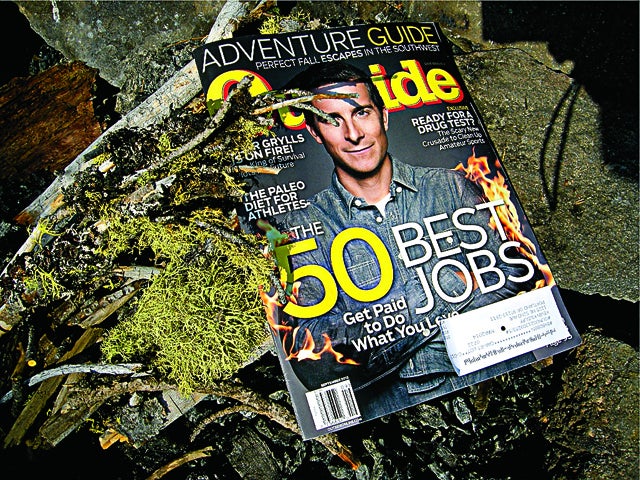 THE WOODSHED
Several readers noted that Bryce Duffy's contributor photo (August) was taken not inside an Army Black Hawk helicopter, as indicated, but in a UH-1H Huey.
EMAIL OF THE MONTH: GOING POSTAL
"I loved the September issue with the Best Jobs story ('They Pay You For This?'), but you missed a whopper of an outside career: letter carrier for the U.S. Postal Service. Sure, the hours can be difficult, and I get tired of the farmer tan, but I make a good wage, get in as much community involvement as I'm able, and spend almost my entire workday outside, walking and enjoying the North Coast wildlife—eagles, foxes, snakes, hawks, and waterfowl galore. Don't believe me? Just ask the lucky souls wo work in 95389 (Yosemite Valley, California), 96785 (Volcano, Hawaii), or 79834 (Big Bend National Park, Texas)."
—Suzanne "Bones the Mailma'am" Courteau, Arcata, California (95521)
CONTACT US
letters@outsidemag.com
facebook.com/outsidemagazine
@outsidemagazine