Sponsor Content: Fjällräven
Fjällräven's History Will Make You Love the Brand More
From its focus on simple, durable designs to its epic trekking events across the globe, the Swedish gear maker embodies everything we love about Sweden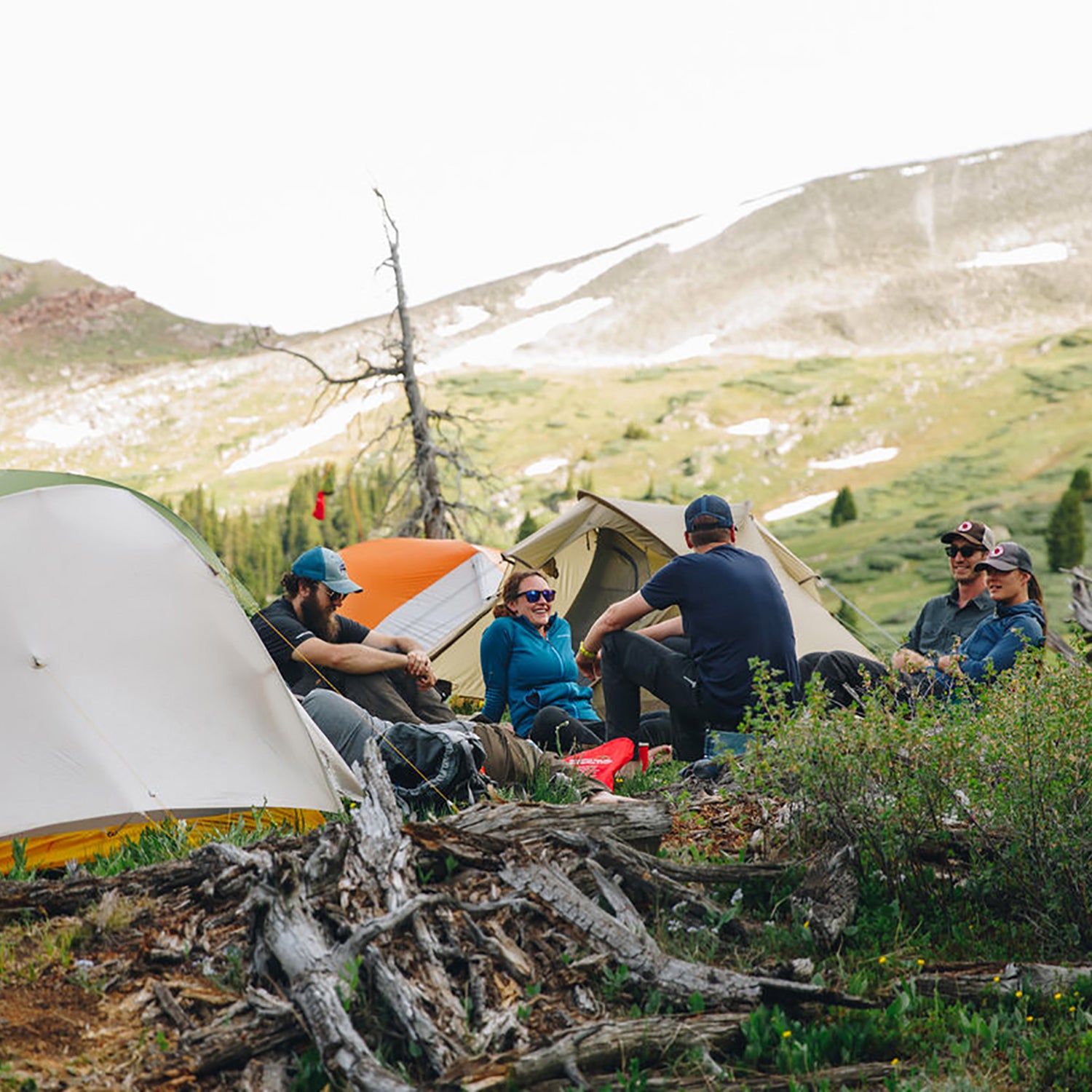 Every summer for the past 16 years, the Swedish outdoor gear and clothing company Fjällräven has invited folks up above the Arctic Circle in Sweden for a weeklong trek among the glacier-covered peaks and sprawling tundra. Known simply as The Fjällräven Classic, it's arguably the most fun and family-friendly trekking party on the planet.
This year's Sweden event sold out in seconds as people clamored for the chance to catch sight of reindeer, waterfalls, and the never-ending sunlight of the Arctic summer. Fjällräven takes care of all the logistics, from providing food for each participant to manning checkpoints along the way, and, in very Swedish fashion, there is no real objective. The idea is for the trekkers to have total flexibility, to go as fast and far as they want each day, camp wherever they want, and make the experience wholly their own. "People sign up for The Fjällräven Classic from all over the world," says Jean-Marie Shields, the company's VP of Brand Experience for North America and a Swede herself. "It's so Swedish. The event is super communal and inclusive."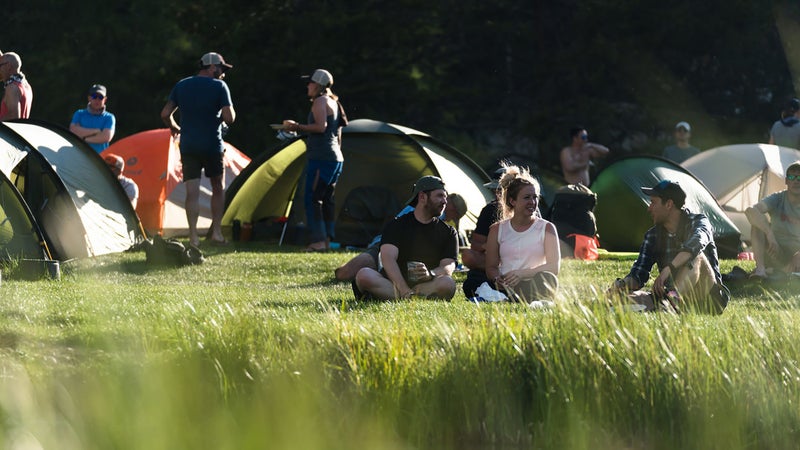 It's been such a hit—more than 2,000 people now make the trip to Sweden every summer—that a few years ago Fjällräven decided to take the show on the road, and there are now shorter versions of the event in Denmark, the U.S., Korea, and even Hong Kong. Next year, the program will expand further, to Germany, China, and the United Kingdom. (This year's U.S. version, now in its fourth iteration, will explore the mountains surrounding Colorado's Copper Mountain this September 6 to 8.) "With The Classic, we're committed to making it immersive," says Fjällräven's North American CEO, Nathan Dopp. "The idea is that the best introduction to a backcountry experience is one that you, the hiker, define, not a guide. Want to hang out for an hour in that swimming hole? Go for it. Want to carry a guitar so you can play and sing around that night's campfire? By all means, bring it."
---
The Fjällräven Classic isn't the only thing Fjällräven has brought to the States. While the company was founded in 1960 and has earned a global reputation for making products that are as simple and stylish as they are durable and versatile, it didn't officially launch its U.S. operations until 2012. Since then it's opened 24 stores in the U.S., with ambitious plans for further expansion over the next five years. Translation: Fjällräven's blowing up.
If you haven't yet wandered into a store or asked a friend how to pronounce Fjällräven (fyall-raah-ven), you've probably at least spied its logo, a curled-up red fox (fjällräven means "arctic fox"), bobbing down the street, most likely on the company's most iconic product, the Kånken. This ubiquitous small backpack, long carried by European kids, burst into popular culture in the late aughts, finding fans among American influencers, Asian pop stars, and everyone in between. The pack was seen on Madonna's kids and the two-year-old daughter of Facebook founder Mark Zuckerberg. To fuel this zeitgeist, Fjällräven offers the pack in dozens of styles and hundreds of color combos.
But what most people don't know is that the Kånken has been around, virtually unchanged, since the late '70s, first designed as an improvement on the standard shoulder bag for Swedish schoolchildren. "I've had my Kånken for more than 30 years," says Shields, the VP of Brand Experience. "I'd wear mine on treks with my grandmother in the north of Sweden all the time. Hers was yellow, and my earliest memories of being truly immersed in nature are from following my grandmother's little yellow Kånken through the woods."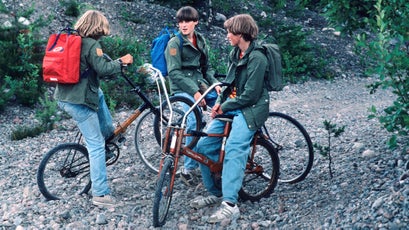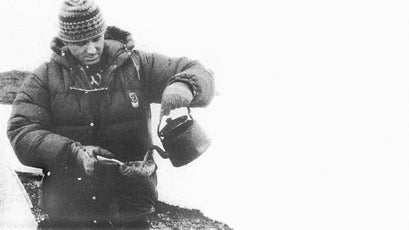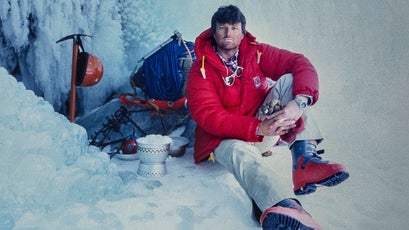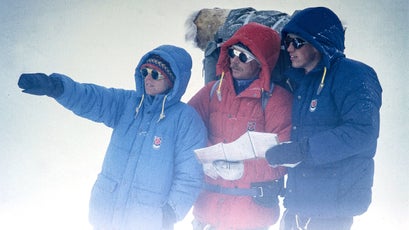 Today, the Kånken is just one of the hundreds of products Fjällräven makes, but its design story—as a simple and smart solution to a real problem—is at the root of everything the brand does. The company's founder, Åke Nordin, grew up along Sweden's High Coast, exploring the region's famously rugged mountains, tundra, and boreal forests. Using his dad's tools and mom's sewing machine, he designed his first piece of gear, a wood-framed backpack, in his basement. Thus began Nordin's lifelong quest to solve problems, to develop gear that was better than anything available, including lightweight down sleeping bags and the revolutionary Thermo Tent, a nylon and polyester tube-style tent that was lighter, sturdier, and way more breathable than the heavy canvas tents of the day.
By the late 1960s, Fjällräven had become the go-to supplier of gear for Swedish expeditions. The polar explorers were so enamored with their Fjällräven equipment that they asked Nordin to design their clothing as well. To do so, Nordin took a fabric that had been too heavy for his tents and a lesson from his childhood—in addition to waxing his skis, he'd also wax his pants to make them more waterproof. After months of tinkering, one of the outdoor world's most durable fabrics was born: the G-1000, a densely woven fabric made from recycled polyester and organic cotton made even more durable and wind- and water-resistant by the company's proprietary Greenland Wax, a special mix of beeswax and paraffin.
By the late 1960s, Fjällräven had become the go-to supplier of gear for Swedish expeditions.
G-1000 remains Fjällräven's hallmark fabric. It's now available in five different versions and used in everything from pants to packs. As with everything Fjällräven makes, all things G-1000 come with a lifetime guarantee. So if your Keb Trousers or Greenland Jacket needs a bit more wax, you can buy a bar from Fjällräven and do it yourself or take it into the store and an expert will re-wax it for you free of charge.
---
The wax and The Fjällräven Classic—and the Kånken and deep polar roots—are all key to understanding Fjällräven. But if you really want to get what makes the company so unique and cool, we need to talk about the uniquely Swedish and centuries-old concept of allemansrätten, the right of everyone to spend time in Sweden's outdoors. With this right, walkers, backpackers, anglers, and others may trek across and even camp for a short period on private property without asking for the owner's permission.
And roam they do. The country is home to thousands of miles of trails supported by hundreds of well-maintained hostels, mountain stations, and backcountry huts. But as with The Fjällräven Classic, it's less about bagging peaks and more about chilling out with friends and family in beautiful places.
Fjällräven has never set out to make the world's most lightweight things; the focus is always on function, sustainability, and durability, with the goal of creating products that last 30-plus years and look better with age and use.
The Swedes' enviable and relaxed relationship with nature informs everything Fjällräven makes. In today's fast and disposable world, it prefers to go slowly and tread carefully. While its products are designed specifically for trekking and hiking, they can be worn for a number of other outdoor sports and also casually. Fjällräven has never set out to make the world's most lightweight things; the focus is always on function, sustainability, and durability, with the goal of creating products that last 30-plus years and look better with age and use. Take its popular Abisko tights, which have reinforcements in the knees and rear and an iPhone-size side pocket. They took nearly four years to develop—and they're built to handle years of rambling around rocky terrain.
"Fjällräven is all about the journey," Shields says. "Our products meet you wherever you are in your personal journey." You could be an office worker getting out for a simple two-hour walk in a nearby open space or a diehard hiker out for a two-week trek along the Continental Divide, according to Shields. Or you could be her Swedish grandmother, still pulling on her yellow Kånken and taking a hike at age 90.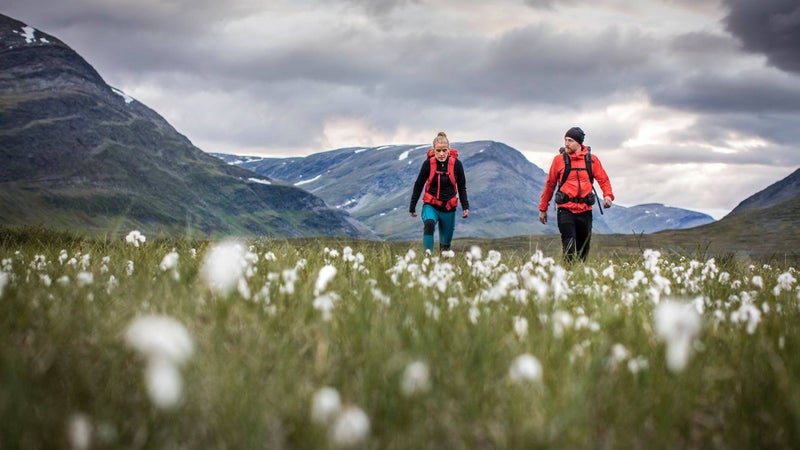 One of Dopp's favorite examples is from last year's U.S. Fjällräven Classic. "A solo woman trekker from Vail signed up. She'd been trying to wrangle her friends to go for a backpacking trip all summer, but it never worked out," remembers Dopp. "So she ended up on The Fjällräven Classic. She hiked alone and set up her campsite away from everyone else. It was perfect. The Fjällräven Classic enabled her to get into the wilderness and enjoy some time by herself, while still feeling secure knowing that she was connected to the comfort of a larger group. I was totally aware of how grateful she was for the trip and for the Fjällräven way of doing things."
---
In 1960, Åke Nordin founded Fjällräven in his basement in the Swedish town of Örnsköldsvik. Since then the brand has stayed true to its mission of developing timeless, functional and durable outdoor equipment, acting responsibly towards people, animals, and the environment and inspiring more people to discover outdoor life.
Trending on Outside Online