Inside the Fight to Save Florida's Panthers
In 'Cat Tale,' a longtime environmental journalist documents the dramatic saga that brought this state animal back from the brink of extinction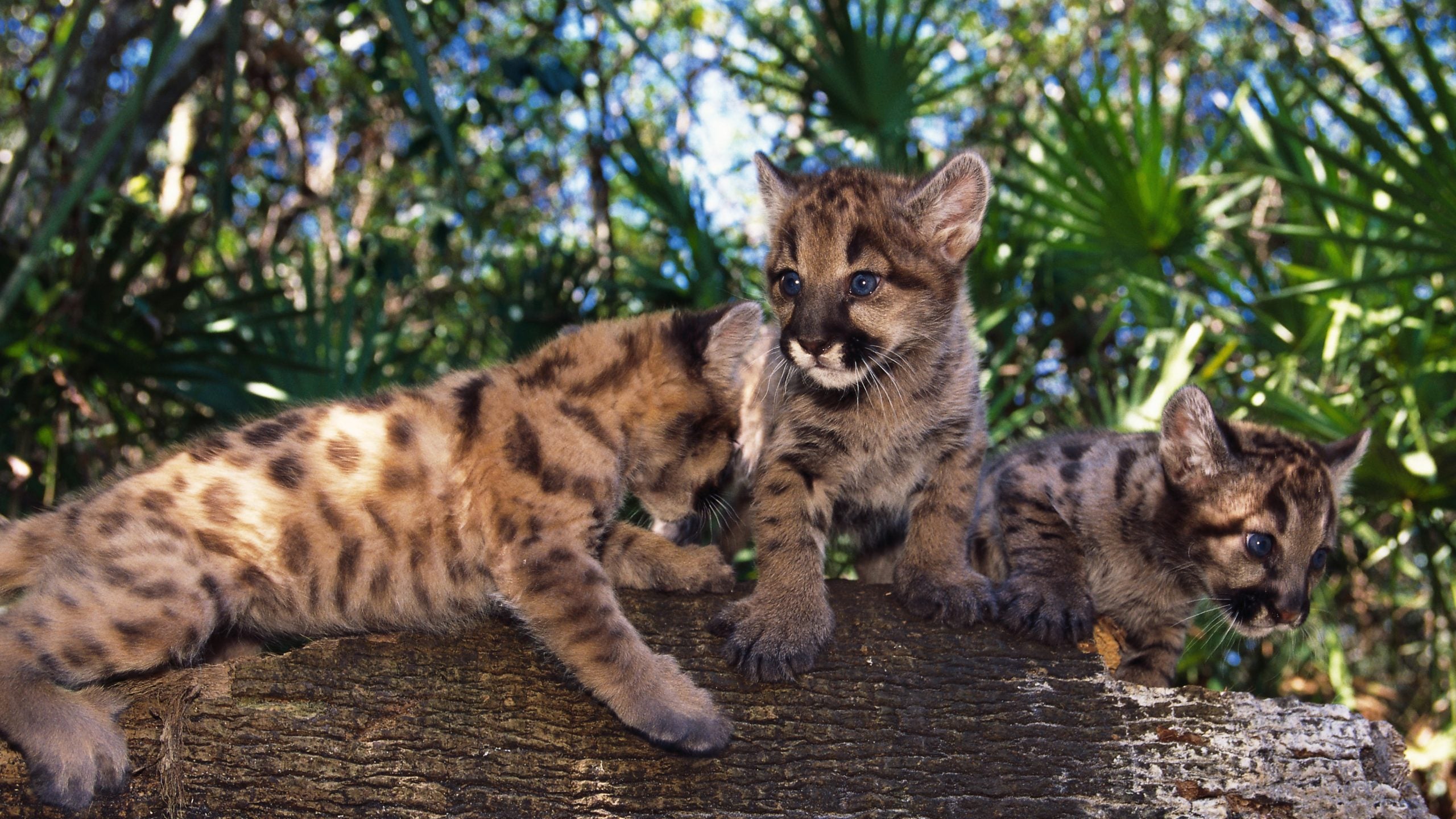 Getty Images(Photo)
Heading out the door? Read this article on the new Outside+ app available now on iOS devices for members! Download the app.
Florida's humans often make spectacular and attention-grabbing headlines, but the state's official animal, the panther, has the exact opposite disposition. These large felines are quiet, they never throw baby alligators through Wendy's drive-through windows, and mostly would like to be left alone. Of course, that hasn't happened since colonial settlers barged into the panthers' southeastern U.S. habitat in the 18th century and hunted them mercilessly.
By the early 1960s, the Florida panther was driven nearly to extinction, with only around 25 panthers left in the state's wilds. In 1992, a study predicted the species would disappear by 2016. But thanks to an urgent conservation effort, the Florida panthers survived; in fact, there are about 200 now. The push to save them is documented in Cat Tale: The Wild, Weird Battle to Save the Florida Panther, a new book from the Tampa Bay Times' longtime environmental reporter Craig Pittman. 
How did it happen? The answer is a decades-long (and, it must be said, very Floridian) conservation saga that features a striking cast of scrappy scientists and specialists and their eventual, controversial decision to crossbreed the few remaining Florida panthers with other big cats. It's a fascinating story, though Pittman is quick to acknowledge it's not exactly a parable. "This is a guide to what extraordinary efforts it takes to bring back just one subspecies—one that's particularly popular," the author writes, "and what unexpected costs such a decision brings."
The central players include Roy McBride, a Texan hunter who became the go-to panther capturer for the state's game commission; wildlife biologist Deb Jansen, who performs mouth-to-mouth resuscitation on a panther early in the book; and Melody Roelke, a veterinarian who struggles to be heard while making critical discoveries about the panthers' worsening condition. We follow them through a twisting series of events that reads sometimes like a mystery (when Roelke sleuths out that 90-degree kinks on some panthers' tails indicate a shrinking gene pool, for example) and other times like a political drama.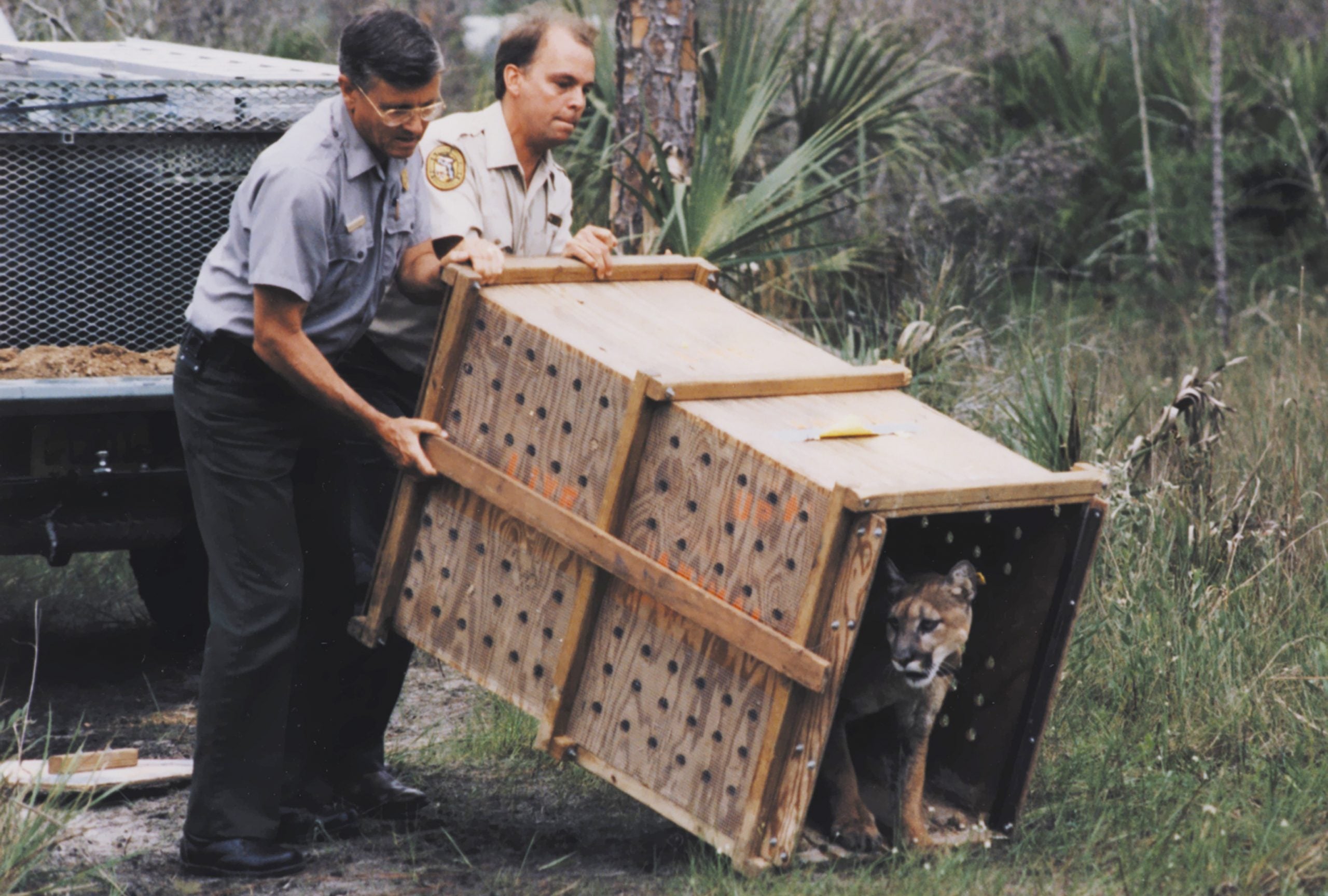 Pittman ably breaks down the complications of big-cat biology and bureaucratic red tape by writing the book mostly in scenes. He puts us directly in the swamps of Big Cypress Preserve, where the big cats lurk, and in tense stakeholder meetings, where scientists and officials deliberate. Some of the most nail-biting material centers around the panthers' shrinking gene pool, as the team figures out what's going on and then searches for ways to revive the struggling population while also keeping the species legally protected.
It's a long path to the eventual solution of crossbreeding. We learn about Lester and Wilford Piper, brothers who, in the 1930s, ran a zoo on the Tamiami Trail in Everglades National Park and introduced some non-Floridian panthers into the Everglades area. Biologists later discover that those Everglades panthers are healthier than their counterparts in places like Big Cypress (they don't have the 90-degree tail kinks, for example). 
But only after years of frustrating attempts at captive breeding and other strategies did the scientists add non-native panthers to the picture. It was a dicey proposition for species conservation, because the hybrid cats may not have counted as Florida panthers anymore. But the experts' desperation was palpable, and their last-straw measure seems to have worked; at the time of Cat Tale's publication, the panthers' future was finally looking up.
Cat Tale entertainingly lays out a stranger-than-fiction history with just enough hindsight. It's not quite poetry: readers will need to overlook Pittman's tendency toward dad jokes and unnecessary asides, like one that bafflingly explains the well-known idiom Hail Mary. But these seem like a natural consequence of the author's effort to inject humor and specificity into the book, and he is effective in making concepts like population bottleneck feel viscerally urgent. The hardest parts for me to overlook were the moments Cat Tale failed to treat its human subjects with the same care as the panthers—most egregiously when one biologist dies by suicide and is given little more than a few sentences of acknowledgment. 
Pittman's book succeeds as a rare, decently feel-good conservation story. The book provides an up-close look at exactly how hard it is to bring a species back from the brink. In doing so, it strengthens readers' conservation literacy and hopefully will make them more likely to be able to follow other species-recovery efforts—a useful skill when the path forward is anything but predictable.
Lead Photo: Getty Images
Trending on Outside Online