'Free to Run' Is the New Film That All Running Nerds Should See
The documentary chronicles the sport's meteoric rise to mainstream popularity—and the people who shaped its culture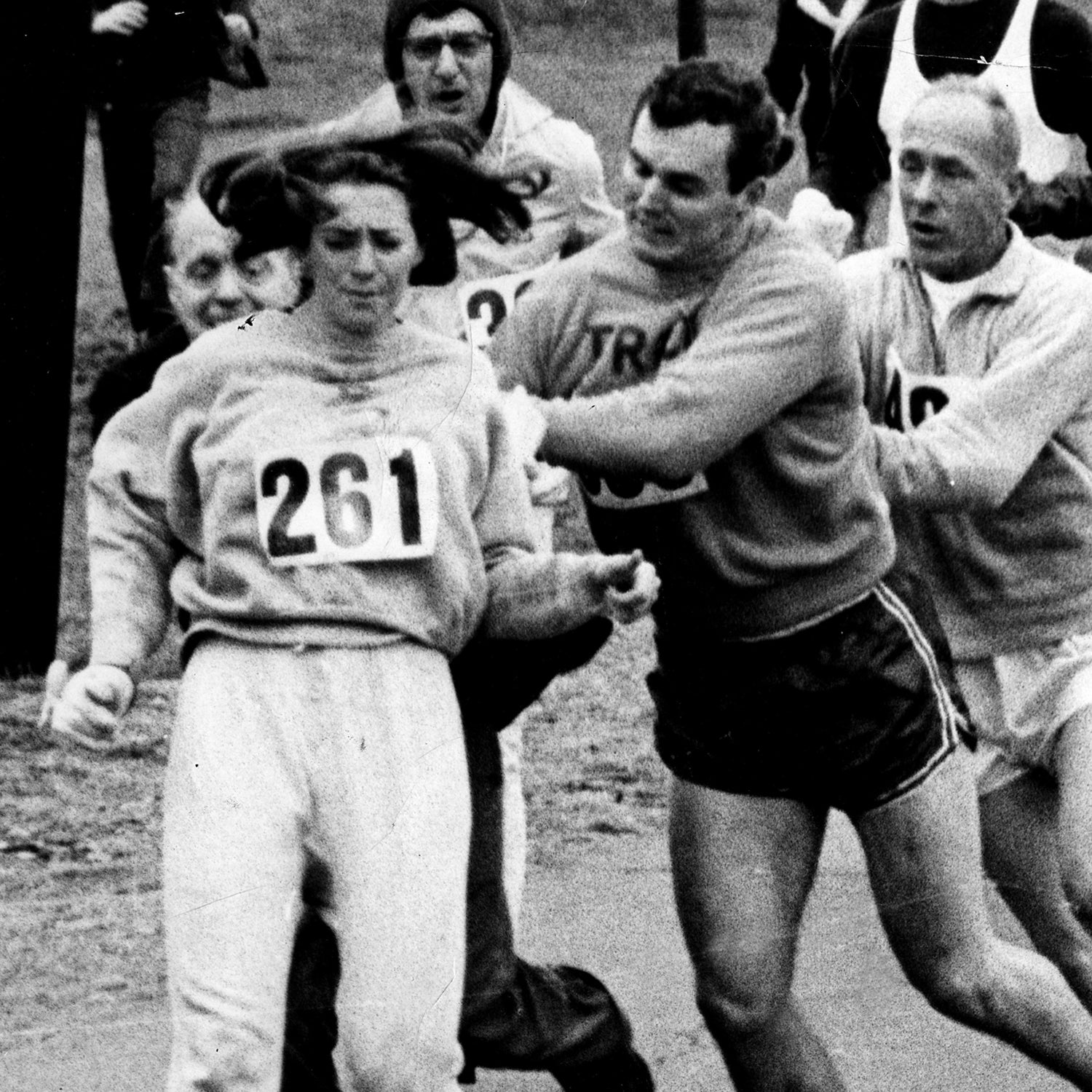 Boston Globe/Getty Images(Photo)
Heading out the door? Read this article on the new Outside+ app available now on iOS devices for members! Download the app.
The documentary Free to Run opens with running icon George Hirsch standing on a balcony overlooking Central Park, reminiscing about how, in the late 1960s, he could do a full loop around the park and only encounter a handful of other joggers—most of whom he knew personally. "There weren't many of us," he says, "and we were considered pretty odd." 
These days, road running has become such a mainstream pursuit with such low barriers to entry that it can be difficult to imagine a time when the running community was considered a niche subculture. Free to Run, an IFC film that premiered in the U.S. in July, ambitiously chronicles the sport's rise to prominence by tackling several major themes. These include the gradual inclusion of women in competitive distance running; the life of New York City Marathon co-founder Fred Lebow; the struggle for high-level amateur runners to get paid; and the growth of the now-defunct Spiridon, a Swiss running magazine and corresponding effort to expand the running movement. 
The movie isn't aimed at casual runners with a passive interest in the sport—true running junkies will likely find it most satisfying. Director Pierre Morath is a historian, runner, and filmmaker, and it shows in how deftly he weaves seemingly disparate threads from all corners of the sport's history. The film is part running Who's Who, part oral history of the sport's cultural evolution. In addition to Lebow, some of running's biggest names—like Steve Prefontaine, Kathrine Switzer, Frank Shorter, and Joan Benoit Samuelson—appear in a mix of historical footage and present-day interviews about running's growth and increasing inclusivity. While Free to Run is sweeping in scope, the film largely manages to avoid seeming scattered or unfocused.
In one of the film's strongest segments, Morath deconstructs the story behind the iconic 1967 Boston Marathon photo in which race director Jock Semple tries to forcibly remove Kathrine Switzer from the course, because the race—like nearly all long-distance races at the time—was not open to women. (Switzer had entered the race without using her full name, and so passed under the radar until the day of. She did end up finishing.) The photo then expands into archival video footage of the encounter, interviews with various prominent witnesses, and an extensive current-day interview with Switzer about her long-term efforts to bring gender equality to distance running. 
At one point during her interviews, Switzer reflects on her experience that year in Boston: "That was my first big brush with discrimination, and it opened my eyes a lot," she says. "I thought, 'You've always been taught to be responsible, to finish what you start. It's going to be my responsibility to try to give other women this opportunity, to tell them how wonderful running can be.' I didn't know how I was going to do it, but when I crossed the finish line, I knew that that was a life plan."
Over the course of the 1970s and 80s, women gradually gained more opportunities to compete in distance running. Switzer helped to spearhead the women-only Avon International Race Circuit, which in turn raised both participation and competition levels for female runners around the world. In 1984, women finally won the right to race the marathon distance at the Olympic level, and American Joan Benoit took home the event's first gold. Switzer's husband, the runner and writer Roger Robinson, has said that the first women's Olympic marathon finally "allowed women to be exhausted in public." 
Around the same time, Steve Prefontaine was fighting for high-level amateur runners to be paid so they could afford to train full-time, and Fred Lebow was working tirelessly to consistently grow the New York City Marathon. Lebow was secretly paying high-level runners from all over the world for their top-level performances at his marathon, despite the fact that accepting money for races was against the rules for amateur athletes. Lebow simply wanted as many people to join the movement as possible—in one archival interview in the film, he deadpans: "When I read that there are 34 million Americans who run or jog, I wondered where the rest of those 60 million are, who should be running—or at least race walking." As Lebow's marathon grew from a shoestring operation in Central Park to a world-class competitive event, it helped to catalyze the distance movement as a whole.
Lebow's story and some other plotlines in Free to Run are likely familiar to avid runners, but the film skillfully integrates these into a streamlined narrative about running's overall metamorphosis, with each piece providing valuable context for the others. In particular, some of the details about women's exclusion from distance racing are shockingly recent and serve as a helpful reminder of how far women's participation and competitiveness have come in just a few short decades. 
While Morath's film is largely a celebration of the growth and successes of the running movement, it's not all praise. The movie briefly addresses the issues of the increased consumerism and commercialization in our age of excessive running gear and expensive race fees, and it also delves into the story of the 2012 New York City Marathon, which was scheduled to take place right after Hurricane Sandy tore through New York. That year, many New Yorkers living in areas affected by the hurricane were enraged by the possibility that the race might go on despite so much of the city still needing assistance in the wake of the storm. Those associated with the race vehemently insisted against its cancelation, and the debate revealed a massive gulf between the (largely) wealthier running community and the poorer residents in parts of New York. Several of the film's interviewees acknowledge that this narrow-mindedness reflected badly on the New York running community, and on the sport's culture as a whole. 
With Free to Run, Morath raises a glass to all the forms of progress that running has seen over the past several decades, but he also offers a nudge that the same forward momentum continue into the future, to make running more inclusive and accessible than ever. That's something any runner—junkie or not—can appreciate.
Lead Photo: Boston Globe/Getty Images