'Free Solo' Is the Best Climbing Movie Ever Made
In their new film, Elizabeth Chai Vasarhelyi and Jimmy Chin capture Alex Honnold's historic ropeless El Cap climb and the emotional toll it took on everyone around him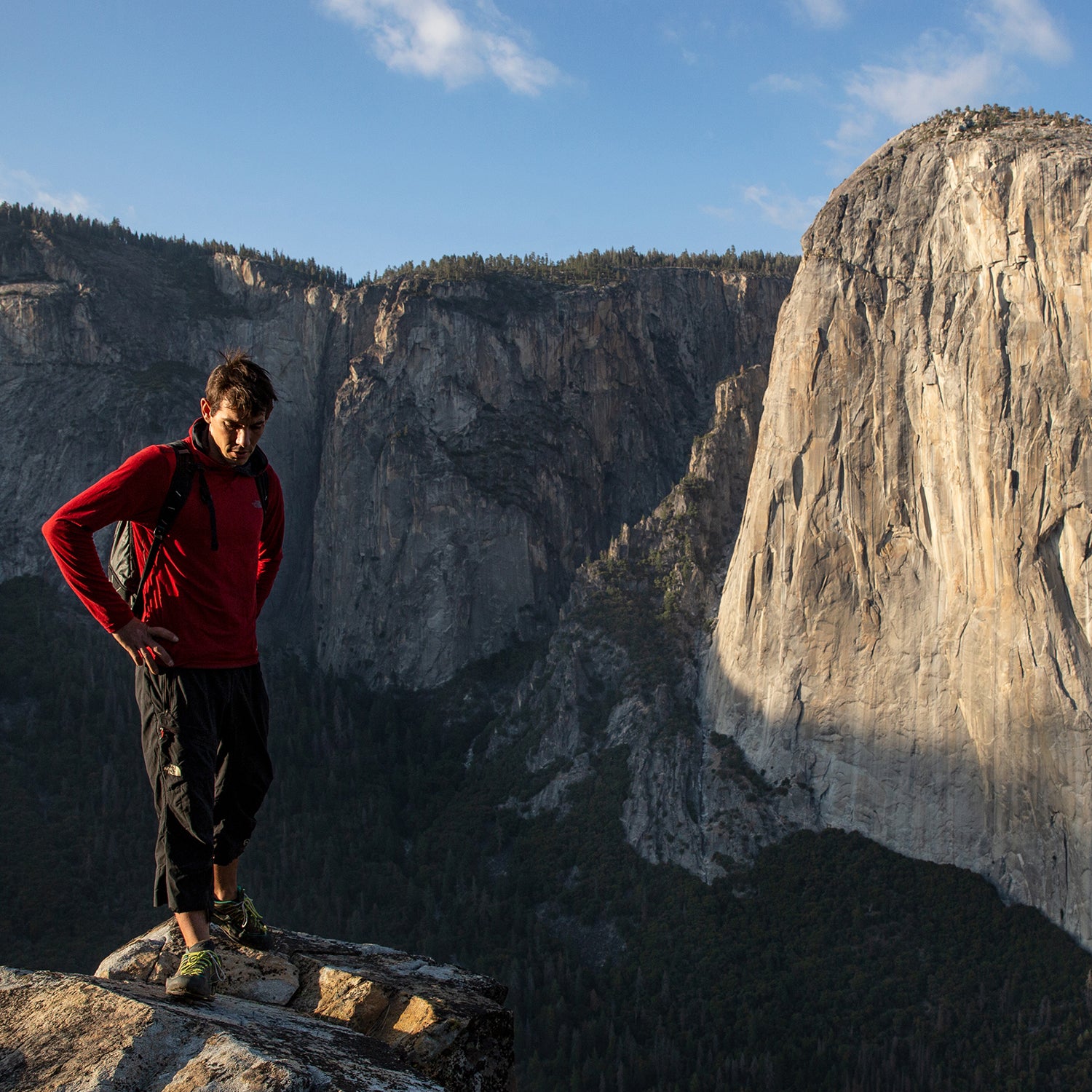 National Geographic(Photo)
Heading out the door? Read this article on the new Outside+ app available now on iOS devices for members! Download the app.
On June 3, 2017, Alex Honnold climbed the 3,300-foot Freerider route on El Capitan in Yosemite Valley without a rope. The ascent, which involved astonishingly insecure and difficult climbing, is among the most impressive in the history of rock climbing. Working in secrecy, a film crew led by Jimmy Chin captured both the climb and two years of Honnold's preparation. The resulting documentary, Free Solo, produced and directed by Chin and Elizabeth Chai Vasarhelyi, opens nationally in theaters on Friday. It is a dramatic, gorgeous film, and its subtle presentation of Honnold and the emotional stakes of his climb make it one of the best outdoor-sports documentaries of all time.
Helpfully for Chin and Vasarhelyi, those emotional stakes could not have been higher. Nothing about free soloing is theatrical, and many of the climbers who paved the way for Honnold—Dean Potter, John Bachar, Dan Osman—are dead. In interviews, Honnold is careful to emphasize that free soloing is not something he does casually, but considers a "peak experience" that he prepares and plans for obsessively. He certainly is obsessive and it is true that he free solos very hard routes only occasionally. But those facts undersell soloing's recklessness, and, as the film shows, it falsely reassures us that Honnold is in control. "People who know a little bit about climbing are like, 'Oh, he's totally safe,'" Tommy Caldwell, one of Honnold's best friends, says in the film. "People who know exactly what he's doing are freaked out."
This is the uneasy tension at the heart of Free Solo: If Honnold dies, how responsible are the filmmakers, his friends, and his audience? That's an age-old question in the outdoor industry, which works with extreme risk to sell jackets and magazines. Still, few of us would watch a film about a man playing an actual game of Russian roulette. What exactly is the difference between Russian roulette and free soloing?
---
If you want to know what it's like to be Alex Honnold, watch the people around him, wincing and weeping as he climbs out of view.
By now, most of us already know the film's main character. Honnold, 33, has put up a series of astonishing ropeless climbs on some of the sport's most iconic multipitch routes, including solos of Moonlight Buttress in Zion National Park; El Sendero Luminoso, a 15-pitch climb in Mexico; and, most famously, the Regular Northwest Face of Half Dome in Yosemite. For many hard climbers, El Capitan's 3,000-foot granite face, across the valley from Half Dome, is the holy grail; for a soloist, it's more like a white whale.
Honnold, though, isn't a wild man. On screen he is irreverent and thoughtful, a picky eater with strong fingers who has lived in a van for almost a decade. Early in the film, answering questions at his old high school in California, a kid asks Honnold how much money he has. "I've got about $40 in my wallet," he jokes. "I mean, I have a lot of money. Probably as much as a successful dentist."
But Free Solo suggests that there is another dimension to Honnold. His late father may have struggled with something like Asperger's syndrome, and as a kid, Honnold started soloing because he was too embarrassed to ask for a belay. As an adult, he seems consumed with perfection.
As we watch Honnold learn the route, however, we see where his cracks are. He struggles with both lacerating self-doubt and injuries, including a busted ankle from a roped fall low on Freerider's tricky slab section. Later on, during his first attempt to solo Freerider, he bails in the same section, and a cameraman helps lower him down. On the ground, the filmmakers capture Honnold in conversation with Peter Croft, a legendary free soloist who is now in his sixties. "You made a perfect choice," Croft says, congratulating Honnold for valuing his life over the climb. "I just need it to end," Honnold replies, looking distraught. For a moment, it sounds like an admission—the project has become a burden. But Honnold finishes his thought: "The circus," he says. The problem isn't El Cap, it's other people.
"The circus" is perhaps the bigger challenge, and his often tense relationships with the people around him become the emotional core of the film. For two years, Honnold swore Chin and his crew to secrecy to keep pressure down. But the small group who know about his plans—Chin, Caldwell, and his girlfriend, Sanni McCandless—still seem to oppress him. McCandless's emotions, in particular, are a wild card: she is as transparent as Honnold is reserved, and seemingly spends half the film in tears or on the verge of them. She can't ask him to stop soloing, but she doesn't want him to die. "Everyone I've ever dated has told me that I'm a sociopath, basically," Honnold says. Occasionally it's hard to disagree.
Airtime is also given Honnold's interactions with Chin and his crew, who appear throughout Free Solo. Chin, of course, has already made a feature-length climbing documentary, Meru, with himself at the center of the action, and initially it wasn't clear he needed to be in this one, too. But his presence poses an interesting question: Are the filmmakers themselves putting Honnold at risk? Chin means it literally—he worries that a camera operator could distract Honnold and send him to his death—and philosophically: Would Honnold want to solo Freerider if nobody knew he was up there?
In Free Solo's expertly filmed white-knuckle climax, Honnold asks McCandless to leave Yosemite Valley, then begins the climb. As he makes his way through a delicate, technical sequence 2,000 feet off the ground, someone aims a camera at Mikey Schaefer, a pro climber and member of Chin's crew, who can't bring himself to look through the viewfinder on his own camera. Watching this moment, it seemed clear to me that the tension and grief felt by everyone around Honnold is probably a proxy for his own inner turmoil. If you want to know what it's like to be Alex Honnold, watch the people around him wincing and weeping as he climbs out of view.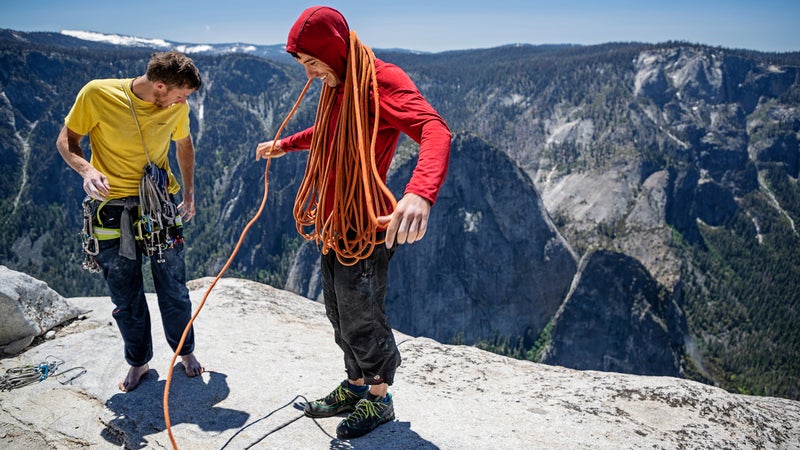 Should the rest of us watch him climb? In the months since I first watched Free Solo, I haven't settled on a satisfying answer. Honnold sometimes strikes me as a tragic figure, wrapped so tight that he can't acknowledge how much pain he causes those who care about him. "For Sanni, the point of life is happiness," he says. "For me, it's performance." His priorities are all wrong.
Still, I'm not sure Honnold's career would actually look much different if he'd never gained an audience. Talking with Croft, Honnold muses about the sense of calm and freedom that he feels high on the wall. He's chasing a weird, deadly form of meditation, but one that is probably familiar (in a diminished form) to any climber who has stuck a sketchy move when they needed to, or any skier who has threaded the needle in a high-consequence couloir. For many of us, learning to do something hard and scary when the stakes are high is essential to being alive. Honnold has carried that idea to its extreme and beautiful limit. "I think when he's free soloing he feels the most alive, the most everything," Honnold's mother, Dierdre Wolownick, says. "How could you even think about taking that away from somebody?"
Lead Photo: National Geographic
Trending on Outside Online