Hans Florine on His Lifelong Obsession with Just One Climbing Spot
The rock climbing veteran talks his career on El Capitan and the psychology of climbing with Alex Honnold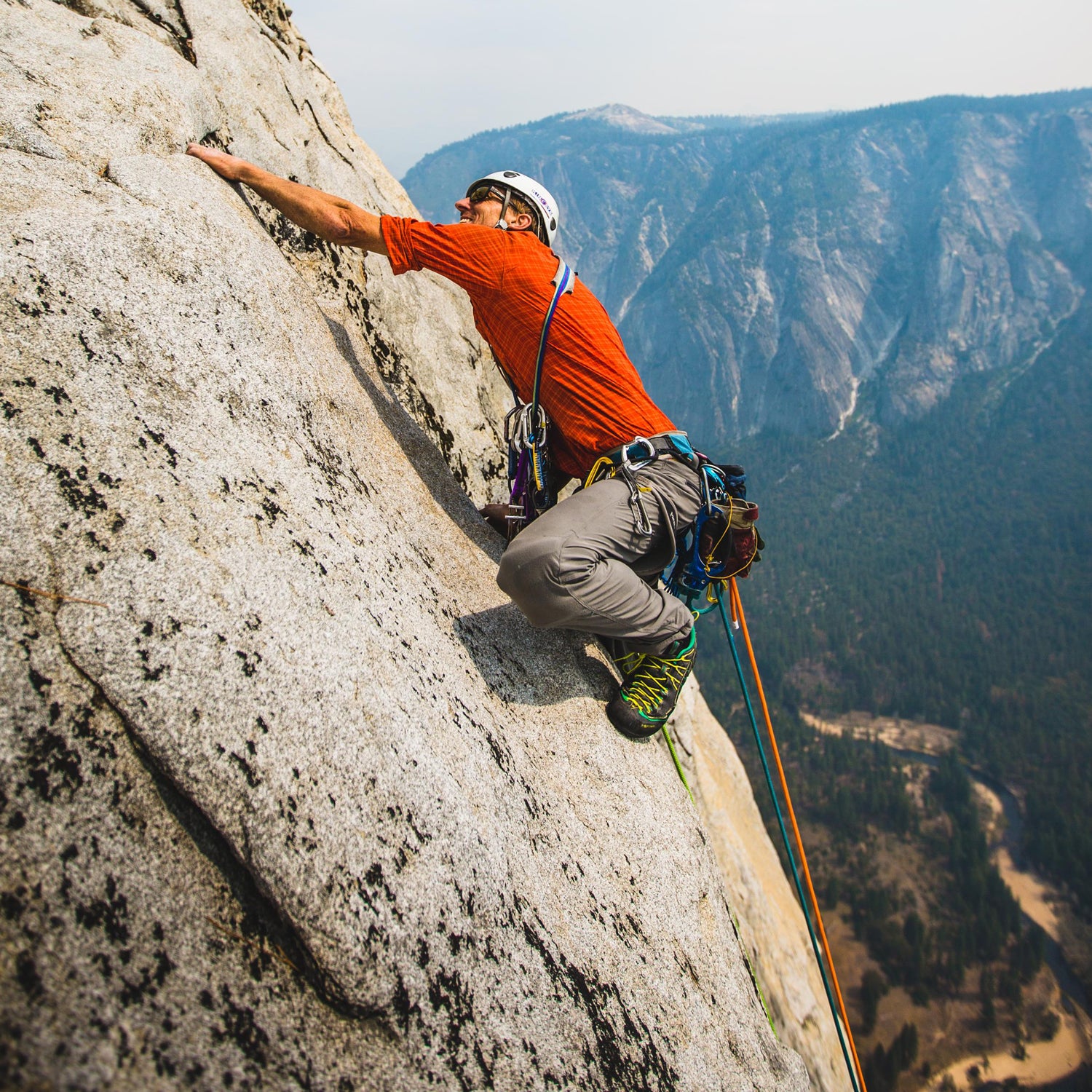 Heading out the door? Read this article on the new Outside+ app available now on iOS devices for members! Download the app.
Four years ago, Hans Florine and Alex Honnold captured the speed record on the Nose route of El Capitan. The climbing partners ascended the 3,000-foot granite monolith in 2:23:46, beating the previous record by 13 minutes. After three decades of climbing around the world, during which he's climbed the Nose more than anyone else, Florine vowed to never challenge the speed-climbing record that he and Honnold had set.
Instead, Florine, 52, descended into his psyche and explored the reasons why he climbs and why he continues to test his abilities. He has since co-written a book with adventure journalist Jayme Moye, who joined him in climbing the Nose for his 100th time on September 12, 2015. On September 1, they'll kick off a book tour for the recently-released On the Nose: A Lifelong Obsession with Yosemite's Most Iconic Climb ($25, Falcon Guides).
We spoke with Florine about his book, his thoughts on success and fear, and his humble interactions with the best climbers in the world.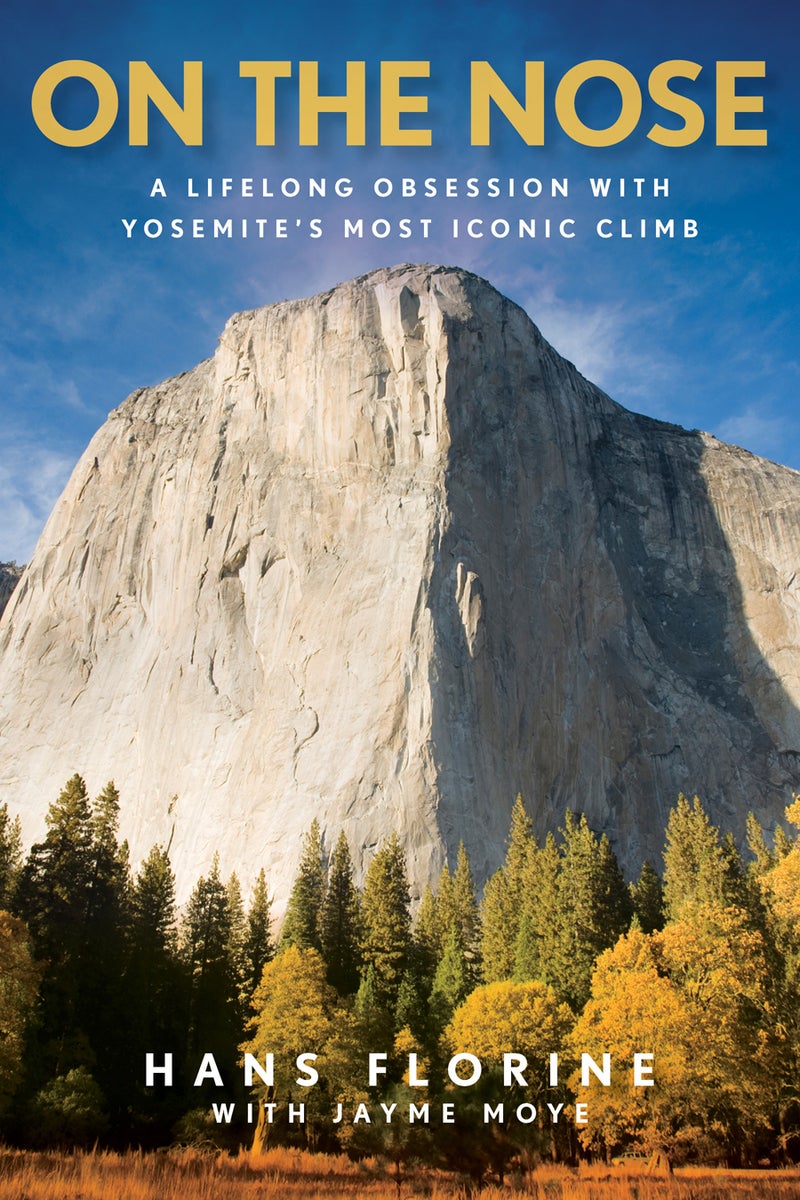 OUTSIDE: You fought for the climbing speed record your whole career. What does it mean for you?
FLORINE: My first half-decade in climbing, I felt that this is the community or sport that I'm really going to dig into. If you're a mountaineer, you do Everest, and if you're a climber, you do the Nose on El Capitan. Once I did it, I felt rewarded. So many people gave me a pat on the back. It struck me that it was kind of the center for the climbing world, the most famous world route and you were connected with these people from all over the world.
Is speed climbing still on the fringe?
The skill of going fast is necessary in climbing. I think it will always be. Climbers may think that's a sell-out notion, but others don't think it's going to be on the fringe. There's room for everything. The six-second sprint up the 40-foot wall and El Capitan.
"You must enjoy the goal of getting out of those problems in front of you, because there's no picture postcard like Everest."
You write that when you and Alex met in October 2011 to climb the Nose, "Alex was rock climbing's biggest star, while I was the Nose Guru, the guy who'd climbed it 83 times. Yet on a clear fall day in El Cap Meadow, we were just two guys sorting gear and debating the rack." Is that how you see yourself—like a regular guy?
There are different types of adventure seekers: the 15-second bungee jump adrenaline or exploring Nepal for three weeks and not knowing what trail you're on. I'm somewhere in the middle. I love exploring some peak in Patagonia, but I can't fathom being stuck in a tent for two or three weeks waiting for the adventure to happen. I'm a what-can-we-do-in-24-hours type of junkie. I'm an endorphin junkie. I like the one-day adventures that take a lot of physical investment and you get a reward. 
How was climbing the Nose with Alex?
Alex is 22 years younger than me and he's a wise young man. He's an academically smart man, like a 4.7 GPA in high school. But I don't think he's learned of his mortality yet. So he's willing to push the limits of some climbs more than me. He's at a higher physical climbing level than me, so he could do things that I cannot. It's more our differences in physical ability and places in life right now.
You write that you two have a lot in common, including some of the ways you perceive risk. Are you trying out the new role as mentor?
I met Alex when he was attempting the speed record on the Nose with Ueli Steck. He said he'd read my book on speed climbing and I tried to offer some ways they could move faster. I don't think I even had the household name in climbing that Alex has now, but of course there was no social media. It's a different thing. 
But I think now he is so well established in his fame. He has credibility in the climbing community. Most climbers know his name better than mine. He doesn't take the role of apprenticeship very easy because he has so much climbing experience, but he is in good humor about me thinking that I'm the older wise man. Still, he lets me know that he doesn't need any advice from me and that goes for anything.
How do you define a successful climb?
I teach beginners that have never been in a climbing gym. You see them terrified when they're 10 feet, 20 feet up, and they're hanging on with every muscle. But some of them make it to the top. I tell them, sometimes you're stuck somewhere and thinking I can't go any higher. But if you have a problem in front of you, you solve it, whether it's 100 feet or 1,000 feet.
One thing about Yosemite is that when you top out, you realize that you've climbed out of one of the biggest ditches in the world. You must really enjoy the journey in Yosemite. You must enjoy the goal of getting out of those problems in front of you, because there's no picture postcard like Everest.
How do you negotiate fear?
I do a mixture of endurance big-trad climbing, and then climbing below the extreme physical level of ability. It's a balance. There is danger, but you're staying in a tolerable range.
You recently climbed the Nose for the 101st time. Are you planning to climb the Nose again this year?
I have plans to climb the Nose this fall with notable people in the climbing world: Erik Weihenmayer, the only blind person to reach the summit of Mount Everest; Chantel Astorga, the female solo speed record for the Nose; and because I'm also a track and field person, Stacy Dragelia, a pole vaulter who won gold at the sport's Olympic debut in 2000. I'd love to tell you that I'm taking President Obama up there or Ellen. That would be fun, but I don't have those connections yet. 
Do you have new climbing goals?
I'm trying to set 200 times up El Capitan as a life goal. [He's currently at 161 climbs.] I should get done in 10 years. There are 55 routes and I've done 24. 
What do you hope readers learn from your book?
Climbing is the coolest sport on the planet. Read my book or don't. Go to the local climbing gym. It's a fun endeavor. You'll learn stuff about yourself physically and mentally. It's a full-body engagement activity.
Lead Photo: Steve Rokks