Season Two of HBO's '100 Foot Wave' Is One Hell of a Ride
The latest chapter of the thrilling surf docuseries may lack the narrative cohesion of the first. It will still leave you feeling stoked.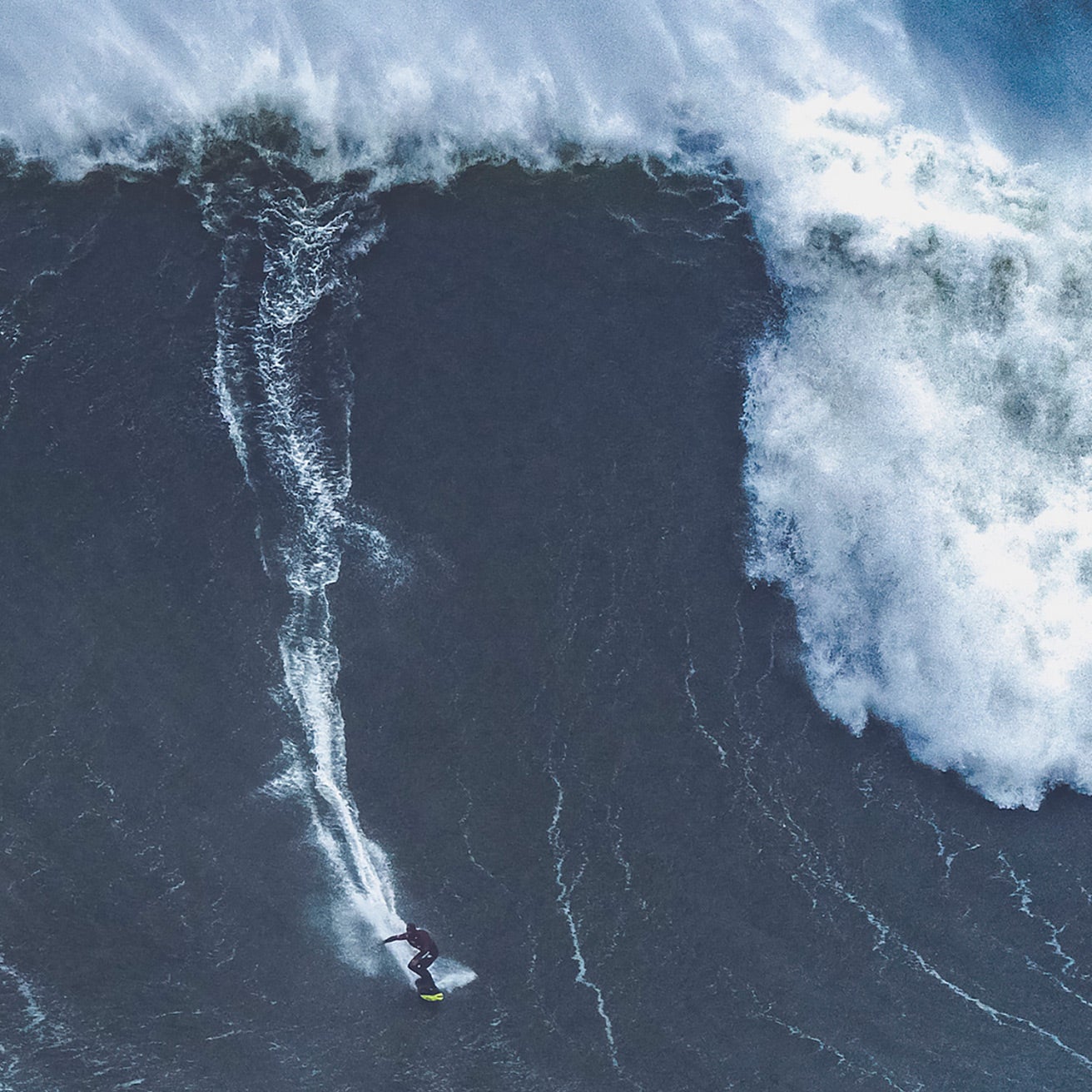 Heading out the door? Read this article on the new Outside+ app available now on iOS devices for members! Download the app.
There's a scene in the second season of HBO's docuseries 100 Foot Wave in which surf icon Garrett McNamara sits silently on a Hawaiian beach and meditates as his brother-in-law, CJ Macias, does a voiceover. "These days it's not always clear what Garrett is up to, or what his intention is on any given day," Macias says. The scene is supposed to illustrate how McNamara, now in his fifties, has finally broken free from his globetrotting pursuit of monster waves—a decades-long addiction that made him famous, nearly killed him, and was the focal point of 100 Foot Wave's Emmy-winning debut in 2021.
The scene also inadvertently defines the strengths and weaknesses of the series' second chapter, which airs its penultimate episode this Sunday, May 14, on HBO and HBO Max, before concluding on May 21. Yes, the latest edition of 100 Foot Wave again dazzles viewers with heart-pounding footage of surfers zipping along skyscraper-sized waves in Nazaré, Portugal, and explores the emotional connection that they have with their adrenaline-soaked and sometimes deadly profession. But chapter two lacks the singular focus and season-long arc that characterized its debut. It ping-pongs between Portugal, Hawaii, and even Iceland. Some episodes feel more like a hang session with the surfers than a story. Some viewers (myself included) may find themselves echoing Macias' words as they watch along. During season two, it's not always clear what the show is up to, or what its intention is during any given episode.
Let's back up. In the summer of 2021, 100 Foot Wave burst into the HBO streaming queue after creating a buzz on social media with this heart-pounding trailer. That first season told the story of how McNamara and his tiny band of misfit surfers developed Nazaré from a little-known fishing village into the most famous big-wave surfing destination on the planet. Season one also covered nearly a decade of  McNamara's life, and explored the psychological stresses that he and other big-wave surfers undergo in their pursuit of the perfect wave. They find unmeasurable joy, but also crash and suffer traumatic injuries, and spend months—sometimes years—battling physical and emotional hardships to try and get back in the water. I checked out season one as a curious surf interloper and was immediately sucked in.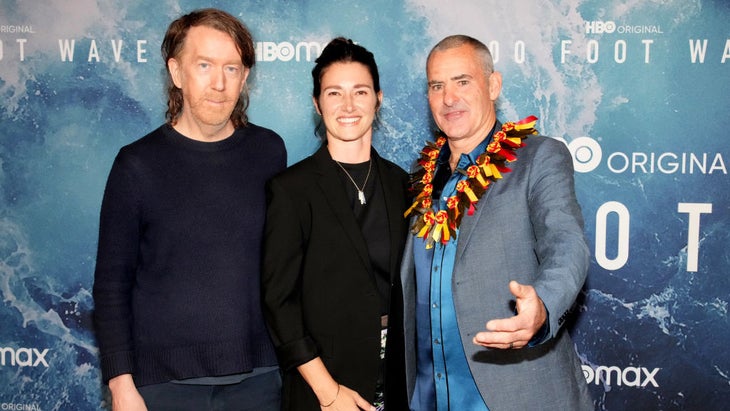 That season's six-episode arc had a tidy ending in its finale: Nazaré hosts a major professional competition in February 2020, and the world's best big-wave surfers finally get to experience the mythical wave that McNamara helped pioneer. It's a fitting capstone to the contained story 100 Foot Wave set out to tell, and (in my opinion) one of the reasons why it brought home an Emmy award that year.
Season two covers the 18-month period after Nazaré's international debut, and captures the pandemic, a few huge storms, and even two different competitions. The six episodes are set chronologically, but you can watch them in any order (except five and six—view those back-to-back) without feeling lost. Rather than simply focusing on McNamara, the series profiles others, among them Frenchwoman Justine Dupont, who over the season becomes something of a co-star.
I recently asked McNamara to define season two, and after some thinking, he gave me this answer: "Weaving in other characters, weaving in other stories. The main character started out as Nazaré and now it's the metaphor of the 100-foot wave. Life is a 100-foot wave. Bring that vibration and that frequency to wherever you go and whatever you do." (You can read my full interview with him here.)
Hey, that works for me. And I understand why McNamara and the series producers chose to tell a broader story, even if the one they bit off didn't necessarily have a natural arc. Season two opens in the early months of the pandemic, when an October storm in the Atlantic sends a record swell toward Nazaré. McNamara, Dupont, and season one star Andrew Cotton ride into the waves alongside a swelling collection of new surfers: local teenaged phenom Antonio Laureano, surfing celebrities Lucas "Chumbo" Chianca and Kai Lenny, Brazilian couple Michelle Des Boullions and Ian De Cosenza, and others. Footage shows the water churning with jet skis towing surfers—a visible contrast to the empty waves featured in season one.
The rocky coastline above Nazaré's churning water has also changed. Thousands of fans crowd the fortress overlooking the ocean to watch the action, giving the surf spot the feel of a Roman coliseum. They cheer, gasp, and recoil in horror as the surfers angle down waves and get swallowed by deadly whitewater. The scene is a visible cue that Nazaré has indeed been discovered by the masses—thus, it's time for 100 Foot Wave to tell a new story with a different focus. In subsequent episodes, the series heads to Oahu to explore the legendary break Jaws. It discusses the challenging personal dynamics that often exist between a surfer and his or her jet-ski driver. And it dives into the dangerous combination of ego and blind ambition that sometimes leads to disaster in the water.
My overall takeaway from the new season is still unquestionably positive, and the show is absolutely worthy of your attention. The show profiles new surfers, and the series expands its focus to other big-wave destinations. Plus, improved camerawork and technology provides dizzying and fresh vantages of the heaving ocean that may leave you searching for your sea legs. And don't even get me started on the Philip Glass score, which has all of the energy and complexity of Koyaanisqatsi.
I suppose the one consistent through-line in this varied storytelling is McNamara and his family. He and his wife, Nicole, navigate the choppy seas created by his lifestyle. They have another child. He surfs mega waves while she watches for danger from the shore, and together they attempt live as regular parents.
McNamara, sporting a head of gray hair, grapples with his aging body, which after decades of surgeries and crashes, no longer has the power to withstand the most ferocious wipeouts. When I completed 100 Foot Wave season two, I thought that perhaps it was McNamara's struggles with Father Time was the missing arc that I was searching for. Perhaps the focus of season two was actually the aging gladiator finally turning his back on the ocean, I thought.
When I spoke to him on a call, I realized that this storyline was far from over. He told me he was again training to surf monster swells.
"My body is going to be way better than it's ever been in a month—I'll probably be in the best shape of my life in a month," McNamara told me. "I kinda got a little desire, a little more hunger for a few more big waves."
Turns out not every story needs a beginning, middle, and end.
Lead Photo: HBO/HBOMax