Hollywood Survival
A look at ten of the silver screen's oddest, most entertaining, and occasionally even accurate techniques for living through disaster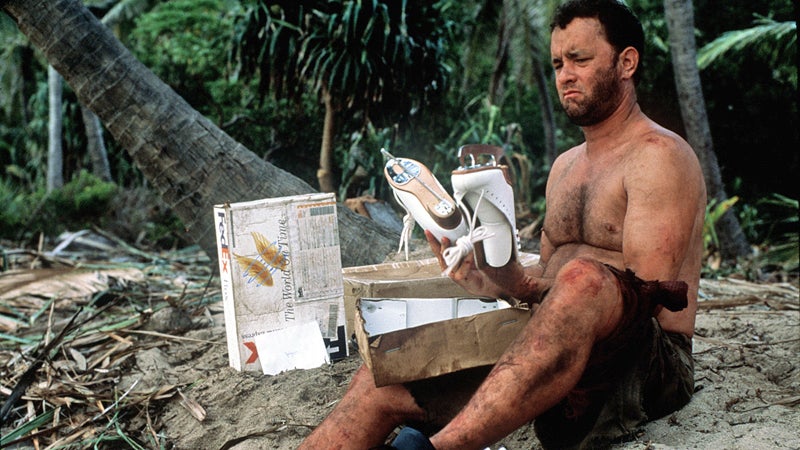 Heading out the door? Read this article on the new Outside+ app available now on iOS devices for members! Download the app.
There are few things Hollywood loves more than a good survival scene. Humanity's clash against nature has led to some of the most memorable movie moments—and biggest box-office grosses—of all time. (Think Predator or Cast Away.) But that doesn't mean that Hollywood always offers good survival advice; in fact, it's generally the opposite. Trying to follow the example of Sylvester Stallone or Alec Baldwin could get you killed.
Would fire scare a snake away? Could two untrained men kill a 1,800-pound bear? Could a Port-A-Potty be turned into a sail? To fact-check these questions, and seven more of Hollywood's most dubious claims, I reached out to Tony Nester, a survival expert who has instructed actors like Emile Hirsch (Into the Wild) and Josh Brolin (Jonah Hex) on a wide range of bushcraft techniques, to get the lowdown on what would work and what wouldn't.
---
'Star Wars Episode V: The Empire Strikes Back' (1980)
Scenario: When Han Solo (Harrison Ford) finds Luke Skywalker (Mark Hamill) freezing to death on the ice planet Hoth, he cuts open the belly of his dead Tauntaun—a furry bipedal creature that's used as a mount by explorers of the planet's icy wasteland—and shoves Luke inside, keeping him warm for the night. Would a non-Jedi in a comparable situation be able to survive?
The Expert Says: The "stay warm in an animal carcass" technique is surprisingly effective—and more common than you might think. "If you look at Germany, Poland, or Russia 100 years ago, there will be stuff like that that shows up," says Nester. There are many historical cases of soldiers who, stranded in the snow, "cut open their horses and stuffed their buddies inside for the night." Though it won't keep them alive forever, it's a good last-ditch effort if you know help isn't far away.
---
'Raiders of the Lost Ark' (1981)
Scenario: When Indiana Jones (Harrison Ford) is thrown by his enemies into a pit filled with snakes, he uses a torch to scare them off. If you're being attacked by poisonous serpents, will fire frighten them away?
The Expert Says: "With that many snakes, I think he'd be screwed," says Nester. At best, Indy's torch technique is a coin toss: "The heat might draw the snakes in, though it could repel them if they're too close." But given the circumstances, it was also his last option—so if you're somehow unlucky enough to fall into a comparable situation, it's worth a shot.
---
'Rambo: First Blood Part II' (1985)
Scenario: After being shot, Vietnam vet and all-around badass John Rambo (Sylvester Stallone) heats up a metal rod and uses it to cauterize the wound. If you've been shot in the field and you don't have access to medical supplies, should you use the same technique?
The Expert Says: "That's Hollywood, for sure," says Nester. Anyone who attempts to cauterize a wound like Rambo is just sealing in a possible infection. You'd be better off if you clean it, thoroughly irrigate it with water, and cover it while you find a way to get out of the situation and into a hospital. But you'd better do it fast. After 24 hours, any untreated wound stands the risk of becoming a serious problem—or, at the very least, a "cool tattoo."
---
'Predator' (1987)
Scenario: In an attempt to escape from a mysterious, armed assailant which turns out to be a human-hunting alien, Alan "Dutch" Schaefer (Arnold Schwarzenegger) covers himself in mud to avoid detection. If you're being stalked by a predator—extraterrestrial or otherwise—is mud an acceptable camouflage?
The Expert Says: "I've done that myself," says Nester—though as the predator, not the prey. "When I was younger, we used to cover ourselves with mud and lay on the trail and try to sneak up on deer." As an added bonus, mud can repel bugs if you apply it thickly enough. Though Predator is obviously fiction, Dutch's various improvised techniques and makeshift weapons are consistent with his background as a Green Beret; using improvisation to overcome an unknown situation "is certainly something those guys know how to do."
---
'Lord of the Flies' (1990)
Scenario: After their plane crash-lands on an island, a group of young male military cadets led by a boy named Ralph (Balthazar Getty) keep a signal fire lit in the hope of attracting a passing ship's attention. In the broad expanse of the ocean, what are their chances of being rescued?
The Expert Says: "There are thousands of rescues around the world with people using signal fires," says Nester. He has a few tips that might have helped the Lord of the Flies boys get help before their makeshift society devolved into savagery: Keep the fire going at all times, and make it smoky by using green foliage and driftwood, which should be easy to find on the beach. But most of all, "you have to have someone manning it 24/7."
---
'The Edge' (1997)
Scenario: After crashing their plane into a remote, snowy region of North America, Charles Morse (Anthony Hopkins) and Bob Green (Alec Baldwin) find themselves stalked by a 1,800-pound Kodiak bear. The two men prepare an elaborate spiked trap, hang it from a tree, and swing it into the bear. After they finally manage to kill their ursine assailant, they tan its skin and use it as a cloak. Could two untrained men take down a bear of this size?
The Expert Says: Though the mantra of the men—"what one man can do, another can do"—is the right attitude to have, they're taking a pretty big risk. "I'm not going to stand there and spear a bear," Nester says. "I'm still going to run." And their fresh-made bear suits are ridiculous: "I've tanned big animals like that, and it takes at least four to seven days of hard, wrenching work until it's even soft."
---
'Cast Away' (2000)
Scenario: When a broken section of a Port-A-Potty washes onto the beach, four-year castaway Chuck Noland (Tom Hanks) fashions it into a sail for a makeshift raft and uses it to escape the island. Given the circumstances, would a boat like Chuck's have any chance of making it to shore?
The Expert Says: It may not be the most glamorous craft, but "survival is all about improvising," says Nester, and the Port-A-Potty seems to be Chuck's best option. It's common to see people trapped in long-term survival scenarios developing a "MacGyver-esque approach." This particular craft may not have held up in real life, but the makeshift sail "shows the brilliance of his thinking and his ability to improvise," and a person with that type of mentality is the most likely to survive.
---
'True Grit' (2010)
Scenario: When 14-year-old Mattie Ross (Hailee Steinfeld) is bitten in the arm by a rattlesnake, her partner and protector Rooster Cogburn (Jeff Bridges) cuts the wound open and sucks the venom out, then races across Choctaw country, working her horse until it collapses, in order to get her to a doctor. Though Rooster manages to save her life, her arm develops gangrene and needs to be amputated. Did Rooster do the right thing?
The Expert Says: Though the "suck the venom out" technique was commonly used in the 1870s, when True Grit was set, it has "long since been refuted by every doctor and EMT out there," says Nester. A snakebite should be treated like any other wound: clean it out, wash it, and "get the injured person out of there." It's not clear if Mattie was envenomed, since they end up amputating her arm, but time is the most important thing—so Mattie's horse didn't die in vain.
---
'The Grey' (2012)
Scenario: Confronted by the alpha from a grey wolf pack in the Alaskan wilderness, John Ottway (Liam Neeson) tapes a knife and the shards of broken alcohol bottles to his hands and charges at the wolf. The movie leaves Ottway's ultimate fate ambiguous. If you attack a wolf with a knife and some broken glass, what are your chances of surviving?
The Expert Says: While wolves rarely pick fights with humans, a person taking on a grey wolf with a single knife and some broken glass would probably be torn to pieces. Still, Ottway was a survivor, and that may be the most important "technique" of all. Positive mental attitude "is what gets you through the night when you've got broken ribs and hypothermia," says Nester—the conviction that "'there's no way I'm going to go out. I'm going to be here tomorrow morning when the sun comes out, and I'm going to make it." That belief is the common factor in some of the most incredible true wilderness survival stories.
---
'The Hunger Games' (2012)
Scenario: While participating in the "Hunger Games" tournament, 16-year-old Katniss (Jennifer Lawrence) finds her ally Peeta (Josh Hutcherson) injured with a stab wound in a cave, and decides not to move him, out of fear that his injuries would worsen. Did Katniss do the right thing, and how could she best improve Peeta's chances of survival?
The Expert Says: Katniss was wise to leave Peeta in the cave, which offers "shelter, concealment, and security from his human opponents," says Tony. Peeta's biggest concern would be rodents, but since the alternative is being discovered or dying of hypothermia in the open, it was probably the best he could do. As far as caring for Peeta, Katniss has several tasks: "Keeping the wound clean, treating for shock, keeping him hydrated and warm, and not moving him any more than needed."
Lead Photo: Courtesy of 20th Century Fox