How to Dogsled Across Antarctica
In 'Think South,' Cathy de Moll explains how a team of explorers pulled off one of the 20th century's most challenging expeditions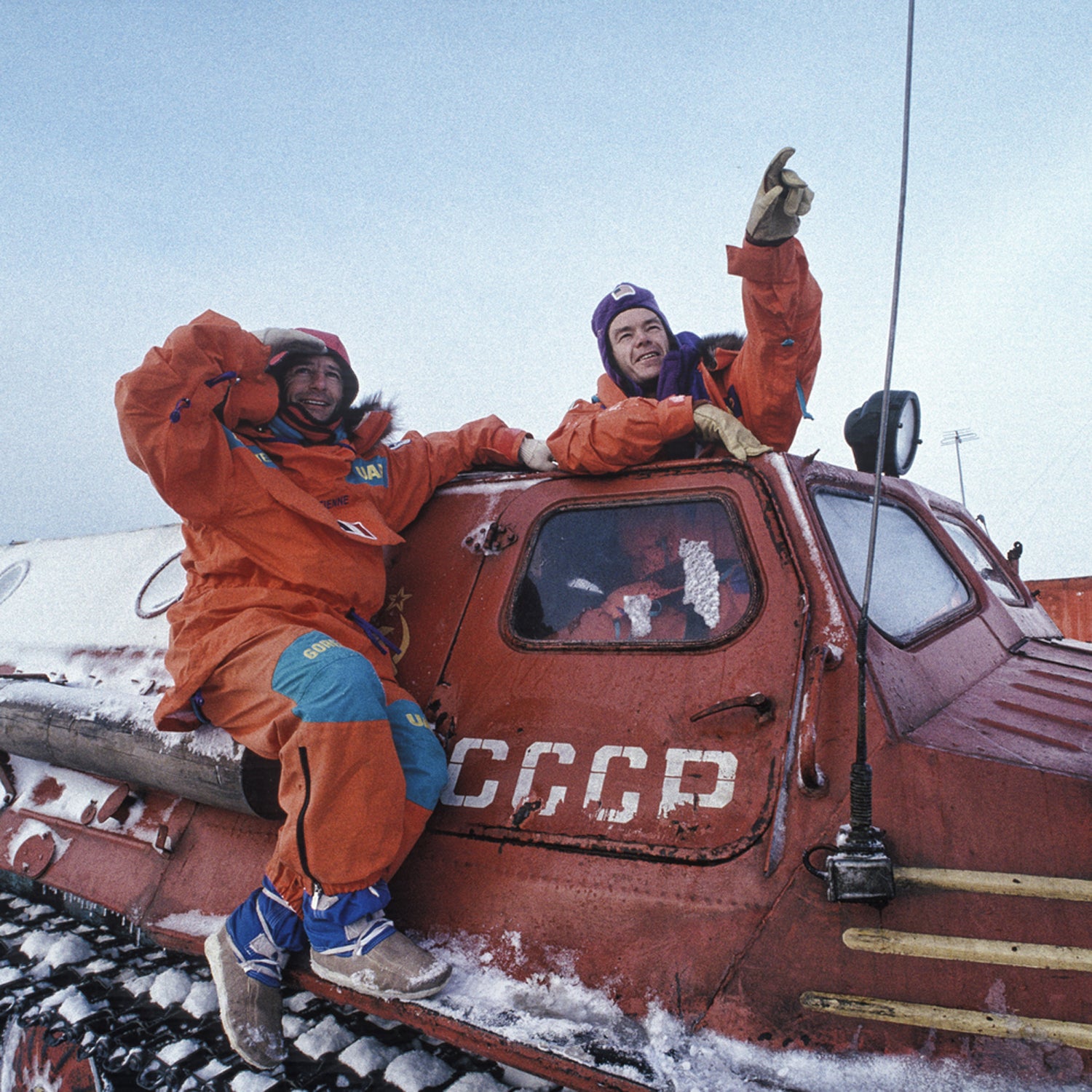 Heading out the door? Read this article on the new Outside+ app available now on iOS devices for members! Download the app.
The most telling moment in Cathy de Moll's new book, Think South: How We Got Six Men and Forty Dogs Across Antarctica, happens far from the relentless, frozen expanse of the southernmost continent. It takes place in Paris, as de Moll, the expedition's executive director, is laying exhausted on a desktop at a television studio watching gritty newsfeed of weathered men in anoraks, giddy after downing a glass of well-deserved champagne. They'd just finished a historic, life-threatening traverse of Antarctica by foot, ski, and dogsled, in which they lost food, fuel caches, two dogs, and nearly a team member when they exited their tent during a whiteout. "I was finally realizing that the expedition was over," writes de Moll. "And it made me laugh helplessly."
De Moll passes on that zany spirit in her behind-the-scenes tell all, published this month by Minnesota Historical Society Press, of what it took to pull off one of the most audacious expedition in modern history: the 1990 International Trans-Antarctic Expedition. In July 1989, six men—one from every inhabited continent, led by American Will Steger and Frenchman Jean-Louis Etienne—started at the tip of the Antarctic Peninsula with 36 dogs, three sleds, and 20 tons of food and gear, and traveled more than 3,400 miles to the Soviet's Mirny Station, on the other end of the continent, on March 9, 1990. Beyond a grand adventure, their purpose was to raise awareness that the 30-year-old Antarctica Treaty was under threat of being amended to allow commercial oil and gas mining.
Rather than focus on the expedition's on-ice journey, de Moll sheds light on a side of 20th-century expeditions rarely told: the budgetary and logistical puzzles, cross-continental love affairs, high-rolling deals, and dozens of behind-the-scenes heroes from Moscow to Beijing who made this journey possible. And she does it with humor, wit, and grace.
"Cathy is a real genius," says Steger, from his home in northern Minnesota. "You think you just jump on a dogsled and go. But we could never have done it without her."
The explorers' primary navigational tool was a sextant, and their backup was a prototype French GPS they were able to use only two hours a day when Antarctica's only satellite was directly overhead. 
The political, geographical, and budgetary realities of pulling off an $11 million expedition in such an inhospitable environment, jointly governed by bickering world powers, required nothing short of a miracle. Just getting to Antarctica was a lesson in high diplomacy. As de Moll explains in her book, the expedition had to convince Washington bureaucrats to land a massive Soviet Illyushin Il-76 in Minneapolis to pick up the team and the dogs—no such flight over U.S. airspace had ever been allowed. When the flight cleared the U.S. it had to emergency-land in tropical Cuba due to engine trouble. Soviet-trained mechanics were able to fix the engine, but more diplomatic massaging was required before the flight could continue on to Chile because no Soviet plane had landed in the South American nation since the murder of President Salvador Allende 15 years earlier.
"The reason I was able to sleep at night," says de Moll from her home in St. Paul, Minnesota, "was partially ignorance, but I was a lot more worried about that plane than whether the guys could get across the continent."
The expedition took place only 25 years ago, but today's world is so technologically advanced that there's an anachronistic quality to the book that makes it feel like a chronicle of the Shackleton era. The explorers' primary navigational tool, after all, was a sextant, and their backup was a prototype French GPS they were able to use only two hours a day when Antarctica's only satellite was directly overhead. "People don't appreciate the lack of communication we had," says de Moll.  The only way of getting in touch with the men was via their 10-watt radio, relayed from a station on King George Island or a cryptic GPS message.
Since then, nearly everything has changed: technology, climate, geopolitics, sponsorship, and Antarctic legislation. (The treaty amendments that would have allowed mining didn't pass.) An expedition of this scope and caliber would be impossible to repeat again, unless, perhaps, it was to Mars. "Back then the spirit of international cooperation was really true," says Steger. Now the Larsen Ice Shelf the team traversed has melted, dogs have been outlawed in Antarctica (over concerns that they might bring diseases to the island continent and attack local wildlife), and the days of hefty corporate sponsorship for explorers are over, Steger says. And that's what makes the book such a great read: it is as much a nostalgic recounting of a bygone era as it is an edge-of-your-seat adventure tale.
Trending on Outside Online