'In the Shadow of the Mountain' Is Not Your Typical Everest Book
Silvia Vasquez-Lavado's memoir about being the first Peruvian woman to stand atop the tallest mountain on earth is also a story about surviving sexual abuse and addiction and, ultimately, finding herself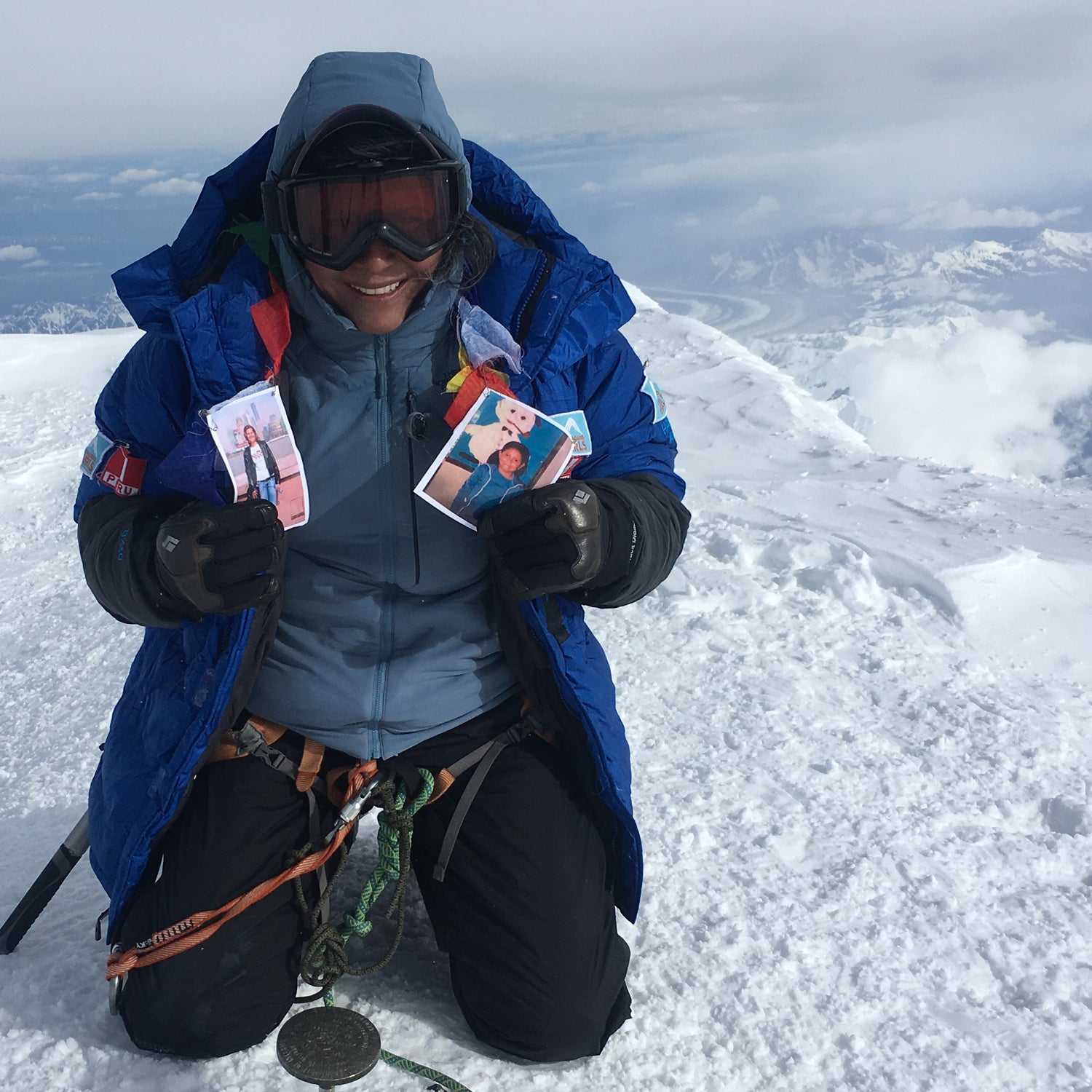 From left, Courtesy Silvia Vasquez-Lavado; Henry Holt and Co.
Heading out the door? Read this article on the new Outside+ app available now on iOS devices for members! Download the app.
The mountaineering memoir In the Shadow of the Mountain begins on Mount Everest. Silvia Vasquez-Lavado is far up on the Lhotse Face, en route to becoming the first Peruvian woman to summit the tallest peak on earth, and she can barely breathe. But she has persevered and made it higher than any of the macho male clients on her guided expedition. She counts her steps: 92, 93, 94….
So far, so—well, so much like many other mountaineering memoirs. It's a measure of this era of booming commercial climbing (this year alone, more than 700 people summited Everest) that such a memoir would begin with a high-stakes moment near the top of the world. And it could fall into a familiar pattern. We have read the formula: The climbing is arduous. One slip might mean death. But somehow our heroine digs deep, finds that last bit of reserve, and reaches the peak.
"I focus on the ropes. Two skinny lines snaking up the icy face of Lhotse," writes Vasquez-Lavado. "In my mind, they morph into velvet ropes leading us toward a mysterious, exclusive nightclub where both the dancers and the drinks are flowing. A blackout drunk experience is way less terrifying than this."
Waiiiiit a second. Maybe this isn't the usual climbing memoir. Sure, the author fits the mold in some ways: she's a successful tech executive—at eBay, PayPal, and Skyy Vodka—who challenges herself by climbing high peaks. But she was also the first openly gay woman to climb the Seven Summits. And she spent much of her adult life, as she puts it, achieving the "magical trifecta: alcoholic, workaholic, sexaholic."
Like Cheryl Strayed's Wild, In the Shadow of the Mountain is about much more than a climb. It's about the mountains, of course. But it's also a story about surviving abuse, moving through addiction, and coming to terms with the dark places in our lives. (We chose it for the Outside Book Club's May pick, and I recently discussed it with Vasquez-Lavado in a video Q and A, which you can watch below or by heading to the Outside Book Club Facebook page.)
---
Vasquez-Lavado's abuse began at a very young age, at the hands of a trusted male housekeeper who she calls J, and it's tough to read about. Little Silvia is in first or second grade. Her mother is out. "No need to say anything," J tells her. "Your parents know what I'm doing and it's okay. They've asked me to."
I feel sick just typing those words.
Thus began years of sexual abuse, its ugliness set against a backdrop of the red poinciana trees and bustling streets of 1980s Lima, Peru. Her parents fight; J comes to her in the silence when no one else is home. Silvia has her first glass of pisco at age nine, and it sets her body on fire.
She cuts off her hair and starts listening to heavy metal. After she's accepted to a tiny American college in Lancaster, Pennsylvania, she graduates, armed with a business degree and an H-1B visa, and gets a job at Skyy Vodka in San Francisco, where she dedicates herself in equal measures to work and some truly impressive drinking. When she discovers the city's lesbian scene, she dives in. At one point, she decides she's going to sleep with a hundred women. "I was," she writes, "hunting oblivion."
She beautifully describes how survivors of sexual abuse carry the things that were done to them: "Like a tree growing around a gash in its trunk, first you split, then fuse back together, and eventually envelop the object, the rock, the wound, swallowing it into your belly as if it were your very own."
Vasquez-Lavado finally hits bottom, and this time her family helps. She returns to Peru for an ayahuasca ceremony—with her parents!—and has a vision that will change her life: she is safe in a range of high mountains, like the Andes of her ancestors, reunited with her childhood self. She decides to trek to Everest Base Camp and is so moved by its what she sees that she vows to return as a mountaineer. When she does go back to climb the mountain, she walks to Base Camp with young women from the nonprofit she founded, Courageous Girls, which helps victims of sexual abuse and trafficking, before climbing with the outfitter Adventure Consultants.
Her account of her time on Everest is often hilarious. Base Camp is like "the opening scene in M*A*S*H* but with yaks instead of jeeps." The crowd on the summit resembles "a convention of astronauts." Her fellow clients are "cast straight from a James Bond movie. A British millionaire? A rugby player? A seven-foot-tall Kiwi? Seal Team Six? My God. My God. What the hell have I done?"
But her spirit carries her up, and, as she writes, her Andean roots "started to show the higher into the mountains we went." One by one, the James Bond characters drop out. And it's not a spoiler to say that Vasquez-Lavado earns her place at the top of the world. (Hollywood has already come calling—Vasquez-Lavado is working on a screenplay in a project produced by Selena Gomez, who will play her in the film adaptation of the book.)
So is this a mountaineering memoir? Yes and no. Turns out, the mountain Silvia Lavado-Vasquez climbed was a lot bigger than Everest. And because of that, In the Shadow of the Mountain is for anyone with similarly challenging inner journeys—in other words, all of us.
Lead Photos: From left, Courtesy Silvia Vasquez-Lavado; Henry Holt and Co.
Trending on Outside Online