Karl Meltzer Delivers Record Pony Express Run
Heading out the door? Read this article on the new Outside+ app available now on iOS devices for members! Download the app.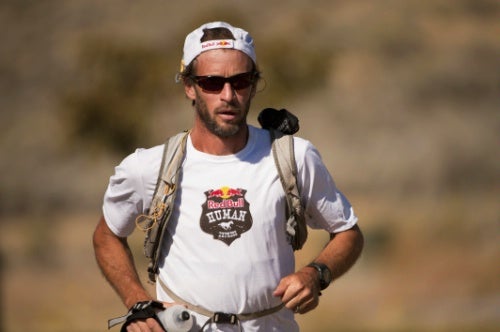 Photo courtesy of Red Bull.
Ultra-marathoner Karl Meltzer can outrun a horse. To prove it, Meltzer recently completed the first-ever run of the full 2,064-mile Pony Express route in 40 days, finishing on October 25. The run commemorated the 150th anniversary of the old delivery route. Horses employed on the historical Pony Express ran no more than ten to 15 miles before a fresh horse took over duties, meaning riders used scores of them for a single delivery. Meltzer, at the pace of roughly two marathons per day—with a 100-miler to wrap it up—tested the limits of human endurance, dubbing his Red Bull-sponsored run from Sacramento, California to St. Joseph, Missouri the "Human Express." I caught up with Meltzer (by phone, not on foot) to get his take on the record-establishing feat.
–Nick Davidson
Why the Pony Express?
It was Red Bull's idea. I had mentioned running the Appalachian Trail again, but they weren't really for it. Then they said, "Hey, what about the Pony Express trail? Why don't you see if you can run it?" I had to think about that for a little bit. I'm a mountain runner, really. I like trails. But this being mostly dirt roads and flatter terrain, it was a different type of challenge for me. So I said, "Let's go for it."
Did you encounter logistical difficulties finding and mapping the route?
Absolutely. I took two different trips to scout the whole route. But the thing is, even with a four-wheel drive vehicle, you can't go everywhere cross country. And there's a lot of private land. So we scouted the most efficient route the old guys took. It's not a marked trail. The AT has white blazes every 50 yards. The Pony Express doesn't have anything.  A lot of it was so wide open that there would be four different double tracks, and three of them wouldn't be on the map.
You were burning more than 5,000 calories a day. What did you eat to compensate for that level of exertion?
I ate as much as I could, any time. Calories, you know? Primarily it was a fat and protein breakfast—eggs, French toast, yogurt and granola. We mixed it up so I didn't get sick of the same food. For dinner, it was anything from steak strips to a can full of peaches. Chicken tenders. Ribs. Left over pasta from the night before. A lot of ice cream at night, just to throw some calories in me, and maybe a couple of cold beers before bed—always good after a 50-mile run.  
How did a typical day unfold?
We'd wake up before daylight. I'd prick my finger and take some blood, then give a urine sample. My crew would have breakfast ready, and I'd grab some coffee. Then I'd get my gear together and be out the door by sunrise. I'd run 50 miles in just under ten hours, power shower, ice my shins, and start eating till I couldn't eat any more. Meanwhile, the crew were shopping, gassing up, dumping the RV and all that kind of thing, which gets nuts. The runner has the easiest job.
Where did you sleep at night?
We had a 28-foot RV. I got the master bedroom.
What were the toughest moments of the run?
The most discouraging thing was getting lost. In Nevada, I went the wrong way a couple of times. It's frustrating knowing that you have 1,500 miles to go and you're running five miles in the wrong direction. But you take it one day at a time.
How did you occupy your mind?
Music. If you put jam bands on satellite radio, that's me. Grateful Dead. Widespread Panic. Upbeat tempo kind of stuff.
Any interesting encounters along the way?
A moose hit one of the RVs right near Park City. 
What about human encounters?
One of the coolest things was staying on people's farms in Nebraska every night. One guy dropped off a bag full of New York steaks and a bunch of fresh-made burgers from his farm. They were super good. In the evenings, people would stop by, and they're like "Wow, you're running how many miles?" We'd give them hats and t-shirts, and they'd wear them the next day. Every day, you come across these people, and it keeps you a little more motivated to get up the next morning.
On the final day, you ran 105 miles, about twice your typical distance. Were you in a hurry to finish?
If I was in a hurry, I would have finished two days earlier, believe it or not. The whole thing about the 100 is that it's my signature distance. So why not throw down 100 on the last day? My legs were on autopilot. I'm not going to say it wasn't hard, but I felt the same on mile 20 as I did on mile 99. 
The Pony Express was all about delivering messages. Is there a message you hope to deliver via the Human Express?
Just that if you put your mind to it, you can do anything. People are blown away, but they don't really understand what you're doing sometimes. Doing something like this is just a mind game. If you keep moving forward, you'll get there.
So it was a satisfying experience for you.
It's like living in a dream world. I'm a professional athlete. I get to go run for 40 days across the country. People called me the modern-day Forrest Gump. That's fine. I'd say I was a little faster than Forrest.

Trending on Outside Online