Kilian Jornet Has a New Book on His Epic Everest Quest
In 'Above the Clouds,' the world's greatest ultrarunner recounts the lifelong effort that led him to the tallest mountain on earth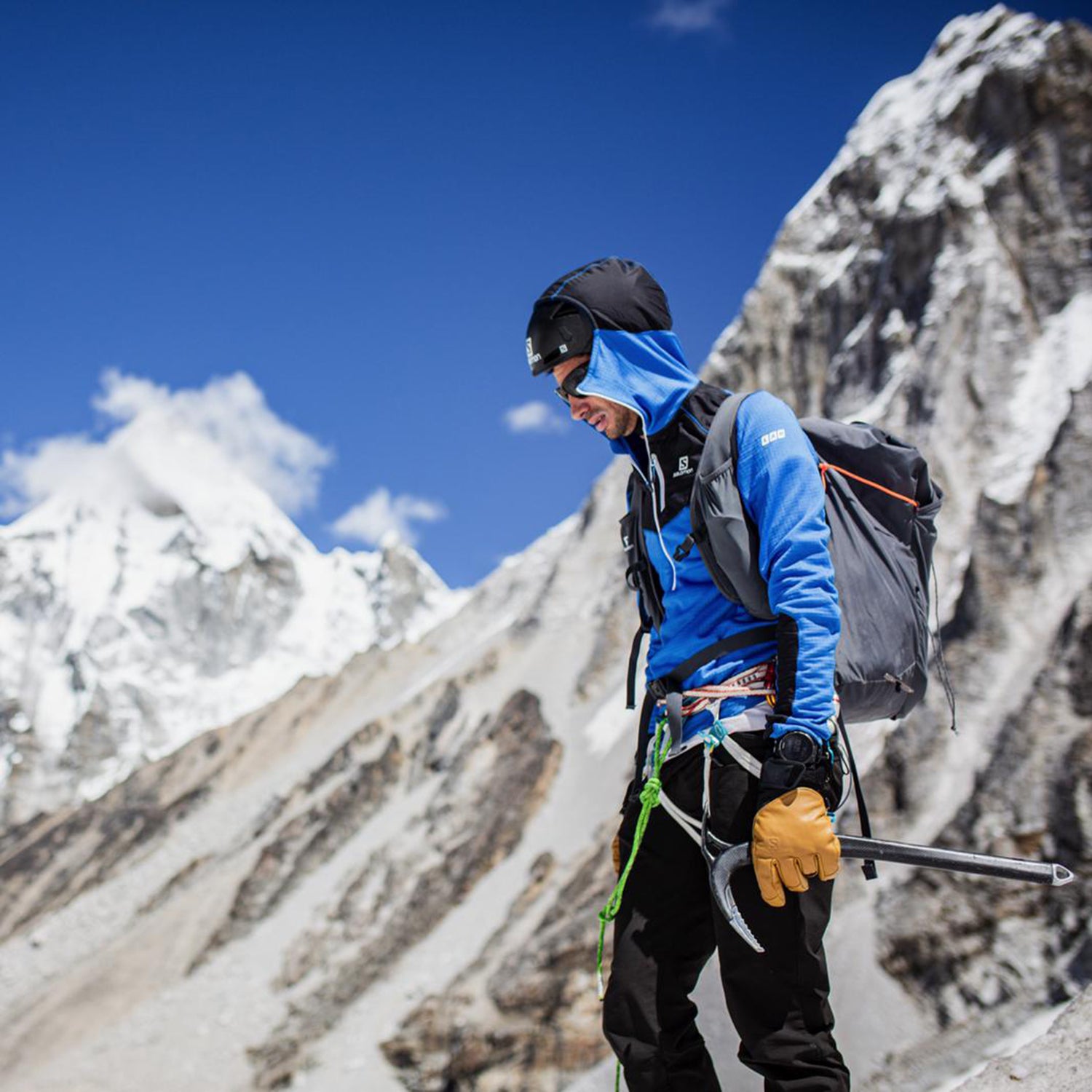 Philip Reiter(Photo)
Heading out the door? Read this article on the new Outside+ app available now on iOS devices for members! Download the app.
In 2017, when Kilian Jornet summited Everest twice in one week, the news emerged to widespread confusion. He did what? It took him how long? The details were fuzzy at first, but more specifics emerged in the weeks that followed: yep, he'd climbed it twice. (Though not without some controversy.) Round trip from Base Camp. Without Sherpas or supplemental oxygen. His first ascent took place on May 20, and because he'd had stomach problems on the initial climb and believed he could "do it better," he made a second ascent on May 27. Did we mention he had also climbed 26,864-foot Cho Oyu two weeks earlier?
The accomplishments seemed not only improbable but impossible. You don't need to know much about the world's tallest mountain or high-altitude physiology to appreciate how difficult—and occasionally deadly—climbing above 8,000 meters can be, even with canned oxygen and lots of help. I'd written a book in 2008 about the mountain and never heard of anything like what Jornet had done—not by guides, veteran mountaineers, or even Sherpas, whose ability in the high mountains was legendary.
Jornet, 32, writes about his Everest experience, and more, in his new memoir, Above the Clouds, which came out last month. You come away from the book realizing that the Spaniard is less a runner—the sport that made him famous—than a climber, though one of unusual pedigree.
Jornet's forte is "continuous movement over technical terrain," as he puts it, and through the years he has parlayed that into his own unique brand of physical performance. Jornet is competent, even exceptional, on steep rock and ice, but those kinds of routes don't jibe as well with his type of uphill endurance. Traditional mountaineering, by comparison, with its tedious acclimatization schedule and plodding pace, is boring and insufferable. 
His preference is something in between: dashing over summits, whether in running shoes, crampons, or on skis, often linking multiple peaks and ridges, as quickly and efficiently as he can. When he began visiting the Himalayas, in 2013, he wanted to "climb like we do in the Alps," by which he means bolting to the top and back in a single push, light and fast, from a base camp or village. To pull this off on the biggest mountains on earth is the fullest expression of his craft.
"What made me fall in love with traversing mountains at high speed is the synergy that emerges between the body's movement and the shapes of nature," he writes, "the feeling it gives me of being naked and inconsequential, unrestrained. It brings me freedom and connection, something I can't find if I go to the mountains any other way."
Above The Clouds adheres to a loose chronology of Jornet's life. However, like a long, winding mountain trail, the narrative dips and wends through flashbacks and flash-forwards with little warning. Jornet stans won't find much that is new. We hear about his early childhood living in a mountain hut in the Pyrenees, his shy and withdrawn adolescence, his enrollment as a tortured teen in the Centro de Tecnificación de Esquí de Montaña—a Spanish academy for aspiring ski-mountaineering racers. What does emerge with renewed clarity, though, is the depth and degree of his development as a mountain athlete. 
Without question, Jornet is genetically gifted—OK, fine, he's from another planet—but it's the sheer volume and continuity of his training since grade school that may be the secret sauce behind his ability. By his mid-twenties, he was trouncing everyone in sight, winning and setting course records at some of the most grueling endurance events on earth, including the Hardrock 100, UTMB, Sierra Zinal, and Pierra Menta.
For all his preternatural ability, Jornet seems to feel almost guilty about his talents. He doesn't like the spotlight success has turned on him, and he wrestles with the meaning and value of competition, fame, and public exposure. Racing pays the bills and keeps his sponsors satisfied, but he's happiest alone, tackling some epic enchainment near his home in Romsdal, Norway, or bringing his skills and experience to 8,000-meter peaks in the Himalayas. Above the Clouds is at its best when Jornet is working to articulate this paradoxical relationship: "For me, running is easy, and doing it fast is too," he writes. "Winning, on the other hand, is harder and demands many hours of training and effort. But without wanting to seem arrogant, winning has also become relatively easy for me over the years. In the end, I do virtually nothing else all day, and I hardly think about anything else either. … I accept that, inwardly, running is everything to me. On the other hand, outwardly I've come to terms with the fact that it's pointless."
Despite these philosophical high notes, the book can be a frustrating read at times. I found myself craving more—much more—granular detail about his daily life, his training and recovery, his personal relationships and inner demons. Where does nearly three decades of unwavering motivation come from? How does he avoid injury and overtraining? We hear very little about his romantic partnership with elite skyrunner and ski-mountaineering racer Emelie Forsberg, and even less about his blood relatives. His father, Eduardo, a mountain guide who divorced his mother, Nuria, and left the family when Jornet was a boy, is barely mentioned. Close friends who he lost to the mountains, including Ueli Steck and Jornet's skimo mentor and hero Stephane Brosse, are treated respectfully but briefly. We sense how profound these people are to him, but are allowed only a glimpse of their role in his life and growth and as an athlete.
As the title suggests, Above the Clouds is about Jornet's lifelong journey to rise above the fray, not just as an elite competitor but as an individual trying to find his moral bearing in a world that pulls him in other directions. On this topic, Jornet is impressively astute. "An athlete is an athlete twenty-four hours a day and, on top of training, has to live 'authentically' and have a 'take' on everything," he writes. "And since he's no longer just talking to four freaks who understand him—the audience is no longer a minority but global—everything he says must be straightforward and simplified, to quickly catch the attention of a public that consumes information at the speed of a machine gun firing a round of bullets. … We do it to 'reach' people, but then we realize that by trying to reach everyone else, there's one detail we've neglected: we can no longer reach ourselves."
Above the Clouds is entertaining and engaging, but I wish he had written it for the four freaks who understand him rather than the adoring worldwide fan base that devours his Instagram feed. As one of the most fascinating athletes on earth, one who repeatedly surprises us with outrageous feats of speed and endurance like his solo Everest double, he could never bore us with what might seem like the trivial minutiae of his life. Until that book arrives, we'll have to be content with a breezy survey of his youth, some gripping (but thin) accounts of near-catastrophe in the mountains, and a few broad conclusions about his place in the brave new world of influencer-athletes.
Lead Photo: Philip Reiter
Trending on Outside Online