On Living Without Money
Ben Hewitt talks about his new book, Saved, and the challenges of learning to live the cashless dream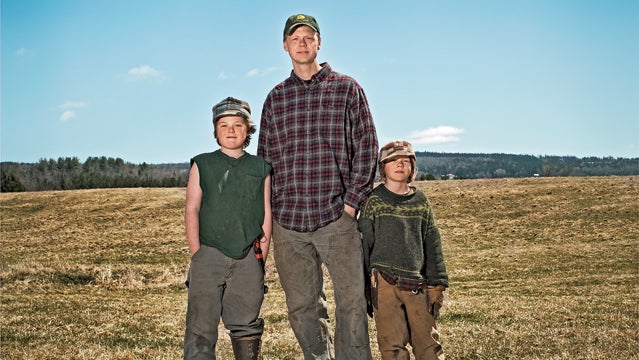 Jesse Burke
Heading out the door? Read this article on the new Outside+ app available now on iOS devices for members! Download the app.
Ben Hewitt made his name writing paeans to rural food systems and the iconoclasts who create them. Now, in Saved: How I Quit Worrying About Money and Became the Richest Guy in the World ($25), Hewitt covers his efforts to step away from the American financial machine, with the help of a 28-year-old wilderness-skills tutor named Erik Gillard, who survives on a four-digit income, lives in a handmade shack, and wears "McEnroe-era tennis shoes," Hewitt writes. ­Occasionally, Gillard is heavier on platitudes than depth, but he's a fun guy, and so is Hewitt.
Outside: When did you realize Erik might be onto something?
HEWITT: One thing that ­interested me was his enviable lifestyle. He surrounds himself with people and things he loves. He has time for his friends. There are a lot of potlucks, a lot of singing.
How does he get away with it?
He found ways to meet his needs outside the money system. He doesn't earn enough to pay taxes.
Your title is Saved. Was there a moment when you felt saved by Erik?
I can't point to an epiphany, but processing my experiences has been transformative. Erik is the most innately generous person I've ever met. We went mushrooming for morels. Now, mushroomers are generally a secretive lot, but Erik took me to the best spots. To him these are things to be shared. When you get stuff for free or because of the abundance of nature, it's such a rush. Who doesn't like being able to forage a meal? That's free food!
You now barter beef and ­chickens with your neighbors and try to source your meals from the wilderness. Any tips for those of us who might not live in the sticks?
I highly recommend dumpster ­diving at colleges the day after the semester ends. Wear gloves. The amount of stuff frat boys throw away is unbelievable.
Do you ever think you might be romanticizing Erik?
I do, but I try not to let him off the hook and to look at some of his contradictions. I've been privy to enough of his personal quandaries to see that his contentment is real. More than anyone I've met, he's in control of his time.
You refer to the financial system as the "unconscious economy," but you must hope some never quit it.
I need people to consume enough to buy my books or I'm screwed.