A Look At Our (Sometimes Deadly) Obsession with Dolphins
Famed marine expert and non-fiction author Susan Casey takes us on a deep dive into humanity's complex connection to dolphins.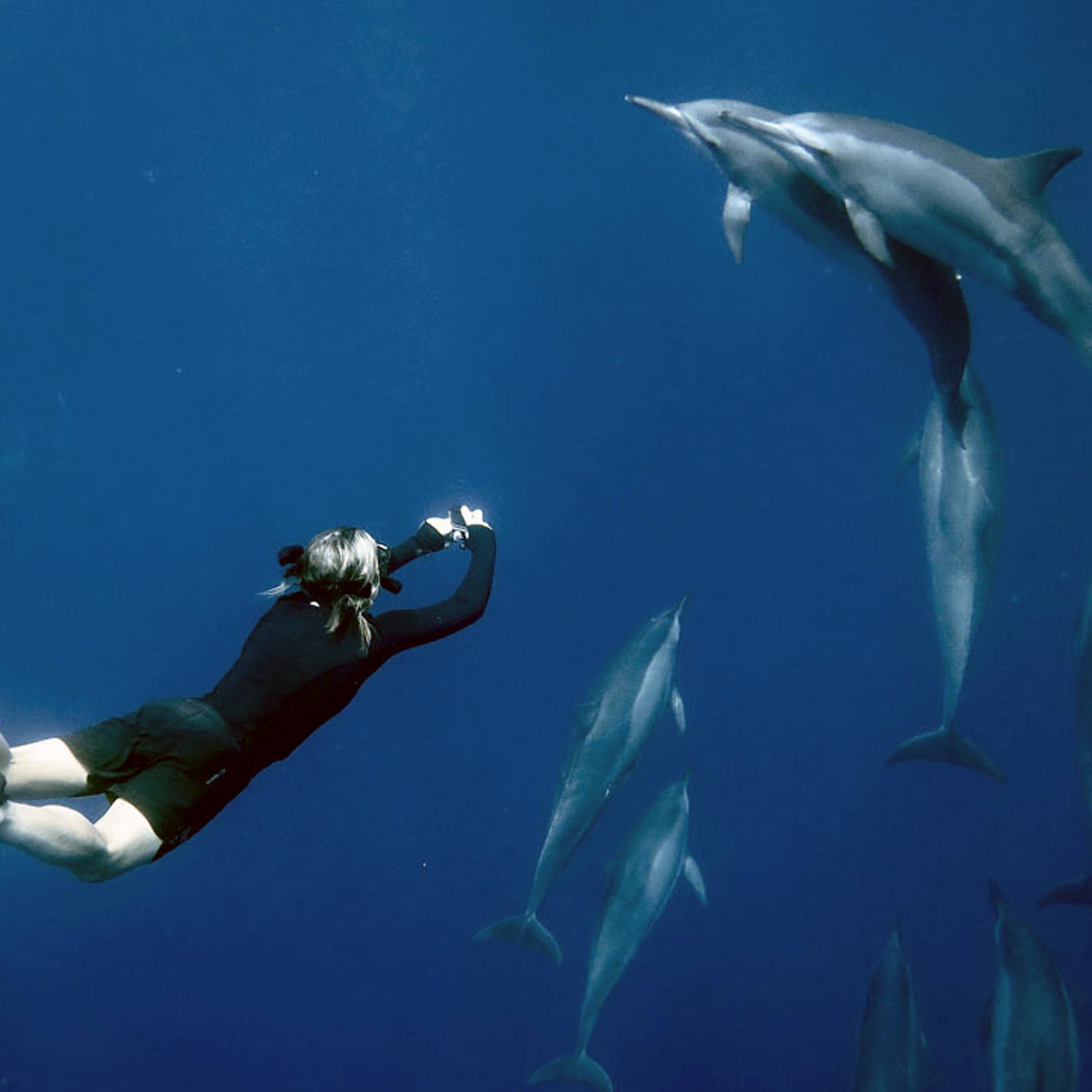 Courtesy of Susan Casey(Photo)
Heading out the door? Read this article on the new Outside+ app available now on iOS devices for members! Download the app.
Five years ago, while swimming in Honolua Bay off the northwest coast of Maui, writer Susan Casey had what she considers a supernatural interaction with a pod of about 50 spinner dolphins. The animals swirled around her, leaping, playing, diving, and effectively coaxed Casey out of a two-year-long period of mourning over the death of her father. That event jarred something loose in Casey and inspired her latest non-fiction book, Voices in the Ocean: A Journey into the Wild and Haunting World of Dolphins, due out August 4.
"They materialized like ghosts, shimmering in the ether," Casey writes in Voices in the Ocean. As if sensing her sadness, one of the largest spinners, an eight-foot-long male with banded black eyes, looked at her in a way that Casey describes as "a profound, cross-species greeting."
In the hands of a different writer, this moment might have come off as a hackneyed foray into yet another glamorized depiction of our favorite sea mammals. But Casey, author of the New York Times bestsellers The Devil's Teeth: A True Story of Obsession and Survival Among America's Great White Sharks, The Wave: In Pursuit of the Rogues, Freaks, and Giants of the Ocean, and former editor-in-chief of O, The Oprah Magazine, quickly eviscerates that premise, launching into a meticulously reported global odyssey during which she sets out to answer the simple question: why do dolphins elicit such intense emotions and behaviors in humans? 
After five years of researching that question, Casey has the beginnings of an answer. "Wherever you find dolphins, you find extreme human behavior, both bright lights and dark shadows," she says from her home on Maui. 
To explore this dichotomy Casey swims alongside cetaceans off the coast of the Big Island with members of a community known as "Dolphinville," partakes in protests that turn ugly in the infamous town of Taiji, Japan, visits the site of a mass dolphin slaughter in the Solomon Islands, and tours captive dolphin sites in the Dominican Republic and Canada. She also pores over tomes of dolphin (aka toothed whale) research, interviews the world's leading cetacean scientists and, quite literally, dives into ancient Greek history off the coast of Santorini.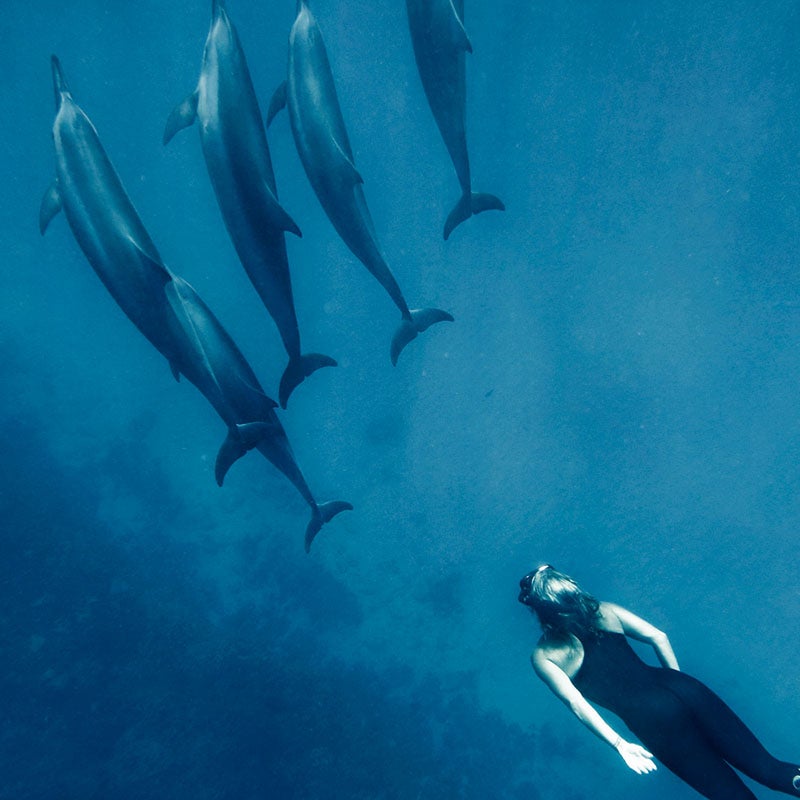 Fans of Casey's writing know that she has an inexhaustible curiosity and a knack for fully embracing her subject. Reading The Wave felt like the page-turning equivalent of surfing a monster face. So it only makes sense that Casey wanted Voices in the Ocean to feel like what she describes as a "fascinating, kaleidoscopic, magic carpet tour through the universe of dolphins."
But as anyone who has seen The Cove or Blackfish knows, it's not always a shiny, happy, rainbow-hued universe. Casey takes us to its darkest places, like the Solomon Islands, where, in 2013, villagers on a remote island killed nearly 1,000 dolphins in a single day. Casey's reporting, which she conducted while living in Manhattan and heading up Oprah's print empire, required her to undertake some sketchy adventures, like riding for hours in the South Pacific in a 12-foot-long steel rowboat with no radio, no GPS, no shade, and no lifejackets during a raging squall. 
"I have this weird thing when I'm reporting, where I just don't care if I'm in danger," Casey says. "It's like I'm a different person and I'll go anywhere and do anything to get the story." We're never quite sure where Casey's investigation will take us next—it could be to a sad waterpark in Niagara Falls where captive dolphins listlessly bob, or to the Utah desert where the world's foremost dolphin-brain expert, Lori Marino, happens to reside in the country's largest no-kill animal sanctuary. 
Casey isn't afraid to disseminate the uncomfortable realities about dolphin captivity, slaughter, and contamination, sometimes crossing the line from objective journalism to advocacy. And while she had no intention of writing an academic treatise, Casey isn't afraid to delve into the complex 55 million-year-old evolution of the cetacean brain.
"That was the biggest challenge of the book," Casey says. "There's so much intriguing science and I had to distill it into the equivalent of a shot glass."
Yet the selected science goes a long way in unraveling the mystery Casey set out to solve—why we feel a profound connection to this species. Who knew that dolphin brains have the capacity to understand the concept of a communal self? These types of evolutions allow Casey to maintain a hopeful tone throughout the book, always returning to her premise that once we stop destroying them, these brainy creatures have much to teach us.
"What I hope we will do is take all this knowledge and put it into a wisdom framework," says Casey. "That's my challenge to everybody: What's our evolution? Can we take the things we've learned and do the right thing? That's where the hope comes in."
Lead Photo: Courtesy of Susan Casey