Mike Rowe, Working-Class Hero
As the wisecracking host of the hit series Dirty Jobs, Mike Rowe frolics in mud and trades in gross-out humor. But what started out as a gag has become a movement that's empowering Americans to rediscover our love of hard work—just when we need it most.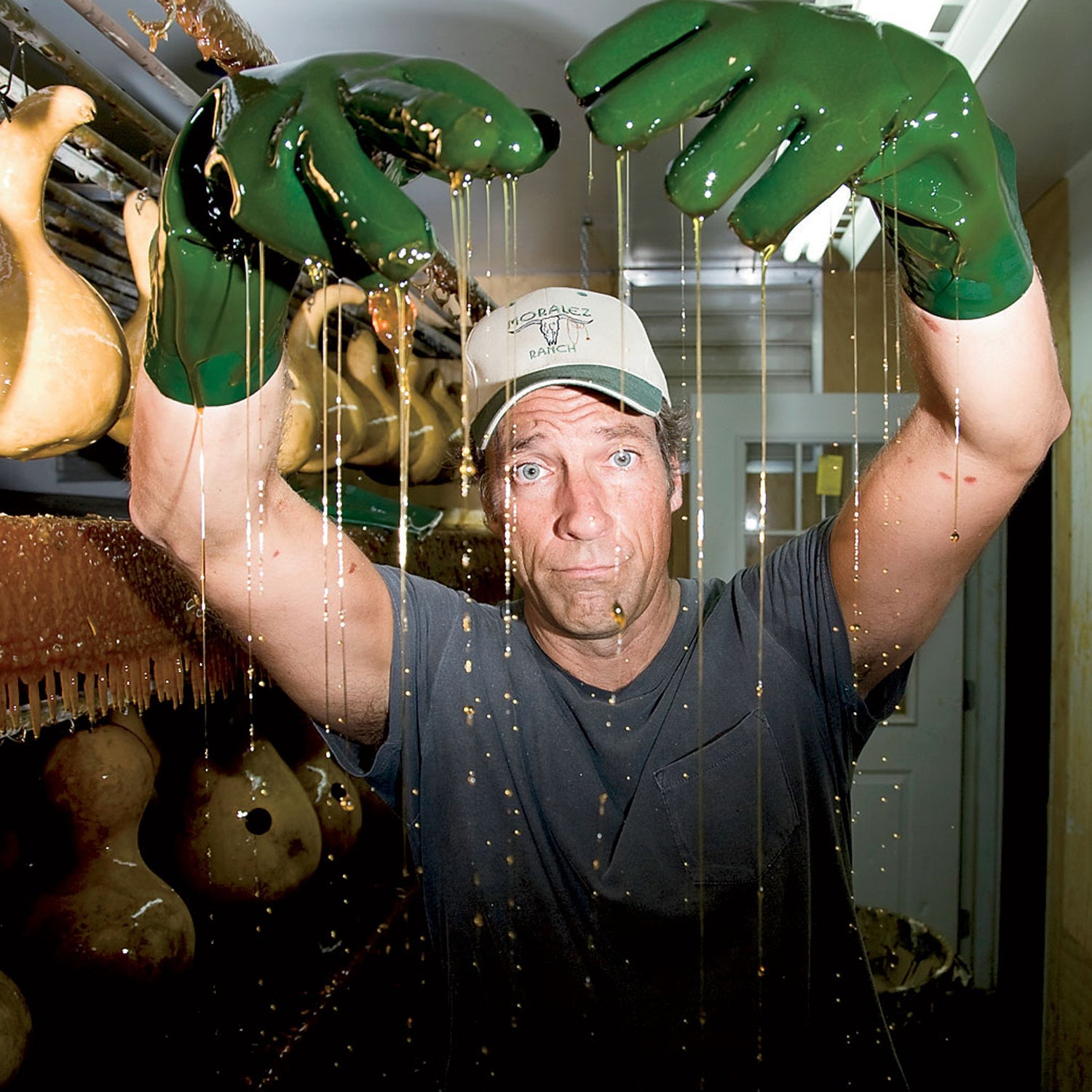 Heading out the door? Read this article on the new Outside+ app available now on iOS devices for members! Download the app.
Mike Rowe's got a mug. It's a loose but functioning alliance of deep crags, laugh lines, strong jaw, and cleft chin. The same face that sold Ted Danson as an ex-Red Sox pitcher on Cheers—a jockish parody of handsome.
He's not exactly tall, maybe five-eleven, but he's broad, meaty—a frame to match that oaky baritone he honed in the opera. Since I know him only as the grime-covered host of Dirty Jobs, I found it jarring to learn that Rowe once worked as a professional opera singer. But when I meet him face-to-mug on a warm afternoon at Grumpy's, the San Francisco bar where he first conceived his show, I get it. The guy's got presence that can reach the cheap seats.
That approachable swagger is one big reason Dirty Jobs, now entering its fifth season, has become an institution on the Discovery Channel, where, thanks to repeats of repeats, it aired some 800 times last year. Each episode—he just wrapped his 200th—begins with a montage of Rowe awash in stink: garbage, grease, sewage, solvents. After setting the scene for the new gig, he interviews the plant manager/goat castrator/boiler cleaner, then jumps enthusiastically into the muck to try the work for himself. Sometimes he succeeds; other times he fails. If he or his cameramen vomit or make a fart joke along the way, all the better.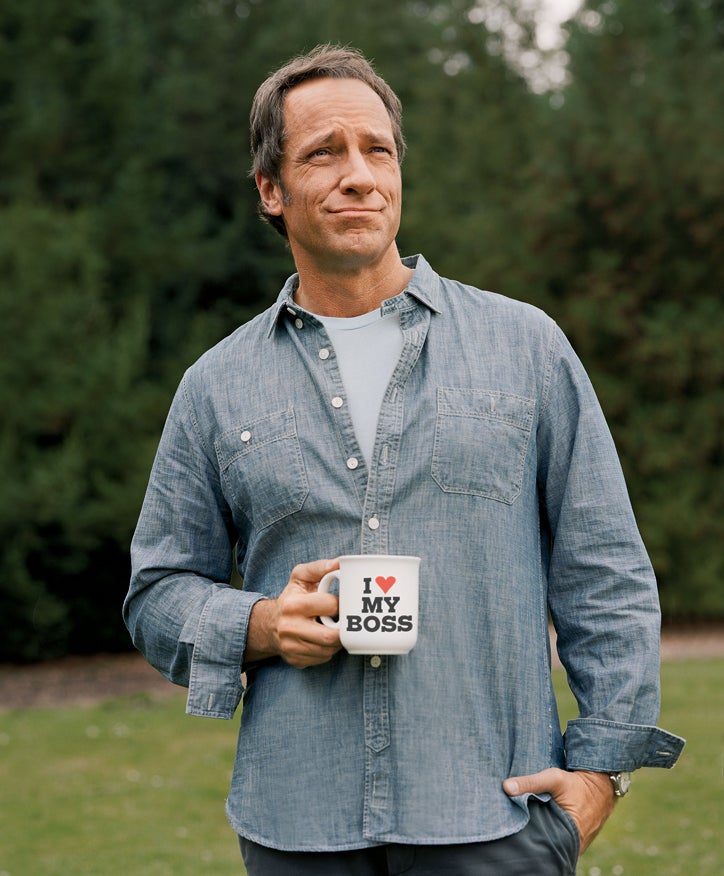 OK, it's not surprising that a charismatic dude telling locker room jokes works on TV. Here's what is, though: Dirty Jobs has become more than a basic-cable hit—it is, in fact, a movement to redefine the concept of work in this country, with Rowe as spokesman and organizing force. With millions laid off and millions more panicking that they might be next, we're looking for honest answers about where we go from here. Rowe has one: Roll up your sleeves and get dirty. He frequently talks to colleges, unions, and military panels about employment in the trades. Last fall, The Wall Street Journal called for his take on why unemployment is rising while the trades can't find enough workers.
"How can those two things exist in the same space?" he says, sipping a pint of Guinness while wearing jeans, a gray work shirt, and a hat that reads POO PAYS. "How is it that people don't want work that pays $50 an hour and keeps them happy all day long?"
Understand: Rowe, 47, is a natural clown and schemer who spent almost 20 years of his adult life avoiding any work that would tie him down for more than six months. "I Forrest Gump'd my way through most of my career" is how he describes it. That people started taking him seriously—life-advice seriously—caught him completely off guard. "Jay Leno introduced me as a 'hero to the working class,'" he says, describing an appearance on The Tonight Show last year. "I nearly fell over backstage. I thought, My God, if that's what's going on, the hero standard has fallen precipitously in that category."
More recently, a social anthropologist called Rowe to suggest that Dirty Jobs is becoming an important oral history. "He says, 'You have 200 experiences with the exact people that Hillary Clinton was trying to connect with as those drops of rye dribbled down her chin in Ohio,'" Rowe recalls. "'You're not of them, and yet they've wrapped you up and pointed to you.'"
So now something truly unexpected is happening to Mike Rowe: He's taking himself seriously.
Well, sometimes.
---
Funny thing about Rowe (and there are many): He's "profoundly incompetent" at skilled labor. This was embarrassing for him as a kid. He grew up in the rural outskirts of Baltimore, and his paternal grandfather, who lived next door, was a formative presence—a master carpenter, plumber, and electrician who built the house where Rowe grew up. "My dad was his apprentice, essentially," Rowe says. "Between the two of them, they would fix anything in the neighborhood. They would wake up clean and come home dirty, and some problem had been solved. But I missed that gene. So by the time I got old enough to think about how I was going to make a living, I decided to go as far from that as I could."
That meant English and communication degrees from two local colleges, then dreams of acting. A search for a back door into the Screen Actors Guild led Rowe to try out for the Baltimore City Opera in 1984. He memorized the shortest aria he could, crashed an audition, and got in. He ended up staying for five years—though not for the artistic thrill. "I'm one of two straight, unmarried guys in a troupe with 35 women," he explains. "I'm 23, dressed as a pirate, all the girls are dressed like French prostitutes, and there's Wagner and Verdi and Puccini playing. It was a hell of a thing."
He finally left in 1989, when a bartender bet him that he couldn't pass an audition for the shopping network QVC. He was hired on the spot as the midnight-to-three host, then fired three months later when cameras cut to him humiliating a collectible nun doll. (He swears he was looking for the winder.) "I was hired and fired from there a few times," he boasts. "And the reason I kept coming back, even though I was in constant trouble, was that it was an extraordinary training ground. Live TV, no script, three hours a night. By the time I left for good, in '93, I had a trade."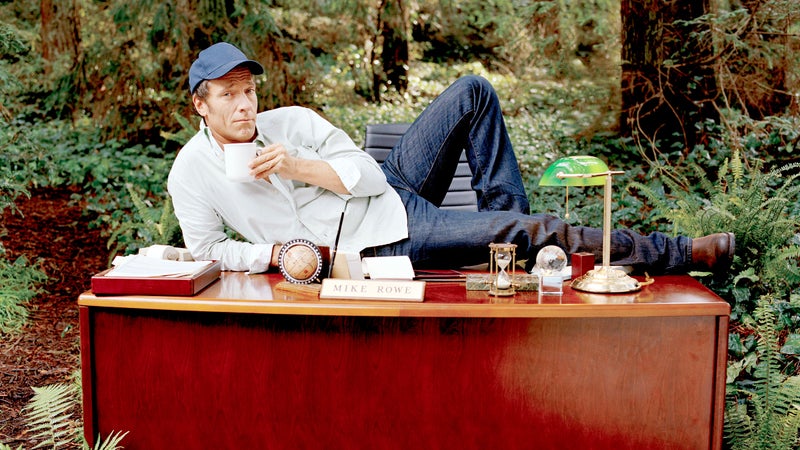 A freelance trade was exactly what Rowe needed if he was going to follow his career model, Travis McGee, the fictional hero of novelist John D. MacDonald's long-running series. McGee is a private detective who works only when necessary, then spends the rest of his time traveling on his houseboat until the money runs out. Rowe discovered the books when he was 18 and has spent most of the time since then trying to carve out a life based on the same philosophical underpinnings: work as an adventurous means to an end. "McGee was an advocate of taking his retirement early and in installments," Rowe says. "I thought, Wouldn't it be interesting if I could take that model and apply it to freelance work in television?"
In the decade between his final QVC firing and the start of Dirty Jobs, Rowe hosted a regional real estate show, a failed Discovery Channel program called Romantic Escapes, local shows in San Francisco, even in-flight travel videos for American Airlines. The jobs kept him home for weeks, sometimes months, then he'd meet up with an evolving group of mostly Australian friends and travel the world—often on the first-class, free-to-anywhere card that he had secretly hung on to after the American Airlines job ended.
In 2003, he tried to turn his wanderlust into another job with Discovery. "I wanted to go to Everest, the Titanic. I had about 30 places I wanted to make shows out of," he recalls. Discovery said yes. But first they wanted a simpler, short-run show to reintroduce him to viewers. So after a brainstorming session at Grumpy's, he pitched them Dirty Jobs. "They were like 'Eh, it's a talk show in a sewer,' " he says, "but we got it on the air, and people watched. They asked for three more episodes. I said, 'No. Titanic.' And they said, 'Just three more.' We did them, and the show blew up."
---
The beers have been flowing for a while now, and the evening crowd has started to fill the bar. I ask Rowe to expand on something he wrote last year in the business magazine Fast Company: "Never follow your passion, but by all means bring it with you."
"'Follow your passion' is the worst advice you can give someone," he says. "Exhibit A: our 200 dirty jobs—Rene the fish gutter, or the guy who makes flowerpots out of cow shit. Once they found a thing they could make a living from, they figured out how to get great at it and how to love it. If you bring your passion with you, you can apply it to anything that makes sense. If you follow it, you're going to be miserable until X, Y, Z happens, which might be never."
A better example is Rowe himself. He's gone from the guy who stayed in the opera just to get laid to the QVC host who sold lava lamps at midnight because it beat real work to discovering that he was a great TV host, and now to people calling him a hero. "Had I followed my passion, had I ever even bothered to define what that was," he says, "this never would have worked out."
[quote]"'Follow your passion' is the worst advice you can give someone," Rowe says. "Had I ever even bothered to define what that was, this never would have worked out."[/quote]
About a year ago, after his appearance on Leno, Rowe took his first two-week vacation since Dirty Jobs started, holing up at a spa in Napa Valley with his longtime girlfriend, Sandy—an executive at a data-management company—and a case of wine. The bookshelf in their room came with a copy of Working, Studs Terkel's 1974 celebration of laborers.
"The girl read me a few chapters in the hot tub," Rowe says, "and the next morning I wound up picking grapes with some good-natured Mexicans. The symmetry struck me as significant. I canceled the next shoot, and by the end of the second week I'd finished the wine and formed a plan."
That plan became MikeRoweWorks.com, a self-funded website that Rowe calls "an apologetics for the trade and the infrastructure." Launching in full this summer, the site is a robust and growing collection of information on vocational schools, trade associations, job resources, and skilled labor in general. "What I'm hoping to do mainly is say that we can't keep associating drudgery with these kinds of jobs," he says. "It's a place where parents can go with their kids, who, like me in high school, have no idea what they're going to do, and say, 'Hey, before I give you 140 grand for that art-history degree, let's just check some other things.' Look, Obama doesn't want to create four million lawyers or investment bankers or actuarial accountants or, sorry, writers. That's nobot where the action is right now."
Rowe then slides a two-page document across the table and asks if I'll edit it for him. It's a letter to Barack Obama. (Note to the president: My apologies for any errors in spelling, grammar, or taste. I was four beers deep.) In it, he offers his site as a means of connecting people to the jobs at the heart of Obama's economic-stimulus package—a "call to arms" for skilled labor. "He wants to create jobs that are shovel ready," Rowe says, thumping his finger on the table for emphasis. "These are the exact jobs. He needs a PR campaign. Work needs a PR campaign."
We walk over to the studio where Rowe records voice-overs for the show, then to a quieter bar for several last drinks. There, an attractive, thirty-something blonde in business attire sheepishly approaches to say that her father is a construction worker and that they both love Dirty Jobs. No autographs, no photos. Just a thank-you. "Thanks," Rowe responds. "I'm just doing what I can." He turns back to me and shrugs, slightly embarrassed.
"You fell ass-backward into meaning, didn't you?" I suggest.
"Honest to God. You said it, not me. But yeah."