Mountainfilm 2010: Artist Alex Beard on the Environment
Heading out the door? Read this article on the new Outside+ app available now on iOS devices for members! Download the app.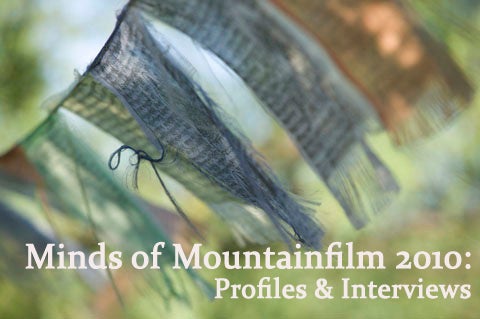 Over the coming months, Outside will be posting interviews with adventurers, environmentalists, filmmakers, and others conducted by Mountainfilm. Many of the icons appearing at this year's festival have been featured in the pages of Outside. For more information on this year's festival, which begins on May 28, please check out Mountainfilm's Web Site.
Alex Beard believes that art is a medium that should be accessible to everyone. It certainly was for him, growing up in a family where his uncle was the famed wildlife photographer and legendary character Peter Beard. While that heritage has certainly influenced Beard's paintings, he has also found a very distinct voice of his own, interpreting the natural world in a unique and abstract way.
Many of his pieces feature intricate and colorful representations of animals, and this year, his elaborate piece "Endangered Species List" was used to create the official Mountainfilm poster, which will be revealed in May.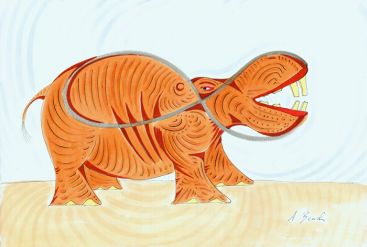 We caught up with Beard to learn more about his views on the connection between art and creating awareness for the pressing issues we face today. Straight and to the point, Beard believes that every individual does in fact have an impact and that we should all be more conscious of our everyday actions, no matter how big or small.
Philanthropy and social and cultural awareness runs in your family. What cause are you personally most passionate about and what collective action needs to be taken to address it?
I am most passionate about preserving the flora and fauna of our natural surroundings. Collectively, our goal should be simple: Recognize that the world is changing, and that it is our fault. Stop pointing fingers, and start doing the little things. Turn off the the lights when you leave the room. Recycle. Buy an efficient automobile. Plant trees. We all know what to do, the trick is instilling the desire to do so.
How do you see media – be it film, photography, art, etc. – serving as a catalyst for positive change?
Media is a tool best used to raise awareness in as dramatic a way as possible. Show the beauty of nature and how we are a part of it, but make it clear that every time we do something to damage our surroundings, we are hurting ourselves. Try to make the global crisis personal to each individual, so that we understand that if we slice into Nature deeply enough, we will bleed out ourselves.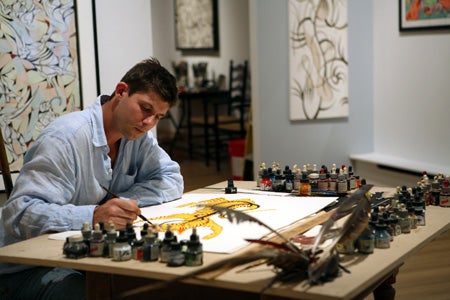 You depict the natural world and, especially, the animal kingdom in much of your work. What, if any, is the particular meaning underlying that thematic choice?
I am a strong believer that there is a commonality to the way things in nature move, and to the way we perceive ourselves in relationship to our surroundings. I tend to ask myself the following question: Why is the spiral in a sea shell the same as the swirl of our entire galaxy? The animal kingdom helps me to show how the inhabitants of our world reflect the inter-connectedness of all things. Of course, I also like animals, and have had some of my most wonderful experiences in their midst. Painting makes me happy, so it is a logical connection to render the things I am most comfortable with in the media which gives me the greatest pleasure.
What can ordinary people who don't have a public platform do to meaningfully impact the kinds of global crises we face today such as climate change and species extinction?
Clean up after yourself. Be responsible for your own actions.
How do you think this year's Mountainfilm theme of species extinction plays into a larger discussion of our society and our future?
The more we talk about the impending extinction of many of the world's species, the better. As far as our society and our future is concerned, recognize that there is no future if we completely remove ourselves from Nature. The more we destroy, the farther we get from a civilization in balance. Ultimately, remember the following thing: We are not destroying the Earth. At the end of the day, we are destroying our ability to live on it in harmony with each other and the species who surround us. Lose that balance completely, and Mother Earth will take care of the problem herself, much to our detriment.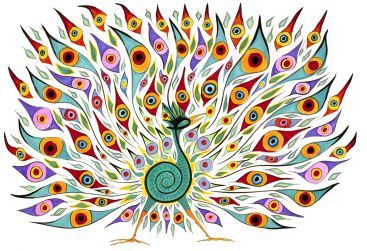 What does the loss of biodiversity mean for the world's human population?
That's a tricky one, as the world's human overpopulation is the cause of the loss of biodiversity. I don't think you can isolate the two, but rather appreciate that the loss of biodiversity adversely affects the world's human population just as the world's human population is adversely affecting the bio-diversity.
What impact, if any, do you think showcase events such as the Mountainfilm festival can have on causes like environmentalism and social justice?
Every little bit matters. Individually, Mountainfilm will not change the world, just as a single drop of rain won't flood the river. However, you put enough rain drops together, and I recommend looking for higher ground.
With a lot of talk going on currently about how to save our world, or pieces of it, what do you think are the conversations most worth sustaining?
The conversations need to be very specifically geared to the individual. Public policy is helpful, but nothing compared to the willingness of individuals to do the little things required to make a difference. To suggest that we change the entire Energy Grid is such a daunting task that most people will put on blinders to avoid the sheer scope of it, but a recommendation to drive a more efficient car or to insulate your attic is palatable, and ultimately will make all the difference. If as individuals, we can see that the little things added together can equal big change, it will help us to see that it is possible to make a positive impact.