Mountainfilm 2010: Photographer Cristina Mittermeier
Heading out the door? Read this article on the new Outside+ app available now on iOS devices for members! Download the app.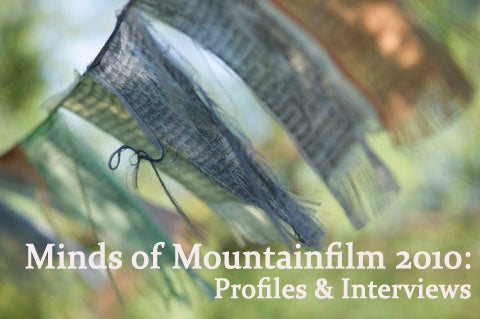 Over the coming months, Outside will be posting interviews with adventurers, environmentalists, filmmakers, and others conducted by Mountainfilm. Many of the icons appearing at this year's festival have been featured in the pages of Outside. For more information on this year's festival, which begins on May 28, please check out Mountainfilm's Web Site.
Armed with a background in marine biology, Cristina Mittermeier turned her focus to images — realizing they were a better tool to tell the story of humans and nature. At the heart of her work, Cristina amplifies the idea that people and nature are not isolated from each other, but are inexorably connected. In 2005, Cristina founded the International League of Conservation Photographers (iLCP) — a prestigious team of photographers who believe that awe-inspiring photography is a powerful force for the environment.
Focusing on the relationship between nature's most spectacular and endangered wildlife and Earth's vanishing traditional human cultures, Cristina and iLCP aim to replace environmental indifference with a new culture of stewardship and passion for our beautiful planet.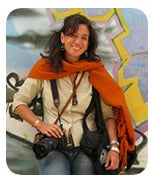 You changed your career path quite radically from a marine biologist/biochemical engineer to a conservation photographer. How did that happen – was there a defining moment at some point that pushed you to redefine yourself or was it a more gradual transformation?
I had always been interested in the communications aspects of conservation, but after having published several articles in the scientific literature, I realized people don't have access to that kind of information and I wanted to find a more expressive way of engaging larger audiences. I stumbled unto photography by accident, when some of my images, snapshots really, were published by a museum. When I saw the impact that those images had on the people who viewed them, I realized that I had found a better storytelling tool for conservation.
How do you see media – be it film, photography, art, etc. – serving as a catalyst for positive change?
As human beings we are hard wired to tell stories. Passing down stories of our common humanity has been key to the development of our societies and today, with the internet and the development of new media, we can move the proverbial "camp fire" to a whole new level. All media are important to telling the story of our planet. People in all levels of society rely on stories to understand and react to the changes in our planet. We have to scale our storytelling efforts to make the stories relevant and urgent.
What, if any, specific media project has most influenced you and your work?
I think National Geographic's Megatrasect project was a "eureka" moment for me. It used the scientist and the photographer as characters and it followed the conservation thread through the whole story. The imagery, the storytelling, the struggle and the triumph created the necessary tension to create change.
Most people can't or won't make as dramatic a shift in their lives as you have but many still feel passionately that they would like to help agent change in the world. What can ordinary people do to meaningfully impact the kinds of global crises we face today such as climate change and species extinction?
The advice I give to my own children applies here. No matter what you do in life, we all can give a conservation purpose to our lives and our work. Being a citizen of the only livable planet in the universe is a privilege and we all need to embrace the protection of our home. In addition, we all have a circle of influence… friends, coworkers, relatives, and we can share with them our values and opinions on issues that matter to us.
How do you think this year's Mountainfilm theme of species extinction plays into a larger discussion of our society and our future?
This being the International Year of Biodiversity AND the year in which the Convention on Biological Diversity (CBD) will review its target to "stop the loss of species by 2010," the theme is remarkably pertinent. The results of the upcoming Conference of the Parties to the CBD will be that most countries have not lived up to their commitment to prevent extinctions. The question we need to send from Mountainfilm to Nagoya is: what are the Parties to the CBD going to do next to prevent extinction?
What does the loss of biodiversity mean for the world's human population?
Biodiversity is the living capital in our planetary bank.  Without biodiversity there would be no ecological services available to us.  For those who do not realize the importance of biological services I recommend trying to survive without clean air or clean water for a few days. Biodiversity is what allows this planet to be alive and if we lose important pieces of this complex puzzle we will end up with an impoverished planet that is incapable of supporting life.
What impact, if any, do you think showcase events such as the Mountainfilm festival can have on causes like environmentalism and social justice?
The importance of these types of events is that they reach new audiences and that they provide information, ideas and tools for people to carry on the message to other audiences. Film and photography festivals have a great effect as multipliers and validators of conservation messages.
With a lot of talk going on currently about how to save our world, or pieces of it, what do you think are the conversations most worth sustaining?
We need to focus on the positive courses of action.  There are a lot of "gloom and doom" and "finger pointing" types of conversations going on and all those do is bring the morale down. Yes, the situation is getting dire BUT we still have time and if we focus on those strategies, projects and individuals who are actually moving the needle, as opposed to just talking about it, we will stand a better chance. There are true heroes out there… they need our support and encouragement.
The work you do brings you face to face with some of the worst perils threatening us and our world. How do you stay motivated and optimistic?
For every element of devastation and sorrow there are also glimmers of hope and success…  choose to focus on those. I am not sure if we will ever win the war to save biodiversity but I intend to go down fighting and to do so with a positive attitude that reflects the great value I place on respecting and protecting the other "citizens of Earth."
What cause are you most passionate about and what collective action needs to be taken to address it?
Several really. I am passionate about the plight of indigenous people and the important role they play to protect biodiversity, languages, culture and landscapes.  These days I am focusing my work on what are known as "biocultural keystones", species that are of great significance to human cultures and that are under threat.
I am also passionate about marine conservation and especially about the plight of sharks.  I would like to dedicate a significant portion of the next ten years to shedding light on some of the threats facing marine biodiversity and on the shark fin trade.