'Tour de France: Unchained' Will Turn You into a Cycling Fan
The new Netflix series is road cycling's best opportunity in decades to expand its audience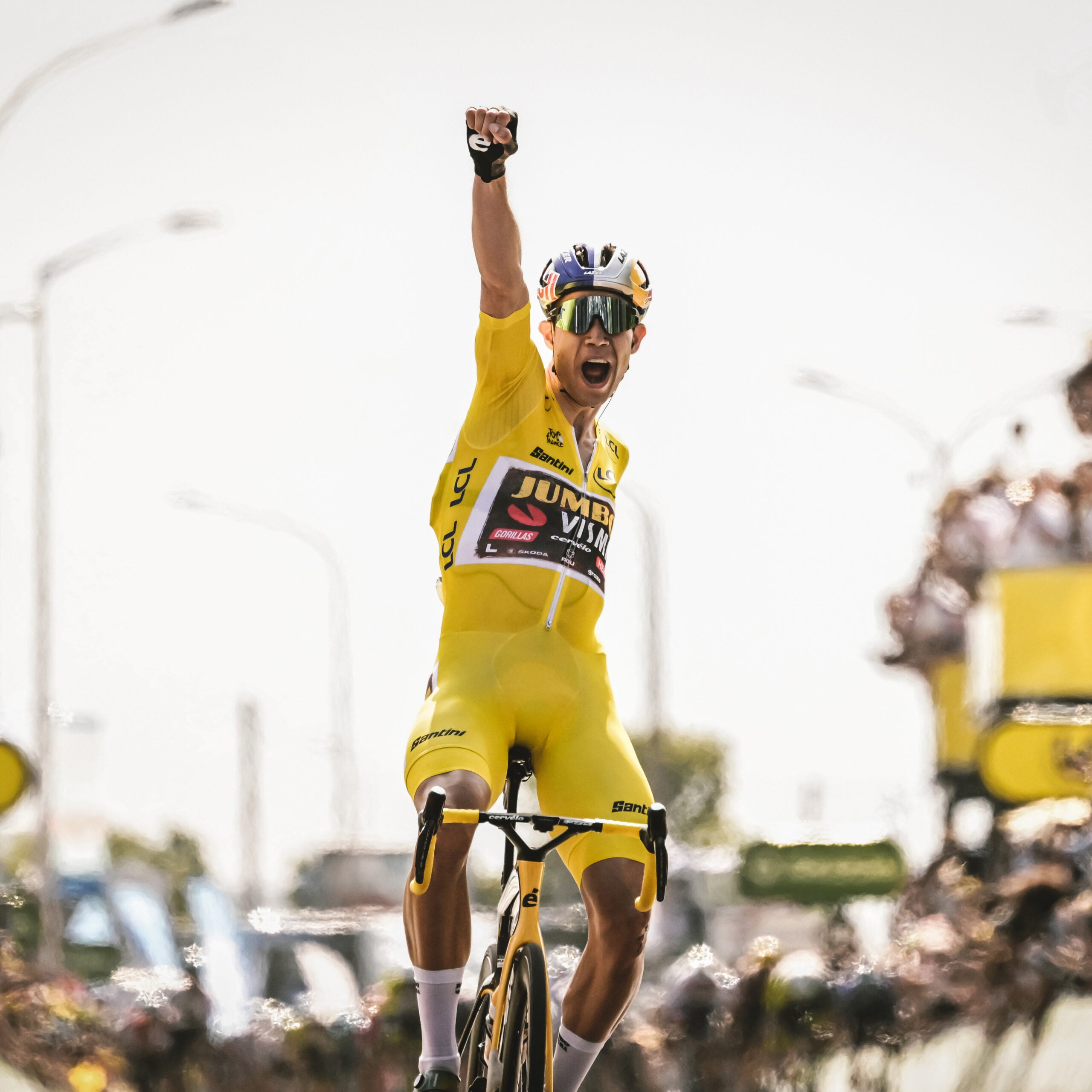 A.S.O./Pauline Ballet
Heading out the door? Read this article on the new Outside+ app available now on iOS devices for members! Download the app.
It's been two decades since road cycling grabbed the collective attention of mainstream America, and those of us who pedaled a bike during the Lance Armstrong era remember our sport's bizarre dalliance with Jane and John Q. Public. Cyclists graced the covers of glossy magazines. Hollywood A-listers dropped by the Tour de France. Dave from accounting bought a shiny Trek and started using words like "peloton" and "echelon" in meetings. Yeah, stuff got weird.
We all know what happened next: Lance's doping confession zapped cycling's growing popularity just as it was nearing a critical mass. After the dust settled, many fans—myself included—assumed road cycling would fade back into niche-sport anonymity for good, never again to be packaged and sold to a broad U.S. audience.
Well, we were wrong. On Thursday, streaming giant Netflix released Tour de France: Unchained, an eight-part cycling docuseries that takes viewers inside the 2022 Tour. I received advanced screeners for Unchained, and I watched each episode multiple times. My takeaway: Unchained is precision crafted to transform mainstream viewers into cycling fans. It's preferential spot on one of the largest media platforms in history makes Unchained road cycling's best opportunity since Lance to reach a broad American audience. Dave from accounting may have to dust off his old Trek.
The wide appeal of Unchained is no accident, of course. The program is the cousin of Netflix's wildly popular auto-racing series Formula 1: Drive to Survive, which has been credited with F1 racing's global surge in visibility. The success of Drive to Survive already spawned Netflix's two sister series: Break Point takes viewers inside professional tennis, and Full Swing shines a spotlight on the professional golf tour. Unchained shares plenty of connective tissue with all three series. It was shot and edited by French production company QuadBox, which is a joint venture between filming firm Quad and Drive to Survive producer BoxtoBox Films (which also produced Break Point and Full Swing). Yann Le Bourbouach, a QuadBox executive producer, told me that his staff had just one goal when they started brainstorming a cycling project back in 2018: "What we tried to achieve in this documentary is to appeal to a broad audience and not the hardcore fan."
"Perhaps it is a bit pedological for the hardcore fans," Le Bourbouach told me. "But I would love for people to see that a victory at the Tour de France occurs because of the work of many."
You can read my interview with Le Bourbouach here.
So, why is Unchained so effective at reaching casual viewers? Like Drive to Survive, Unchained blends human-interest narratives with inside-the-game access that brings the athletes and competition to life. Each episode focuses on a different collection of riders, coaches, and directors at the race, and then explores a familiar hero's tale of adversity, setback, and ultimate triumph. The first episode charts the improbable comeback of Team Soudal—Quick Step's Dutch sprinter Fabio Jakobsen, who starts the 2022 Tour just 22 months after he was nearly killed in a crash at the Tour of Poland. Another episode discusses French cycling's repeated heartbreak (a French rider hasn't won the Tour since 1985) by profiling two Frenchmen: Groupama-FDJ's star-crossed racer Thibaut Pinot and AG2R-Citröen's fanatical director Julien Jurdie. Lots of credit goes to Unchained's producers for choosing the correct riders and directors to train their cameras on before and during the Tour: Danish rider Jonas Vingegaard, the race's ultimate winner, is the focal point of another episode.
These human stories suck audiences in with humor, personality, and heart-tugging anecdotes of personal loss and struggle. Sprinkled amongst these tales is the explainer stuff to help casual viewers understand bike racing's more enigmatic nuances, like drafting, teamwork, and how a rider actually wins the Tour. Rather than bash viewers over the head with clumsy diagrams and oratories on strategy, Unchained presents this information subtly and with care. In episode one, retired French rider Steve Chainel delivers the basics, and after that, it's up to the viewer to pick things up as the series goes along. Want to know about teamwork? A sentence here and a line of dialogue there will tell you what you need to know. Sneeze, and you might miss it.
I found Unchained's interpretation of cycling to be a welcomed salve to the goofy visuals and confusing explainers that pop up each year in the Tour's American telecast. Diagrams may help casual fans to better understand the sport, but rarely do they entice total newbies to follow it. By weaving this information into the human narratives, Unchained incepts bike fandom into the brains of anyone who cares to see whether or not Jakobsen will overcome the demons from his horrific crash. It is the perfect entry point for a regular person to learn about bike racing and the Tour.
This type of sports storytelling is not new, of course, and Unchained, Drive to Survive, and Netflix's other sports documentaries are simply carrying on the tradition of legendary producers Roone Arledge and Dick Ebersol, architects of the modern Olympics telecast. But many of us who grew up watching NBC's primetime Olympics coverage long ago tired of the cheesy and formulaic human-interest schtick that producers cram between the competitions. The storytelling in Unchained is far more ambitious than the Olympics stuff. It's raw at times. When a character cries, the audience has enough backstory to understand the weight of the moment. You can tell that the producers and camera people spent ample time with the athletes and team directors to cultivate their trust. Cameras are rolling when things go right, and when shit hits the fan.
There's a big difference between cyclists and race-car drivers, so Unchained is also vastly different from Drive to Survive. The latter series hoovers up the drama generated by those adrenaline-filled personalities that drive the cars, own the teams, and talk epic amounts of trash. Cycling has a different vibe. As someone who covered the sport for nearly 20 years, I would struggle to fill one page with one-the-record smack talk I heard—most of it was from one source: British sprinter Mark Cavendish. In cycling, the star athletes tend to keep their emotions and disagreements close to the vest. But Unchained does capture enough moments of tension and disagreement to keep hardcore fans satiated.
🔥À demain. 9h. 👋@NetflixFR pic.twitter.com/CSiiKthHqc

— Tour de France™ (@LeTour) June 7, 2023
We see Vingegaard snap at his teammate Wout van Aert after van Aert drops him—and everyone else—to win stage four. British star Geraint Thomas disagrees with Team Ineos' proposed plan for his teammate Tom Pidcock to attack on legendary climb l'Alpe d'Huez for a stage win—a move that Thomas believes will leave him vulnerable. And then there is the episode about Belgian sprinter Jasper Philipsen, who can't seem to get out of his own way on a bike. That's an episode you won't want to miss.
The series isn't perfect, and there are several characters who elude the cameras. Two-time defending champion Tadej Pogačar is a bit player in the series, despite his gravitas in the sport. And Unchained is solely a story about the men's Tour—there are no storylines around the women's race. Le Bourbouach discussed both absences in our interview.
Of course, whether Unchained grows cycling's fanbase will likely depend more on Netflix's recommendation algorithm than on the quality of the storytelling. That said, I am cautiously optimistic. I will endorse the series to those coworkers, family members, and fellow shoppers at Trader Joe's in my life who have not yet caught the bike bug, and I cannot wait for my brother-in-law to refer to his daily commute as a "parcourse." Unchained has all of potential to suck them in, tell them a good story or two, and sent them out into the world ready to go bonkers for the Tour de France.
Lead Photo: A.S.O./Pauline Ballet
Trending on Outside Online