A New Podcast Explores Sex in the Great Outdoors
Host Laura Borichevsky fearlessly goes where no man has gone before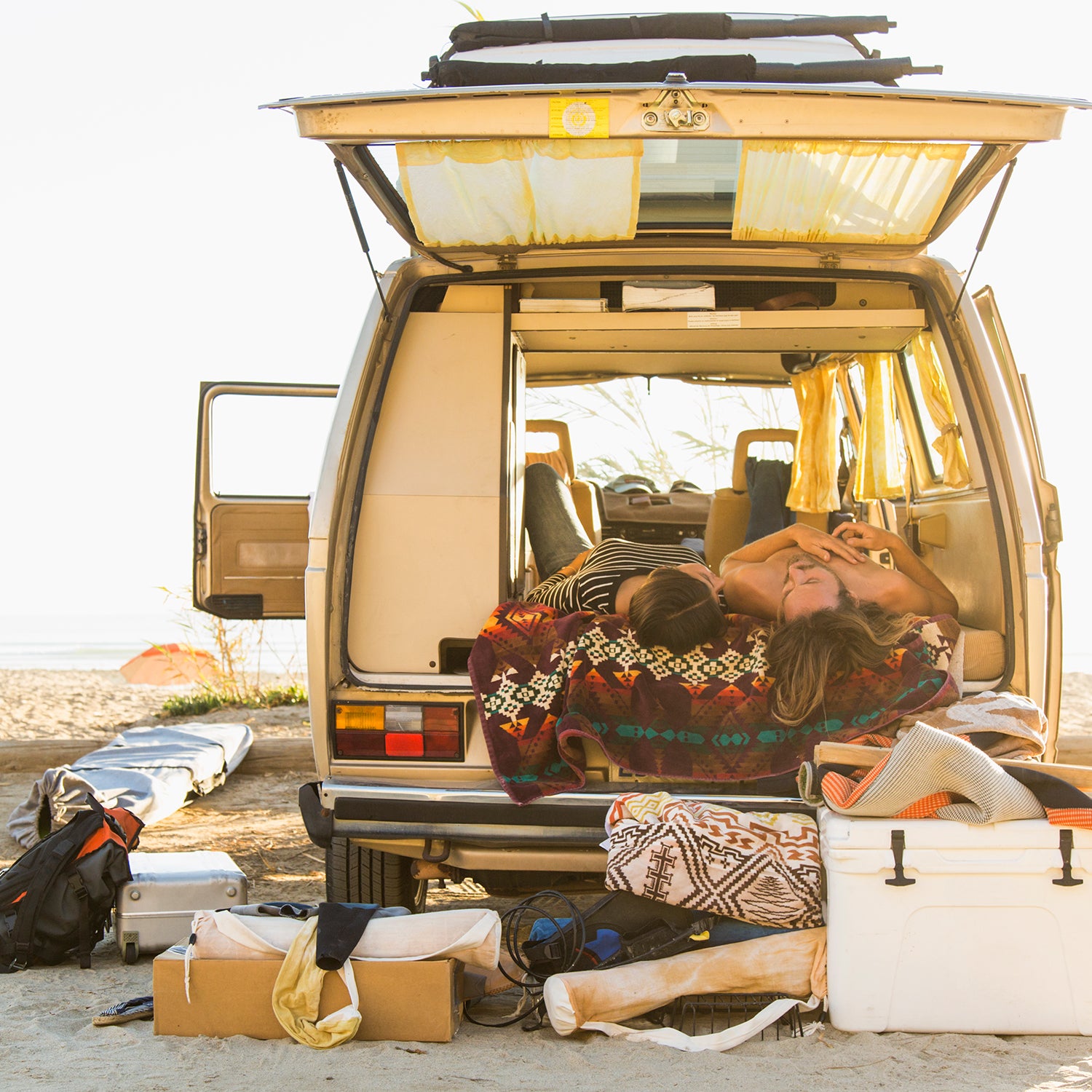 Heading out the door? Read this article on the new Outside+ app available now on iOS devices for members! Download the app.
Let's try something. Make a list of outdoor activities: skiing, biking, running, camping, kitesurfing, you name it. Which are the ones you do all the time? Which are a little out of your comfort zone but still appealing? Odds are that a few are no-gos: maybe cool for someone more adventurous, but not really your thing. Now make a list of sexual activities. They probably fall along the same lines. Some feel familiar and fun, some feel a little edgier and exciting, and others might be things you never want to try.
The takeaway from this exercise is that there are big overlaps in the way we think about the outdoors and the way we think about sex. We categorize experiences as yeses, nos, and maybes based on risk, reward, and the precise ways our bodies like to feel. They're both about sensation seeking and comfort zones, and it can get a little dirty in either sphere. 
A new biweekly podcast called Sex Outside, which launched February 11, examines how outdoor pursuits, sex, gender, and bodies flow into each other. It's the brainchild of Laura Borichevsky, the host of Ravel Media's Women on the Road podcast, which ran from 2017 to 2020 and covered female-identifying folks in the nomadic travel world. Borichevsky, who is in her early thirties and based in Moab, Utah, came to podcasting nearly a decade ago, when she was on the road in her camper van and wasn't hearing or learning about women or nonbinary people on the road.
"Talking about sex doesn't come naturally to a lot of people, but thinking about the way it intersects with the outdoors just might be a good place to start," Borichevsky says in the podcast intro.
Formerly, Borichevsky worked in sexual-health advocacy for young adults, and while she was producing Women on the Road, she found that many of the conversations about vanlife and traveling led back to some of the questions at the heart of sexual health and wellness: agency, bodies, who is welcome in certain spaces, and how the heck to prevent UTIs. "Every time we got together as female road travelers, the conversation would turn to body stuff like sex, shame, and missed opportunities, and I thought, Why does it have to take those unique spaces to get us talking?" she says. With this new project, she hopes that delving into topics that might seem taboo will help make both of those worlds more inclusive. 
When she first started researching the idea, Borichevsky reached out to sex educators and sex advocates, and was surprised to find that they were already working in the intersection of these two topics. As a means to help their patients talk about sexual freedom and risk-taking, sex therapists were using the idea of getting out of a physical comfort zone in the outdoors. Meanwhile, sex educators were wrestling with some of the same questions about inclusion and ableism that are present in the outdoors, like whose bodies are considered ideal or acceptable in media and cultural narratives.
In Sex Outside, Borichevsky plans to explore and expand upon that overlap. In an early episode, she talks with boudoir photographer Janette Casolary about outdoor nudes, specifically aesthetics and the prevalence of topless shots taken atop mountains seen on Instagram. In another, she digs into the mythology and fetishization of mermaids. She reports on the history and culture of outdoor nudist resorts, and also unpacks the problems with outdoor gender-reveal parties. There will be conversations about the logistical ins and outs of, um, outdoor ins and outs, and how to deal with sexual hygiene outside.
Learning about sex is like learning to ski, Borichevsky explains; you shouldn't expect to be an expert right away. She's an empathetic narrator and offers advice throughout about how to ease into things. In one episode on nudity, she says, "Having a lookout and source of moral support might be just the thing you need to feel more confident about stripping down outdoors"—guidance that is both highly practical and fun. The show is cleanly produced, funny, and direct. While describing thru-hiking with a partner, a guest quips: "You better be pretty f-ing fond of each other, but just in case, I carry the whole tent."
The format ranges from deep dives into scientific research to a series of listener-submitted stories. The first episode features a dozen different narratives about sex outside, including one about healing from sexual trauma and a few about sexual encounters on the road. Borichevsky wanted to frame the breadth of what the podcast will cover right off the bat.
"There are historic reasons why talking about sex is jarring, and those reasons aren't very healthy," Borichevsky says. And while other podcasts and radio shows have addressed our intimate lives, Sex Outside's unique framing offers an entry point for the outdoorsy listener. "I want to be a listener, guide, [and] researcher so we can break open conversations and build up a community," she says. "When I talk to people about the show, their eyebrows raise, but every single new person I talk to has a personal story, idea, or fresh interpretation." She's hopeful the project will help us better understand why we don't talk about sex and sexual health publicly—and, ideally, start to walk back puritanical norms about bodies and appropriateness. Just like sex, or being outside, she wants it to feel adventurous and creative, and most of all fun.
Lead Photo: Jordan Lutes/Cavan