Nick Offerman Knows How to Stay Grounded
Honest-to-God advice on how to enjoy nature, from an actor-comedian-author-canoe-builder who grew up on a farm and takes rock stars rafting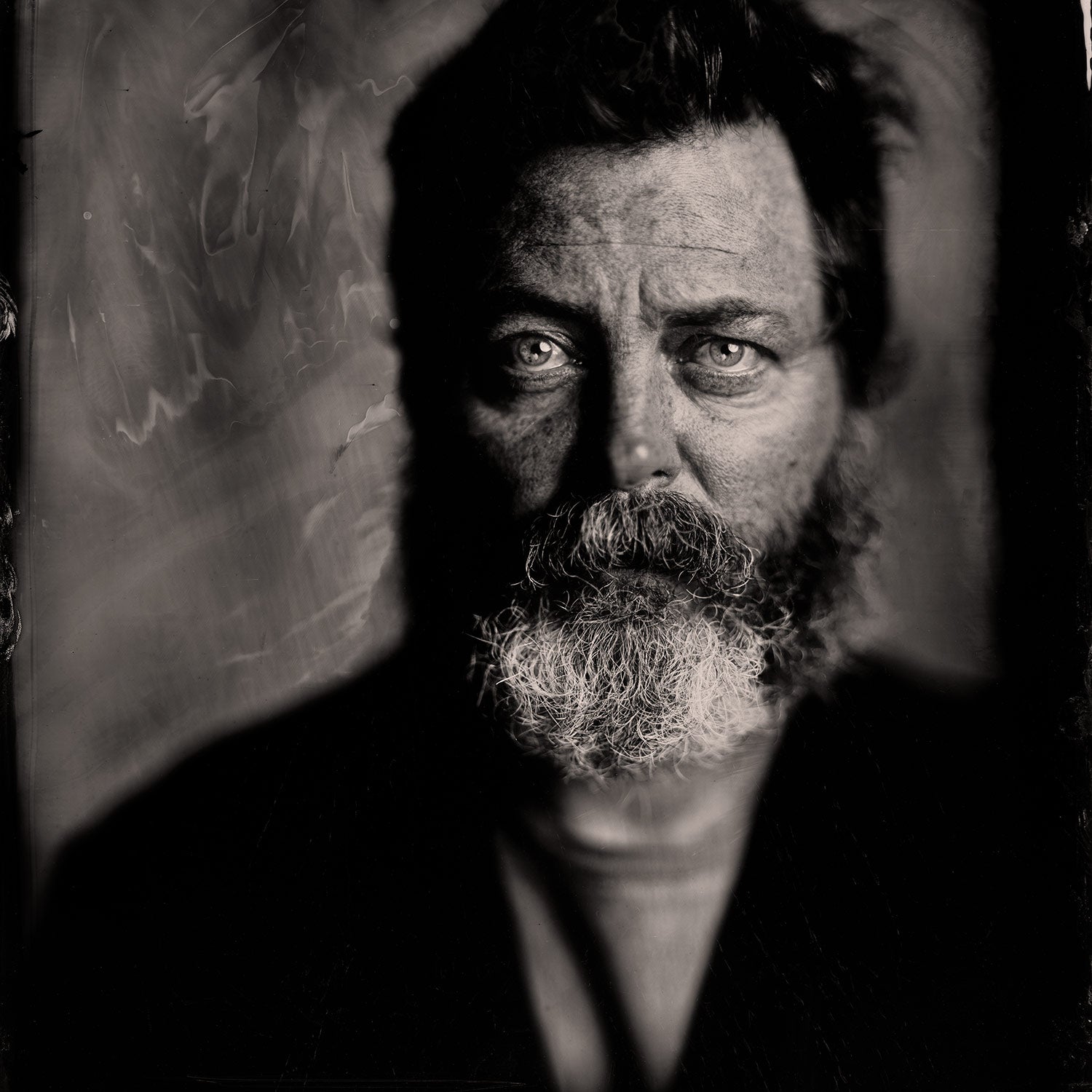 Heading out the door? Read this article on the new Outside+ app available now on iOS devices for members! Download the app.
There's Nick Offerman the actor, best known for playing the mustached, hard-ass libertarian Ron Swanson on the NBC sitcom Parks and Recreation. There's Nick Offerman the woodworker, who runs a shop in East Los Angeles that crafts custom furniture and the occasional canoe. And there's Nick Offerman the author, whose latest book recounts a number of real-life adventures while making a convincing case that we need to consume less stuff (shoes, fast food, social media), read more environmental literature (Wendell Berry, Aldo Leopold), and spend as much time as possible exploring wilderness (or at least roaming our neighborhoods). This is about what you'd expect, given the book's title, Where the Deer and the Antelope Play: The Pastoral Observations of One ­Ignorant American Who Loves to Walk Outside.
Offerman, 51, who was raised on a farm in Illinois, strives to remain grounded. And yet he's deeply afflicted by wanderlust. In one of the book's early chapters, he convinces two close friends, Wilco frontman Jeff Tweedy and acclaimed author George Saunders, to take a trip to Montana's Glacier National Park, in the summer of 2019, where they enjoy a day of whitewater rafting. That same year, he travels to northern England to labor alongside shepherd and nature writer James Rebanks. Then, in the fall of 2020, he heads out on a 2,000-mile pandemic road trip from Los Angeles to the Midwest with his wife, the actress Megan Mullally, towing their new Airstream. During a break in filming for the Amazon reboot series A League of Their Own, Offerman offered up some choice lessons for making a deeper connection with the world outside your door.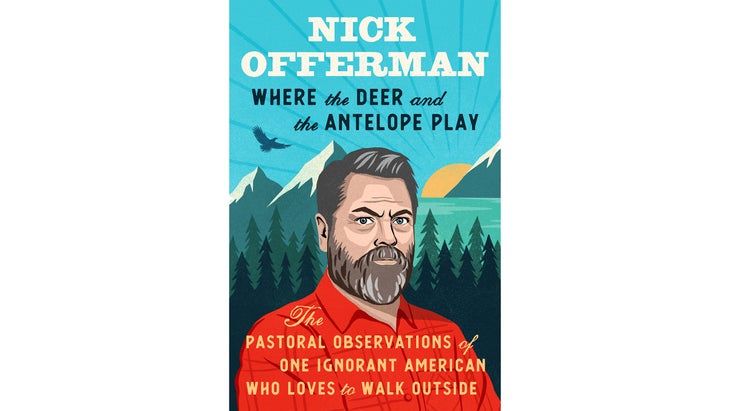 ---
It's always a good time for a long walk.
"I'm such a sucker for a trail through the woods, whether on foot or on a bicycle. It's an incredible escape from the hamster wheel of life. I'm reminded that I don't need all the distractions—that if I go sit in my yard or walk on a trail, I'm great. It's a way that I can, in an almost church-like setting, cleanse myself. Purge my humors. Release my anxiety. Empty the trash from the desktop of my brain."
Respect the squirrels.
"I was probably 11 or 12, out in the woods with my cousin and his pellet gun, and I shot a squirrel right between the eyes off a tree limb, and he fell. We went running to check it out and were faced with the reality of: I just killed this squirrel, with no intention of honoring that. I just wasted a squirrel. It caused me to reexamine that verb. Up until then, to waste a life was a cool verb from, like, a Charles Bronson movie. And suddenly I was like, Oh no, it's a waste. I was devastated. It was a huge moment. If you're gonna take a life, honor it, use it, revere it."
Farmers know best.
"I was working in theater in Chicago, and this larger-than-life Kentucky actor named Leo Burmester gave me a book of Wendell Berry short stories. And when I read them I was gobsmacked by the respect, the reverence he has for honest, decent, hardworking, agrarian morality. My simple, boring family farmed corn and soybeans and had pigs until I was in high school. Up to that point I resented them, because they baked bread every Sunday and I wasn't able to get that shiny bread from the store like all the other kids had. So it was a leap from boyhood to manhood where I said, Oh, my parents are agrarian. This foundation of decency and this work ethic and this sense of respect for everybody and everything that they instilled in me is actually insanely holy and valuable."
Love the gear, touch the gear—just don't buy all of it.
"I came to the outdoors in the seventies and eighties, before gear became king. Only much later in life did I go, 'Holy cow, have you guys heard of this thing called a CamelBak?' Whether at REI or the tool store or the lumberyard, I am a kid in a candy store. It's an incredible time to be alive if you love to eat, drink, or use manufactured goods. But the problem is, we get so swept up in our fascination with the number of backpacks available that we easily lose sight of where that stuff is coming from—who is making it and ultimately how we are treating our natural resources. So I'll happily buy something, but at the same time, I'm not going to buy three things. Especially in America, we have to stop overdoing it."
Toil less, be more.
"I'm always trying to do less work, to agree to fewer projects, so that I have time to be with people, specifically my wife, my family, and my very good friends. As long as I can keep things as simple as possible, that's my best path for health and productivity."
The funnest part of a road trip is when shit goes wrong.
"Hauling an eight-by-thirty-foot aluminum submarine—our Airstream—hearkens back to my youth, when I was taught to drive farm equipment and also worked in construction. There's a wonderful elemental feeling of satisfaction when you successfully do something like haul a big rig a couple thousand miles. I almost pray for a flat tire once in a while so I can be like, 'I got it. I know how to do this.' Because modern life is so goddamn cushy. That elemental, primitive value of what we can do as animals with opposable thumbs, I don't want that to atrophy."
Twitter is for sheep.
"There's so much about social media that's ugly and negative, but it got me together with one of the greatest friends of my life. I found James Rebanks through what I can only call Wendell Berry Twitter. I mean, it couldn't be more ironic. There are these accounts where somebody puts up Wendell Berry quotes, and that's where I found him, @herdyshepherd1, and his wife, Helen. They're chronicling their lives farming Herdwick sheep and Belted Galloway cows and raising four kids. They are trying to rewild this ancestral farm. It is just incredible. It's easy to turn my nose up and be like, No, I'm a purist. I only use chisels, never electricity. But that's dumb after a certain point, because electricity is pretty handy in a lot of circumstances. Whether it's what tools you use in your shop or your social media feeds, it's a matter of curating something."
Manual labor makes us happy.
"My self-worth is derived from doing something productive, from being of use to someone. That has kept me from becoming a jerk with a yacht or a person of leisure. Helping my friend James repair a stone wall on his sheep farm in the rain and cold, that's my Disneyland. I will stand in line for the pleasure of getting something done."
Of course you should jump in the river.
"Toward the end of the rafting trip in Glacier with George and Jeff, the cool lady who was guiding our boat said, 'Here's a mellow pool where the river is calm and deep, if you want to jump into this incredibly pristine glacial-melt runoff.' We had been through a dozen sets of rapids. It felt like we had played a few quarters of football. I mean, we were definitely smiling, but ready for a nap. Jeff was like, 'No, I think I'm comfy.' And I was like, Yeah, comfy is always good. And then George turned to me and his eye literally twinkled. I mean, Peter Jackson could not have created a moment more elfin. George grinned and said, 'Let's do it.' And it was so transformative. I said, 'Of course, let's do it.' We jumped in, and it was just indescribably delightful. I will probably face questions like that in the years to come, and I'll have no choice but to picture George and think, Do you want to live or do you want to take a nap?"
Corrections:
(10/22/2021) This story has been updated to reflect that Offerman's extended family farmed corn and soybeans, not his parents.
From
November 2021
Lead Photo: Giles Clement