Nightriders: Mountain Biking Like You've Never Seen It Before
The new film from Sweetgrass Productions shows you what it's like to pedal through a rattlesnake-infested desert—in the middle of the night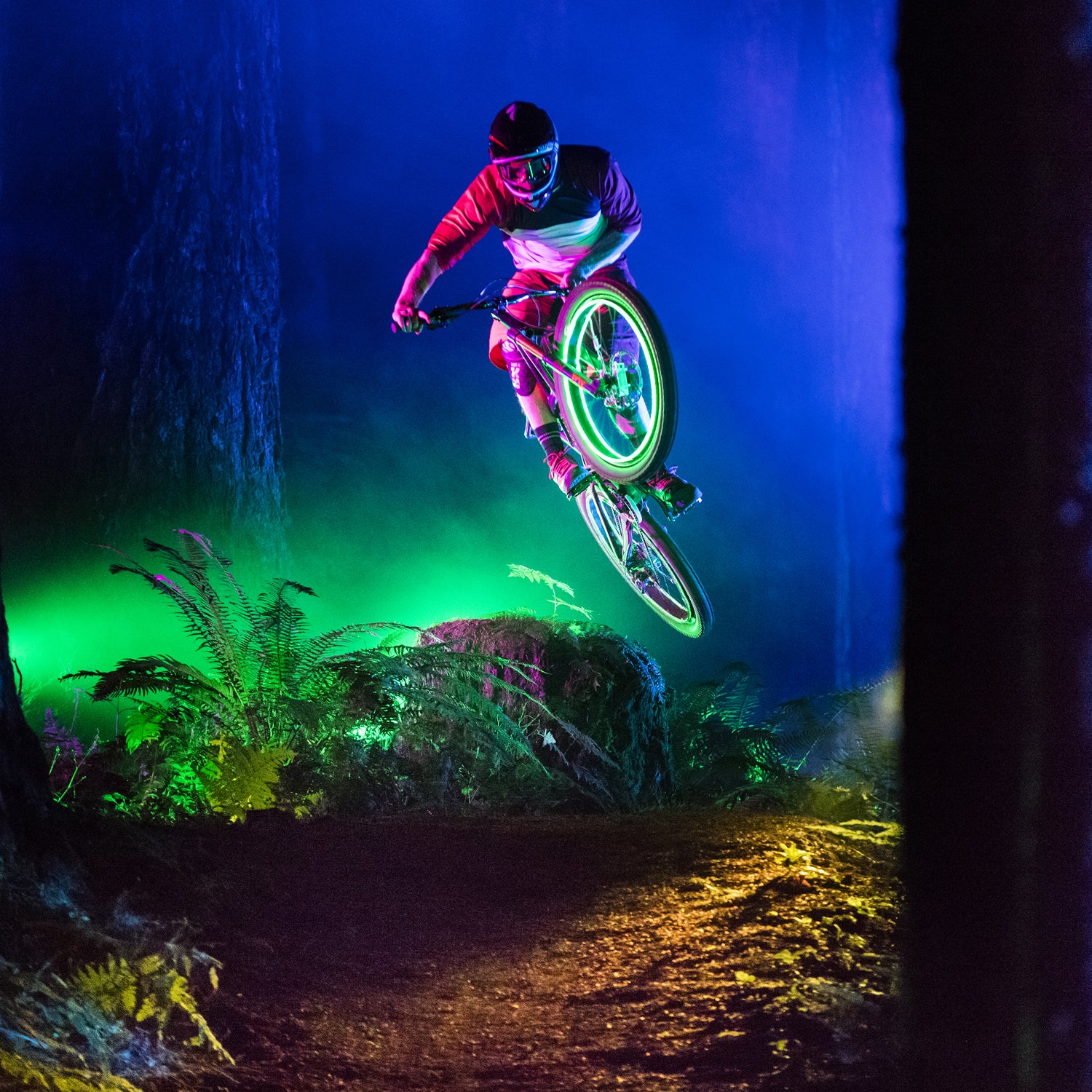 Heading out the door? Read this article on the new Outside+ app available now on iOS devices for members! Download the app.
The guys at Sweetgrass Productions may be the world's foremost authorities on filming extreme sports in the dark.
Last year, they released Afterglow—11 psychedelic minutes of neon-streaked skiers shredding Alaskan wilderness after nightfall. The film the made waves for its beauty (we called it "arguably the most cinematically profound ski movie ever made") and for its technical achievement. Before that, the crew made night surfing in the Maldives look easy. The team embarked to dryer climes for its latest release, a mountain bike movie shot in the Utah desert and filmed, in Sweetgrass's signature style, after dark. 
The new movie, dubbed Darklight and slated for a mid-October release, is the second full-length film the team has done with support from Philips, which used footage from Afterglow in ads for its TVs. Although Sweetgrass has focused primarily on ski movies in the past, the film's director and producer, Mike Brown and Zac Ramras, respectively, grew up biking together and figured it was time for a change of scenery. In terms of visuals, think LED-covered mountain bikers nailing flips in the foreground and Utah's iconic desert plateaus illuminated in the distance.
Watch the full film.
So how did they do it?
It's pretty damn hard to bike through rugged terrain at night, let alone film it. For starters, lighting vast expanses of desert is tricky. When shooting their nighttime ski flick, the team had a couple of advantages: snow is reflective; and for most ski shots, the background is typically limited to the immediate mountain-scape. That meant the filmmakers didn't have to light up entire panoramic landscapes to get great shots. "For this piece we really wanted to try to push the depth in our images, " Brown says. 
"We'd be setting up our lights for six hours, then put them on the spot and say its time for you to hit this 40-foot jump at night," Mike Brown says.
That meant generating four times more light than we saw in Afterglow—some 1,500 pounds of lighting equipment had to be hauled into the desert near Lake Powell. Every day, a few hours before sunset, a crew of 15 people loaded 200 different fixtures onto trucks and strategically arranged them in the background of that night's planned shoot. They used every conceivable kind of light source available, from "those lights that look like the sun at 8,000 or 9,000 [watts], down to little handheld ones you can place as accent lights to light up rocks," Ramras says. For every riding shot in the film the crew spent an average of about six hours setting up lights and rigs. In total, the shoot took 14 nights.
For pro mountain bikers Graham Agassiz, Matty Miles, and Matt Hunter—the talent in this one—the work was no easier. "I think skiing is a lot more forgiving, at least if you're on soft snow," Ramras said. "With the bikes, it's a lot more critical to really see everything." The riders had limited time to practice routes, since set-up was so time consuming. They spent most of their days just waiting around. "It was almost as much as mental challenge as it was physical," Brown says. "We'd be setting up our lights for six hours, then put them on the spot and say its time for you to hit this 40-foot jump at night."
After the Utah shoot wrapped, Ramras and Brown took the whole team a thousand miles west for some contrasting shots in the lush forests of Oregon. The crew set up cables through foliage—octo-copter drones don't fly well in dense rainforests—and sent high-end RED cameras down them at 40 mph to capture riders tearing through purple and neon-colored shrubbery. The resulting footage is mesmerizing. 
Despite all the logistical horrors, the biggest problem the team faced had nothing to do with navigating mountain bikes at high speeds through wilderness at night or filming it, Ramras said. One evening, as dozens of workers installed lights across the desert, a rattlesnake bit mountain biker Matt Hunter. "Everyone stops and freaks out," Ramras said, "then we had to get him on an ATV to the road, then drive him to the hospital. And then he got life-flighted to a bigger hospital because they didn't have enough anti-venom at the local hospital."
"That was a hiccup!" Ramras laughed. (Hunter is fine.) 
Lead Photo: Sterling Lorence