North Face: Race Up the Eiger
The season's most gripping adventure flick is...German?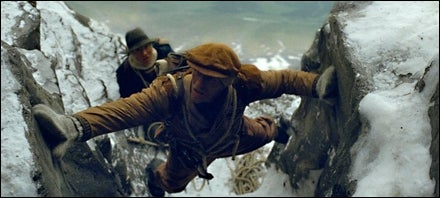 Heading out the door? Read this article on the new Outside+ app available now on iOS devices for members! Download the app.

THE EIGER SANCTION. Cliffhanger. Vertical Limit. A quick look at the catalog of American climbing dramas makes one fact patently clear: We're no good at making climbing dramas.
Maybe the problem is our unapologetically American approach. We're too Clint, too Sly, too, um, O'Donnell. This becomes apparent after viewing North Face, a new German film that fictionalizes the Nazi-era race to scale the Eiger's north face. The movie follows two teams—one German, the other Austrian—trying to reach the summit in the name of Aryan glory in 1936. Viewers familiar with the history of the Eiger—this story was told in Heinrich Harrer's The White Spider and later in Joe Simpson's The Beckoning Silence—know from the get-go that the heroes, German alpinists Andreas Hinterstoisser and Toni Kurz, will die. It doesn't matter. Like every good tragedy, North Face grabs the viewer early and doesn't let go until the ultimate misfortune thunders down.
North Face was a hit in Germany, where climbing films have a tangled history. Before the filmmaker Leni Riefenstahl directed Nazi propaganda flicks like Triumph of the Will, she starred in many alpine films, leading to guilt by association for the genre. And the Nazi regime's hunger for mountaineering feats was well documented: After Harrer finally scaled the Eiger's north face in 1938, Hitler lauded him in front of thousands. The fact that director Philipp Stölzl tackles a story from that era is in itself intriguing.
But watch North Face for the striking footage—shot on the Eiger by expert climber Kolja Brandt—and a plot that's plenty thick: The two teams hie it to base camp and race for the summit. When a falling rock injures one of the Austrians, the teams join and then get caught in a hard storm that spares no one.
Stölzl plays loose with the facts, throwing in a romance between Kurz and a reporter and having Hinterstoisser cut his rope to try to save his partner. (In reality, Hinterstoisser fell while unclipped from the rope.) But these embellishments, in the end, serve to amplify the drama of man versus mountain—unlike, say, the machine guns in Cliffhanger. Who needs sound and fury when you've got history?
Trending on Outside Online