The Outside Canon
Our biggest library of essentials, with classic tales of adventure, poetry, and how-to bibles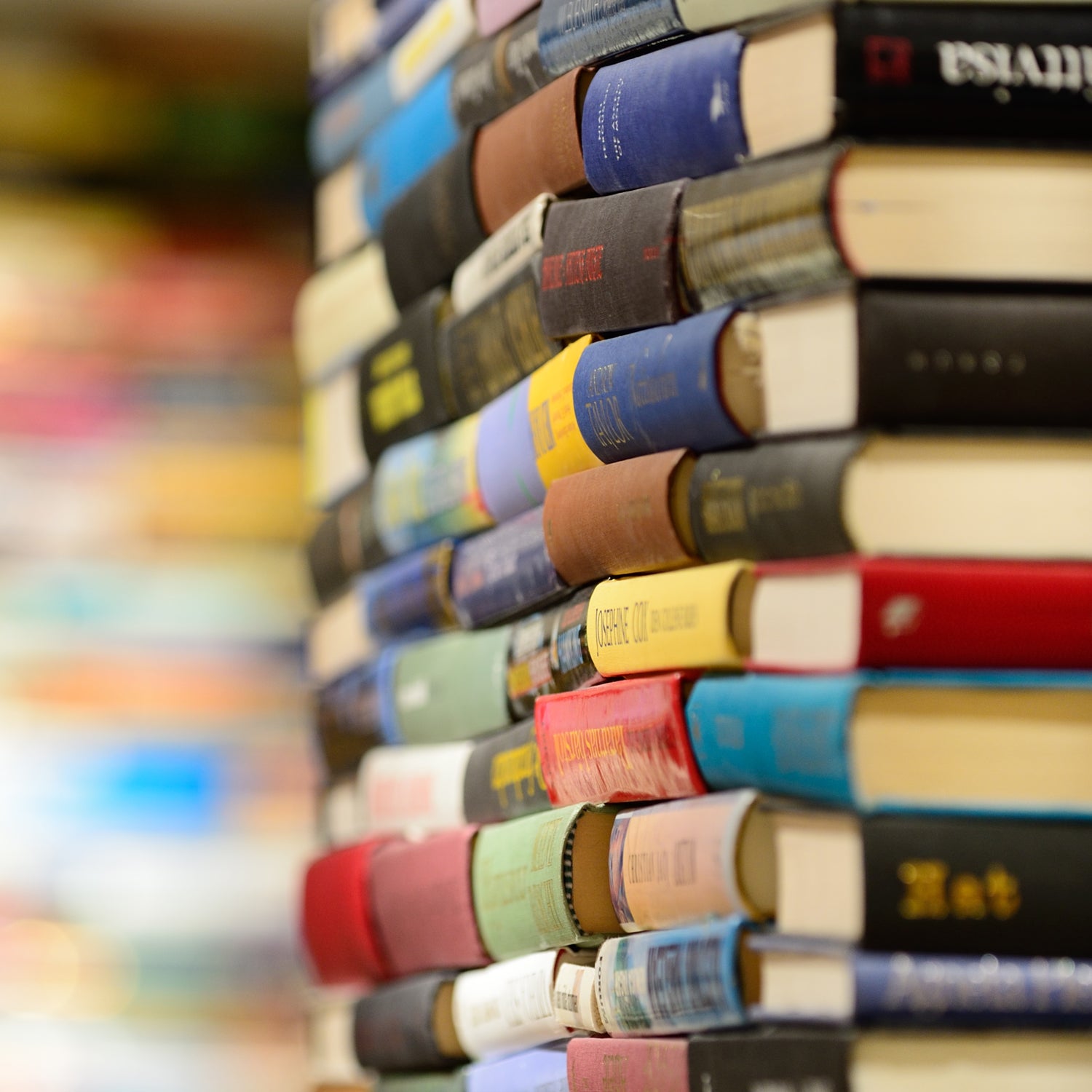 Heading out the door? Read this article on the new Outside+ app available now on iOS devices for members! Download the app.
When we first began compiling a list of our favorite books—and as that list evolved and begot other lists that recall the enormously rich tradition of outdoor literature—we were reminded of the old man who loved books so much that he amassed 10,000 of them in his small studio apartment. In that little room, somewhere in southern California, neatly stacked tomes towered everywhere. The only space not landlocked by literature was a pathway from his door to his bed.
Since bibliophiles and lovers of the outdoors alike yearn for those moments of discovery often found at the remote edges of our world, we began to view the old man as an adventurer himself. We like to imagine that as he drifted off to sleep each night, the stacks of secondhand hardbacks looked to him like shadowy Himalayan mountains. And that beneath those dark peaks, he would dream of the next day's climb.
Until the moment those peaks came crashing down. Early one morning, an earthquake split California, triggering a bookslide in the old man's apartment. Our hero was buried deep beneath millions of words. For 11 hours he lay there, waiting to be rescued. Did he suddenly see himself as a tragic clown, the victim of his own peculiar excesses? Did he curse the obsession that had brought the gods—not to mention his entire library—down upon him? We hope not. Instead we like to think that amidst the chaos the man felt strangely sheltered. Perhaps his thoughts were not unlike those of the great alpinist Maurice Herzog, who faced a similar brush with death on his famous 1950 climb of Annapurna: "I knew the end was near, but it was the end that all mountaineers wished for—an end in keeping with their ruling passion."
As we've collected the following books for the Outside Canon—some of which come from our favorite writers, sages, argonauts, athletes, and other friends—the old man has never been far from our thoughts. Nor has this concept of a canon, taken most often to mean some sacred scroll of books dreamed up by gray-bearded men smoking cigars. In our case, of course, there can be no cigars about it. And while our canon only begins to encompass the entire world's outdoor literature (in fact, in the name of space, we've limited ourselves to one book per writer here, and chiefly to books written in English), we hope you'll find it by turns provocative, idiosyncratic, and just plain useful. Enough to fill your shelves for years to come. And should the earth take a sudden shift, may you, too, be sheltered by these many million good words.
---
The World's Great Places
'Sailing Alone Around the World' by Joshua Slocum
Slocum was the first man to circumnavigate the globe single-handed, in a 37-foot boat that he rebuilt himself from a derelict oyster sloop. In this lovely 1899 book, he recounts one life-threatening escapade after another with unwavering Victorian good cheer.
'Seven Years in Tibet' by Heinrich Harrer
Austrian mountaineer Harrer had the bad luck to be in Karachi when Britain declared war on Germany in 1939. He was arrested and sent to an internment camp in northern India. He escaped, made a perilous mountain trek to Tibet, and eventually became pals with the young Dalai Lama. His 1953 book tells his story—intense and incredible.
'The Innocents Abroad' by Mark Twain
"A long sea voyage not only brings out all the mean traits one has, but raises up others he never suspected he possessed, and even creates new ones," writes Twain in this darkly hilarious 1869 account of a "pleasure excursion" to Europe and the Middle East. Who but Twain could have initiated the flip, no-bullshit style emulated by travel writers ever since?
'West with the Night' by Beryl Markham
Ernest Hemingway declared that after reading Markham's graceful memoirs, "I was completely ashamed of myself as a writer." Largely ignored when first brought out in 1942, this lively account of a childhood in Kenya and a career as a record-breaking aviator was a huge hit after being republished in 1983.
'Out of Africa' by Isak Dinesen
Dinesen's account of life on a Kenyan coffee plantation, full of sharp vignettes about native people and wildlife, is fascinating—all the more so when read side-by-side with Beryl Markham's West with the Night. The two works cover the same countryside and many of the same characters, including men who played important roles in the lives of both of these exceptional women.
'Journeys' by Jan Morris
"You could do a lot worse than Hico," Morris writes about a town in Texas—no small praise from a travel writer who during the course of a 40-year career has been everywhere and done everything. In this fine collection, published in 1984, Morris takes us from the Lone Star State to Australia to Yugoslavia to China, with many delightful diversions along the way.
'Behind the Wall: A Journey Through China' by Colin Thubron
Thubron won a couple of literary awards for this wild account of a brutal solo journey into the enigmatic land of "a billion uncomprehended people." During the course of the 10,000-mile trip, he tours underground nuclear shelters, visits a tongue doctor whose diagnoses include "insufficient Yin," and has an uneasy night's sleep in the bed of the late Chairman Mao.
'A Small Place' by Jamaica Kincaid
"The thing you have always suspected about yourself the minute you become a tourist is true: A tourist is an ugly human being," writes Kincaid. And in this powerful 1988 polemic, in which she writes with passion and precision about her native Antigua, she looks at travel through the eyes of the visited rather than the visitor, exploring the links among tourism, imperialism, and racism.
'The Songlines' by Bruce Chatwin
The gifted author of In Patagonia looks at the way Australian aborigines map their world by ritual singing as they travel—and in doing so explores our contradictory urges to own land and to wander.
'Jaguars Ripped My Flesh' by Tim Cahill
The Outside editor at large happens to be one of the world's funniest and finest bards of adventure travel. This feverish collection takes him from the jungles of Peru, where he searches for the ruins of a lost civilization, to the cloud forests of Rwanda, where he follows gorillas, to the icy waters of Alaska, where he kayaks among orcas.
'The Great Railway Bazaar: By Train Through Asia' by Paul Theroux
Theroux's first travel book, about a hilariously improvised railway journey from London to Tokyo, became a surprising 1975 bestseller and launched the career of one of the world's top misadventure writers.
'Arabian Sands' by Wilfred Thesiger
An enterprising Brit travels to the Empty Quarter to satisfy that proverbial "urge to go where others had not been." This lively 1959 story of grueling adventures includes forward-looking insights into the bedouin culture and the environment.
'An Area of Darkness' by V. S. Naipaul
Naipaul's return to India, the land of his ancestors, has been criticized as being politically incorrect, but it is undeniably fine travel writing, full of humor and disturbing details.
'Maiden Voyages: Writings of Women Travelers' edited by Mary Morris
Morris has put together an extraordinary and sometimes offbeat collection that includes everyone from pioneering 18th-century feminist Mary Wollstonecraft to Vita Sackville-West to Joan Didion.
'Batfishing in the Rainforest: Strange Tales of Travel and Fishing' by Randy Wayne White
Outside's ever amusing Out There columnist travels the globe in search of adventure and absurdity—and always finds both, in locales ranging from a plush health spa in Florida to the terrorist-infested mountains of Peru.
---
Journeys to Hell
'Annapurna: First Conquest of an 8,000-Meter Peak' by Maurice Herzog
After being swept off his feet in an avalanche and left dangling by a rope around his neck, Herzog "began to pass water, violently and uncontrollably." Your reaction may be only slightly less extreme as you move from one nail-biting moment to the next in this wonderful 1953 tale of triumph and frostbite.
'The Worst Journey in the World' by Apsley Cherry-Garrard
Cherry-Garrard was one of the men who survived Robert Falcon Scott's doomed 1910–1913 Antarctica expedition. During the journey, he and his companions had to endure temperatures so cold that "we began to look upon minus fifties as a luxury." And although Cherry-Garrard maintains that "no words could express [the trip's] horror," he gives it an unforgettable try in this book, originally published in 1922.
'The Story of a Shipwrecked Sailor' by Gabriel García Márquez
First appearing as a series of newspaper articles in 1955, early in the Nobel Prize–winning novelist's career, this creepy nonfiction work tells the story of a Colombian sailor who survived for ten days in a lifeboat without food or water after being washed overboard in the Caribbean.
'Into the Heart of Borneo' by Redmond O'Hanlon
"But they eat people there! They're cannibals! Blowpipes! Phut. Phut. You die," a helpful official warns O'Hanlon at the beginning of this book. But perils be damned, nothing stops him from making a harrowing and hilarious journey into wildest Borneo.
'Into the Wild' by Jon Krakauer
Was Chris McCandless a nut case or simply another idealistic thrill-seeker in search of the ultimate adventure? Krakauer, a former contributing editor of Outside, handles the question ingeniously in this story of a complex character who starved to death after giving away $24,000 in savings and walking into the Alaskan bush, determined to live off the land.
'Ninety-Two Days: The Account of a Tropical Journey Through British Guiana and Part of Brazil' by Evelyn Waugh
A great tale of not getting there: In this 1934 account—hilarious in spite of its colonialist stereotyping—Waugh attempts a difficult expedition through British Guiana and Brazil but gets stranded in a backwater Amazon town inhabited by people "naturally homicidal by inclination."
'A Short Walk in the Hindu Kush' by Eric Newby
Near the end of this epic mountaineering misadventure in Afghanistan, Newby passes a group of lepers. "That's about all we've got left to catch," comments his ever wry sidekick, Hugh. Written in 1958, Newby's story of dysentery, ill-fitting boots, and failed climbing is a comic masterpiece.
'The Strange Last Voyage of Donald Crowhurst' by Nicholas Tomalin and Ron Hall
In 1968, Crowhurst attempted to become the first person to sail solo around the world without stopping. His boat broke down first, then his mind. For months he drifted aimlessly in the Atlantic, sending fraudulent reports about his progress back to London, slowly coming to believe that he was the son of God. Somehow, Tomalin and Hall make marvelous sense of this fascinating and bizarre story of madness and tragedy at sea.
'The Oblivion Seekers and Other Writings' by Isabelle Eberhardt
They don't make them like Isabelle Eberhardt anymore—then again, they never did. Traveling widely in North Africa at the turn of the century, she became a Muslim, dressed as a man, and engaged in more than her share of kif-smoking and random sex. This odd little collection offers fascinating glimpses into what the author herself describes as "the life of an adventurous soul."
---
Discoveries of America
'Adventures in the Unknown Interior of America' by Alvar Nuez Cabeza de Vaca
Talk about tough trekking: In this curious little wonder of a book, originally published in 1542, a Spanish conquistador recounts an eight-year, 6,000-mile walk to Mexico that began as an ill-fated exploration of Florida in 1527.
'The Journals of Lewis and Clark' by Meriwether Lewis and William Clark
They shot buffaloe. They were stung by muskeetors. They found an inland route to the Pacific ocian. But hey—President Thomas Jefferson wasn't paying them for their spelling ability. The quirky and at the same time majestic log of the most important trip in American history, published in book form in 1904, a century after the trip itself, never ceases to fascinate.
'The Last Best Place: A Montana Anthology' edited by William Kittredge and Annick Smith
Kittredge and Smith—each a brilliant chronicler of the West—have put together a literary anthology as grand as the state itself. More than 1,100 pages long, it covers everything from Native myths to the accounts of early explorers to the work of contemporary writers such as James Welch, Ivan Doig, and Richard Ford.
'The Travels of William Bartram' by William Bartram
In 1773, Bartram undertook the first botanical exploration of the then wild terrain of the Carolinas, Georgia, and Florida. His widely influential account, full of beautiful Cherokee maidens, noble Creek warriors, and "blessed unviolated spot[s] of earth," was published 18 years later and is still a delight.
'Great Plains' by Ian Frazier
Frazier, a rare satirist who understands the difference between real humor and hip smugness, drives 25,000 miles up and down and across the often overlooked region between Montana and Texas. His account—which take us from the spot where Sitting Bull's cabin stood to a house once terrorized by Bonnie and Clyde to an abandoned Cold War command center—is equal parts absurdity and profundity.
'Making Hay' by Verlyn Klinkenborg
"If farmers were at all disposed to rhapsody," writes Klinkenborg, "they might get eloquent about [their] work." Luckily we've got Klinkenborg to get eloquent for them in this lively account of visits to rural Minnesota, Iowa, and Montana at haying season. Who would ever have guessed that alfalfa could be so interesting?
'Notes from the Century Before: A Journal from British Columbia' by Edward Hoagland
"In the cabin I'm in, a grizzly skin is pinned to the wall like a spread-eagled moth. I should probably note that I'm allergic to it," writes Hoagland in his first book of travel writing, which set the contrarian tone for the extraordinary career that has followed.
'Old Glory: An American Voyage' by Jonathan Raban
Raban's tragicomic tale of his three-month, 2,000-mile boat trip down the Mississippi is among the best works of a growing genre of Twain-inspired Big Muddy travelogues.
---
Natural History
'Pilgrim at Tinker Creek' by Annie Dillard
Hard upon its 1974 publication, this Pulitzer Prize-winning meditation produced a plague of Dillard wannabes, yammering on endlessly about their supposed mystical revelations in nature. But what distinguishes the real thing is Dillard's grace, wit, and flat-out talent to convince us that she experiences religious ecstasy at the sight of a muskrat in her local creek–and to make us feel it ourselves.
'The Land of Little Rain' by Mary Austin
"So stupid and tiresome and dull!" That was the way Mark Twain viewed the desert, and few argued with him until Austin came along. This pioneering collection, published in 1903, brings to life the fascinating and complex worlds, both natural and human, of the American Southwest.
'Arctic Dreams: Imagination and Desire in a Northern Landscape' by Barry Lopez
The Antichrist lives in the Arctic—at least that's what seventh-century theologians believed. It's just one of the many fascinating notions that Lopez ponders in his monumental 1986 look at the Arctic's place in the human imagination, a study that took him to every corner of this vast and stunning landscape.
'The Sound of Mountain Water' by Wallace Stegner
Anyone unfamiliar with the late Stegner's work need only read this eclectic set of essays, published in 1969, to understand the deep respect—even love—with which he's regarded by present-day writers about wilderness and the West. "We simply need … wild country available to us," he writes, "even if we never do more than drive to its edge and look in. For it can be a means of reassuring ourselves of our sanity as creatures, a part of the geography of hope."
'Coming into the Country' by John McPhee
"I'd kill the last pregnant wolf on earth right in front of the president at high noon," declares one of the many unforgettable characters in this even-handed look at environmental issues that faced the Alaskan wilderness in the mid-seventies and that have only intensified since. Coming into the Country, published in 1977, ranks among the finest of this gifted writer's works.
'The Log from the Sea of Cortez' by John Steinbeck
Steinbeck contemplates Hitler, Marx, and Henry Ford on one page and then moves on to naked mollusks and keyhole limpets in this remarkable and offbeat 1951 journal of a scientific expedition he took with marine biologist E. F. Ricketts to the Gulf of California.
'Refuge: An Unnatural History of Family and Place' by Terry Tempest Williams
Williams juxtaposes two types of inundation: the changing water level in the Great Salt Lake, which devastates a local bird refuge, and the spread of cancer through her mother's body. The result is a strikingly original book, both a meditation on the horror of death and a celebration of the raw power of life.
'The Moon by Whale Light: And Other Adventures Among Bats, Penguins, Crocodilians, and Whales' by Diane Ackerman
"I often find things renewing about ordeal," writes Ackerman. And in this rollicking set of hands-on essays about exotic animals, her ordeals are the reader's delight, whether she's floating with whales off Patagonia or straddling alligators in Florida.
'Wonderful Life: The Burgess Shale and the Nature of History' by Stephen Jay Gould
How did Homo sapiens come to be? According to Gould, the answer has more to do with plain old luck than with the supposed superiority of the species. In this gripping work on unusual 530-million-year-old fossils found in the Canadian Rockies, the noted science writer argues that evolution works more like a big lottery than a competition in which only the strong survive.
'The Diversity of Life' by Edward O. Wilson
Scientists know of at least 750,000 species of insect—but that's mostly a comment about what we don't know: The tropical rainforests may hold tens of millions more. In this authoritative book, the Harvard entomologist and Pulitzer Prize winner tells us why biodiversity is important—and why the insects won't be the only victims of rainforest destruction.
'Natural Acts: A Sidelong View of Science and Nature' by David Quammen
For those Outside readers who find themselves craving Quammen's wry, incisive view on all things natural, this first collection of his columns is a must. It delightfully digresses on everything from sea cucumber anuses to virgin birth among turkeys and is a wonderful introduction to the books that have followed it: his 1988 essay collection The Flight of the Iguana and the much-anticipated The Song of the Dodo.
'The Immense Journey' by Loren Eiseley
Trivia quiz for Talking Heads fans: Who first used the repeated phrase "once in a lifetime" when writing about the flow of water? Apparently David Byrne is among the many admirers of these lyrical essays on the origins and future of the universe. Some of the science in this 1959 work is now outdated, but Eiseley's prose is brilliant—same as it ever was.
'Second Nature: A Gardener's Education' by Michael Pollan
Like a Venus flytrap, Second Nature appears innocuous but packs a mean bite. Disguised as just another gardening tome, it is in fact a muscular meditation on the natural world, covering everything from Thoreauvian philosophy to raccoon turds.
---
Manifestos
'Earth in the Balance: Ecology and the Human Spirit' by Al Gore
The vice president's 1992 bestseller about an ecological "race against time" is full of excellent information and solid proposals, even if the administration didn't always practiced what its Number Two man preached. Hope you didn't hold your breath, for instance, waiting on Gore's Global Marshall Plan for the environment.
'The Unsettling of America: Culture and Agriculture' by Wendell Berry
Not every writer can draw plausible links between U.S. farm policy and sex, but then again Wendell Berry, acclaimed poet, fiction writer, and essayist, isn't exactly a hack. In this moving 1977 manifesto, he argues that Americans must regain a sense of fidelity—to our families, to our communities, and especially to our land.
'A Moment on the Earth: Why Nature Needs Us' by Gregg Easterbrook
Pollution and global warming are nothing to worry about, and population growth is a darn good thing. These are just some of the contrarian views outlined in this voluminous text, which contains something to piss off just about everyone. Nonetheless, A Moment on the Earth is well worth reading—even if only to sharpen your arguments against the emerging "optimist" school of environmentalism.
'Playing God in Yellowstone: The Destruction of America's First National Park' by Alston Chase
Chase, a leading "optimist," infuriated everyone from environmentalists to Reaganites with this hand grenade of a book. An attack not only on National Park Service policies but on the popular ecological beliefs that inspired them, Playing God in Yellowstone may make you mad but it will also make you think.
'Let the Mountains Talk, Let the Rivers Run: A Call to Those Who Would Save the Earth' by David Brower with Steve Chapple
"I'm old growth myself," jokes Brower, the elder statesman of the "pessimist" school. In his final book, the 83-year-old Archdruid mixes sweeping calls for change-from the establishment of a World Ecological Bank to the development of hyperefficient cars—with eco-cheerleading and welcome doses of humor. Let the Mountains Talk is an excellent demonstration of Brower's inspiring fury.
'The Everglades: River of Grass' by Marjory Stoneman Douglas
"There are no other Everglades in the world," Douglas writes in the urgent opening of this prophetic work about south Florida's threatened ecosystem. In 1947 she warned that the Everglades was in its eleventh hour, and her words have long gone unheeded.
---
Nature and Culture
'Nature' by Ralph Waldo Emerson
"So we shall come to look at the world with new eyes," writes Emerson. Prophetic words indeed: this revolutionary exploration of humankind's mystical links to the environment, published in 1836, inspired everyone from Thoreau to Annie Dillard.
'Wilderness and the American Mind' by Roderick Nash
Nash's groundbreaking and engrossing 1967 look at our culture's changing views of nature takes us from Puritan days, when Cotton Mather preached that the wilds were full of Droves of Devils and Fiery Flying Serpents, to the beginnings of the modern era.
'The Practice of the Wild' by Gary Snyder
"A rude thought about a Ground Squirrel or a Flicker or a Porcupine will not go unnoticed," Snyder writes. From anybody else such statements would be cause to break out the lithium, but from the Pulitzer Prize–winning poet and Zen philosopher they make brilliant sense, especially in this fine collection of essays on humankind's need for wildness.
'Nature's Economy: A History of Ecological Ideas' by Donald Worster
The label "ecologist" has been applied to everyone from Darwin to the Unabomber. So what does it mean? That's the question that environmental historian Worster probes in this immensely interesting book. By looking at the diverse ideological paths that led to modern environmentalism, he offers profound clues about the road ahead.
"The Significance of the Frontier in American History" by Frederick Jackson Turner
Turner's landmark essay—still highly readable after more than 100 years—argues that the very wildness of the American continent stripped settlers of their European ways and fostered individualism, independence, and democracy. Hugely influential among historians, Turner's argument gave Cotton Mather's nasty old wilderness a righteous new image: birthplace of American virtue. (In Early Writings of Frederick J. Turner)
'The Age of Missing Information' by Bill McKibben
McKibben conducts a strange experiment. First he watches a single day's worth of cable TV programming—more than 1,000 hours of tape. Then he spends 24 hours camped on a mountaintop. What's fascinating here is not his obvious conclusion (nature is better) but his fine, penetrating observations about both worlds.
'World Fire: The Culture of Fire on Earth' by Stephen J. Pyne
"Fire and humans have coevolved, like the bonded strands of a DNA molecule," writes Pyne in a sweeping historical treatise that examines our world's love-hate relationship with conflagration. His engrossing ideas leave bright embers in the memory.
'Forests: The Shadow of Civilization' by Robert Pogue Harrison
The forest has been populated by a variety of strange creatures in the human imagination, from jolly green giants to goddesses wearing garlands of bull testicles. In this subtle book—surprisingly accessible for a scholarly treatise—Harrison looks at what our mythical, literary, and artistic conceptions of the forest tell us about ourselves.
'Man and the Natural World: A History of the Modern Sensibility' by Keith Thomas
Full of deliciously bizarre events and characters—such as a British lord who kept pet leeches, which he named after prominent surgeons—this superb book looks at the period between 1500 and 1800, when Western culture began to develop a revolutionary new respect for the natural world.
---
Sportswriting
'Sketches from a Hunter's Album' by Ivan Turgenev
Published in 1852, these famous hunting memoirs may have led to Turgenev's arrest—not because Russian bureaucrats had anything against hunting, but because they were shocked by the author's revolutionary portrayal of serfs as human beings. Politics aside, the collection is full of beautifully sensual evocations of a hunter's life in the natural world.
'An Outside Chance: Classic and New Essays on Sport' by Thomas McGuane
Acclaimed novelist McGuane writes about his own experiences with fishing, sailing, cowboying, motorcycling, and hunting. But his essays are inevitably about more fundamental subjects, too, from "the necessary, ecstatic resignation to the moment" to the nature of death.
'Haunts of the Black Masseur: The Swimmer as Hero' by Charles Sprawson
Sprawson's loving meditation looks at the cultural and psychological meanings of swimming throughout history, from ancient Greece to our own pool-possessed culture.
'The Curse of Lono' by Hunter S. Thompson
The originator and chief practitioner of gonzo journalism flashes more than enough of his switchblade wit to make this twisted tale, set around the 1980 Honolulu marathon, well worth your time.
'The Early Climbs: Deborah and the Mountain of My Fear' by David Roberts
This single volume brings together the first two books by one of the great writers of mountaineering narratives. The Mountain of My Fear, originally published in 1968, is especially gripping, recounting the first successful ascent of the west face of Alaska's Mount Huntington—an adventure that ends horribly when one of the author's fellow climbers falls to his death.
'Silent Seasons: 21 Fishing Stories' edited and illustrated by Russell Chatham
In this glowing collection, Chatham pulls together essays by some of the great modern bards of angling, including Jack Curtis, Jim Harrison, and William Hjortsberg.
'Running and Being: The Total Experience' by George Sheehan
"When I run the roads, I am a saint," writes Sheehan in this captivating and contrarian 1978 tome about the spiritual advantages of the sport. And despite moments of strange diatribe, Sheehan's far-ranging exploration—which draws on everyone from Gandhi to Vince Lombardi to George Santayana—is certain to get your mind racing, if not your feet.
'Zen in the Art of Archery' by Eugen Herrigel
When athletes talk about getting into a zone, they are speaking of a consciousness-free state central to Zen Buddhism. Attempting to achieve this "exquisite state of unconcerned immersion in oneself," Herrigel, a German philosopher, studied archery for six years under a Zen master. The 1953 tale of his attempt to become "simultaneously the aimer and the aim" is captivating and hilarious.
'Sun and Steel' by Yukio Mishima
We tend to remember this great Japanese writer's death more than his 40 novels; in 1970, Mishima plunged a sword into his own abdomen and was then beheaded by one of his disciples. Sun and Steel—Mishima's morbidly fascinating 1968 account of his attempts to achieve a "sense of existence" through years of compulsive weight-lifting—offers engrossing insights not only into his suicide but into our own culture's obsession with muscle.
---
How-To Bibles
'How to Stay Alive in the Woods' by Bradford Angier
You'll find plenty of fun and useful information here on everything from sparking a fire by using a drop of water as a lens to making emergency snowshoes.
'How to Shit in the Woods: An Environmentally Sound Approach to a Lost Art' by Kathleen Meyer
This cult hit uses wonderfully childish humor to address some very adult health and ecological problems. In addition to such chapters as "For Women Only: How Not to Pee on Your Boots," the revised edition includes a new section, "Plight of the Solo Poop Packer."
'The Modern Backpacker's Handbook: An Environmental Guide' by Glenn Randall
There are several fine books on low-impact backpacking—including Harvey Manning's Backpacking One Step at a Time and Chris Townsend's Backpacker's Handbook—but this well-organized guide is our favorite.
'Desert Hiking' by David Ganci
Along with a lot of very useful information on subjects such as safety, clothing, water, plants, and wildlife, this guide, now in its third edition, conveys a sense of the beauty and mystery of the desert.
---
Winter Sports
'The Snow Skier's Bible' by Peter Shelton
Written by an Outside correspondent, this guide covers alpine, cross-country, and backcountry forms of the sport, as well as less traditional pursuits from snowboarding to ballet skiing.
'Free-Heel Skiing: Telemark and Parallel Techniques for All Conditions' by Paul Parker
Telly freaks need look no further than the second edition of this definitive manual for both beginners and veterans. Parker keeps things lively with anecdotes about his own adventures on Denali, Mount Sopris, the Haute Route, and more.
'Cross-Country Skiing' by Ned Gillette and John Dostal
Gillette is an insatiable adventurer whose resume of thrills includes the first circumnavigation of Everest by ski. Dostal is a respected expert and instructor whom Outside readers know well. In this authoritative volume, wonderful, twisted humor is used to get across the finer points of hoofing it on nordic boards.
'Winter Adventure: A Complete Guide to Winter Sports' by Peter Stark and Steven M. Krauzer
This lively and slickly produced volume covers an impressive variety of cold endeavors, including winter camping, snowboarding, ice skating, ice climbing, sledding, snowshoeing, mushing, curling, and, uh, ice golf.
'Snow Sense: A Guide to Evaluating Snow Avalanche Hazard' by Jill Fredston and Doug Fesler
Avalanches are not acts of God. This valuable book details how to read terrain, snowpack, and weather variables to determine the possibilities of avalanche—and how to save yourself in case of one.
---
Climbing
'Mountaineering: The Freedom of the Hills' edited by Don Graydon
A consensus favorite of mountaineering experts, the beautifully designed fifth edition of this classic covers everything from climbing techniques to snow and glacier travel to the perils of explosive weather.
'How to Rock Climb' by John Long
Long is a legendary climber and an able writer, and the second edition of his book is arguably the most complete instruction manual on free climbing. From history to rope management to crack-climbing skills, it offers a great introduction to life on the rocks.
'Climbing Ice' by Yvon Chouinard
Before there was Yvon Chouinard, king of the Patagonia clothing empire, there was Yvon Chouinard, rock and ice climber extraordinaire. His stylishly written guide, spiced with tales from his own career, remains a classic.
'Ice World: Techniques and Experiences of Modern Ice Climbing' by Jeff Lowe
Lowe's bible for the slippery game offers state-of-the art information on tools and techniques from a current master.
---
Bicycling
'Greg LeMond's Complete Book of Bicycling' by Greg LeMond and Kent Gordis
The three-time Tour de France champ mixes autobiography, history, and practical instruction in this book, which puts emphasis on racing techniques as well as training and fitness for serious cyclists.
'The Mountain Bike Book: Choosing, Riding and Maintaining the Off-Road Bicycle' by Rob van der Plas
About half of this book deals with technology; you're likely to learn more about elastomers than you ever thought possible.
'Bicycling: Touring and Mountain Bike Basics' by Peter Oliver
Another in the collection of how-to guides that accompanies the Trailside public-television series, Oliver's well-organized manual covers an impressive range of topics, from buying a bike to advanced riding techniques.
---
Running
'The Complete Book of Running' by James F. Fixx
It's a bit heavy on seventies psycho-babble about the spiritual benefits of running, but this bestselling classic remains a fine introduction to the sport.
'The Runner's Handbook: The Bestselling Classic Fitness Guide for Beginner and Intermediate Runners' by Bob Glover, Jack Shepherd, and Shelly-Lynn Florence Glover
The authors reject rigid approaches, arguing instead "running should be simple, easy, fun." The book examines everything from training programs to diet to physical disabilities.
---
Fishing
'Curtis Creek Manifesto' by Sheridan Anderson
Anderson's cartoon-format classic is a first-rate guide for the beginning anglers, full of easy-to-follow instruction on equipment and technique.
'The Orvis Fly Fishing Guide' by Tom Rosenbauer
Recommended for novices who can't tell a caddis fly from vacuum-cleaner lint, as well as for more seasoned anglers who want a refresher course on stream tactics and insect imitation.
'Joan Wulff's Fly Fishing: Expert Advice from a Woman's Perspective' by Joan Salvato Wulff
The grande dame of the waders offers female anglers an excellent overview of the basics.
---
Water Sports
'The Complete Wilderness Paddler' by James West Davidson and John Rugge
While the material from this 1975 guide is somewhat dated, it's still a classic. Readers looking for state-of-the-art info might pick up Laurie Gullion's slickly designed 1994 book, Canoeing.
'Sea Kayaking Basics' by David Harrison
This well-organized and solidly written text is a fine introduction to paddling the high seas. Hardcore enthusiasts may be more interested in John Dowd's Sea Kayaking: A Manual for Long Distance Touring, which among other things details what you might do when stranded on an uninhabited island.
'The Complete Sailor: Learning the Art of Sailing' by David Seidman
Seidman, who is also the author of an excellent book on sea kayaking, offers plenty of nuts and bolts but warns that "by its very nature sailing is enigmatic."
'Performance Kayaking' by Stephen B. U'ren
A former member of the U.S. national whitewater slalom teams offers a comprehensive overview of whitewater kayaking, from how to get into the boat to how to win a slalom race.
'The Complete Whitewater Rafter' by Jeff Bennett
For novice and expert river runners alike, here is a comprehensive and user-friendly guide on everything from basic raft anatomy to leading exploratories.
'The Complete Book of Swimming' by Phillip Whitten
Like Jim Fixx's book on running, Whitten's excellent all-purpose guide attempts to proselytize as well as to inform.
---
Travel
'The Traveler's Handbook: The Essential Guide for International Travelers' edited by Caroline Brandenburger
Whether you're trying to find a cheap way to ship your Range Rover overseas or simply having trouble with a visa, this is the first place to go for help.
'The Ultimate Adventure Sourcebook' edited by Paul McMenamin
Covering the gamut of outdoor sports, from bicycling to hang gliding, this gorgeous volume offers thorough resource listings, rates tour operators, and breaks down costs.
'Eco-Journeys: The World Guide to Ecologically Aware Travel and Adventure' by Stephen Foehr
Foehr's tightly organized book offers useful information on hundreds of ecotourism opportunities worldwide, from researching dolphins in Belize to tracking black rhinos in Zimbabwe.
'Wild Planet! 1,001 Extraordinary Events for the Inspired Traveler' by Tom Clynes
This delightful compendium of festivals, holiday celebrations, and other spectacles worldwide is so thorough that its index includes seven entries under "burning of effigies."
---
Outside List 101
'The Life and Strange Surprising Adventures of Robinson Crusoe of York, Mariner' by Daniel Defoe
The first full-fledged novel in English, published in 1719, was also its first great modern wilderness tale. And it starred literature's original adventure traveler, a shipwrecked hero whose reliance on raisins set a trail-food standard for centuries to come.
'The Portable Romantic Poets' edited by W. H. Auden and Norman Holmes Pearson
It's easy to snicker at the exclamatory excesses of the original Sensitive White Guys. But because of their fascination with wild places, the Romantics gave legitimacy to an outdoor ethic still embraced today. This solid collection includes, among many others, Wordsworth, Coleridge, Keats, Emerson, and Thoreau. 
'Moby Dick, or the Whale' by Herman Melville
A man called Ishmael, a big-blowing whale, and a wild ocean. Enough said. It's also a delightful work of natural history, with detailed observations about cetacean life.
'Leaves of Grass' by Walt Whitman
"I tuck'd my trouser-ends in my boots and went and had a good time," the Good Gray Poet writes. His exuberant 1855 masterpiece is a remarkable—and remarkably fresh—stroll through nature and culture.
'Heart of Darkness' by Joseph Conrad
"The conquest of the earth, which mostly means the taking it away from those who have a different complexion or slightly flatter noses than ourselves, is not a pretty thing when you look into it too much," writes Conrad. This remarkable 1902 story of African intrigue looks unflinchingly at the horrors of subjugation and exploration.
'My Antonia' by Willa Cather
Cather's brilliant 1918 lament about the settling of Nebraska's great prairie is especially poignant today, when we realize just how badly we've obliterated the place where "the grass was the country, as the water is the sea."
'In Our Time' by Ernest Hemingway
This 1924 collection of stories, mostly set in northern Michigan, is the work in which Hemingway's love of the wild shines brightest, as exemplified by the dark and hypnotic trout-fishing tale "Big Two-Hearted River."
'Go Down, Moses' by William Faulkner
Organized around a loose theme, the ritual of the hunt, this 1942 short-story collection includes Faulkner's finest piece of nature writing, "The Bear," set in a "doomed wilderness whose edges were being constantly and punily gnawed at by men with plows and axes who feared it because it was wilderness."
'Voss' by Patrick White
The dominant myth in American literature is one of Anglos whupping the wilderness. In Australian storytelling, however, the outback is often the winner of that battle. Nowhere is the Down Under's darker version of this encounter told more eloquently than in White's 1957 novel about a 19-century German explorer who meets a nasty end while trying to cross Australia.
'The Dharma Bums' by Jack Kerouac
This fun and fevered 1958 tale of group sex, Zen philosophizing, and mountain climbing features a character named Japhy Ryder—a thinly disguised stand-in for the poet Gary Snyder—whose beatnik wisdom includes lines like, "Yeah, man, you know to me a mountain is Buddha … just sittin there bein perfectly, perfectly silent and like praying for all living creatures." Go, cat, go!
'Travels with My Aunt' by Graham Greene
"Switzerland is only bearable covered with snow, like some people are only bearable under a sheet," says the indomitable Aunt Augusta, the elderly globehopper at the center of this marvelously funny 1969 novel about the joys of journeying, by one of the greatest of journeying writers.
---
Overlooked Gems
'Essential Haiku: Versions of Basho, Buson, and Issa' edited by Robert Hass
We used to read a lot of haiku that seemed like a bad joke. Then came this eye-opening collection, edited by the U.S. poet laureate. Reviving the work of three old Japanese masters, the anthology shows haiku to be the purest kind of nature poetry of all.
'The Country of the Pointed Firs' by Sarah Orne Jewett
This extraordinary little 1896 book is set in an isolated fishing village on the eastern coast of Maine. Sadly, Willa Cather was only two-thirds right when she predicted that it would go down in history as one of the great American novels, along with The Scarlet Letter and The Adventures of Huckleberry Finn.
'Selected Poetry of Robinson Jeffers' by Robinson Jeffers
The early part of this century was not lacking for great poets of the natural world, from William Butler Yeats to Marianne Moore to Robert Frost. But perhaps our favorite is the lesser known Jeffers, a take-no-prisoners bard of the wild. His advocacy of "the value of rareness" in nature came decades before scientists began talking about the importance of biodiversity.
'The Hurricane' by Charles Nordhoff and James Norman Hall
Set on a remote Pacific atoll, this all-but-forgotten 1935 novel is the kind of old-fashioned human-versus-nature potboiler 's rarely written these days—and never with such chutzpah.
"Letters from Iceland" by W. H. Auden and Louis MacNeice
Under the pretext of writing a travel book, Auden persuaded his publisher to pay for his journey to Iceland in 1936. But when he got there, he realized that he had no idea how to pull the project off. So he asked fellow poet MacNeice to join him in Reykjavik and collaborate on the book. The result is one of the quirkiest travelogues ever written, half poetry, half prose, and 100 percent delightful. (In The Complete Works of W. H. Auden: Prose and Travel Books, Volume One, 1926–1938)
Modern Masters and Young Turks
'At Play in the Fields of the Lord' by Peter Matthiessen
This gripping 1965 novel about Western encroachment into the Amazon is noteworthy not only as a stirring piece of literature but as an early wake-up call about the razing of the rainforest.
'Ceremony' by Leslie Marmon Silko
In this 1977 work, regarded as the first full-length novel by an American Indian woman, ancient stories and reinvented ceremonies help a Laguna Pueblo man return to harmony with the earth after World War II.
'The Sheltering Sky' by Paul Bowles
This disturbing road novel, published in 1949, is set in the North African desert, a perfect place to explore what Bowles once called "the inner desert of the spirit."
'Swimming in the Volcano' by Bob Shacochis
"Of the many things love could not provide, one was such a thing as a mountain," reflects the protagonist of this fine first novel from Outside contributing editor Bob Shacochis. Set beneath an active volcano on a fictional Caribbean island, the 1993 National Book Award nominee is a powerful political tale as well as an engrossing look at addictive passion and a stunning rendering of life and wildlife in the tropics.
'Solo Faces' by James Salter
Celebrated for his lithe, lyrical prose, Salter sets this 1979 book high in the French Alps, unraveling a high-stakes, high-adrenaline tale of a complicated friendship between two climbers.
'The Theory and Practice of Rivers' by Jim Harrison
We might have included any of Harrison's fiction works—Wolf to Dalva to Legends of the Fall—among the great works of contemporary outdoor literature. But we have a particular soft spot for this lovely set of poems, especially the title piece, a mournful meditation on the rush of water and the rush of time.
'The Storyteller' by Mario Vargas Llosa
The great Peruvian writer gives us an ingeniously constructed tale about an outcast Jewish academic who recasts himself as a key member of an obscure Indian tribe deep in the Amazon jungle. It's a superb look at how we are transformed by our journeys and how the line between tourist and native is sometimes surprisingly thin. 
'Animal Dreams' by Barbara Kingsolver
Kingsolver's formal training in biology informs this high-voltage, powerfully political novel about a science teacher who uncovers an eco-disaster caused by a mining company in her Arizona town. Kingsolver's subtle touch keeps things from getting too didactic.
'Omeros' by Derek Walcott
The works of Homer inspired Nobel Prize winner Walcott as he worked on this brilliant book-length poem. A sailor from Walcott's native island of Saint Lucia is the protagonist of this story about physical, historical, and spiritual travel.
'All the Pretty Horses' Cormac McCarthy
This 1992 National Book Award–winning novel, about a 16-year-old cowboy's coming of age amid the deserts and mountains of Texas and Mexico, is proof that landscape can be a compelling central character.
'The Forgotten Language: Contemporary Poets and Nature' edited by Christopher Merrill 
'Poems for a Small Planet: Contemporary American Nature Poetry' edited by Robert Pack and Jay Parini
These two collections are excellent introductions to the varied and fascinating ways in which today's poets interpret the natural world. They include verse from a striking variety of writers, including Sandra Alcosser, Wendell Berry, Amy Clampitt, Judith Ortiz Cofer, Rita Dove, Robert Hass, Stanley Kunitz, Denise Levertov, W. S. Merwin, and Pattiann Rogers.
'The Shipping News' by E. Annie Proulx
Set in Newfoundland "on the most utterly desolate coast of the world," this 1993 National Book Award and 1994 Pulitzer Prize winner is an extraordinary exploration of both nature and culture, covering issues ranging from seals to child pornography, from birds and boatbuilding to the state of journalism.
'American Noise' by Campbell McGrath
Walt Whitman advocated a kind of poetry based on "genuineness," a respect for the way things really are. One of his most energetic heirs is McGrath, a muscular poet who concerns himself with "America, the thing itself" and whose work arises from the tension between the natural and man-made worlds, encompassing the Rocky Mountains and Captain Kirk all within a few lines.