'Outside' at Sundance: Building a Better Solar Panel
In his latest documentary, Albert Maysles profiles 13-year-old Aidan Dwyer, who won the Young Naturalist Award from the American Museum of Natural History for applying the Fibonacci number sequence to the design of solar panels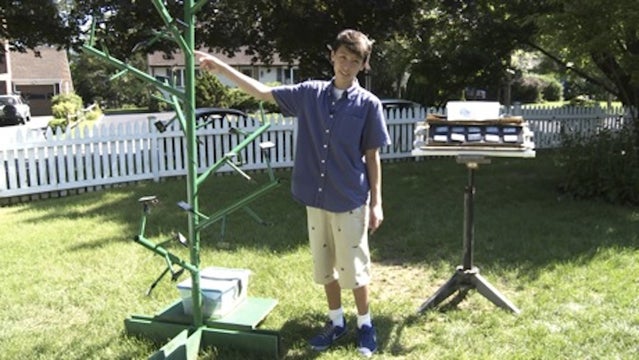 Heading out the door? Read this article on the new Outside+ app available now on iOS devices for members! Download the app.
Here's an idea: If you model the arrangement of solar panels after the arrangement of leaves on a tree, will it harness power more efficiently than traditional models? Is nature's design superior when it comes to collecting solar energy? That was the hypothesis of 13-year-old Aidan Dwyer, who formulated the idea during a family hike in the Catskills. Based on a mathematical concept called the Fibonacci number sequence, which appears in trees and flowers sort of in the same way the golden ratio appears in art, Dwyer built solar panel structures fashioned as trees. He determined that his model was indeed superior and was hailed all over the Internet as a science wunderkind. He also won the Young Naturalist Award from the American Museum of Natural History, besting out 700 other entries.

Maysles.

A still from
The Secret of Trees
.
Documentarian Albert Maysles tells Dwyer's story in a three-minute short titled The Secret of Trees, which screened at the Sundance Film Festival. What he doesn't cover is the storm of controversy that followed when a flaw was discovered in Dwyer's model. He was measuring voltage instead of power, which experts called an incorrect measuring method. A backlash to Dwyer erupted on the Internet, followed by a backlash to the backlash. In one camp, critics decried the attention that was lavished on an ultimately flawed experiment. In the other camp, supporters praised Dwyer for his applied, innovative thinking.
It's too bad Secret of Trees made no mention of the brouhaha, as it would have been interesting to hear Dwyer's take. Every scientist knows what it's like to be wrong, and so-called mistakes are part and parcel of the innovating process. Either way, The Secret of Trees is a hopeful reminder that not all tweens are tuning out on gadgets. Some of them are actually engaging with the natural world and looking toward the future. Surely that's not a bad thing.