'Outside' at Sundance: Reindeer Herding in the Lapland Wilderness
A conversation with director Eva Weber, who traveled all the way to Karigasniemi, Finland, for three days to film this three-minute short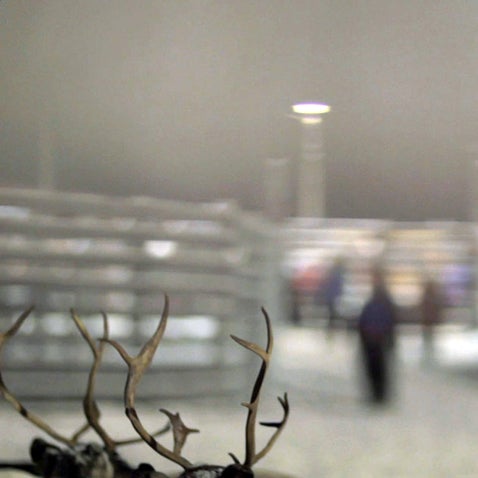 Heading out the door? Read this article on the new Outside+ app available now on iOS devices for members! Download the app.
In her short film Reindeer, London-based filmmaker Eva Weber travels to the northernmost reaches of Lapland to document reindeer herding among the Sámi people. Over the course of three minutes, she offers snapshots of Sami farmers as they round up reindeer that have spent the summer grazing in the mountains. Watch the film here and be mesmerized by the stillness of Lapland's subzero landscape, broken only by the muted neighing of reindeer. Weber spoke to Outside about shooting Reindeer, which is screening at the Sundance Film Festival.

A still from
Reindeer
.
How did you first come across Sámi reindeer herding?
I was always fascinated by the idea of going to Lapland and seeing reindeer and the Northern Lights. So when [the website] Nowness approached me about making a film about reindeer in Lapland in the run-up to Christmas 2011, I jumped at the chance. The original idea was to make a film about reindeer racing. Unfortunately, a couple of days before we were due to travel, we discovered that the racing hadn't started due to recent weather conditions—when we traveled there in early December, it was unusually warm. Temperatures were around 5 to minus-4 degrees Fahrenheit, which meant the herding of the reindeer had been delayed.
Once I got to Karigasniemi, we therefore had to regroup and explore our surroundings. I realized very quickly that I wanted to film at the herding pen where the reindeer are corralled and then separated coming down from the mountains. We visited the pen on our first day and I was fascinated by the place. It had a very distinct atmosphere, even completely deserted. I wanted to capture the eerie isolation of the Artic landscape and capture the sheer adrenaline rush and excitement of the herding.
How long did it take to shoot?
We were only in Lapland for three days, with an additional two travel days. Which was a real challenge under the circumstances. In early December there are only a few hours of light each day, with twilight looming at 9:30 a.m. and complete darkness having settled by 2 p.m.
What were some of the biggest challenges during production?
The biggest challenge was really working with the limited amount of daylight available to us, but also in the subzero temperatures. Knowing we only had three days to film this, we had to make the most of our time and were often filming until late at night. While it was unseasonably warm when we were filming, it was still very cold, making it very hard for us to work long hours but also impacting on the equipment we were using. We had to make sure cameras and lenses were not fogging up due to the cold, and our sound equipment actually failed due to the weather conditions. Luckily we had a back-up system on the camera. It really was a very tough shoot.
How did you get up to Karigasniemi?
Karigasniemi is a tiny village on the border between Finland and Norway. It is pretty much as far north as you can or want to go in Finland, and there is not a lot before you hit the Barents Sea. Traveling-wise, we flew from London to the most northern airport in Finland, Ivalo, via Helsinki. From there we picked up a hired car and traveled the final two hours along some very daunting ice-covered roads to Karigasniemi. I can tell you there were some extremely close calls with reindeers on the road.
How many reindeer are being herded onto that farm?
Over the course of autumn and winter, thousands of reindeer are herded down from the mountains. Each autumn, as the daylight retreats, the Sámi prepare for the winter by bringing the reindeer in from the mountains where they spend the summer. The Sámi work together as a group to make this more manageable, and the reindeer are only separated by the owners at the herding pen. Once separated, some go to the slaughterhouse, others are kept for breeding and a few males are neutered and trained as work reindeers, mainly for pulling sledges and for racing.
Just as a small side note, it has been said that it's rude to ask a Sámi how many reindeer he has, although I did ask Ari [one of the herders]. It's like asking a Westerner how much money he has in his bank account. The Sámi say their money "roams around."
What's the sorting process like, and how long does it take?
The Sámi can scan a herd of galloping reindeer and recognize his or her reindeer from 40 meters away just by its unique earmark. Once the reindeer arrive at the main pen, the sorting starts, and this can take several hours and goes on until deep into the night. This whole process will happen several times every season.
Is it correct that reindeer husbandry is legal for only a limited portion of the population in Norway, Sweden, and Finland?
In Norway and Sweden, only Sámi are legally allowed to herd reindeer. In Finland, reindeer herding is not restricted by ethnicity—all Finnish citizens who live in the area are allowed to own reindeer. The work of the herders is known as "boazovazzi," which means "reindeer walker." Although, they now work on all-terrain vehicles, a modern spin on a traditional lifestyle.
What were some of the most surprising things you learned about reindeer? I, for one, never knew they sounded like that.
The reindeer really do make the most incredible noises, and this is something I never even considered or thought about before going there. You can literally hear them from a long distance, and it is beautiful. I also was amazed at how small they actually are, even compared to deer.
Once you are in the herding pen, their energy is incredible. I will never forget standing in the middle of the animals frantically running around us in circles as they were being separated. What was amazing was standing in the path of the running reindeer and barely being brushed by them. At the incredible speed they move and with those antlers, it's amazing how they manage to avoid obstacles in their path.