'Outside' at the Toronto Film Festival: Four Hours in Freezing Water
In The Deep, a chubby man survives a shipwreck off the coast of Iceland, only to wash ashore to a field of jagged, volcanic rock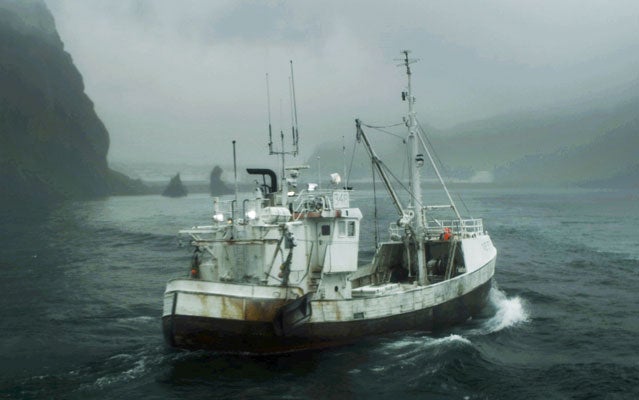 Courtesy of the Toronto Film Fes(Photo)
Heading out the door? Read this article on the new Outside+ app available now on iOS devices for members! Download the app.
In 1984, a fishing boat sunk off the coast of Iceland, killing the entire crew with the exception of one man who swam several miles in frigid waters and lived to tell the tale. The Deep is a fictionalized account of his miraculous survival.
With his tubby physique and lack of athletic prowess, Gulli is the last man you'd pick in a lineup of candidates most likely to survive a shipwreck. Yet when the boat capsizes, sending the men into frigid 41-degree waters, he is the one who keeps his cool. One after another, his friends succumb to hypothermia and sink to the bottom of the sea. Aware that his only chance of survival is to find land, Gulli starts swimming in the dark of night. The water temperature slides from 41 to 37 degrees, as the air temperature hovers around 27.
Gulli uses the lights of distant fishing boats to guide him in the right direction. For distraction, he talks to seagulls and recalls childhood memories. Four hours later, he emerges from the water, only to spend two more hours treading across sharp volcanic rock in his bare feet. When he finally reaches civilization, his harrowing ordeal makes news headlines and scientists marvel at his superhuman ability to survive conditions that would have killed most people. Researchers turn him into a human guinea pig and surmise that his body fat is more akin to a seal's than a man's. He's one step away from becoming a Weekly World News headline.
What it lacks in character depth, The Deep more than makes up for in its realistic depiction of Gulli's ordeal. Shot without CGI, the nighttime scenes on the open sea are effectively terrifying. It's the sort of powerful story that will haunt you the next time you find yourself on a boat in open waters.
Lead Photo: Courtesy of the Toronto Film Fes