We Finally Have a Native-Centered Ski Film
In 'Paha Sapa,' Lakota skier Connor Ryan explores his ancestral South Dakota homeland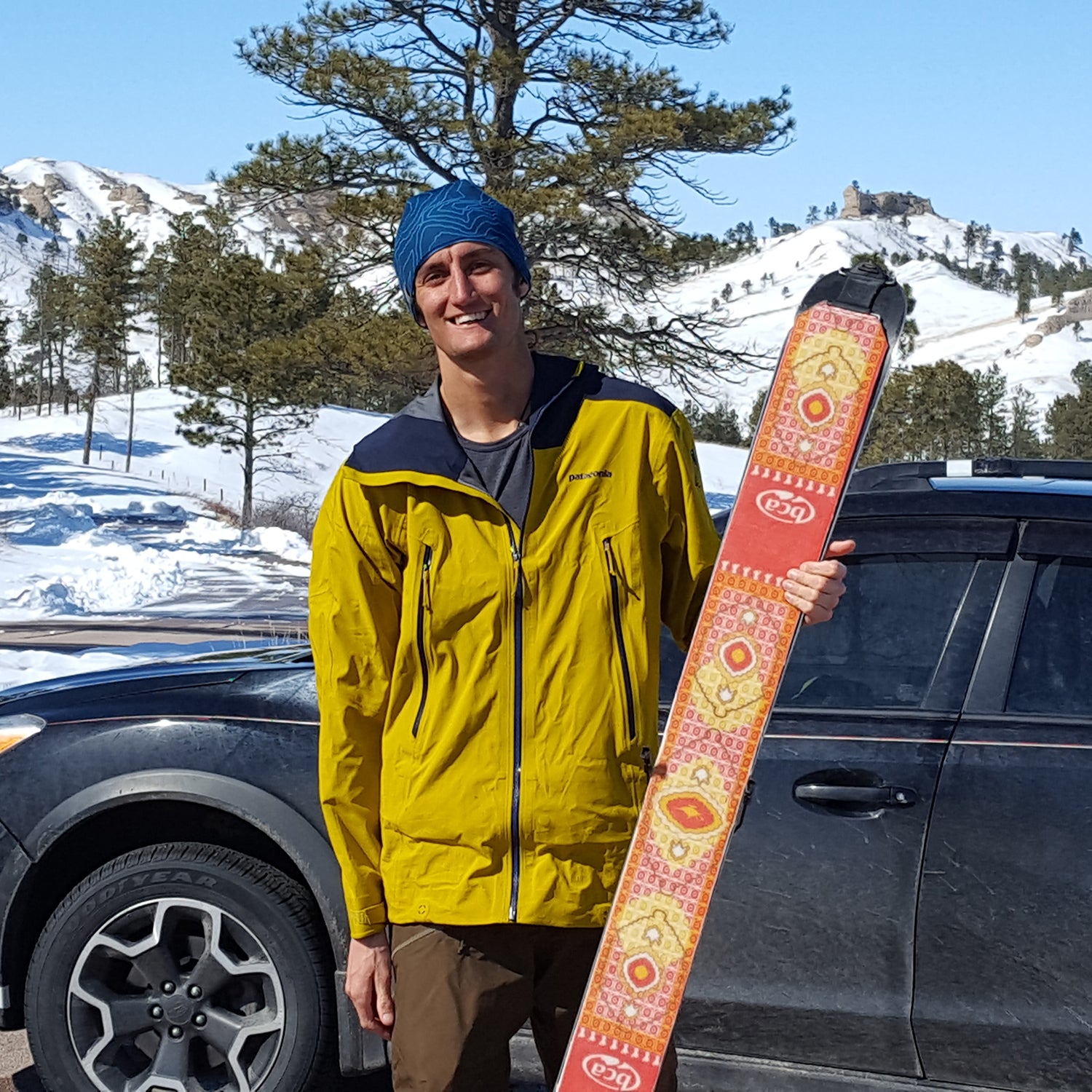 Heading out the door? Read this article on the new Outside+ app available now on iOS devices for members! Download the app.
Professional skier Connor Ryan had heard a rumor that there was backcountry skiing in Paha Sapa, the Black Hills of South Dakota, but until last winter, his relationship with the place he considers sacred had been formal and hallowed.
Ryan is Lakota. Though he grew up in Boulder, Colorado, his mother is from South Dakota, and his family would go back to Paha Sapa for festivals and ceremonies. Until 2019, he'd never skied there, even though that passion is one of the major ways he connects with nature.
A couple years ago, at a sweat lodge, his uncle mentioned that there was a ski area in the Black Hills, and it piqued Ryan's curiosity. So when filmmaker Mike Whelan, who Ryan had worked with before through one of his sponsors, the media and gear company Natives Outdoors, mentioned he was thinking about heading to the Black Hills as part of a project to ski from the highest point in every state, Ryan wanted in. "As soon as I heard about it, I had to be a part of it," he says. "It felt like I could be in the oldest place in the newest way."
Last spring, Ryan teamed up with Whelan to ski-tour in his ancestral homeland for the first time. "I kind of looked at it almost like a museum, it felt like a place full of old relics," Ryan says about skiing on sacred ground. "I'd had beautiful experiences there before, but it was like walking on eggshells, and it felt a little beyond me. Then, in the experience of getting to know places in the way that I get to know places—through skiing—it became more personally relatable." He documented that relationship in Paha Sapa, a short film released on February 4 and now available on YouTube. It's part ski stoke, part cultural investigation, part homecoming story. 
The film also looks at the history of the area because, like so much tribal land that's been taken by force, Paha Sapa, which the U.S. government calls the Black Hills and which is the oldest mountain range in the nation, has a fraught story. Paha Sapa, a place the Lakota consider the center of the universe, a source of water and life, was their home long before Europeans came to America. It was deeded to them by the U.S. government in the 1868 Treaty of Fort Laramie but then taken back in the Agreement of 1877, which established Indian reservations. For the past hundred years, the highest mountain in the state (7,242 feet), which Ryan and Whelan skied, has been called Harney Peak after a U.S. Army general who massacred 86 Lakota women and children in 1855. In 2016, the federal government, with the support of the tribe, changed the name to Black Elk Peak. That's one cathartic step toward trying to heal and be more respectful going forward culturally and ecologically.
Ryan's uncle was right about the skiing. There is a local ski hill, Terry Peak, just west of Deadwood, South Dakota, and a small, fervent scene of backcountry skiers, like local public-land advocate Brent Kertzman.
Ryan said he was initially nervous about how he would be perceived, because few Lakota ski, and also about how local skiers, who are almost all white, were treating the landscape. "These people ski in our sacred place," Ryan said. "I was worried they would be like, 'Lakota kids don't ski.' And I also went in thinking, Are they being appropriately respectful?"
Skiing proved to be common ground. Ryan says shared stoke and shared stories, like the film, can be a subversively deep way to share native traditions and veneration. "Brent might not have the same level of reverence for the place, but he's an advocate for mountain biking and climbing, and I think, Maybe I can make you understand the importance of our creation myth, so that if there was an outside threat for extraction, we would protect it together. Even if we don't have the exact same reason we want to protect it, we want the same thing in the end."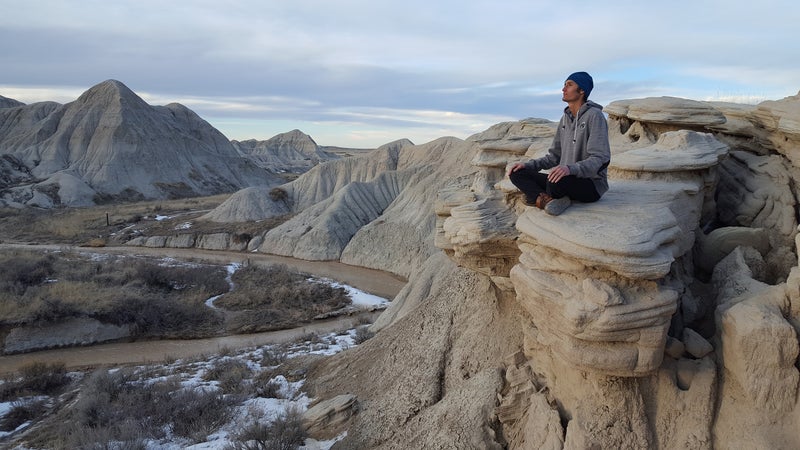 A big part of what he's trying to explain in Papa Saha, Ryan says, is the idea of reciprocity with the landscape. He'll lay down tobacco and cornmeal as a sacrifice before he skis, because when he's getting something from the mountain, he wants to be giving it something, too. "If I'm going to go to a place, as much as I'm experiencing a place, a place is experiencing me," he says.  
It's part of a conversation that carries outside Paha Sapa. Ryan says Natives Outdoors has been working a lot on the overlap between culture and recreation. "We're really maybe the two most oddly paired allies—indigenous people and outdoor recreation—because I think it's really easy for the outdoor community to have an extractive mindset," Ryan says. "But people who are on the land develop a reverence." Natives Outdoors is trying to use things like this film to explain the long-term respect and reciprocity that underscores its outdoor ethic. "If you look back at the indigenous history, no place is untouched, but we're always thinking seven generations ahead," he says. "You live in a legacy of people who have thought about that wilderness before you. We have to bring that into the culture of the outdoor world."
In Paha Sapa, Ryan was able to ski the hallowed ground of his past and tell a story about how to take care of it in the future. Skiing in a sacred landscape is a form of dedication, and recreation can be its own kind of ceremony. Ryan says that when undertaken with the right amount of reverence, adventures can become a bond to a place—and the past and the future.
Lead Photo: Courtesy Connor Ryan