Photographer Chris Burkard Wins Red Bull Illume
Heading out the door? Read this article on the new Outside+ app available now on iOS devices for members! Download the app.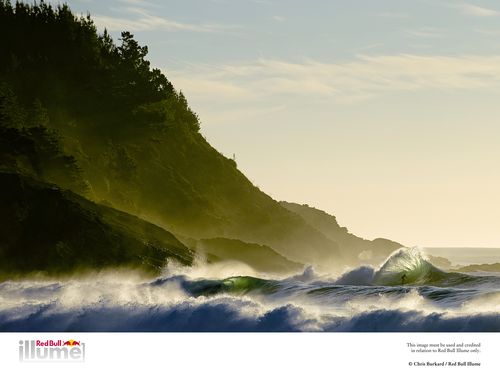 Photographer Chris Burkard's image of Peter Mendria riding a wave off the coast of Chile won the overall prize in the Red Bull illume, a highly competitive action and adventure sports photography contest. More than 5,000 photographers from 112 countries submitted 22,764 images in the competition.
Burkard took home a Leica S2 camera and lenses. "I would never have imagined owning a camera like this," he said. "It's worth more than the house I live in!"
Here is the backstory from Chris on his shot:
It was a last minute decision to go to Chile. We sat in the pouring rain for days and days waiting for the swell to come. We thought we had planned it perfectly, but even in the fall you can still get a winter storm.
We woke up the morning after the rains to howling offshore winds, swell was pulsing and the conditions were as good as they get. We drove to a spot in the afternoon that the locals had said, "rarely breaks." When we pulled up it was reeling left barrels for almost a football field's length. We scrambled to get out and surf. I was sun burnt and tired and had no idea how to document this moment. The waves were some of the most I had ever seen, so I decided to risk it. I sprinted down the beach and hiked up a sand dune to get a pulled back perspective.
The shore break was so big, and the offshores' plumes so high, that I was missing most of the best waves, but finally a set came through. The light, the wind, and the swell were perfect. It was as if everything in nature fell into perfect harmony for this single moment. As Peter Mendia eased into this wave, the backwash hit, sending a golden shower of water 10-feet above his head, and sending him down the line of another 20-second barrel. 
To find out more about Burkard, read our 2009 interview with him.
For a select group of images, check out the slideshow below.
Or head over to Red Bull's site and view this slideshow of the 50 finalists.
The 10 category winners were:
Experimental – Daniel Grund (GER)
New Creativity – Eric Berger (CAN)
SanDisk Sequence – Miguel Lopez-Virgen (MEX)
Energy – Stuart Gibson (AUS)
Illumination – Chris Burkhard (USA)
Playground – Tim Korbmacher (GER)
Culture – Vincent Perraud (FRA)
Spirit – Adam Kokot (POL)
Wings – Marcel Lämmerhirt (GER)
Close up – Nathan Smith (AUS)
–Joe Spring
@joespring
Trending on Outside Online