The Producer
Testostereality producer Thom Beers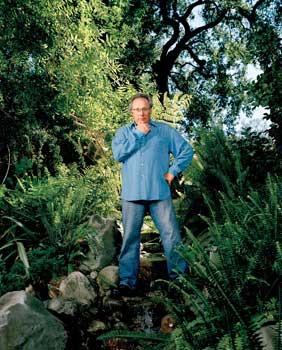 Amanda Friedman
Heading out the door? Read this article on the new Outside+ app available now on iOS devices for members! Download the app.
With the 2005 debut of the Discovery Channel's Deadliest Catch, producer Thom Beers created a wildly successful niche: testostereality. Beers's Original Productions drops two-man camera teams aboard crab boats to collect as many as 13,000 hours of footage every winter—raw, rough (really rough, considering the 40-foot waves) material that offers an intimate view of professional peril. He's since spun out the formula to depict oil riggers on truTV's Black Gold, loggers on the History Channel's Ax Men, game wardens on the National Geographic Channel's Wild Justice, and miners on his new Spike TV hit Coal. There are nights when you'll find three of his shows, which he calls "modern-day soap operas for men," airing on different channels. Slate.com television critic Troy Patterson spoke with Beers, who was at his office in Burbank, California.
PATTERSON: There are a lot of blue-collar jobs out there. How do you decide what will make a good show?
BEERS: Anything with high risk and high reward in an exotic location.
You've talked about endangering your crew members' lives, but the shows reflect a moral seriousness. How do you reconcile that?
I never put anybody in a situation I wouldn't be in. My feeling is, if I can do it, you can do it.
What's the riskiest show you've done?
That's still Deadliest Catch: it's the weather, the darkness, extreme fatigue, ice storms, electronics; you could hit another boat. But Coal was the riskiest, commercially speaking. The accents are so thick that you have to subtitle a lot. People don't want to sit around and read a documentary.
It's been more than a year since the passing of Deadliest Catch captain Phil Harris, who died of a massive stroke during season six. What's your fondest memory of him?
Talking to him after he had his first heart attack. He looked like he had the weight of the world on his shoulders, and his sons had just come on the boat to work. Then they charged a flatscreen TV on his credit card. He looked at the camera and said, "That's why lions kill their young."
How did you become interested in dangerous work?
In college I was a construction worker on a bridge 18 stories over a river in upstate New York. I once saw a carpenter get blown off by a gust of wind and survive. He held on to a four-by-eight piece of plywood and literally floated like a leaf down to the river below.
Why hasn't your kind of programming worked on network TV? You had a multishow deal with NBC, but it fell apart after one season of America's Toughest Jobs.
The audience for my shows is about 35 percent female, and for network TV you've got to get a demo that's 50-50 or even 60-40 female. But, you know, the third week of America's Toughest Jobs, it was up against Monday Night Football—the Packers' first game against Minnesota after losing Brett Favre. Our numbers went down. I'm like, "It's the highest-rated football game in the history of the world, you fucking morons."
After last year's Emmys, when you lost to the PBS series The National Parks in the Outstanding Nonfiction Series category, you were aggressive about the flaws you saw in the system. How would you change the categories?
Why not have a category for docudramas­—continuing real-life stories? Reality shows ­represent 40 percent of the shows on TV, and we have three categories? I don't think it's fair to the artistry of what we do. I've got to share my category with a six-part series on the history of Monty Python?
Your reference to the artistry of the shows makes me wonder: What artists have been your inspirations?
I really like underground artists, graffiti artists—Banksy and Shepard Fairey, all the way back to Keith Haring. Guys doing statements. Years ago I was stuck on a ship run aground on Cold Bay up in the Aleutians. I'm sitting there in a storm wondering what the fuck am I doing here, and I look up and see this graffiti inside the hull: IF YOU'RE NOT LIVING ON THE EDGE, THEN YOU'RE TAKING UP TOO MUCH SPACE. And I just started laughing. The whole idea of life is just to hang on and be tenacious.
Trending on Outside Online