Sebastian Junger Shoots For the Truth
Junger's powerful new documentary about the life of war photographer Tim Hetherington shows us why dedicated journalists are needed now more than ever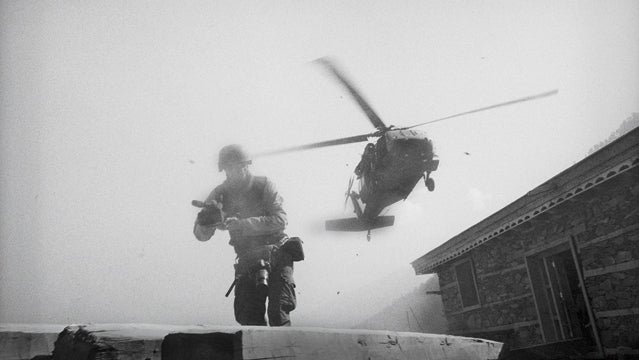 Balazs Gardi
Heading out the door? Read this article on the new Outside+ app available now on iOS devices for members! Download the app.
THE SCENE FADES IN from black. A hand-held camera pans the inside of a car weaving through the streets of Misrata, on Libya's coast. It's April 20, 2011, and the city, a stronghold for antigovernment rebels, is under siege by forces loyal to Colonel Muammar Qaddafi. We see the driver, a rakish rebel, and his passengers, several photojournalists looking out the windows at the smoldering remnants of buildings. The cameraman asks, "Which way is the front line from here?"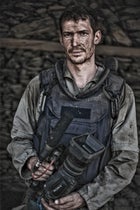 British photojournalist and filmmaker Tim Hetherington poses for a photograph before he boards a medevac helicopter during 'Operation Rock Avalanche' at the Korengal Valley, East Afghanistan on October 25, 2007.
At that point, you realize what you're watching: Tim Hetherington on his way to die. Hetherington, the man holding the camera, was one of the most respected conflict photographers in the world. Within a few hours of the car ride, the 40-year-old Briton was killed in a mortar attack, along with renowned American photographer Chris Hondros. Hetherington's femoral artery was ruptured by shrapnel, and he bled to death in the back of a pickup truck on the way to a hospital.
Hetherington's question, which arrives just minutes into the film, is also its title. Which Way Is the Front Line from Here? premiered at Sundance in January and airs on HBO in April. It was directed by writer Sebastian Junger, who became a close friend of Hetherington's when the two worked together in Afghanistan in 2007 and 2008. The 80-minute documentary takes the measure of the photographer's extraordinary life and work, weaving Hetherington's own footage, from Liberia to Afghanistan to Libya, together with Junger's interviews with heart-broken friends, colleagues, and family. As with the new Hetherington biography Here I Am, by American author Alan Huffman, it presents a powerful case that, in the age of citizen journalism, when anyone with a camera phone can be a contributing reporter, dedicated and talented professionals still deliver the most revealing stories.
Which Way Is the Front Line from Here? suggests that Hetherington's success had as much to do with his personality as his ability to capture the essence of war. Lanky and affable, Hetherington charmed everyone he met. A born searcher, he came to photography in his mid-twenties to, as he later put it, "try to explain the world to the world."
Hetherington's most penetrating imagery stands out for what it isn't: gory, brutal, or shocking. His vision of warfare had him seeking out the pauses between the action that transfixed so many of his colleagues. Beginning in the late 1990s, he spent years in West Africa photographing the fallout of conflicts—victims of land mines, children blinded by war criminals, an abandoned hospital. Hetherington's 2007 shot of an exhausted American soldier in Afghanistan won the Photo of the Year award from the World Press Association. And in Which Way Is the Front Line from Here?, Junger describes a poignant episode during the filming of Restrepo, the 2010 Oscar-nominated documentary the two made about an American platoon in Afghanistan, in which Hetherington snapped portraits of soldiers as they slept.
Hetherington also distinguished himself by his level of commitment. During the Liberian civil war from 1999 to 2003, he and fellow Briton James Brabazon were the only foreign journalists to live behind rebel lines, which prompted president Charles Taylor to call for their capture and execution. He worked with Human Rights Watch on a number of projects. In Afghanistan, he and Junger financed much of Restrepo themselves while on assignment for Vanity Fair.
Ultimately, Hetherington allowed his sensitivity and empathy to direct his camera, an approach that may have been his greatest strength. As Brabazon says in Which Way Is the Front Line from Here?, "Tim didn't see a division between being a photographer or a videographer or a humanitarian or a participant. He was just Tim."