Secrets of a Climate Monkeywrencher
Heading out the door? Read this article on the new Outside+ app available now on iOS devices for members! Download the app.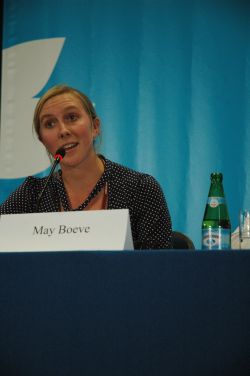 Three years ago, May Boeve was another college student discussing global warming at the campus dining hall. But since graduating from Vermont's Middlebury College in 2007, Boeve has built both a career and a movement. Along with five classmates and author Bill McKibben, Boeve helped organize the two largest climate actions in history: 2007's nationwide Step It Up campaign and the 350.org movement, a day of action happening tomorrow that will feature more than 4,000 demonstrations around the globe. Participants include climber Conrad Anker, photographer Jimmy Chin, and the Archbishop Desmond Tutu, to name a few. The goal: Draw attention to the fact that we've surpassed the safe limit for atmospheric carbon—350 parts per million—in advance of December's international climate conference at Copenhagen. We caught up with Boeve on the eve of the big day to discuss how to turn talk into action.
How does one go from college meetings to organizing global demonstrations?
We launched Step It Up in the campus dining hall. The day after graduation we moved to an office in Burlington, Vermont, to run the campaign, which took ten weeks. When the day of action ended we wrote a book, Fight Global Warming Now, and then Bill asked if we thought the Step It Up model could work on a global level. We moved to San Francisco and began fundraising. Now we're based out of Berkeley. We don't pay ourselves much, but we eat, and we all have roofs over our heads.
Any tips for people who want to drum up support for a cause?
First, collaborate with other people. If you have an idea that you want to build a trail network, don't spend a month writing a proposal; share your idea with local outdoor groups. Greendrinks.org is a good online network. Second, don't think you need to be an expert about your issue. With climate change, we tell people there are a few things you need to know. But not everything. You need to be passionate and willing to act. Third, use the media. Even if what you're doing is small, tell the local paper.
How do you recruit the Dalai Llama, who has publicly supported your movement?
That came out of the ether. We heard out of the blue that he'd written a statement endorsing our cause. Unfortunately, we couldn't publicize it–we're working with too many groups in China.